GAME SEVEN:  HOTZE FIELD INSIDE GRANGER STADIUM
San Antonio Central Catholic 13
Eagles 40
WHAT YOU NEED TO KNOW
Running back Jaylen Davis '19 scored two first-half touchdowns and quarterback Peyton Matocha '19 connected for two more as the Eagles jumped to a 21-0 lead and cruised to a 40-13 final for their second consecutive win, raising the season record to 3-4.
TURNING POINT
The Eagles piled up points on four of their first five possessions for a commanding 24-7 advantage.  Davis found the end zone twice from short range, sandwiched around a six-yard fourth-down Matocha touchdown toss to Melvin Larkins '18 and the outcome was never in doubt over the game's final 30 minutes.
RAPID REACTION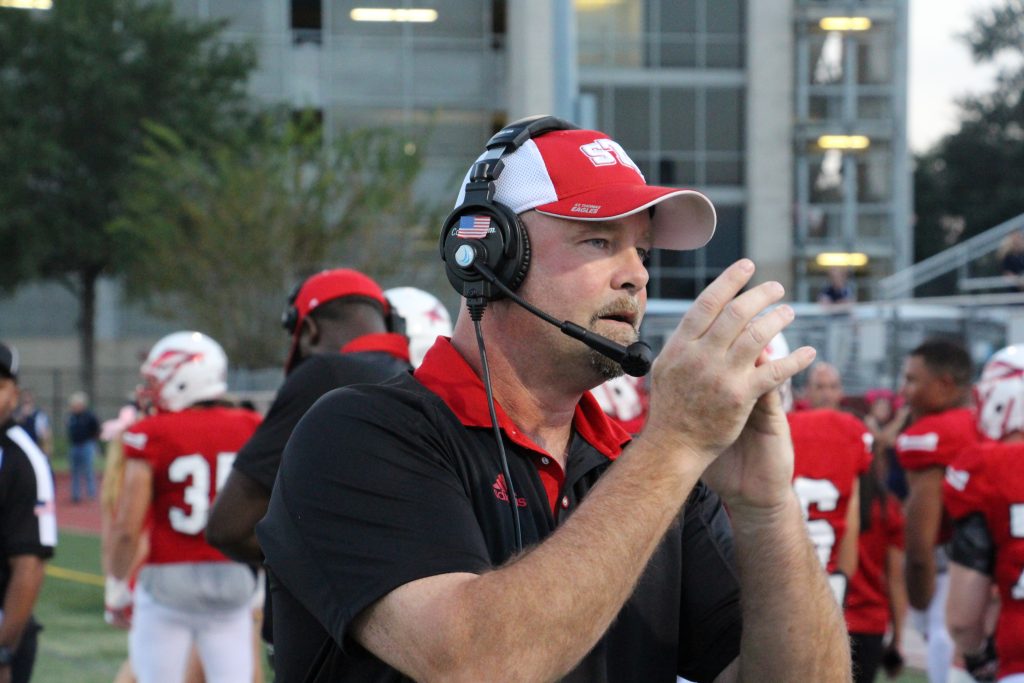 Head Coach Tim Fitzpatrick:  "A really strong start shows that our guys are maturing.  Now it's maintaining that high level for the entire 48 minutes, play the game not the scoreboard.  But the composure is developing.  We've had as many as six sophomores on the offensive side at one time and it takes some time for those guys to gain confidence.  They've learning you have to play through mistakes, no chin on the chest, roll with it."
QUICKSILVER STRIKES
Matocha opened the game by finding Parker Nelms '18 circling out of the backfield for a 55-yard pitch-and-catch up the right sideline.  Davis (12 carries 55 yards) then bolted into the end zone from 10 yards to put the Eagles on the board just 20 seconds into the game.
The Eagles needed only five plays to double the margin on their next possession.  After a play fake Matocha rolled right and threw high to the back of the right end zone with Larkins elevating from surrounding defenders to seize the ball as it appeared to sail out of reach (think Joe Montana and Dwight Clark) for his first touchdown of the season.
VIVA LA BAM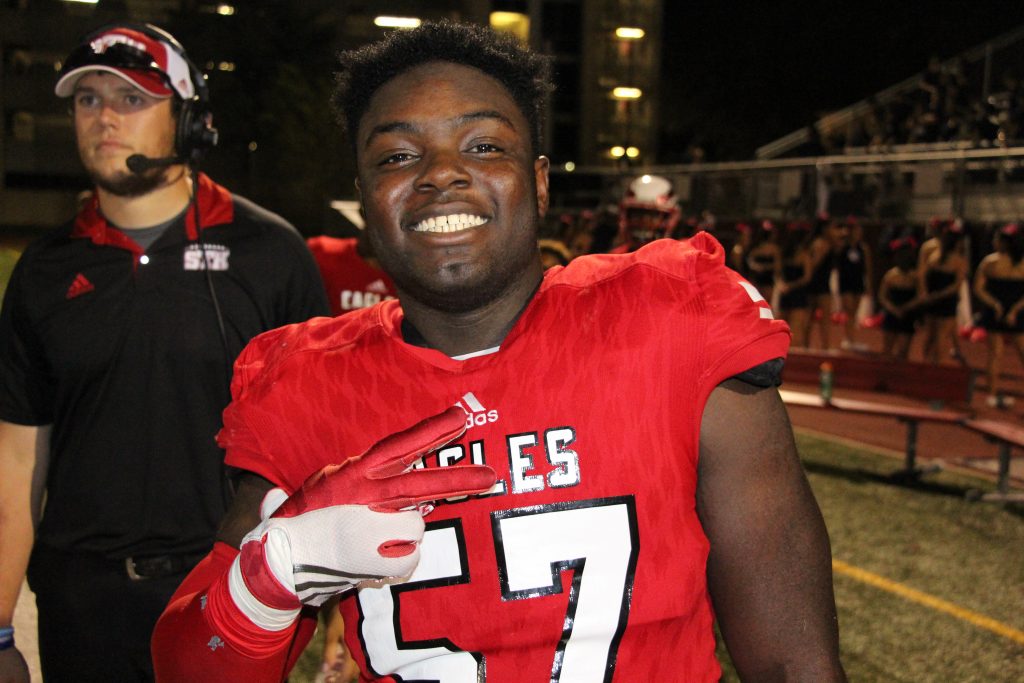 Defensive lineman Sam Yeboah '17 led a relentless Eagle charge that consistently stymied Central Catholic, forcing two three-and-outs and a fumble to start the game before surrendering its first points in six quarters.
On its first four defensive series to start the second half Yeboah and Chris Rose '18 collected a series of sacks as the Eagles held Central Catholic to only one first down while adding a safety in the final three minutes of the third period when a bad snap sailed past the punter and Max Bower '17 applied the tackle to increase the count to 26-7.
MORE FITZPATRICK 
"Our pass rush was strong, tackled well except for a couple of busted coverages which we still have to clean up.  Sam really got after it.  If you're going to single block him, good luck.  That's a half dozen sacks for him in two games."
FINISHING TOUCHES     
Running back Ian Wheeler '19 (11 carries 51 yards) capped a scoring series where he carried four times including the touchdown from four yards to push STH out front 33-7.
Midway final quarter Matocha (14-24, 196 yards) tag-teamed with wide receiver Daniel Perkins '17 on a go route for 40 yards deep into Central Catholic territory.  Four plays later the same combination worked for the final touchdown of the game just inside the six minute mark.
MORE FITZPATRICK 
"We had some explosive plays which we were not hitting earlier in the season.  Peyton is improving every game.  He knows teams are going to heat us up (bring pressure) and when they do, you have to make the right read and put the ball on target.  He did that tonight."
MISTER BIGFOOT
Kicker Jacob Manley '18 converted a career-best 43-yard field goal to answer Central Catholic's only scoring of the first half and finish an 11-play drive, the longest Eagle possession of the game.
TURNING BACK THE CALENDAR
St. Thomas and Central Catholic shared a limited but significant history, vying for the 1970 TCIL and 2001 TAPPS state football championships, plus the 1975 TCIL state basketball title, all won by Central Catholic.
THE QUEEN AND HER COURT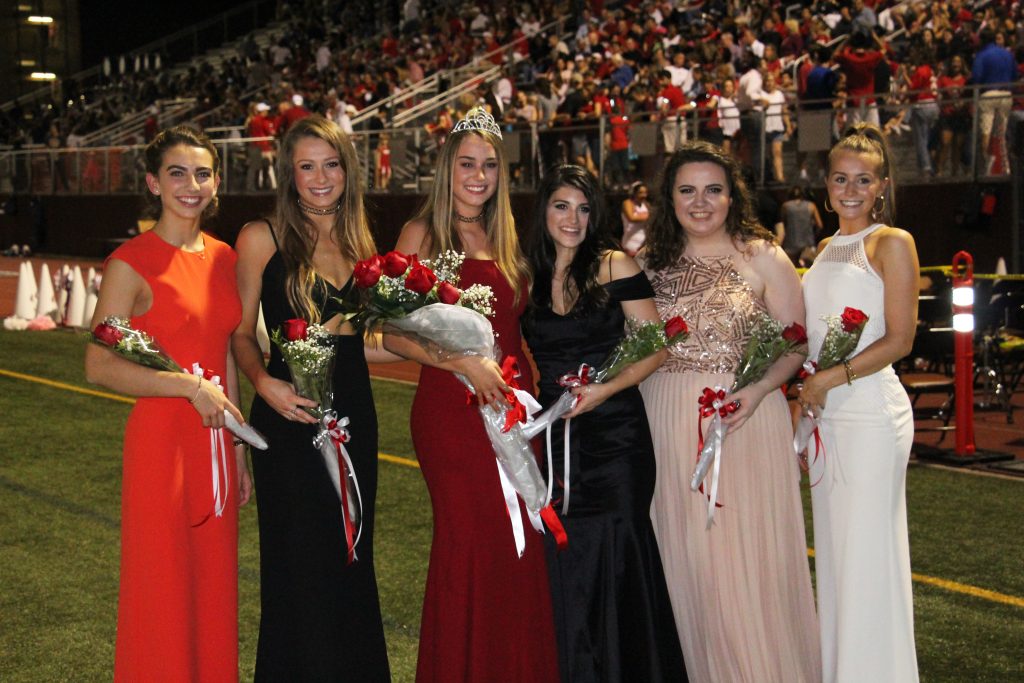 An Eagle salute to 2016 Homecoming queen Sarah Grant from St. Agnes Academy along with Maddie Sears and Emma Wiederhoeft from Incarnate Word Academy … Maddie Smith from Duchesne Sacred Heart Academy … and Madeline Simpson and Emma Stavinoha from SAA.
UPCOMING
Following the off week the Eagles travel to Beaumont to face Monsignor Kelly Catholic October 21 and open defense of their four-year district championship before visiting Tomball Concordia Lutheran on October 28 and then hosting the regular-season finale against St. Pius X on Alumni Weekend.
MORE FITZPATRICK 
"Our guys have battled through a tough stretch, stayed determined and now we have an time to recharge both physically and mentally.  Shorter practices next week but we'll continue to emphasize the fundamentals, pour into the video, invest in some self-scouting to not become too predictable.  The games that will define our season are coming up."
Eagle Fight Never Dies!