A Strength in Numbers philosophy has served St.Thomas well for generations, teaming like-minded talents to achieve a wide variety of desired goals, whether academic, athletic, spiritual or financial.
For the latest in a yearly professional development series, that cooperative mantra meant partnering with three sisters schools to provide transparency to what is becoming one of a parent's more stressful processes … applying to high school.
"Test scores and grades are obviously an important measure but what we're identifying at St. Thomas is that student who is prepared in knowing how to learn, who can excel as a complete student," said dean of students Rodney Takacs.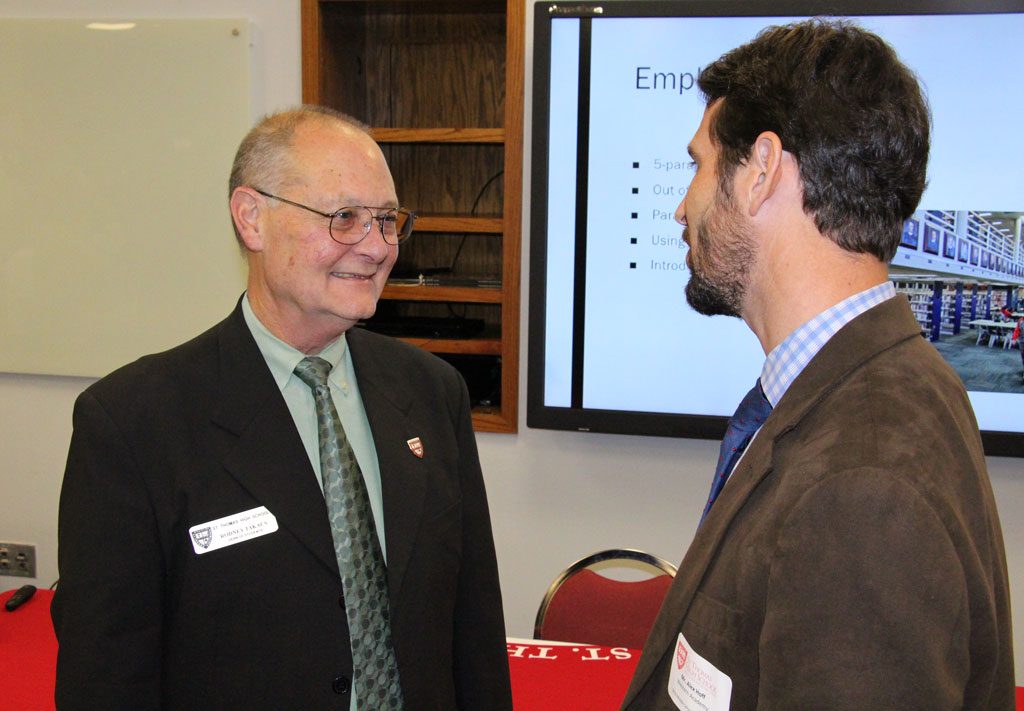 "Here's what St. Thomas is evaluating on a deep level … do prospective students have the skills and intellectual approach to the type of learning that will pave the way for personal and scholastic  success not only here but moving forward to the college and university level.  The message to our audience is that we are serious about our approach and creating the best learning environment for our students."
The Fifth Annual Middle School Administrators Conference, co-hosted with Duchesne Academy of the Sacred Heart, Incarnate Word Academy and St. Agnes Academy, engaged and informed administrators to make an oftentimes daunting exercise more predictable and rewarding.
Sponsored by St. Thomas Advancement and coordinated by Molly Hittinger on the STH campus, nearly 30 middle schools participated to the education forum, including Catholic parish schools such as Christ the Redeemer in Cypress-Fairbanks, St. Anthony of Padua in The Woodlands, St. Helen in Pearland, St. Laurence in Sugar Land, as well as inner loop schools such as St. Anne, St. Michael, St. Thomas More and St. Vincent de Paul, along with Calvary Episcopal Preparatory, Grace School, River Oaks Baptist School and Western Academy, among others.
Also in attendance was Dr. Julie Vogel, the Superintendent of Catholic Schools for the Archdiocese of Galveston-Houston.
Admissions director Taffy Daussin and counselor Iris Spells played principal roles in the panel discussions, with an emphasis on the importance of strong study skills for incoming freshmen, and the psychological, social and emotional aspects of education which have gained traction in recent years as major drivers of student achievement.
The intended takeaway was to present a proactive approach to admissions, rooted in long-term planning, strategic and intentional.
"Admissions is an absolute puzzle," said Donald Cramp, Ed.D., the Head of Upper School for Duchesne.  "There's no one set answer, no one trick play.  There are no deal-breakers or guarantees.  It's a package that each school develops so that each one can best service the incoming students and bring out their best.  Our host schools while different in some ways echoed a consistent message, separating fact from fiction, which empowers these middle schools to structure their curriculum and provide accurate information when communicating with their respective communities."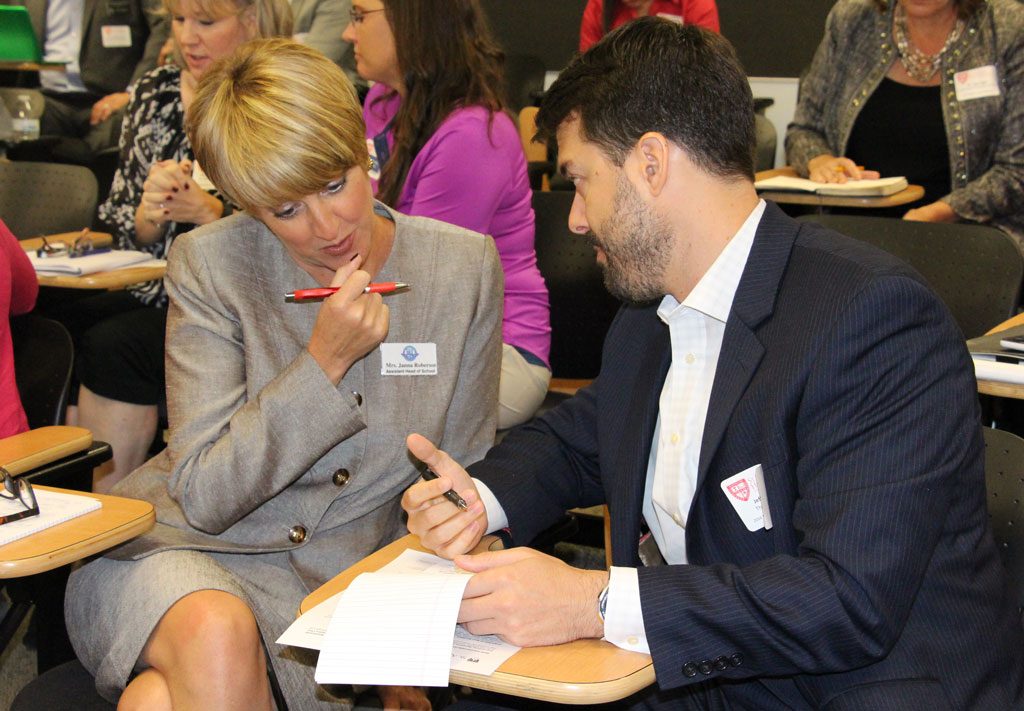 Jeffrey Guedry is the four-year dean of students at The Regis School.  He recognized "two particular hot topics in play" which will strike home with his constituents.
"One is the HSPT (High School Placement Test) and the ISEE (Independent School Entrance Exam) for admissions," Guedry said.  "What are the differences in preparing for those assessments?  What are the comparisons?  How do the high schools interpret the results?  Hearing the representatives from each high school articulate their perspective and now having that information available for our parents is so important.  Same with math and math placement tests, always critical for schools which feed into a college preparatory environment."
Critical to understanding how the admissions process actually works is having students and parents confidently pursue what genuinely interests them rather than staging an application which they presume admissions officers want to see.
A hook can be a sport, or a musical instrument, or a keen interest in social service and volunteerism, or a love of the performing arts, which defines beyond strict academic acclaim.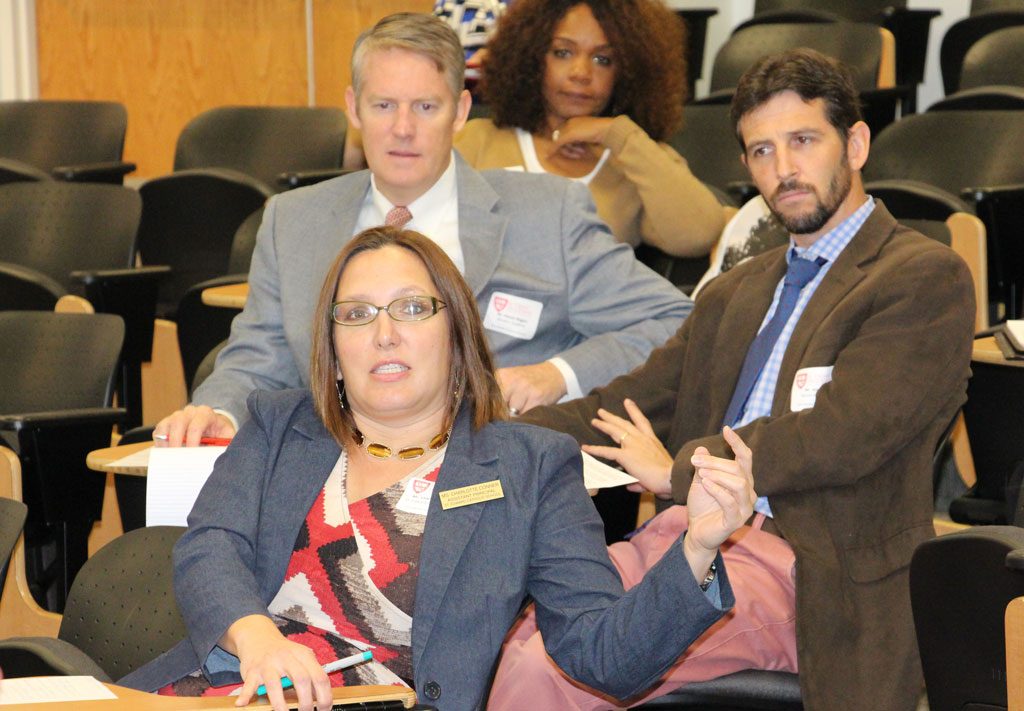 Charlotte Conner is the assistant principal  St. Edward Catholic School after five years as the Instructional Coordinator and pilot program director of Special People in Catholic Education (SPICE) at St. Laurence.
"You certainly understand that preparing students for high school is not merely a test, not just an eighth grade year priority.  Its forming that student for years," she said.  "I also appreciate the networking opportunity this gathering provides to help us build long term relationships which should pay dividends for our students in years to come."
Previously the STH sponsored conferences focused on such topics as …
supporting and motivating educators integrating new age tools and techniques into daily curriculum

the proliferation of technology and social media changing the way educators teach and students learn

effective strategies for fueling the gaps in opportunity for students with learning differences
"We have great relationships with our middle schools," president Fr. Kevin Storey, CSB said.  "There's a wealth of professional talent who can learn from each other given the proper context.  We embrace providing that arena and pushing the dialogue so that these educators might better engage and inspire their students.  The feedback from year to year is that our efforts are significantly valuable."
Catholic. Basilian. Teaching Goodness, Discipline and Knowledge since 1900.