This story was originally published in May 2014.
The Cardinal's Circle was founded in 2010 as a commitment to society and students in the Archdiocese's urban areas.  A yearly celebration featuring a Mass and Dinner of Thanksgiving salutes the financial benefactors who support St. Thomas and the other 12 Inner City Catholic Schools.
For the first time a student was chosen to serve as the evening's speaker.  Charles Pressler `14 was honored to provide a face and voice to the benefits of Catholic education and thank the private philanthropy which help fund the network.
Pressler was hardly lacking for inspiration when crafting his remarks for the audience, struck that STH was "much more conducive to education than the public environment with large class sizes and a curriculum geared for standardized testing rather than knowledge based.  The teachers here are mentors and not merely a learning resource."
But more importantly than the rigorous academics, Pressler was driven to express how he was nurtured in a "safe Catholic environment," allowed to discover, grow and enrich not only his God-given talents but also his faith, and related a story from the heart and his freshman year to punch the point.
"It was early dismissal but my mother couldn't pick me up until around 5:00 p.m.," Pressler said.  "So I went upstairs to the chapel and ending up falling asleep.  I can't imagine doing that just anywhere … wouldn't have felt safe and secure."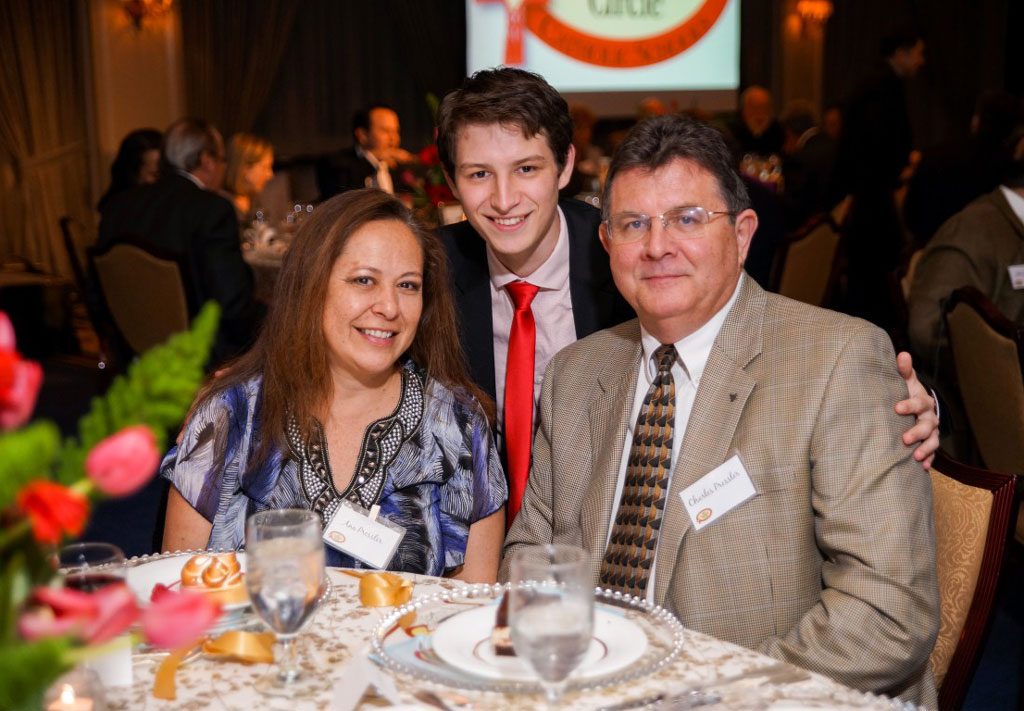 Pressler's parents Charles and Ana heard their son's speech for the first time that night at The Houstonian and believed his testimony was a tribute to St. Thomas in particular and Catholic education in general.
"He always felt comfortable (at St. Thomas) being around caring people and never felt vulnerable or at risk of something bad happening to him,"  Charles' father said.  "(Charles enjoyed) the protected environment of a family."
Pressler's "second home" became a trusting experience in many more ways than one.
"Charles is very intelligent and a type of young man who mainly believes in things that are factual rather than mysterious or unsubstantiated," Ana said.  "So to hear him admit that he has grown in area's such as spirit and his relationship with God was very nice to hear because he often struggles to believe in things that are not 'proven' in the world."
The mission of the Cardinal's Circle is as simple as it is essential – make these Inner City Schools available to as many families and children as possible while ensuring that the institutions maintain a standard of excellence in curriculum and staff (for more information, click on choosecatholicschools.org).
Thomas and Nancy Macrini are founding members of the Circle and part of a support group now totaling more than 200 contributors who annually commit a gift of $5,000.
"There's already a measurable impact," Macrini said.  "In some instances, schools which were in real need have stabilized their enrollments, textbooks and other essentials have been upgraded.  In other instances scholarship dollars have placed some students in schools otherwise unavailable.  So the efforts across the board are definitely making a difference."
The Macrinis were Pressler's sponsors to STH and it was Thomas who recommended Charles address the 2014 gathering.
"I'm so impressed with the young man Charles has become,"  Macrini said.  "He's always been so easy to engage one-on-one.  To see him grow and develop, well grounded, just an excellent young man – exactly the kind of person we like to see come out of this program.  He made great use of that opportunity, was appreciative of that opportunity.  He's really done well."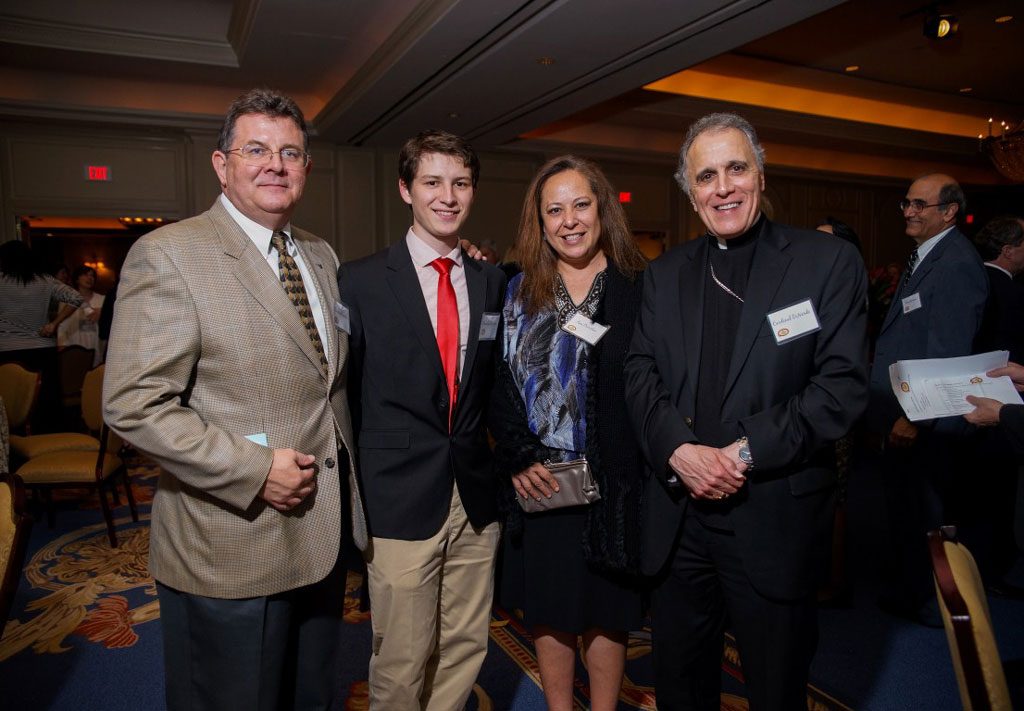 Pressler concluded his speech with a quote from Daniel Cardinal DiNardo which emphasized how Catholic education is tailored toward the pursuit of faith-based learning throughout one's life, not restricted solely to an academic career.  A sentiment that the Cardinal conveyed even more emphatically during his homily at St. Mary's Seminary.
"There are theological reasons for the existence of Catholic schools," Cardinal DiNardo said.  "These schools give the vessel of faith to children who go on to live meaningful and purposeful lives. What better place to educate a child, than one that reminds them of the unconditional love of God."
Principal Fr. Patrick Fulton, CSB saw that night Pressler "carry a sense that he will be able to go farther in life than he ever thought was possible.  Certainly through the generosity of the donors who fund and keep these target Catholic schools vibrant.  (Charles) has an education that addressed his intellectual gifts but also his spiritual life and sense of community."
This fall Pressler plans to enter Texas State Technical College in Waco to study Computer Science and Networking Systems Administration.  He moves forward confident that his foundation for success is secured by building blocks beyond test scores and class rank, AP and GPA.
"There is no doubt in my mind that Charles would have not turned out to be the wonderful, aspiring young man that he is today without the education he received at St. Thomas," Ana said.
"He attended public elementary school before we moved him to Our Lady of Mount Carmel – what a dramatic difference this made in him and my other son (Nicolas `16).  The environment and academics were two totally different worlds.  They both grew immensely in so many areas as individuals.  But the main thing that most stood out for Charles in his Catholic education were the compassion and camaraderie he found both in his teachers and friends (at STH)."
"He was provided an opportunity to develop his moral compass with St. Thomas's help," Charles' father said.  "He has told me that if he ever makes it super successful, he plans to create a scholarship fund to pay for other boys in the future.  Paying it forward.  Most young men dream of being successful by professional sports, fast cars or fast money.  But thanks to St. Thomas, they have shown (Charles) what is important … enduring values … the goodness, discipline and knowledge."
Catholic. Basilian. Teaching Goodness, Discipline and Knowledge since 1900.