GAME NINE – CRUSADER STADIUM, TOMBALL
Eagles 27
Tomball Concordia Lutheran 7
WHAT YOU NEED TO KNOW
Quarterback Peyton Matocha '19 threw for one touchdown and ran for another while running backs Jaylen Davis '19 and Ian Wheeler '19 combined for two more scores plus 178 yards rushing as the Eagles bulldozed their way to a fourth straight win and their 21st consecutive district victory.
TURNING POINT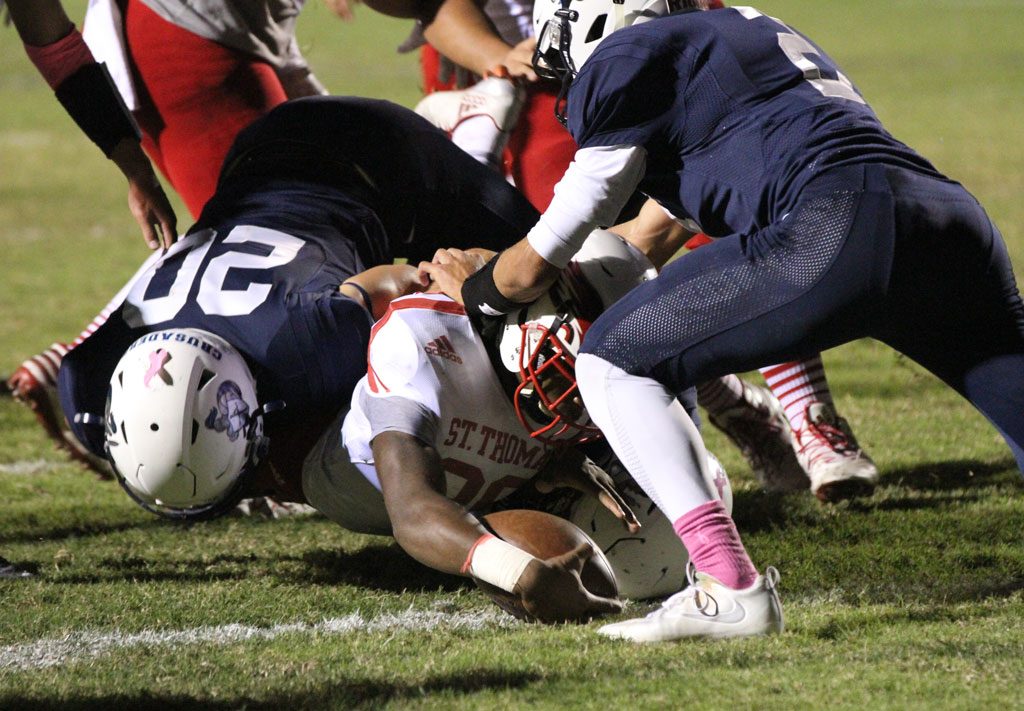 Midway second period Matocha orchestrated a crisp six-play scoring drive, connecting on three straight completions worth seven, eight and 19 yards before Wheeler (11 carries-51 yards) crashed in for a four-yard touchdown and a 13-0 advantage.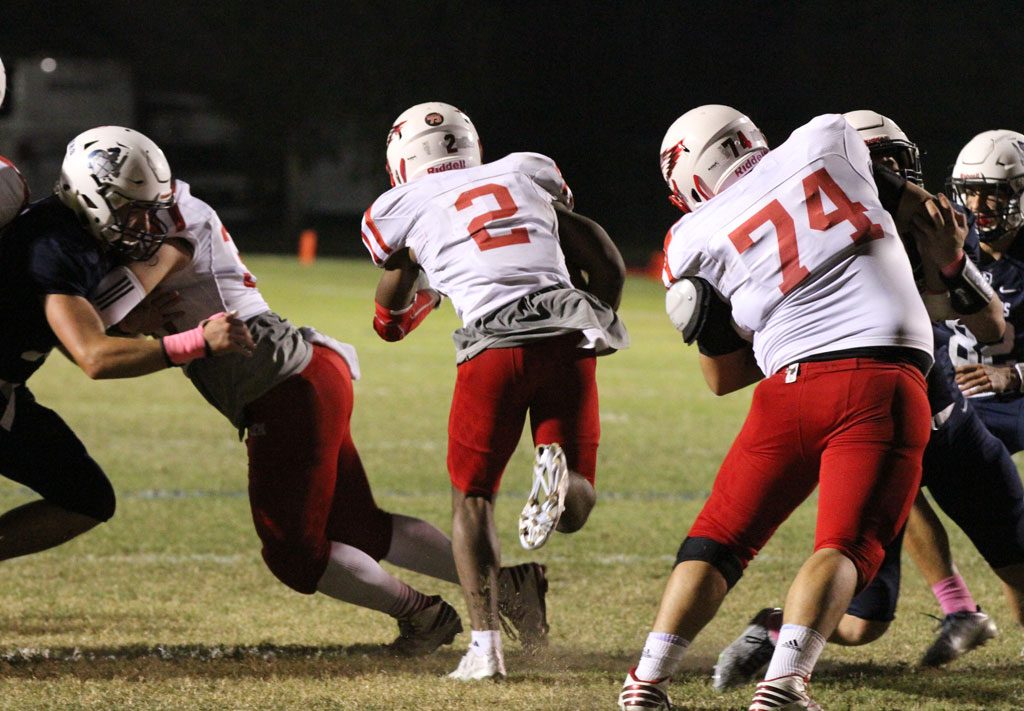 Two series and one play after the Eagles were backed to the brink of the TCL end zone, Davis (14 carries-127 yards) bolted lose through the defensive second level and raced untouched into the Crusader secondary until he was brought down from behind inside the TCL 10-yard line after an 84-yard jaunt.  Three plays later Davis finished what he started, muscling in for a short range touchdown to cap a 99-yard drive for a commanding 20-0 lead.
RAPID REACTION
Head Coach Tim Fitzpatrick:  "All and all a solid effort.  Our young guys are really coming on.  Great job by our offensive front and Jaylen and Ian are getting better, seeing the openings.  We still have to improve overall but the process is working."
STATE OF PLAY
After struggling through a murderer's row schedule during the first half of the season the Eagles were forced to Get Right.  
Disguised as patience, time gets wasted
Now is for the now
I'm, I'm destination addicted
I just gotta be some place else
Never good time, never feel the space to get it right
Get right
The Eagles had no patience to discover a much different place after a disappointing 1-4 start, enduring an exercise in resolve and recovering behind a tightened defense eliminating explosive plays and an opportunistic maturing offense to buzzsaw through four straight opponents by a combined score of 169-20 to raise their season record to 5-4.
Got right.
QUICKSILVER STRIKE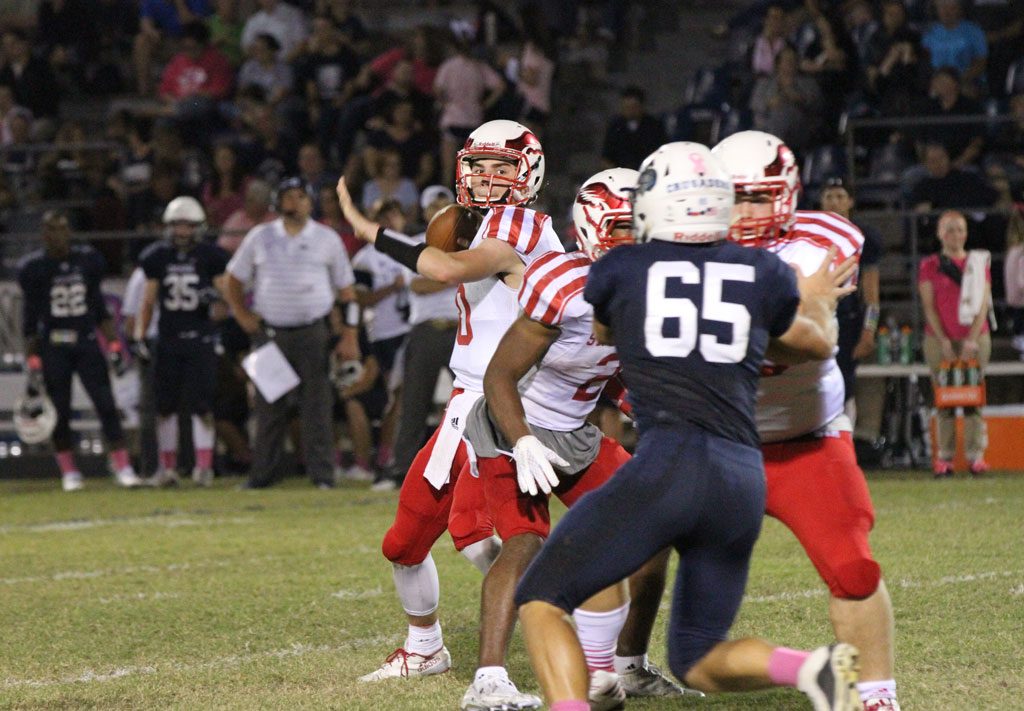 The Eagles feasted on favorable field position throughout the game.  A sizable punt return from Davis positioned the Eagles for their third possession at the TCL 31-yard line.  Matocha immediately went up top after a play fake and found Daniel Perkins '17 behind single coverage on a post route for a 31-yard strike to break the scoreless tie.
Matocha finished turnover free and an efficient 13-17 for 163 passing yards.
LAST CALL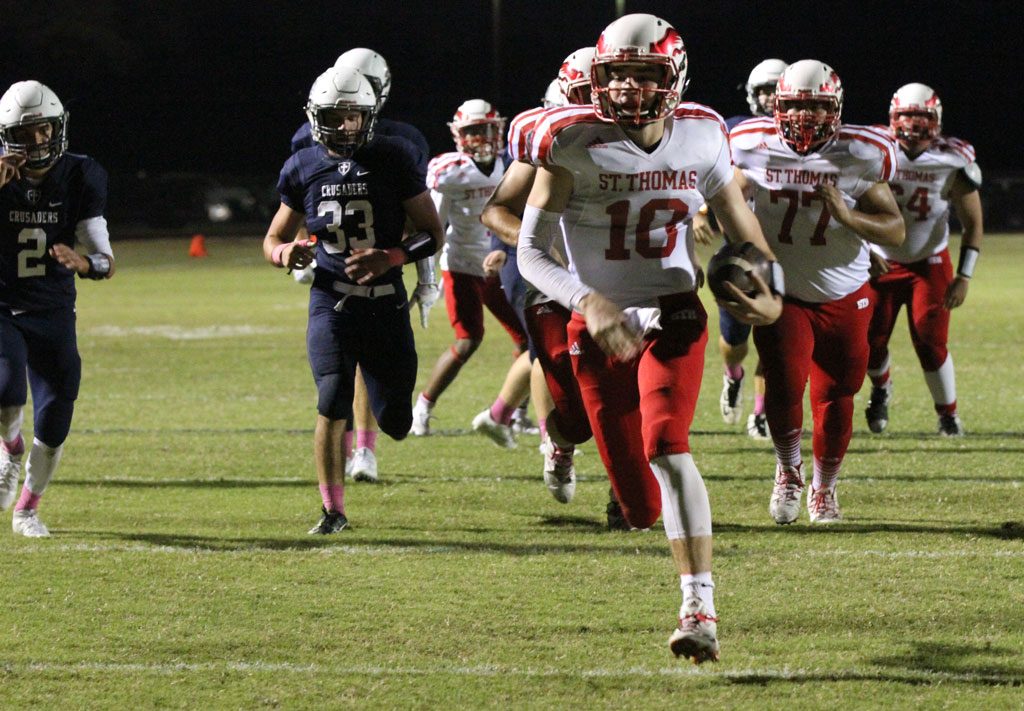 Matocha provided the final salvo just inside the nine minute mark of the fourth quarter.  He busted a designed run on third-and-19 from the TCL 24-yard line through the left side and into the end zone to push the insurmountable margin to 27-0.
MONSTER MASH
For a month the Eagle defense has forced opponents to operate in less space than a coach-class middle seat, not allowing a point in the first half during their four-game win streak.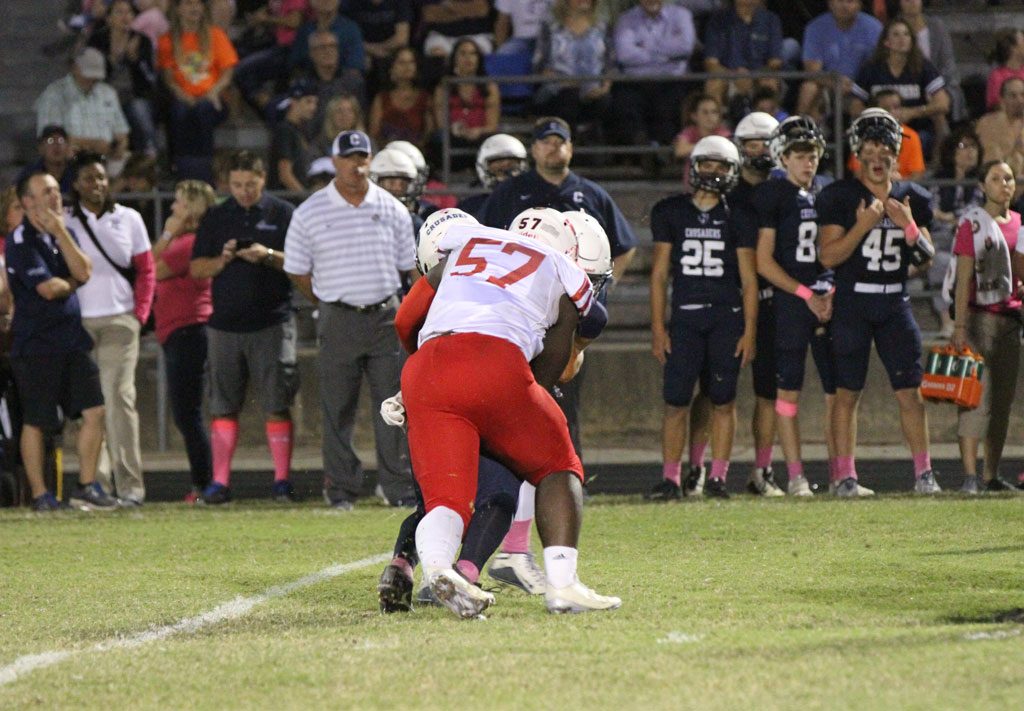 Defensive terror Sam Yeboah '17 led a demolition unit that surrendered only two three first downs on TCL's first five possession to start the game.  The Crusaders' longest run for the night was 16 yards, their longest pass 15 yards and they didn't solve the shutout until garbage time deep in the fourth period.
TCL reached the Eagles 32-yard line late third period but linebacker Jairan Parker '17 blew up a second down rush before Yeboah, Daniel Garcia '18 and Elliott Hammon '17 combined to bury the Crusaders on back-to-back plays to turn the ball over on downs.
MORE FITZPATRICK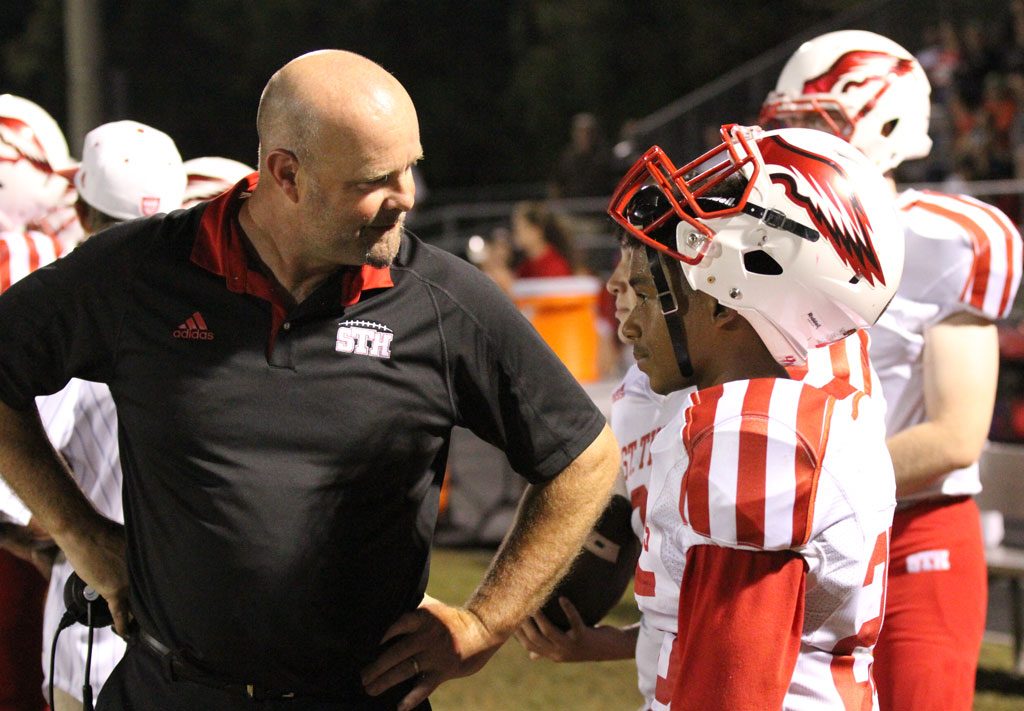 "We've faced their offense so much the last five years.  It's all about our guys maintaining integrity, keeping their assignments.  Basic game plan and making it simple so they can play fast and believe what their eyes are telling them.  Keeping them one dimensional is always critical."
CHECKDOWNS
Even with two lost fumbles the Eagles piled up 220 rushing yards and averaged more than six per attempt while outgaining TCL 383-177.
The Eagles have now won seven straight games in the series by a combined 219-66 since establishing their dominance in 2012.
THE FITZ FACTOR
The Eagles are now 45-11 since Fitzpatrick was promoted to head coach in 2012, including 41-7 in the regular season, 21-1 in TAPPS 5A District 3 and 17-10 away from home including the playoffs.
SALUTING ONE OF A KIND AND ONE OF OUR OWN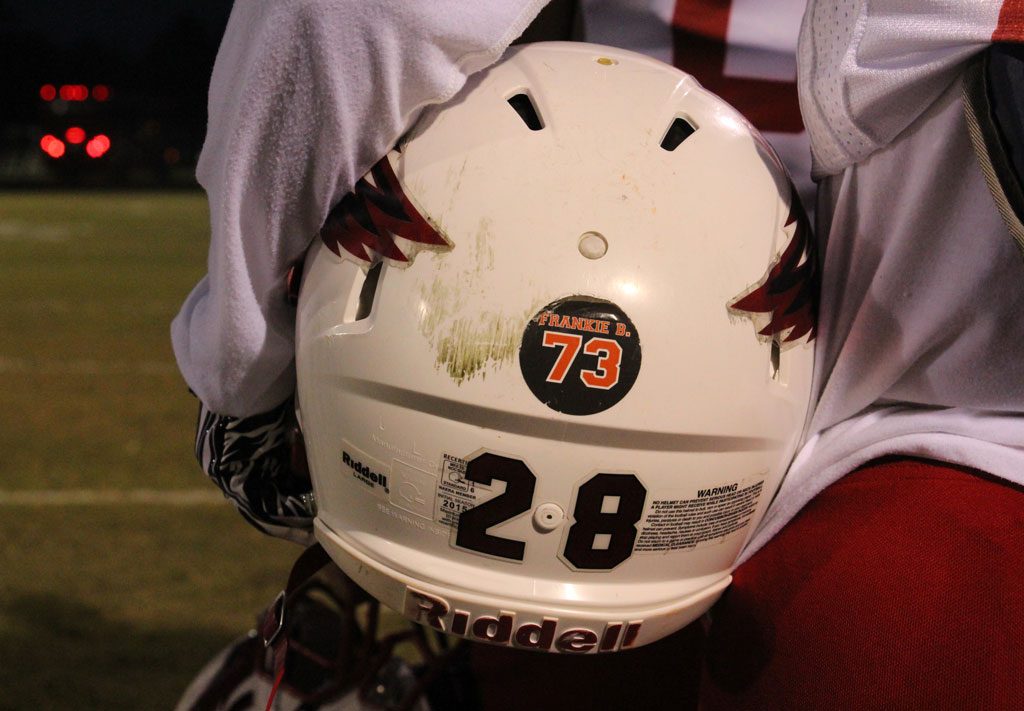 Eagle Football is wearing a specially designed helmet sticker throughout the season to honor beloved alumnus and STH Sports Hall of Famer Frankie B. Mandola '65, a former Eagle All-American and two-sport student-athlete at Rice University, a forever Eagle ambassador and famed Houston restaurateur who passed away in July 2016.
UPCOMING
The Eagles look to seal the district title in a stare down with St. Pius X in the regular-season finale for the fifth consecutive year ("destination addicted") capturing the last two match-ups by a combined score of 87-33 and the last four encounters by 144-62.  The high stakes winner-take-all is part of Senior Night and Alumni Weekend at Hotze Field inside Granger Stadium where the Eagles have won 28 of their last 29 games.
MORE FITZPATRICK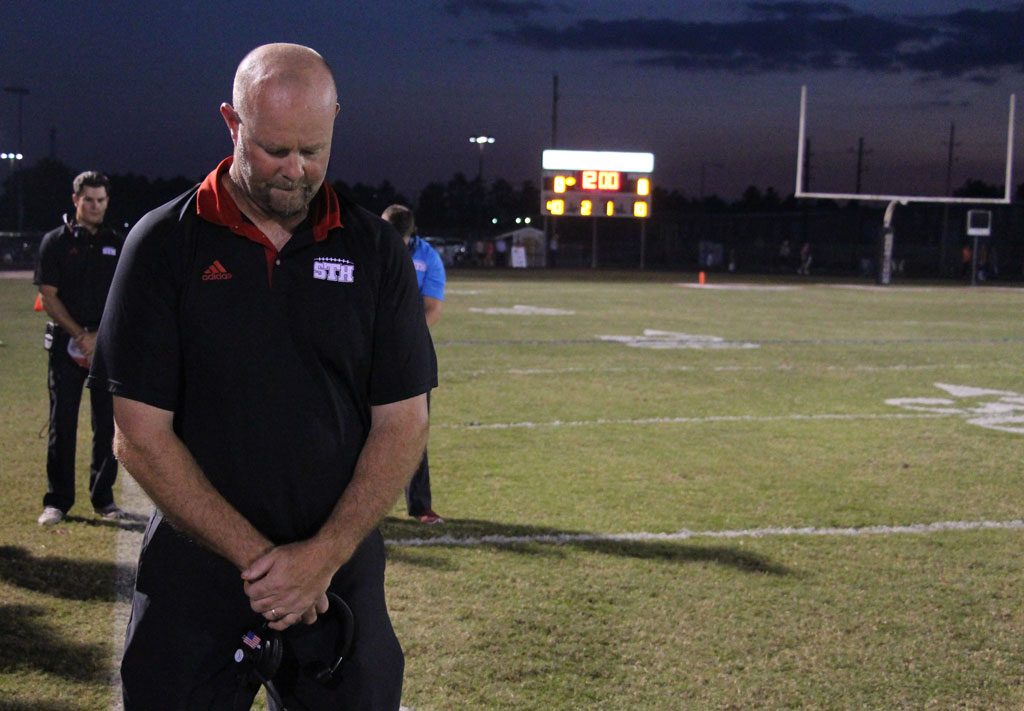 "They've gotten better and we're young.  We have to slow down a lot of weapons and play very clean.  When we were in that tough stretch I told the team we will take 5-4 into the final game and play for the district championship.  Our guys have really bought in and now we'll see what happens on our field.  Let's go."
Eagle Fight Never Dies!