Daniel Cardinal DiNardo has led the Galveston-Houston archdiocese since 2006 and has consistently prioritized engagement with the St. Thomas academic community.  
Twice in the 2016 calendar year the Archbishop served as a principal celebrant and homilist, most recently to celebrate the annual Father / Son Mass on All Saints Day.
"I come here for the young men, to see them in the context of Mass and then visit one-on-one afterwards," Cardinal DiNardo said.  "I see so many sharp and intelligent individuals and they need to be formed in the faith because they are leading the charge into the future."
Cardinal DiNardo particularly relishes the opportunity to connect with Eagle students within the critical context of the father-son dynamic.
"Fathers can demonstrate that there's a history, that we can live through difficult and trying times and overcome," DiNardo said.  "At the same time, sons can often remind their fathers of the ideals and optimism of youth, ignite a spontaneity that may have been temporarily lost.  Together they represent a true force in the toxic environment that is around each one of us every day."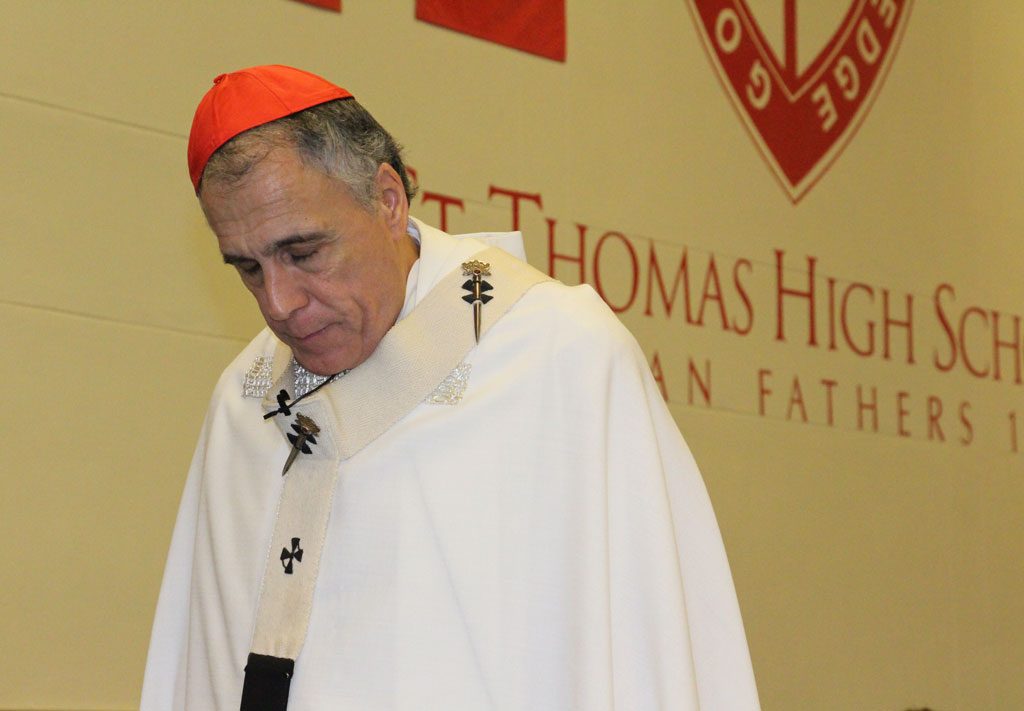 In Cardinal DiNardo's homily he encouraged those in the audience at Reckling Gymnasium to follow the way of the Beatitudes, the litany of what it means to be "blessed" and the ultimate blueprint for living the Christian life.
What everyone thinks is important, Jesus shows that is totally unimportant …
The Beatitudes are a description of a loser, some would say today.  No, they're a description of Jesus.  Reality is tough for us to understand in the Beatitudes today because for so many (in our society) reality is only what can be analyzed, packaged, marketed, bought and consumed.  How do you package, how do you market the Beatitudes …
Pope Francis was so intent on the Beatitudes that he called for a Holy Year of Mercy because the central Beatitude is "blessed are the merciful, for they will be shown mercy."  It takes strength to recognize the mercy of God shown to you …
Fathers and mentors, mercy is not always seen as a gift.  Courage and honesty, yes.  But mercy seems weak.  The strength you can show in showing mercy is a strength that derives from (a) deeper (presence) than you.  And why a realistic appraisal is so crucial for you to practice as an example for your sons.  Those who are genuine men know what mercy is.  Beg the Lord in his mercy to grant you just one of the Beatitudes, hungry for justice or pure of heart and single purpose.  Beg the Lord for just one.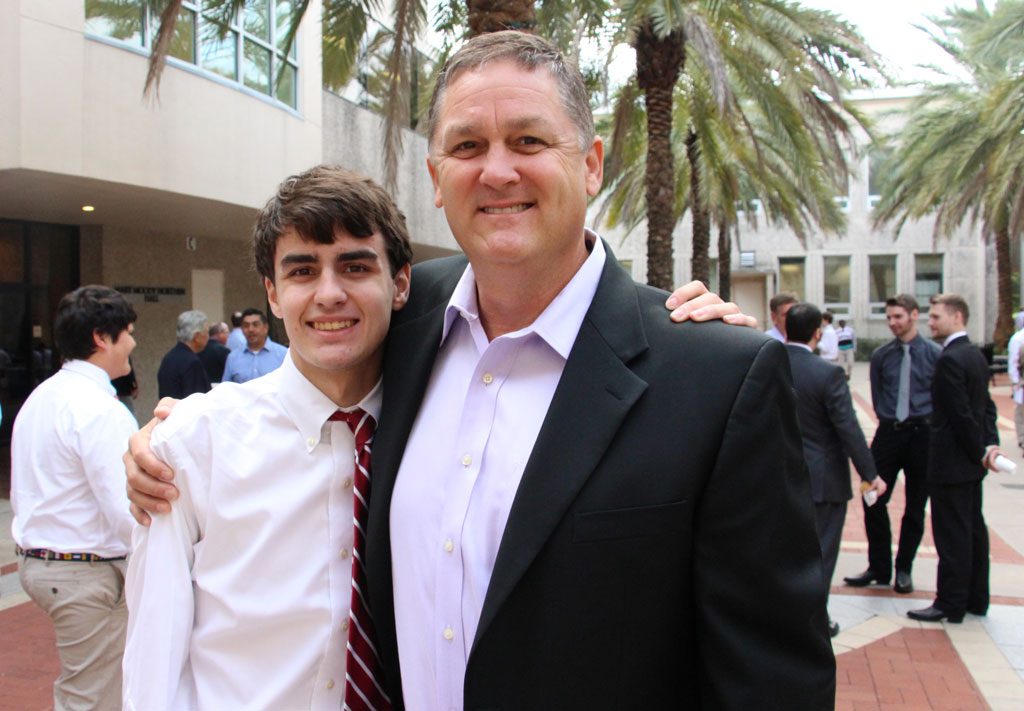 Shawn Walker has valued the chance to participate in that kind of message as a repeated presence at the Father / Son Masses for five years, sharing first with his son Kyle '16, a thriving freshman at Texas A&M, and now for the final time with rising senior Christopher '17.
"This day really goes to being a man of St. Thomas," Walker said.  "It's critically important for our sons to understand what defines authentic manhood. These Masses are a significant way we participate together, form a stronger bond, and take part in a St. Thomas tradition that we're determined to keep as a fabric of our family."
Testimony such as Walker's gives Cardinal DiNardo great gratification knowing that St. Thomas is bracing for significant expansion with the addition of the Joplin Campus funded by the 4500Forever and the 4500Forever Finish Strong capital campaign.
The most ambitious fundraising effort in the school's 116-year history secures its future by increasing enrollments while providing dramatically enhanced student opportunities and supporting initiatives advancing academic innovation.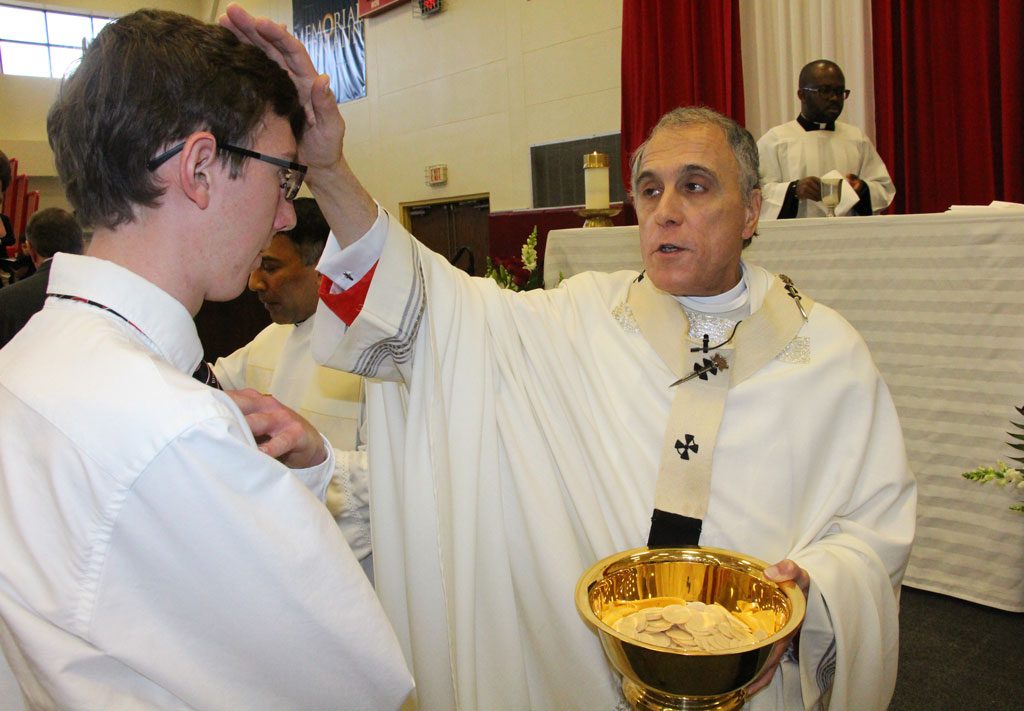 "Great for Catholic education in this city because it shows that this school is vibrant and relevant in the current times and that is what we need for witness in the world," Cardinal DiNardo said.  "It shows the growth and demand moving forward for this beautiful liberal arts education in the tradition of the Basilians."
Catholic. Basilian. Teaching Goodness, Discipline and Knowledge since 1900.