Growing up in Houston, Cameron Blackwood '12 had long been indoctrinated in the treasured lore of Midnight Yell and the legend of the 12th Man.
But he needed only a few weeks as a freshman on the Texas A&M campus to begin carving out his own Aggie identity.
In the frantic fall of 2012 when Manziel Mania was powering A&M's slam-dance debut into SEC football, Blackwood and his tag-team partner Austin Payne began a meager tailgating presence that would morph into much more than they could have ambitiously imagined.
From a modest pop up tent surrounding a Weber grill … to a donated trailer … to a Craig's List smoker propped by twin propane tanks … to an expanded flatbed soon to include a second story party viewing deck … to associations with Karbach Brewery and Rebecca Creek Whiskey … to multiple HEB Tailgate of the Game distinctions and third place in the 2014 Tailgate of the Year … R.C. Smoke'em has emerged favorably from a food-centric scene of fandom littered with deep-pocket sponsors and non-profit partners.
"You have to start humble," Blackwood says.  "At the beginning we could figure out what we needed to do while knowing we didn't know what we were doing.  The plan was create the facility and develop a profile.  And really it was all about repetition. We would spend $100 on brisket during the week just to experiment with what rubs, heat, and techniques would work best.  It's nearly $50 in wood just to get the pit hot.  But we had a passion to be successful so we didn't think twice about the time or the dollar investment."
Blackwood is now waiting out a trademark which salutes the winningest football coach in program history and architect of the famed Wrecking Crew defense.  And, yes, R.C. Slocum is known to visit Blackwood's camp among the West Campus convoy of Aggie tailgaters.
"When you see the response … 150-250 people for a home football game … that's a huge payoff," Blackwood says.  "It's about providing an atmosphere where anyone can come and enjoy themselves."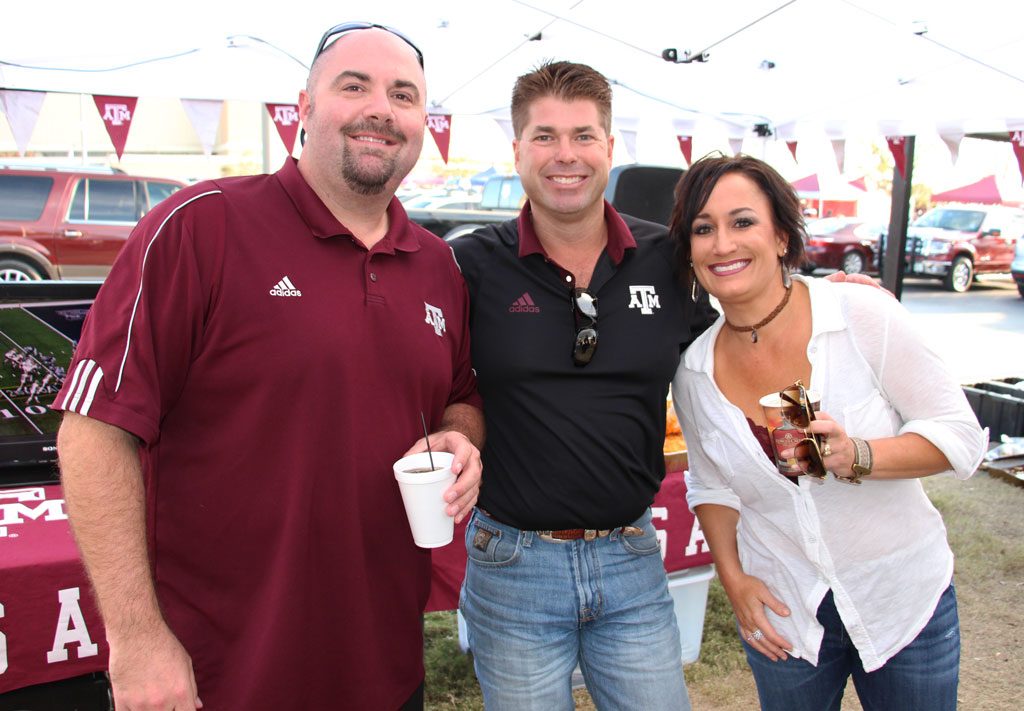 Dennis McMillin (above, middle) was an early tailgating neighbor of Blackwood who captured an immediate appreciation for a "jambalaya and smoked rice that are absolutely the best anywhere.  Stunning."
McMillin was hosting pregame gatherings for guests and clients for Blackstone Handcrafted Homes but quickly acknowledged the benefits of collaborating with Blackwood.  
"Cameron is a much better cook than I am," McMillin says.  "But my biggest takeaway is seeing his rare leadership qualities.  He simply understands how to deliver great product and great times for friends and family.  Whatever he decides to do in life, he will be enormously successful.  I'm really proud to be a part of all this."
Blackwood and Payne have routinely measured their talents on the road, making the rounds through the SEC carnival of consumption where food matters as much as who wins, tailgates from Tuscaloosa to Baton Rouge to the shadows of the Jerry Jones Taj Majal for A&M's annual neutral site bash with Arkansas.
Regardless of the setting, Blackwood insists an "open-arms" approach is what sparks a curiosity and consistently brings people back.
"You stand outside long enough and someone will say 'Hey, have something to eat," Blackwood says.  "For the (season-opening) UCLA game this year, we had more Bruins fans on our roof than Aggies.  We just want people to have fun, enjoy College Station and our tailgate as much as we do."
Premium success comes with a price, a working holiday for Blackwood and crew for the Aggies final Thanksgiving night encounter, demanding a Wednesday 6:00 a.m. first call to stake their customary spot on John Kimbrough Blvd. north of Reed Arena.
"For six hours it's basically watching grass grow," Blackwood says.  "At noon the horn sounds and we rope off our area.  Then it's back to the house to cook sides for the next 10 hours … stuffing, green bean casserole, mashed potatoes … pan it … and into the deep freeze … just working that cycle.  We're up 5:30 a.m. Thanksgiving day to get everything back to room temperature … load the trailer … get to the site around 9:00 a.m. … start the fire … smoke a half dozen turkeys for 4-5 hours … carve them … serve around two hours before kickoff."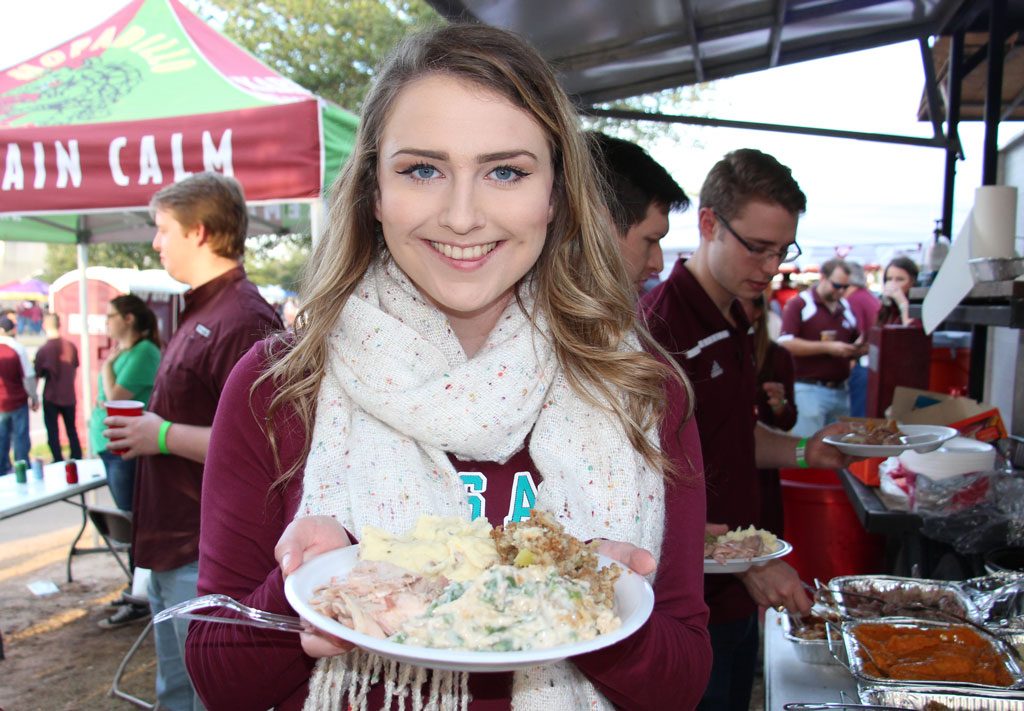 The quiet commons from the day before became a densely packed mass of humanity.  For five dollars Blackwood dished a heaping plate, poured a select beverage of choice and offered covered seating within prime proximity to flat screen football coverage.
The due diligence to detail and appreciation for creative camaraderie is in many ways a lesson instilled from Blackwood's Eagle experience.
"Some may say the ethic and brotherhood is cliche but I've learned it's never over-valued," Blackwood says.  "That bond with classmates, teammates, faculty members is just as strong for me today as it was when I was a student.  I can contact (Fine Arts Dean) Mr. (Mike) Nebel any day and we'll talk for two hours, sharing what going on in our lives."
Blackwood was a complimentary linebacker and left fielder in Eagle Athletics, earning the 2012 Bryan Selby Award for heart, spirit and commitment to Eagle Baseball.
He contributed to consecutive state championship teams guided by Astros icon Craig Biggio in 2010 and 2011 when Blackwood was struck "not by the Hall of Fame player but by the person."
Biggio summoned Blackwood to pinch hit in the late innings against Houston Christian on Senior Night, his final plate appearance at Fr. Wilson Field.  Younger brother Chris '13 was in charge of the game's walk-up music and unsuspectingly traded out Cameron's Johnny Cash tune Daddy Sang Bass … for ABBA's disco days Dancing Queen.
"I came up to the batter's box and their catcher looks up at me and says 'Really?,'" Blackwood laughs.  "I had no idea what was going on."
"We had a big lead, bases loaded, first pitch, hammered, over the wall, grand slam home run to end the game.  That's my walk off moment, the best senior story anyone you could ask for.  And it all started with Dancing Queen."
Blackwood will graduate from Texas A&M with a Bachelor of Science in Agriculture Economics, secure with a future position with Byrne Metals which specializes in the fabrication and installation of metal wall and roof systems.
"I'll move our trailer down to Humble and on Saturdays next fall we'll roll into College Station for game day," Blackwood says.  "Business as usual."
All grounded in an utterly unexpected yet immensely rewarding undergraduate venture which in many ways is rooted in the Basilian virtues Blackwood has learned to trust and value.
"The way you treat people matters,"  Blackwood says.  "It's what my parents taught me, what St. Thomas taught me.  And when you see that positive response first hand, that is great reinforcement.  That's how we built our brand, through friendships and relationships.  And that's what so far has meant the most to me."
Catholic. Basilian. Teaching Goodness, Discipline and Knowledge since 1900.