The Basilian Fathers and St. Thomas academic community were blessed to celebrate the annual Mother / Son Mass, honoring the Solemnity of the Immaculate Conception of the Virgin Mary, with assistant dean Fr. Jim Murphy, CSB the principal celebrant and homilist.
Fr. Murphy delivered a impactful message on the importance of Mary as a model for the Christian life.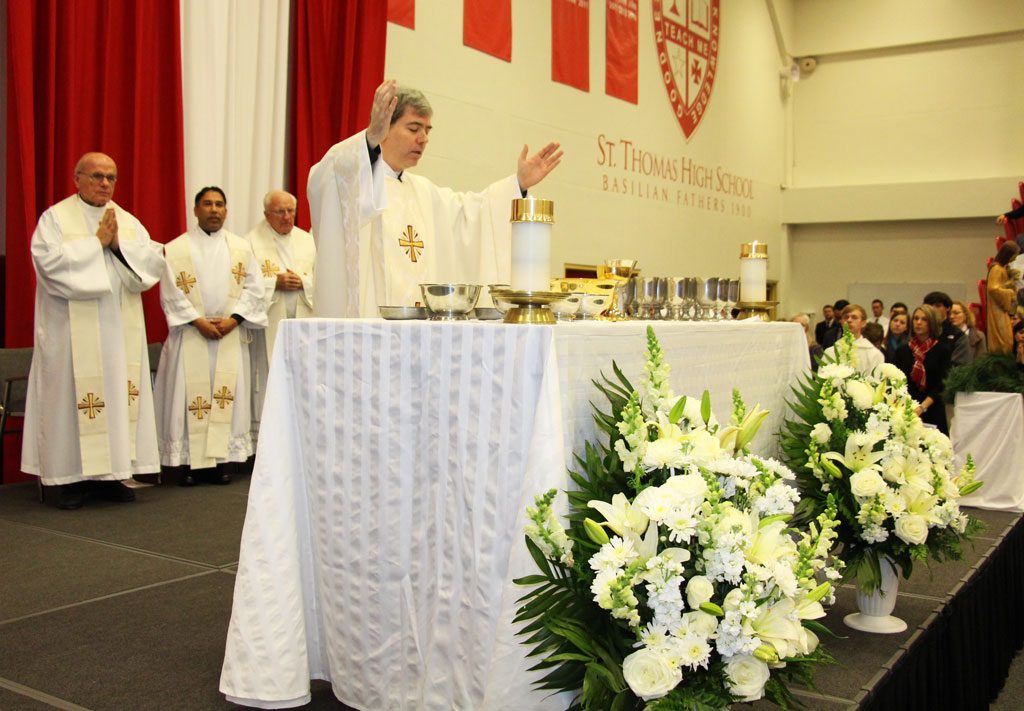 What we celebrate today in the Feast of the Immaculate Conception is God's love being so great that it needs preparation … In order for God to give us his Son he must prepare a woman, a woman unlike any other, but a woman like all others, a woman who is willing to accept the greatest challenge – motherhood.  A woman who knows and is willing to accept sacrifice – a mother.  
When we read our gospel today … 'Hail Mary, full of grace, the Lord is with you.'  And Mary pondered this, because this is the first time in history someone has recognized Christ in another … And then Mary visiting her cousin, Elizabeth (who) immediately recognizes Christ in Mary … 'Hail, and why does the mother of my Lord come to me.'
And now that every time we pray the Hail Mary, we pray for the grace and ability to see Christ in others, making this the perfect solmenity to prepare ourselves for Christmas and the coming of Christ in our lives (which) can only happen if we have our eyes open, and our hearts open, our souls open.
Mothers do that.
In Rome, Pope Francis visited the city's Spanish Square to pay homage to the Immaculate Virgin, just as the Bishop of Rome has done annually for the previous 50 years.
The Holy Father prayed Our Lady to "Let us not give in to discouragement, but that, trusting in your constant help, we may engage ourselves fully in renewal of self and of the entire world."
CLICK HERE for more from Vatican Radio.
On this day in 1854, Pope Pius IX made a special announcement to mark the annual celebration of Mary's conception. He published an Apostolic Constitution entitled Ineffabilis Deus in which he proclaimed that Mary's conception without sin was a required belief for the whole Church.
Catholic. Basilian. Teaching Goodness, Discipline and Knowledge since 1900.