This story was originally published in January 2015
In many ways Wendell Champion '15 exemplifies the totality of the four-year St. Thomas experience.  
He achieved success through diverse academic disciplines including the arts, and on the athletic fields he was a significant factor in helping the Eagles reestablish football relevance and capture the 2014 TAPPS state baseball championship.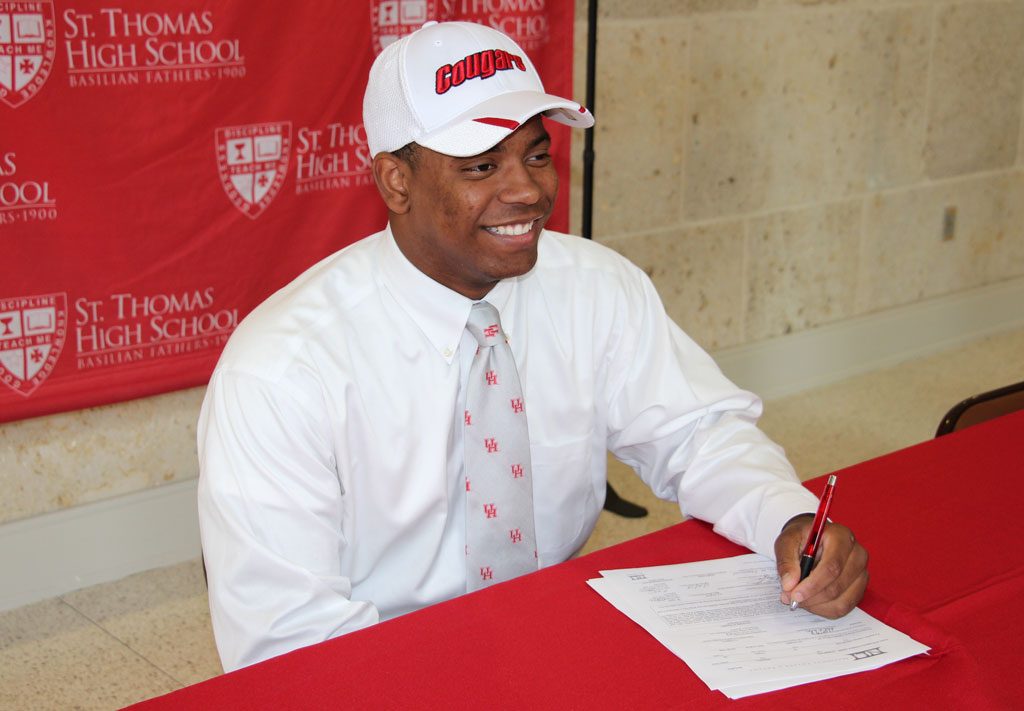 One of the many rewards for his wide array of rich involvement is continuing his baseball career with a scholarship to the University of Houston.  
But when asked to reflect on what he most valued from his STH years, what he seized which otherwise might not have been within his reach, he answered without hesitation.
"More than anything else, I would have missed on great friendships.  Blood would not make me any closer with my classmates.  You lay down your life for your family and I would do the same for my Eagle brothers," Champion said.
Champion is one of the hundreds of Eagles who partner in the student assistance program which supports roughly one-third of the STH enrollment.  
The 8th Annual Scholarship Breakfast drew a crowd of more than 275 into Cemo Auditorium to salute the many benefactors whose efforts assure that a storied past continues to create promising futures.  
"When we first organized this event we wanted the students and sponsors to be able to put a face with the name," Andy McStay '69 said.  "What I cherish most from my own St. Thomas experience are the life-long relationships, the people whom I would never have known if not for St. Thomas.  It's an intangible gift.  Beyond family.  More like tribe."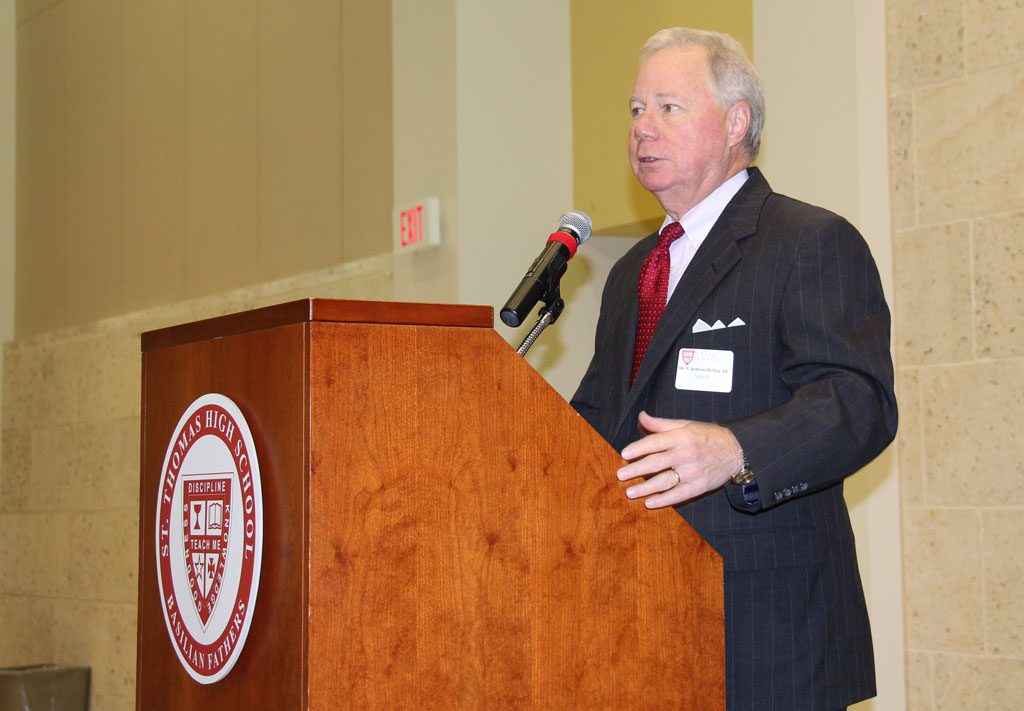 McStay is a member of the St Thomas Foundation Board and has been involved with STH fundraising for more than 40 years.  He believes the program demonstrates how the institution continues "to strives to be better in who we are, not in the pursuit of others, but in our own mission."
During the event John Constantine III '15 and Bryan Stieneker '15 provided personal testimonies, both having navigated a road of uncertainties out of middle school right until the final admission deadlines before their STH positions were secured.
Constantine (below, right) proved to be a dynamic performer in the surging Speech and Debate program and received a sizable scholarship to enter the College of Business at the University of Missouri.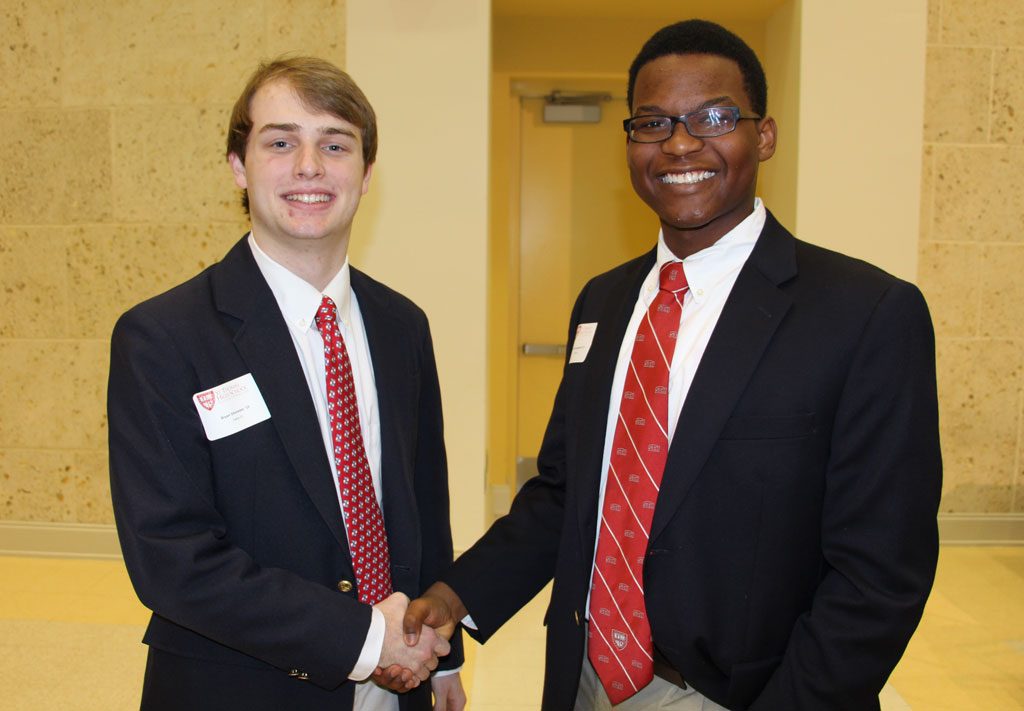 Stieneker (above, left) will enter Washington & Lee University after a distinguished career in STH's award-winning and nationally recognized publications and was a two-year STH lacrosse captain, capping his career by leading the Eagles to the most successful season in the program's history.
And while it may require years before either is positioned to accurately measure the full impact of how STH engaged their minds and heart, their parents share a perspective and appreciation in real time.
"I knew of the (St. Thomas) reputation, that so many good people, successful people, had come through these doors," John II said.  "And in the last couple of years I've started to see those qualities develop in my son, particularly the moral base to make good decisions.  I told him that once you come here, the world will open up for you.  I know he's ready for college, that St. Thomas has in many ways given him the right foundation."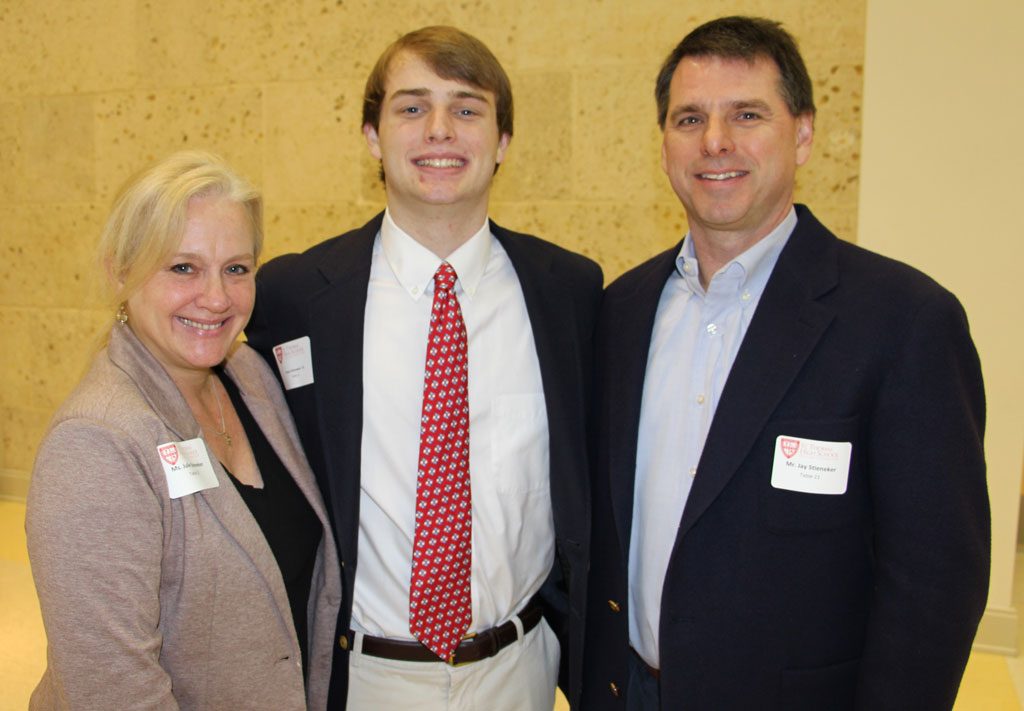 Julie Stieneker (above, left) said that "St Thomas has provided a wonderful life changing path for Bryan.  It truly has been an incredible blessing to our entire family and he has accomplished many things that he would not have otherwise.  We love St Thomas and are so grateful for the relationships and opportunities it has provided."
The tuition assistance program routinely teams a sponsor with the same student throughout his four years.  The Class of '63 scholarship afforded Champion was born from a plan with a much different intent.
A small group of Eagles began crafting a strategy in 1980 to rev-up their 20-year reunion.  Operating with a three-year runaway, Pat Tamborello '63 began collecting contributions before arriving at an unexpected destination.
"We began putting money aside.  Some of our classmates even put out a challenge.  The dollars started building and we ended up with more than $25,000,"  said.  "Then we thought, we can either stage a really nice party, or we can approach St. Thomas and perhaps most of this can be used to help the students in some way."
At the reunion bash Tamborello presented the Basilian Fathers with a check which formally established a scholarship in the name of the Class of '63.  That fund now totals more than $175,000.
"We were blessed by what we learned attending St Thomas," Bishop George Sheltz '63 said.  "And then to have the chance to really get to know these young men throughout the years, enjoy that connection with them as they mature and find direction in life, is a great privilege.  An absolute joy."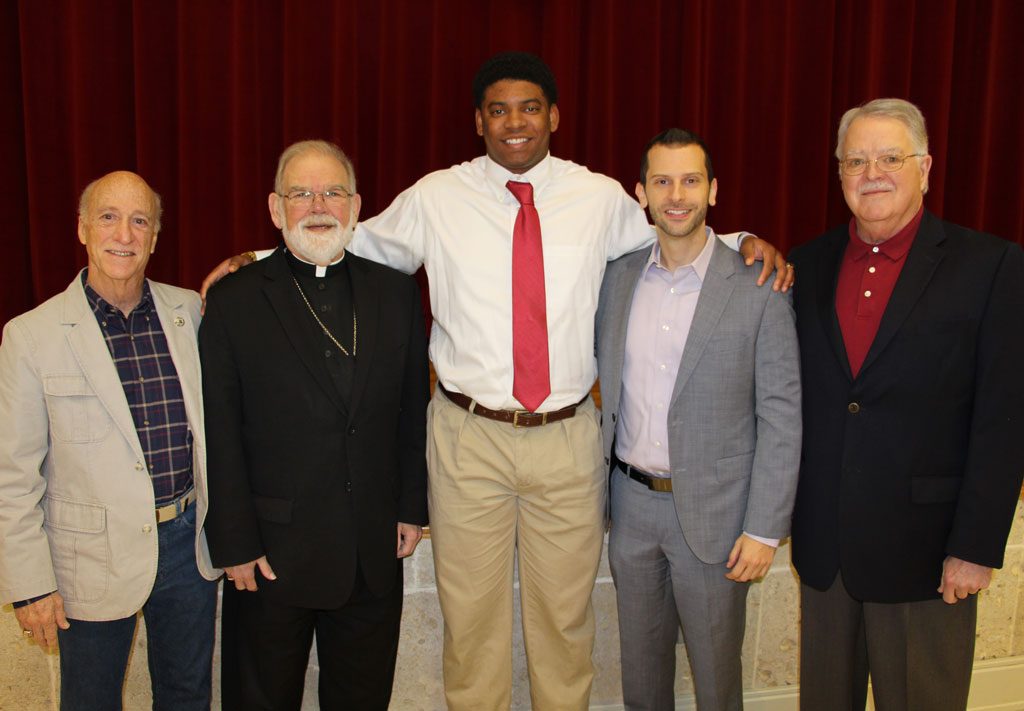 Champion (above, center) readily admits the scholarship opportunity provided not only funding but also the guidance and friendship needed for him to thrive.
"The four years were not easy.  There was a demanding transition, a time when you're not sure if you're going to make it.  But when you have supporters who want to see you succeed, that's a great boost.  I've had an awesome experience.  And it wouldn't have happened with this group of guys," Champion said.
Matt Gasparini '00 is one of five STH graduates as a result of the Class of '63 scholarship and has returned to assist in a "pay it forward" principle which the program encourages.
"Like so many in the room today, I don't know if I would have had the means to attend St. Thomas.  And it's meant the world to me," Gasparini said.  "The values you learn throughout your four years manifest as you become an adult.  To be involved on both sides of the program has been a great learning lesson in life.  And a great blessing."
Tom Braniff '63 added that "it's so gratifying for me and our group to serve as contributors.  We stay in touch with all of our graduates.  Sam Cegielski (class of 2011) just graduated from Ole Miss.  We'll follow Wendell at UH.  And we already know who will follow next.  It's just been terrific involvement."  
One that Stieneker intends to maintain in the sterling example of Braniff, Tamborello, Bishop Sheltz, Gasparini and so many others who have made the STH experience possible to so many who have desired it.
"Dr. Gerald Gabel, my primary benefactor, hosts a luncheon every year for the recipients of the Gabel Scholarship," Stieneker told the audience at the scholarship breakfast.  "Every year he reminds us that the other scholarship recipients and I have been given a great gift, not just by him, but by the school and our parents.  Because of this, we have a responsibility to continue this gift, by making a difference in someone else's life in one way or another.  One day, my hope is that I can be sitting where all of you are today, helping give the incredible gift of a St Thomas education."
Catholic. Basilian. Teaching Goodness, Discipline and Knowledge since 1900.