St. Thomas president Fr. Kevin Storey, CSB announced today that the school and head football coach Tim Fitzpatrick have mutually decided to part ways, and that an exhaustive search to identify the next leader of the program will begin immediately.
Fitzpatrick was 45-13 in five years with Eagle Football with four consecutive district titles from 2012-2015, reaching the TAPPS 5A state semifinals in 2014 and 2015, eliminated by the eventual state champion four straight seasons beginning in 2013.
Fitzpatrick's fifth season concluded 5-6 with a rebuilt and inexperienced roster facing a robust non-district schedule, losing four games to opponents who combined to post a combined 37-10 record.
"I want to thank Tim and Katie Fitzpatrick for their tireless dedication to Eagle Football the last five years," Fr. Storey said.  "Our commitment to excellence is unwavering, and our goals in the future will not change.  We have an obligation to our student-athletes to put them in the best position to have success on the football field and in the classroom, and we have great confidence that we will find a successor to continue what Tim has established.  I wish him and his family all the best as they move forward."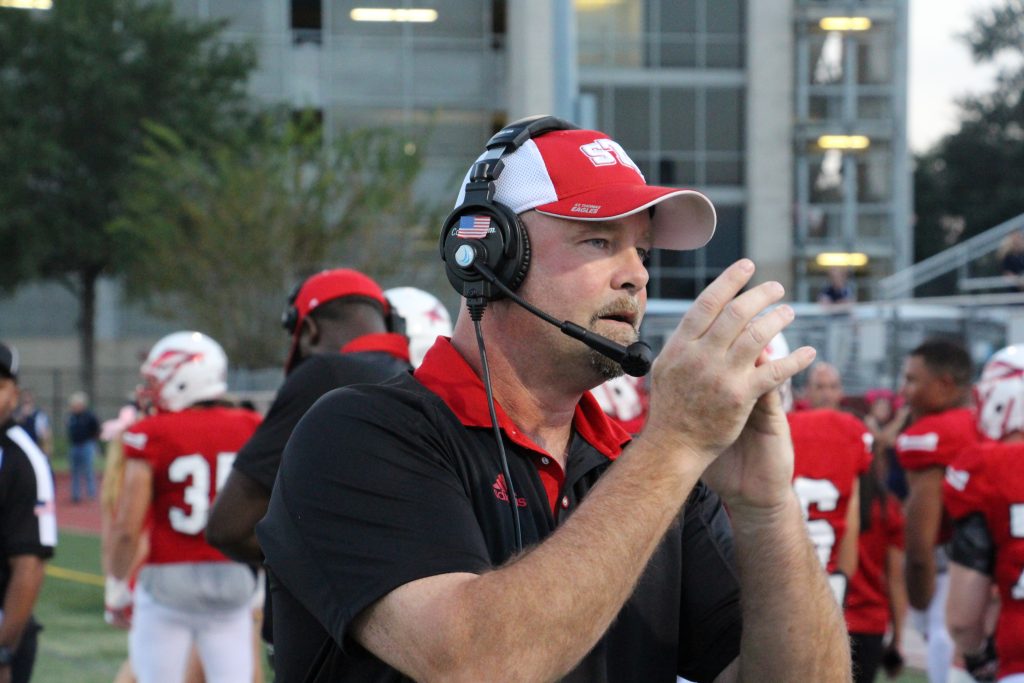 Fitzpatrick was named the city's private school Coach of the Year by the Touchdown Club of Houston in 2013 following the program's first undefeated regular season since 1939.
Fitzpatrick guided St. Thomas to four consecutive victories in the series with Strake Jesuit, three decided by the Eagles' final offensive possession in the closing seconds of the game, capped by a 42-35 win in 2015 in front of nearly 10,000 at NRG Stadium, home of the NFL Houston Texans.
"I'm grateful to the Basilian Fathers for the opportunity to serve as the head coach at St. Thomas," Fitzpatrick said.  "I have great appreciation for our players and staff, our fans and supporters, the campus community, the board, our donors and administration … all those who shared in our desire to restore the winning tradition of Eagle Football. The program has significantly improved over the last five years and now it's time for new leadership to maintain that positive momentum.  The immediate future is bright for this young, talented team which gained valuable experience this past season."
During Fitzpatrick's tenure Eagle Football extended its win streak at Hotze Field inside Granger Stadium to 27 straight games.  And multiple Eagles received opportunities to continue their careers at the collegiate level, as well as repeated Touchdown Club, and TAPPS all-state and academic all-state distinction, including Parker White '13 (2012 Touchdown Lineman of the Year), Joseph Lowery '14 (2013 Touchdown Lineman of the Year) and Charlie Vatterott '16 (2015 Touchdown Lineman of the Year), plus 2015 Touchdown Ironman of the Year and TAPPS Male Athlete of the Year David Jones '16.
Athletic director Mike Netzel believes the blueprint for the program will continue to yield positive results both on and off the field.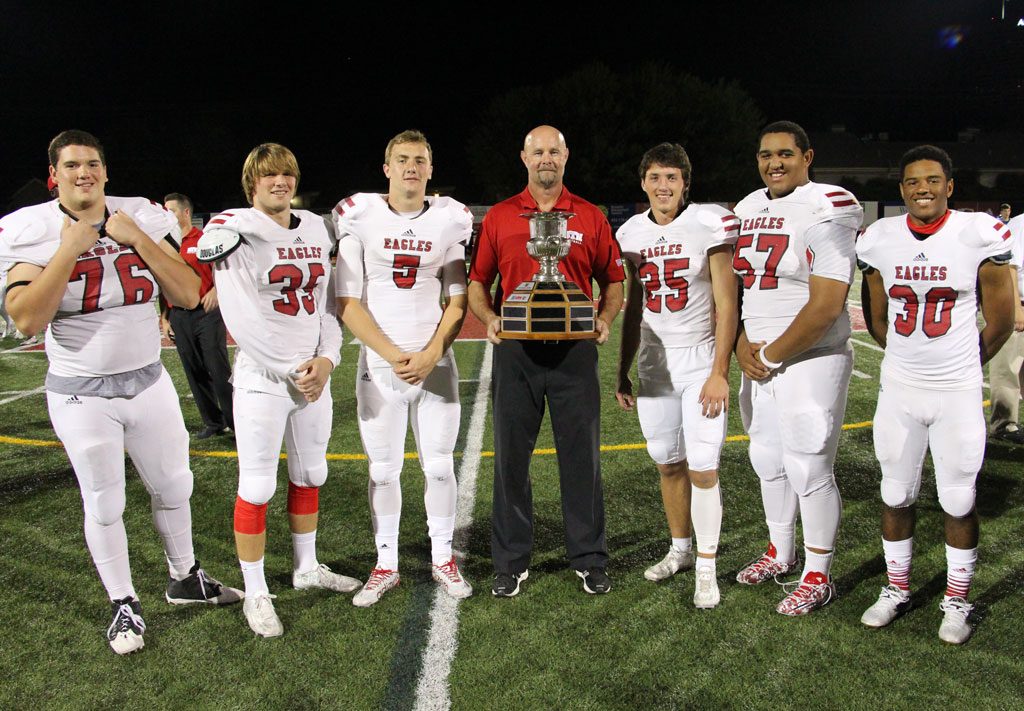 "Tim Fitzpatrick represented St. Thomas with class and dignity, and he demanded our student-athletes do the same by adhering to his system of core values," Netzel said.  "I cannot begin to express and describe his investment, the countless hours and great integrity he devoted to moving Eagle Football back in the right direction. I share the pride, admiration and respect that many in our community feel for him, and expect great success for him in his next endeavors."
Eagle Fight Never Dies!