For more than a century, St. Thomas has never let convention limit its dreams. Especially when there's an opportunity for bold action.
The monumental acquisition to secure the adjacent HISD School for Law and Justice was simply the next defining moment in providing an unsurpassed college preparatory experience bringing academics, athletics and student life together.
The noted design team of Kirksey Architecture has utilized innovative measures in uniting two distinct campus identities into one with a move-in master plan for the Joplin Campus expansion funded by the 4500Forever capital campaign, the most ambitious fundraising effort in STH's 117-year history.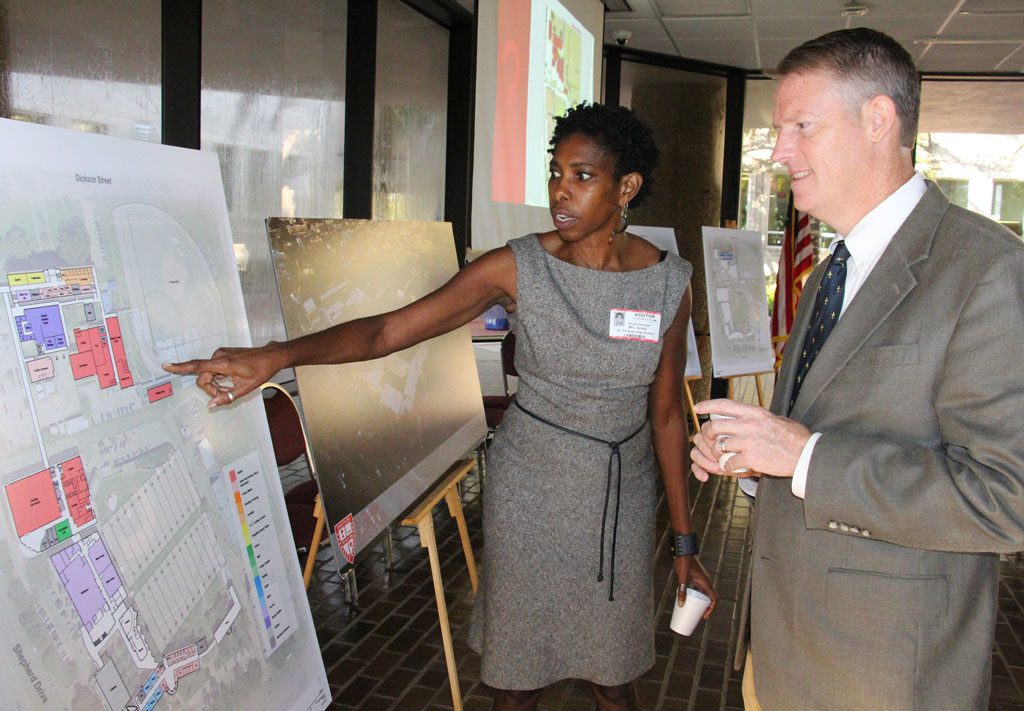 "We began an intense dialogue with St. Thomas stakeholders in July 2015 to gain an understanding of what this merging needed to be," said Kirksey vice-president Nicola Springer. "We heard sincere desires that the top priority was creating an environment that expressed brotherhood and community, family and a spiritual togetherness, where students will mature into young men of St. Thomas, and then wish to continue that Eagle relationship throughout their lives."
4500Forever Finish Strong is raising the necessary $12 million for the Joplin Campus redevelopment. Currently 30% of that monetary goal has been reached.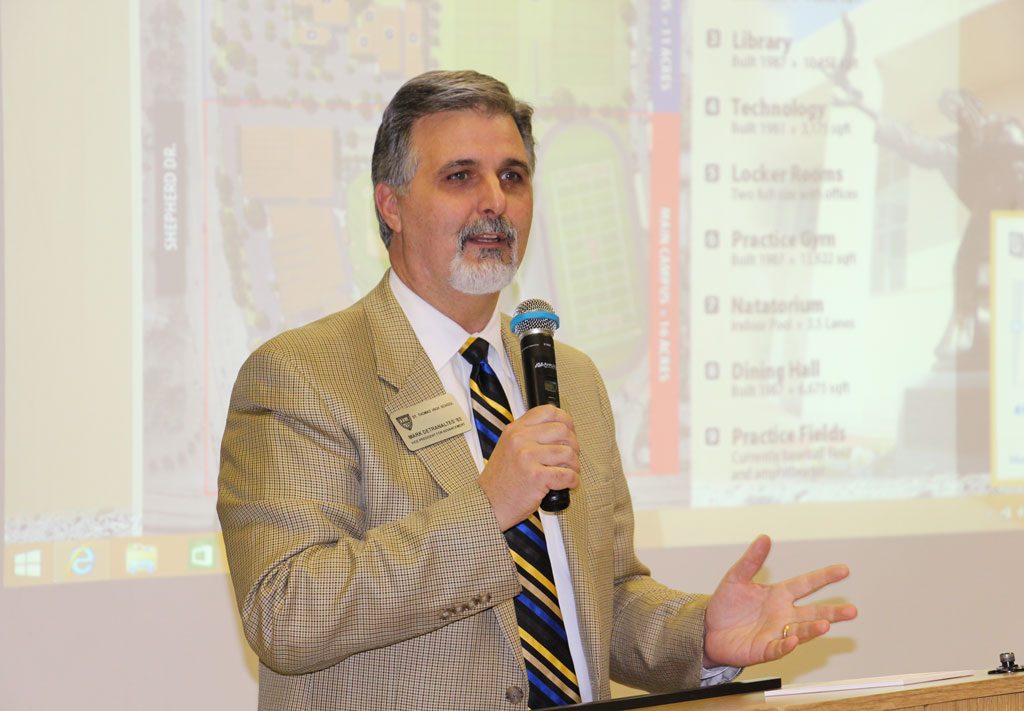 "We have said this from the beginning, in order to make the expansion a reality it is going to take the entire St. Thomas community to be involved, because that is who the expansion will serve," said Mark deTranaltes '83, the St. Thomas Vice President for Advancement. "Whether that be through education, athletics, extra-curricular activities or one of our many community events, 4500Forever is about securing a home away from home for generations to come."
At the core of the transformation are learning centers distributed throughout the merging properties, generating synergy between the different elements of academics.
The entire project includes sustainable and environmentally friendly building practices and concepts consistent with other St. Thomas redevelopment, meeting both the immediate and the evolving needs of a STH population which will eventually reach 1,000 students while maintaining the current 11-1 student-faculty ratio.
In essence, a campus without limits.
"Twenty-first century education is a buzzword but the principals it encapsulates are of great value," said Kirksey project coordinator Michael La Nasa. "The most important space throughout your campus cannot sit idle. Whether it's athletics fields or technology labs or performing arts, you have to have layers of flexibility that move in relation to rapidly changing demands. How you learn in it, how you teach in it must dictate how you are able to utilize it."
The Joplin Campus will unveil four new state-of-the-art science labs, an innovation lab, three technology classrooms, a robust area for foreign language, speech and publications, plus an expanded location designed exclusively for Eagle Broadcast Network and cutting-edge digital media services to support faith-based, academic, performance and athletics programming.
The expansion also includes a black box theater for drama and music rehearsals, and an historic 600-seat theater to augment the Moran Fine Arts Building and Cemo Auditorium to better serve the performing arts.
Among the most notable features is a vibrant 8,000 square foot student center dedicated to giving students the best out-of-classroom experience possible with a range of resources to meet their daily needs while fostering personal growth as they arrive early on campus or remain into the early evening hours.
This commitment to the development of the complete student meets the social, recreational and co-curricular necessities of STH's ever-diverse population, including a senior lounge, study rooms, club meeting rooms and a dining option area accommodating approximately 125 students.
A prayer room will be included to compliment the St. Thomas Aquinas Chapel which remains on the south campus, ministering to the spiritual needs of the STH community.
"I believe it's important to recognize that our students spend a significant portion of their St. Thomas experience outside the classroom," said president Fr. Kevin Storey. "Their involvement in student life, clubs, organizations and extracurricular activities contributes to their growth as leaders. Offering them additional space to create and perform, gather and connect, unwind and exercise is truly a blessing. We are dedicated as a school to the formation of mind, heart and soul."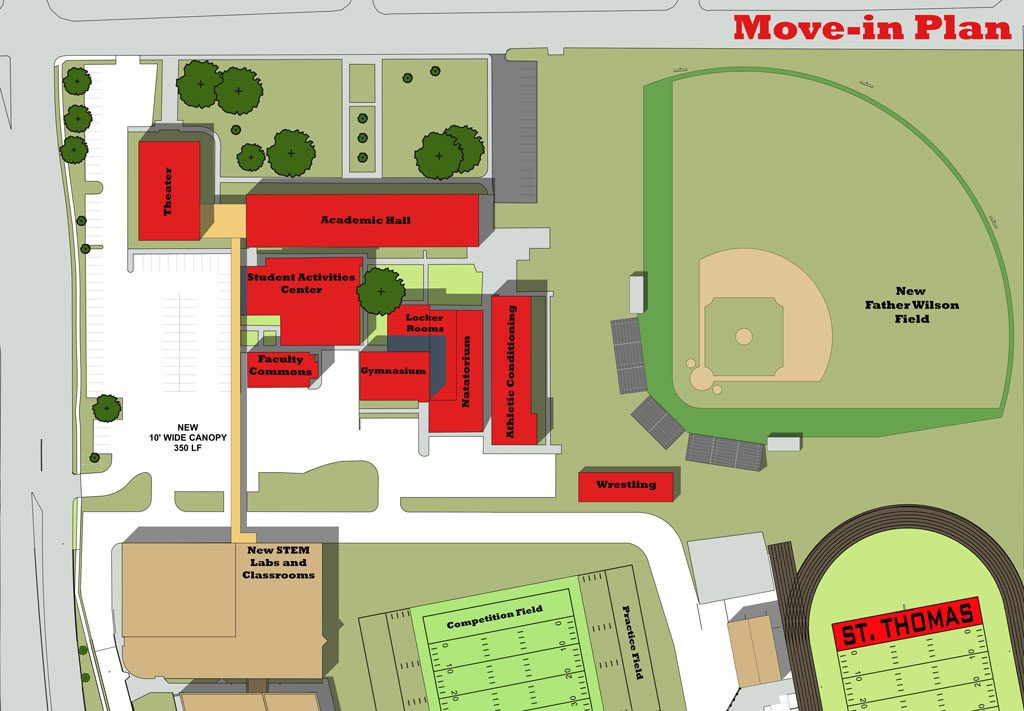 The Joplin Campus will also house an expanded sports medicine, strength and conditioning facility, plus a first-ever Eagle Wrestling center.
Renovation plans will update the current four-lane natatorium, along with a gymnasium and locker rooms designated for physical education classes and an already expanded Eagle intramural program, enhancing club sports opportunities and a more integrated social and wellness experience.
Replacing STH's existing second floor weight and locker rooms will be an expanded science corridor with classrooms and four innovative technical labs for STEM curriculum which emphasizes a collaborative and applied approach to the four specific disciplines while providing students with a foundation to pursue a number of growing, in-demand careers.
"It's a dynamic look and I love it," said longtime St. Thomas benefactor Al Clay '61. "Countless hours have gone into putting this plan together. It really flows. I believe we're on target to fit what we need in the now, and 99% of what we purchased will be utilized. Moving Fr. Wilson Field makes sense. The key is that the future St. Thomas leaders will be able to make more of what we're starting, the groundwork is being laid. We're off and running."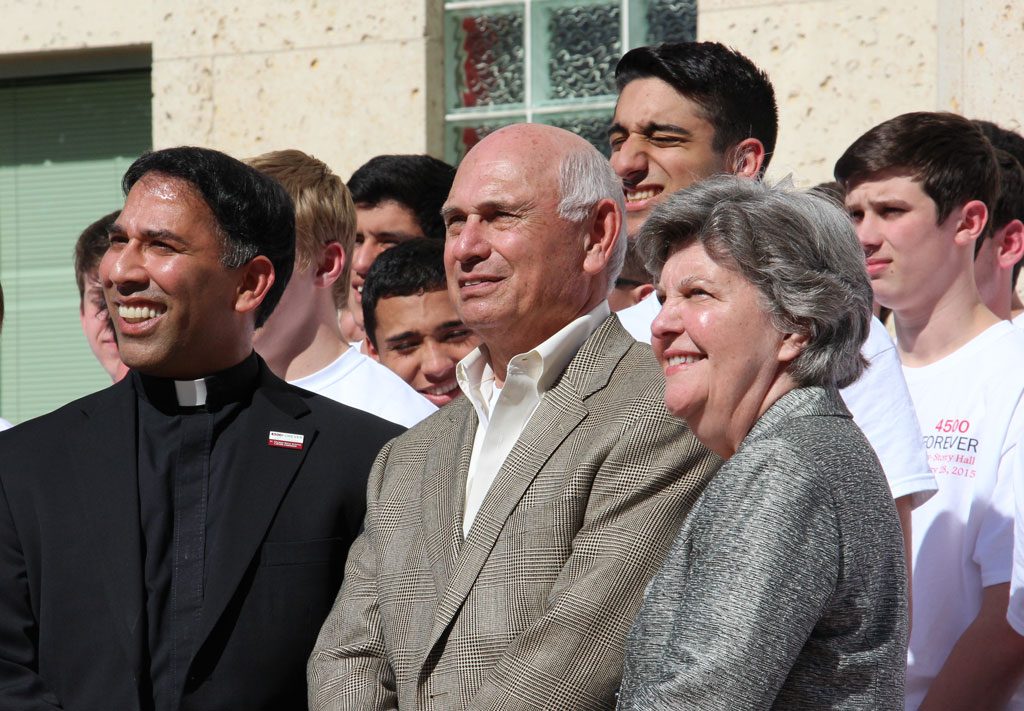 Clay (above, middle) was a one of the driving forces behind the relentless STH effort to win the best-final bid for the HISD property in November 2013 and contributed one of the two largest individual leadership gifts in the school's history, a $10 million donation to 4500Forever which resulted in the naming of Clay-Storey Hall on the STH south campus, honoring both Al and his wife Dona (above, right), along with Fr. Storey, visionary leaders who bravely stepped out to help give rise to this extraordinary period in STH history.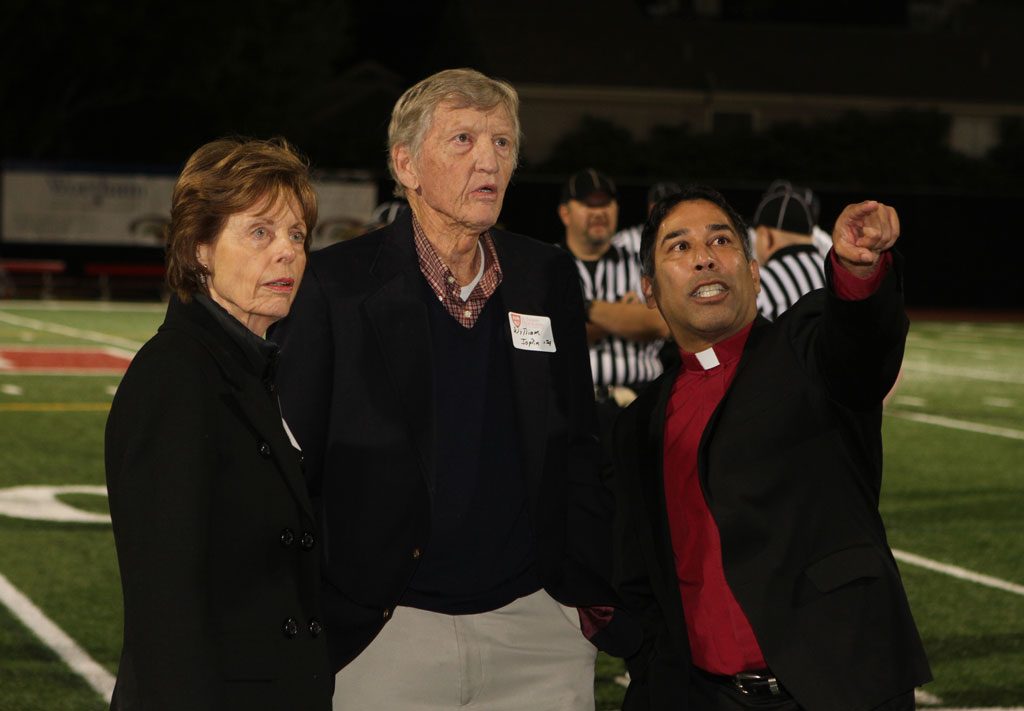 Clay's unprecedented philanthropy was coupled with a $6 million matching gift from Jane and Bill Joplin '54 (above) which resulted in more than $14 million raised and pushed 4500Forever within close proximity of the $60 million needed to close on the 11-acre property renamed the Jane and Bill Joplin Campus.
Fred Steves '59 recognizes the new facilities as "impressive but it's the substance that makes them uniquely St. Thomas. The plan is taking shape just as I envisioned when we seized the opportunity to make this purchase. Kirksey has really honed in on maximizing all that's available from this property without piling additional costs beyond what is necessary."
The STH redevelopment actually begins with a new and improved location for Fr. Wilson Field and filling that vacancy with two natural grass practice fields to serve many of the 12 varsity sports of a surging Eagle athletic program which has captured seven consecutive TAPPS all-sports awards.
Eagle Baseball will be repositioned to the northeast area of the Joplin Campus and include …
artificial turf

expanded playing dimensions

spectator seating and media area

state-of-the-art lighting
… all the amenities necessary to maintain the rich winning tradition of the program, much more than a mere makeover for the home of 23 state champions since 1953.
"I truly believe it's an opportunity to celebrate Fr. Wilson for all that he's meant to St. Thomas and amateur baseball in Houston with a showcase venue," athletic director Mike Netzel said.
"For all the history and for all the great players and coaches who are synonymous with Fr. Wilson, we honestly have outgrown the present location," Netzel said. "This move gives us a much larger physical footprint. The setting takes advantage of the surrounding residential neighborhood on Dickson Street, the same dynamic views of downtown and allows for alumni gathering areas. Eagle supporters are among the best in the city and they'll enjoy the more spacious fan-friendly facility."
Two-time Eagle championship coach and Houston Astros Hall of Famer Craig Biggio along with prominent Eagle baseball alumni such as Ted Nowak '70, Jeff McCurry '88 and Adam Zornes '04 were consulted on the relocation and gave unanimous approval.
HISD broke ground in October 2016 on its new campus for the High School for Law and Justice at Scott St. and Coyle St. in East Downtown. The project is slated to be finished by December 2017.
St. Thomas would then be positioned to take full control of the Joplin Campus in January 2018 to begin the renovation and construction process which is expected to be completed in time to welcome Eagle students at the start of the 2018-19 academic year.
"I am always excited when I see our community come together," deTranaltes said. "Kirksey Architecture did a fantastic job listening to all the parties involved … the Basilian Fathers, faculty members, coaches, staff, students and now the greater alumni and parent community. The new campus design, the layouts for the classrooms and the expansion of the STEM facilities are all a reflection of the input received. Working together to make St. Thomas the best it can be is what we are all about and have been for more than 100 years."
Catholic. Basilian. Teaching Goodness, Discipline and Knowledge since 1900.