HEAD COACH:  Jim Wolfinger
19th year as head coach
19th year in the Eagle program
Four national championship tournaments, six state championships and three Western Rugby Union championships
LOOKING BACK TO 2016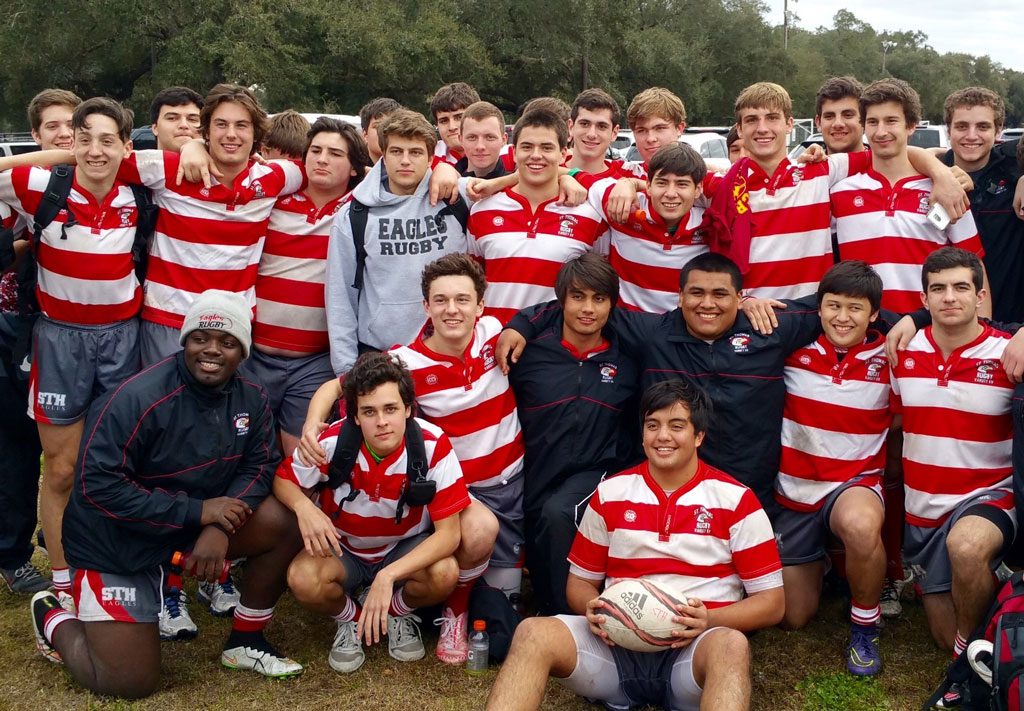 The Eagles successfully navigated one of the most rigorous schedules in the country, including national and traditional Houston-area powers.
Among the notable victories was a 37-5 verdict over Strake Jesuit behind two tries from acclaimed flanker Griffin Maat '17 and a commanding complete game from captain Josh Pane '16.  The convincing win in the annual Lady Hager Cup Pink Ribbon game again raised valuable dollars and awareness for breast cancer.
Maat was named to the 2015-16 High School All American (HSAA) Rugby team by USA Rugby and was one of only 25 players invited to the USA National Rugby Team training program in Houston … while Derek Allen '16 was invited to join the ATAVUS National High School Rugby 7s All-Star team which played in a national tournament at the prestigious Las Vegas Rugby 7s in March 2016, a warm up prior to the 2016 Summer Olympics in Rio de Janeiro.
Also critical to the Eagle achievement were Andrew Locke Most Valuable Player Robert Gonzales '16, Blake Pellerin Most Improved Player Michael Blanchard '16 and Kieth Freeman Spirit Award-winner Seamus Sullivan '16 who is continuing his career at the United States Merchant Marine Academy.
LOOKING AHEAD TO 2017
The Eagles are three years removed from three consecutive Rugby Texas Division I state titles and an unprecedented five crowns in six years.  Wolfinger anticipates the program will resume its powerhouse play among the state's elite contenders.
"The last two years we missed the playoffs by a total of four points.  One point two years ago, three points last season," Wolfinger said.  "That's equal to one win spread over two years.  The margin was that small.  We're that close.  Some of the gap is mental.  Are we determined, are we focused?  The players have to want it and I believe they do."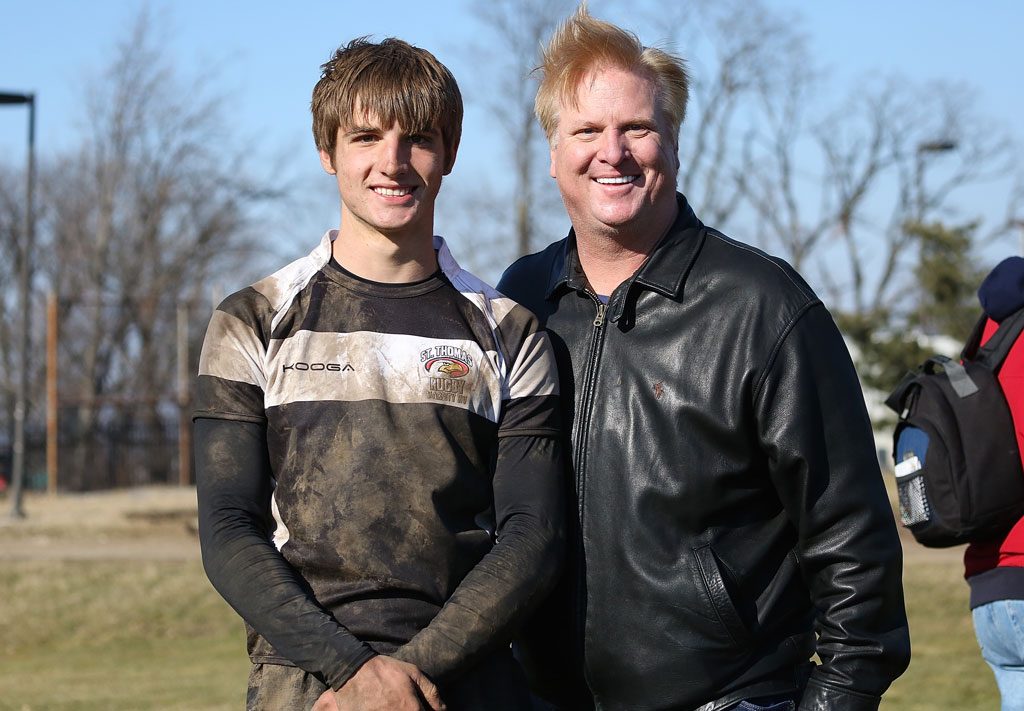 Maat is one of the dominant players in the prestigious history of the program and figures to be a difference-making catalyst primed for a sensational senior send off.
"He's got a ton of talent but what separates Griffin is the drive.  He wants it more than anything else and works his tail off to get it," Wolfinger said.  "Tremendous fitness.  He's a machine.  And even with all that he's accomplished individually, he understands there are ways to improve and he wants to get there."
Wolfinger expects "major impact" from Johnny Brown Golden Boot Award-winner Riley Bishop '17 and Frodo Defensive Player of the Year Sam Yeboah '17.
The duo is surrounded by Miguel Cano '17, Ethan Davis '17, Kurt Page Newcomer of the Year Seth Dietz '19, Clay Reidy '17, Christian Romero '17 and Eli Young '18 who project for significant minutes and high impact contributions.
"Many of our guys invested during the summer in excessive and intensive running and workout programs, transformed their bodies," Wolfinger said.  "Everyone has a role, like a great ensemble cast in a film or in a band.  Everyone has to pull together and form that cohesive unit.  I see a great positive attitude.
"What I appreciated most of this group is that they understand success is not handed them.  We've had a couple of seasons where we didn't reach the Final Four and now they realize the outside competition is getting tougher and they have to get tougher to match it.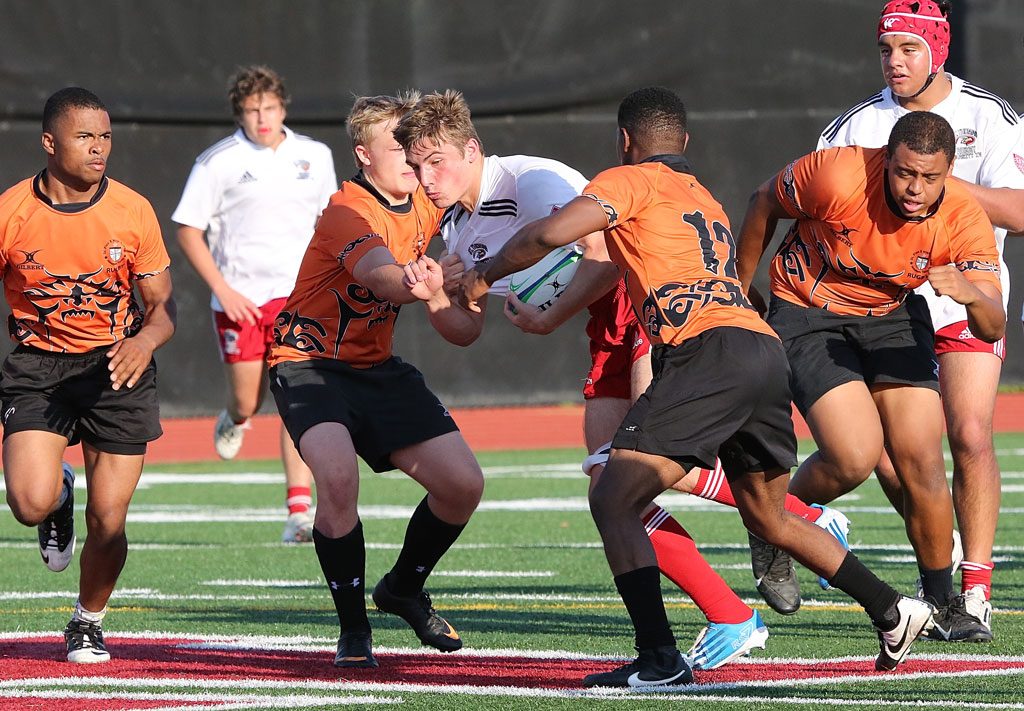 Wolfinger's nature is to maintain a "measured optimism" until a team and a season takes on a firm identity.  And he readily admits the competitive nature of rugby has changed dramatically since he and valued assistant founded the program and built STH into one of the premier high school brands in the state while expanding the Eagle profile across the United States.
Within in the last five years the sport has surged with a 14 percent year-over-year climb nationally to a total of 1.2 million participants throughout the country.
"The level of athleticism, the quality of coaching, the numbers are all up (in Texas)," Wolfinger said.  "As a team we have to be bigger, better, stronger and more cohesive.  Just being better drilled isn't nearly enough anymore."
Eagle Fight Never Dies!