For generations what has set St. Thomas apart is its Catholic Basilian intellectual tradition, the cornerstone of an academic community where students are formed to become ethical leaders who create positive change. 
The next incoming class of students who will emerge from the testing and application process enter St. Thomas as the school approaches its next dynamic moment, the much anticipated Joplin Campus expansion which will position St. Thomas to provide an unsurpassed college preparatory experience bringing academics, athletics and student life together, funded by the most robust capital campaign in STH's 117-year history.
Vice principal Mary Criaco describes the current admissions process as more holistic than a quantification of ability.
"Academic performance and test scores are an obvious view of our prospective students, but we also look for the right fit for our culture," Criaco said.  "Our admissions team tries very hard to identify personal attributes and motivation for accomplishment.  This is not simply a numbers game, so we read the essays, really look at their activities and recommendations. We want to unearth what draws them to St. Thomas.  Plus, we want to attract families seeking a community which values educating the complete student as a collaborative mission, not a competitive one."
[

Click here for admissions dates and deadlines.

]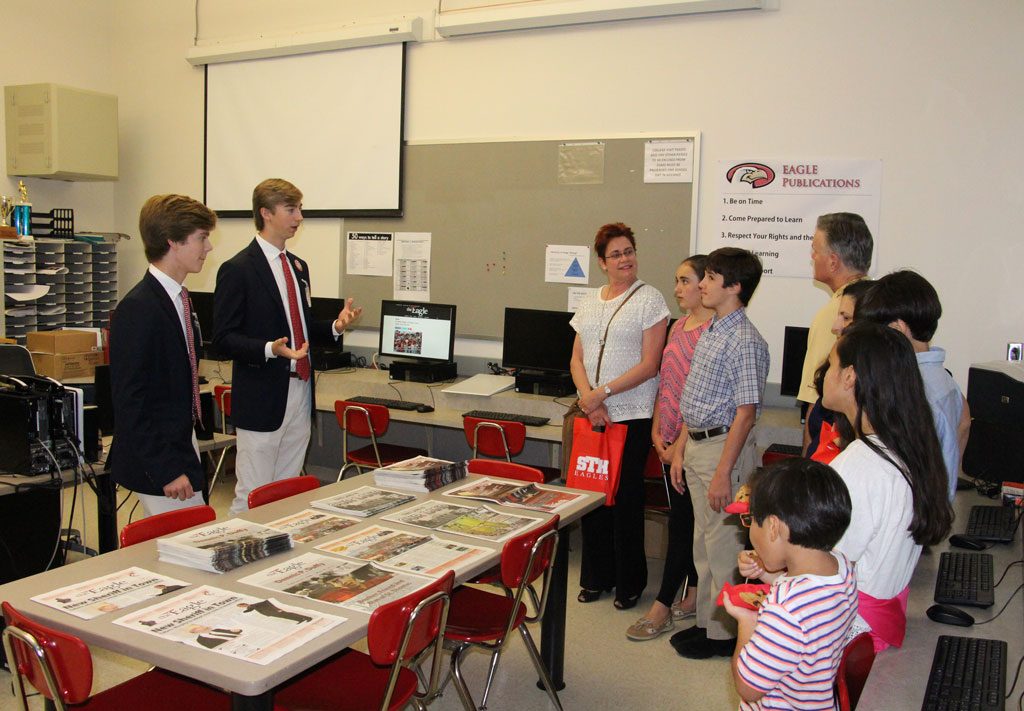 The January date for the High School Placement Test and the Independent School Entrance Exam comes in the wake of an overwhelming response to the annual Open House event which featured interactive multimedia presentations showcasing all aspects of the school, the St. Thomas story impassionedly told through the words of the students and faculty members who are living the Eagle experience every day, all celebrating the Basilian credo of Teach Me Goodness, Discipline and Knowledge.

"There really is no substitute for that personal connection throughout the evaluations," president Fr. Kevin Storey, CSB said.  "The number one reason we have our young men serve as Eagle Ambassadors, giving tours and relating their own experience, is to have parents see and hear them and say, 'That's a role model my son could benefit from.'"

Many middle school students and their families who attended in November had their interest ignited by a previous STH introduction through a personal or class tour, an athletic event or theater production, and now are gaining a deeper understanding that St. Thomas provides the tools to partner with students as they clearly define their interests and goals while building a bedrock foundation of skills and knowledge for advanced study.

Prospective families may still meet with faculty members, department deans, academic and learning enrichment counselors to discuss the depths of the rigorous curriculum as well as the wide variety of co-curricular activities including a thriving campus ministry, the premier private school athletic program in Texas, as well as award-winning student media, nationally recognized fine arts, theater, speech and debate, band and vocal ensemble.

Of particular note is the lasting legacy of academic acclaim left by the Class of 2016, which earned more than $10.5 million in merit-based college scholarships while demonstrating exceptional active volunteerism in their communities.

Members of the Class of 2016 were accepted into more than 100 universities and colleges from across the United States, and included four National Merit Finalists and 11 National Merit Commended Students with more than two dozen student-athletes accepting opportunities to extend the careers at the college level.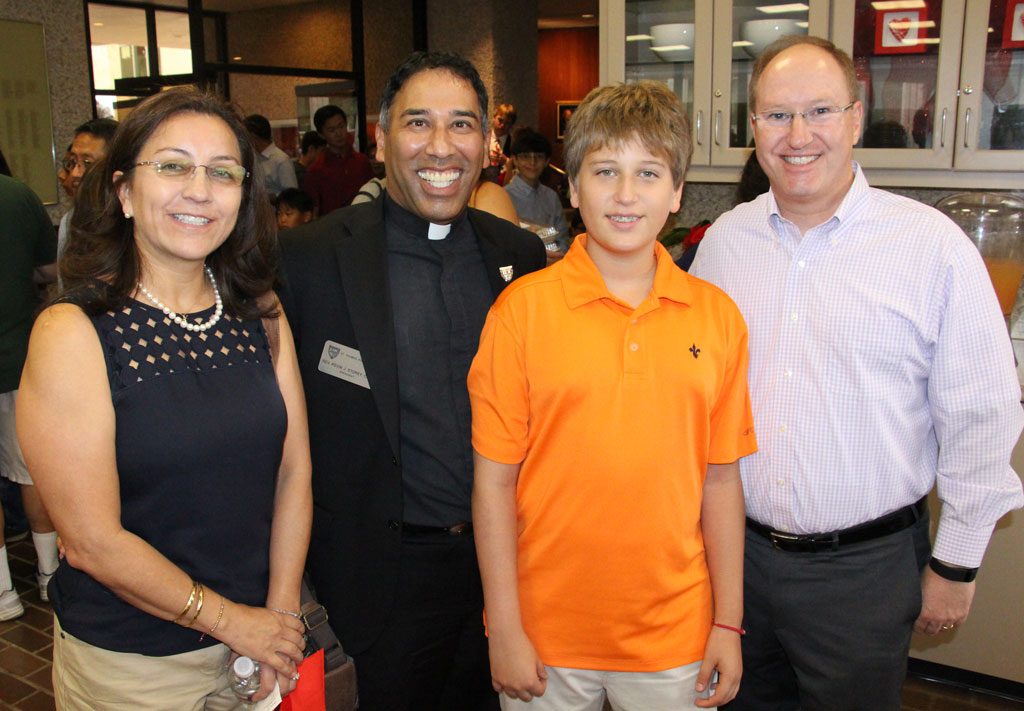 "A St. Thomas Eagle is not one dimensional, driven only by academic achievement," Fr. Storey said.  "Our students seek a broader understanding with an eye on discovery, complementing challenging academics with community service, a balance which will support their most ambitious college pursuits.  Often our visitors leave our campus and say 'Wow!'  And for a school moving into its 117th year to still generate that 'wow' reaction, that's a proud moment."

St. Thomas Admissions has consistently integrated innovative and progressive strategies to ensure a competitive and diverse admitted class.

The emphasis is much more about opening classrooms and having potential students visualize their future, participate in the expanded technology and science areas, create in the art facilities and robotics labs, witness the fall and spring productions.  Guests are encouraged to take the time and walk the campus to embrace the signature STH feel of family and unique bonding an all-boys environment provides.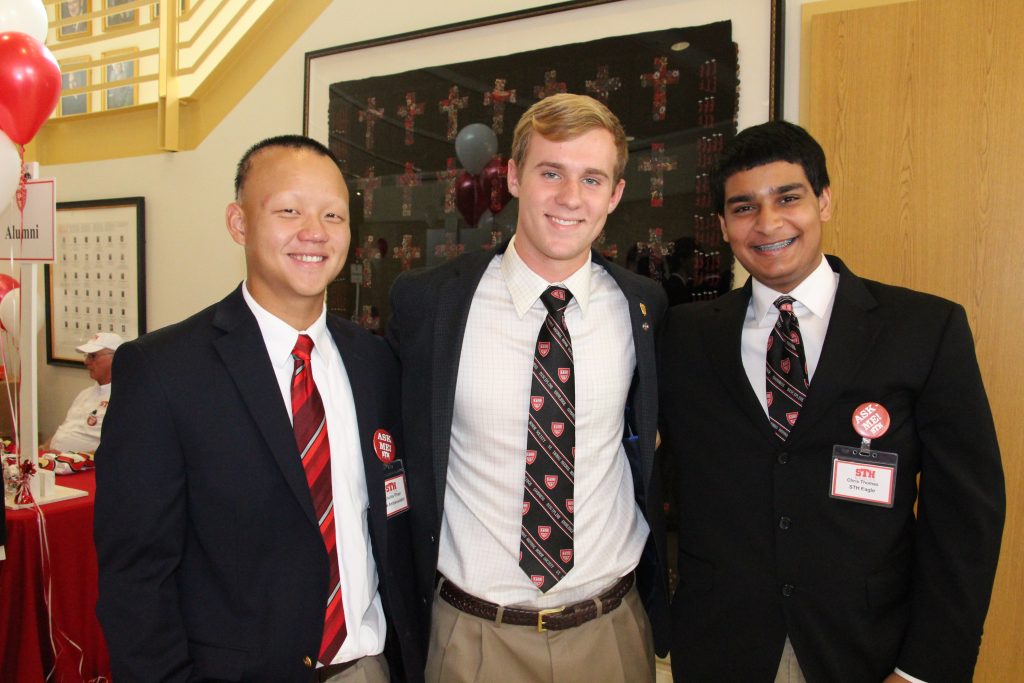 "Any school can be at its best staging an Open House or in a fabricated setting," Fr. Storey said.  "What St. Thomas does best are the days of the year when students are in real time, not only challenged but nurtured.  The core values we have instilled for generations have never been more relevant to the demands of our ever-changing society."

Catholic. Basilian. Teaching Goodness, Discipline and Knowledge since 1900.