St. Thomas president Fr. Kevin Storey, CSB announced the breakthrough appointment of Aaron Dominguez '96 as the 27th principal in the school's illustrious 117-year history, effective June 1, 2017.
Dominguez emerged as the clear choice from an exhaustive six-month search that revealed four finalists, and will play a significant role in advancing St. Thomas and the school's historic student-centered college preparatory mission of teaching goodness, discipline and knowledge in the Basilian tradition.
"Aaron became a principal at age 31, then was the hand-picked choice for another school in a neighboring district based on his extraordinary performance," Fr. Storey said.  "He was a 2008 teacher of the year (in the Fort Bend Independent School District) and four-time teacher of the year finalist.  He has been a principal at two different schools, has been an educator in three different school districts, and is energized by the challenge of making St. Thomas one of the most renown all-boy Catholic schools in the country.  His theme throughout the selection process was 'Let's just be the best!'"
Dominguez possesses the characteristics which make him a perfect fit to lead the Eagle academic community into its next great chapter.  He brings ample experience in Houston education since 2001 as an administrator, specialized instructor, and dean of students, including serving as the principal at Garcia Elementary in the Houston Independent School District before assuming the same position at Treasure Forest Elementary in the Spring Branch Independent School District where he was hired by Dr. Scott Muri and Duncan Klussmann, Ed.D., one of the most respected educational administrators in Greater Houston before retiring from SBISD and accepting a role with the Kinder Foundation.
"I have a deeply rooted love for St. Thomas, the history, the tradition," Dominguez said.  "I believe in our values which ring true to who I am as a person and an educator.  My career has prepared me for this moment.  I've been blessed to have had valued mentors who have helped form me both professionally and spiritually to reach this point."
At HISD Dominguez piloted schools that received award-winning recognition from the Texas Education Agency.  He "enjoyed great financial and program autonomy, learned how to be a leader of an organization, plot strategies, craft messaging and then equip the team to take us as far as our talent and ethic would allow.  I've also been inside a more centralized structure, learned the power and importance of being a quality listener, attuned to the stakeholders throughout an organization.  I gained a great understanding of data-driven decision making to solve the gap between perception and reality in order to reach ambitious goals."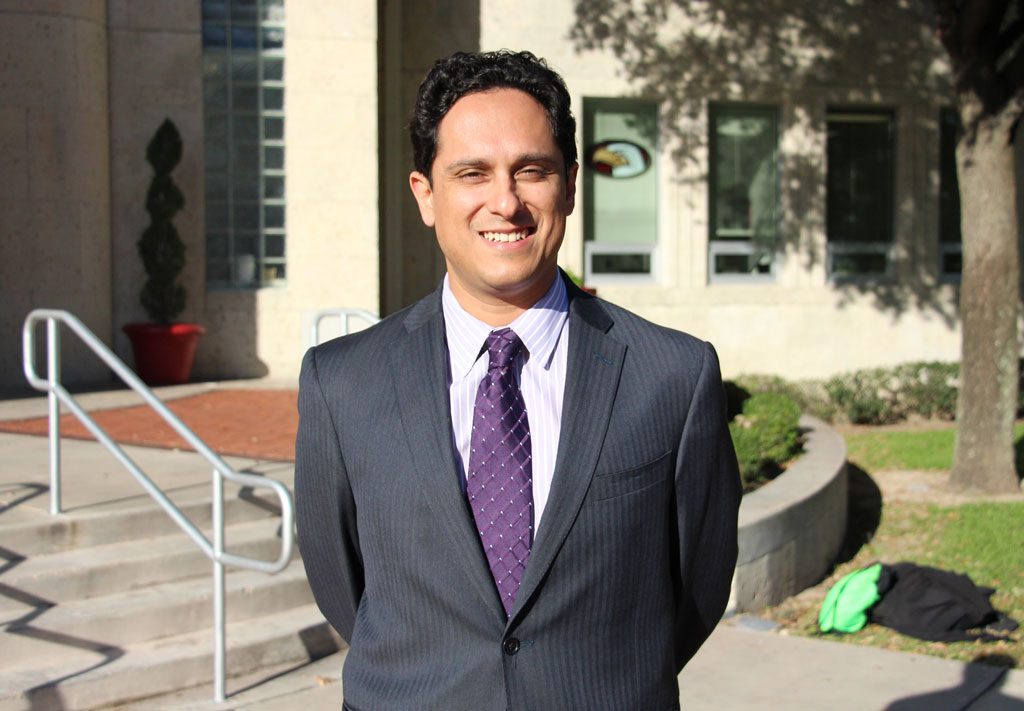 The selection of Dominguez completes a process featuring strategic consulting from Carney, Sandoe & Associates, a seven-member search committee chaired by Steve Schwarzbach '81 and involving much of the St. Thomas community.  Many outstanding candidates were identified and considered as possible successors to Fr. Patrick Fulton, CSB who was reassigned to Basilian Detroit Central Catholic after six years in the lead academic role.
"There were a firm set of priorities that St. Thomas constituents wanted addressed in our search," said Fr. Storey.  "A proven leader who worked collegially, a team builder and someone who would embrace the excitement of an expanding campus and student body.  We have discovered that person who uniquely possesses these qualities."
Schwarzbach said that the "search committee found Aaron to be immediately impressive with a strong Catholic identity and attachment to the Basilian charism.  He's passionate about education and educators, committed to collaboration, and knows the unique culture of St. Thomas because he's lived it.  As we looked at the candidates through the lens of the opportunities and challenges that come with growth and expansion, we felt Aaron was the kind of dynamic leader that the entire St. Thomas community would embrace and rally behind."  
Dominguez earned his Masters in Educational Leadership from the University of Houston after receiving his Bachelor of Arts in Elementary Education from the University of Texas at Austin where he is currently completing his Doctorate of Advanced Study in Educational Administration.
"I'm really impressed with Aaron's pedagogical background," said Mary Criaco, the St. Thomas Assistant Principal.  "The doctorate program at UT is one of the most prestigious and competitive in the nation.  Plus, one of the strongest characteristics for being an effective leader is to care about the people and the institution that you're leading and he absolutely brings that quality to the position."  
Dominguez is recognized as an extremely talented administrator of great integrity and faith with an eye for innovation.  He joins a savvy stewardship team which includes the recent impactful additions of Criaco and Rod Takacs as the dean of students.
"Aaron doesn't necessarily come to St. Thomas from the traditional background," said Takacs.  "He has the deep capacity to take advantage of the expertise already in place while bringing cutting-edge innovations that he's developing."
Dominguez graduated from St.Thomas in 1996.  His being named chief academic officer breaks more than a century of Basilian leadership tradition that dates to the school's inception in 1900 when forty-four young scholars gathered to form the first classes at St. Thomas College.  The faculty of that school, located in downtown Houston, were three Basilian Fathers led by the institution's founder and first principal, Fr. Nicholas Roche, CSB.
Dominguez promises a tireless dedication to Eagle students, faculty, staff and alumni, grateful for the trust that the St. Thomas Board and Basilian Fathers have placed in him at this critical time in St. Thomas' history.
"I am absolutely humbled and honored to take over as principal knowing of the men who came before me," Dominguez said.  "I am completely confident in my abilities, not because I'm individually outstanding, but because I walk with the Lord and am here to be the hand and messenger of God.  My journey is imperfect, as is everyone's, but I am extremely excited to fully accept my responsibilities."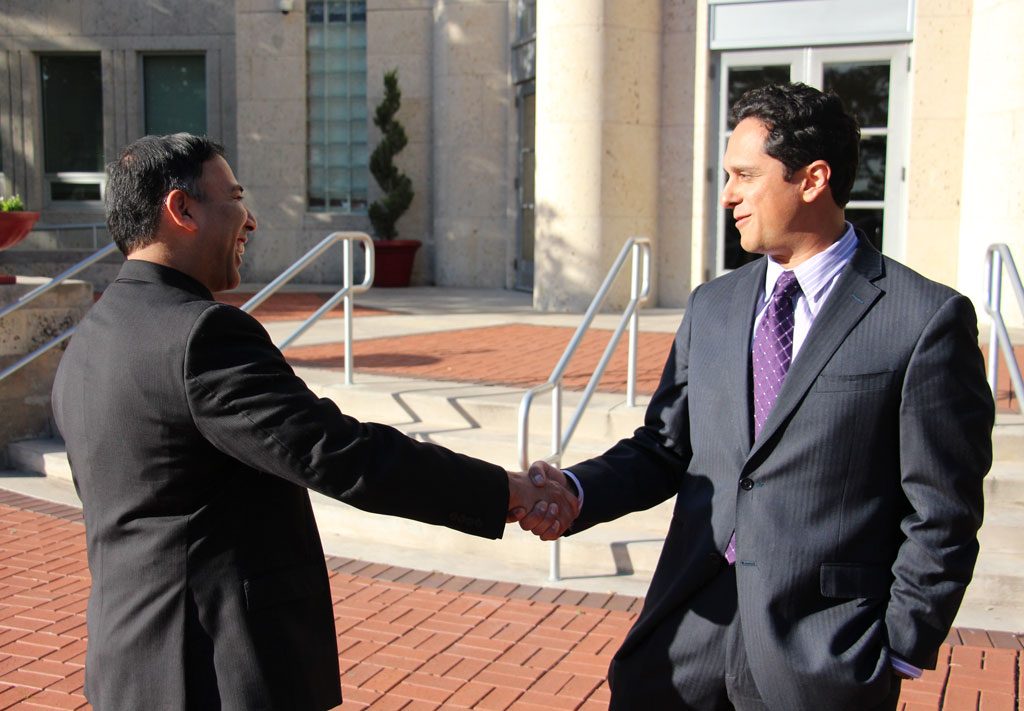 "Aaron knows our spirit, the legacy that has made this school so special," Fr. Storey said.  "He doesn't have to be taught about the significance of Round-Up, how our extracurricular activities complement academic excellence, or how a student's socioeconomic background is irrelevant to the Eagle community.
"Aaron's first career move was teaching math to children of migrant workers.  He found a love for changing the lives of students.  He left the Economics program at the University of Texas for a major in Education.  There is not a Basilian priest who does not resonate with this story.  All Basilian educators have a soft spot for the underdog student."
Dominguez understands the necessary commitment of continuing the institution's unwavering standard of academic excellence and campus ministry, maintaining the values that nurture the complete student.  His own St. Thomas experience produced "my five best friends in life, relationships that were formed when I was a student here.  I benefitted from an exceptional education, and after graduation I was afforded opportunities and networking that otherwise may not have been available had I attended another high school.  But nothing is more valuable to me than those lifelong friendships."
Fr. Storey indicated that Dominguez "will spend his first 90 days gaining an accurate understanding of our strengths, learning where we can improve and how that can be strategically achieved.  Aaron will then meet with his team, and collectively they'll determine a plan moving forward.  Both Mary Criaco and Rod Takacs have been principals in other settings.  Aaron will be able to draw from their expert skill and valuable experience, as well as add his own fresh perspective."
Dominguez returns to campus as the school approaches its next dynamic moment, the much anticipated Joplin Campus expansion which will position STH to provide an unsurpassed college preparatory experience in Houston, bringing academics, athletics and student life together, funded by 4500Forever, the most robust capital campaign in school history.
"Aaron's doctoral studies and thesis centers on how schools distinguish themselves in a competitive market, more evidence that assures me that we are gaining a principal capable of leading the vanguard of education in our city, and who will remain at the top of his game for years to come," Fr. Storey said.  
Dominguez will aim to maintain the wave of momentum that has St. Thomas recognized as one of the most achieving all-boys schools in the nation, acclaimed among the top-five institutions in the state and top 50 in the country based on SAT and ACT scores, college admissions, matriculation rates, parent surveys, culture and diversity grades, and student-teacher ratio.
The Class of 2016 earned more than $10.5 million in merit-based college scholarships while demonstrating exceptional active volunteerism in their communities.  Members were accepted into more than 100 universities and colleges from across the United States, and included four Merit Finalists and 11 National Merit Commended Students, with more than two dozen student-athletes accepting opportunities to extend their careers at the college level.
Dominguez is a native Houstonian growing up in the St. Theresa Catholic parish in Sugar Land.  He and his wife Loren have sons Ben and Sam, and are active members of St. Michael Catholic Church.
Catholic. Basilian. Teaching Goodness, Discipline and Knowledge since 1900.