Round-Up … where conventional wisdom and rational reason need not apply … where the beats just keep getting bigger, better and more robust … for the 14th consecutive year.
Round-Up … where the kids routinely crank out a King Kong encore bordering on the absurd … where the student driven fundraiser remains unmatched anywhere in the nation.
Unlike the previous two years when the ever-energized Eagles discovered aggressive final Friday surges to ignite difference-making results, the 90th anniversary effort paired a thunderbolt start with relentless push to the finish to not only crash the $500,000 threshold for only the second time in St. Thomas history, but also slamdance the stated goal by more than $60,000.
The sun-splashed and riveted crowd at Hotze Field inside Granger Stadium exploded with the mid-afternoon reveal of $572,808, later adjusted to $581,288, an audacious total which crushed the previous benchmark by more than $80,000, with all monies annually and always devoted to St. Thomas tuition assistance.
"This campaign hit it hard right from the very beginning," president Fr. Kevin Storey, CSB said.  "And you expect a crescendo but that just never happened.  The senior leadership was determined, and (faculty members and former Eagle students) Casey Johnson and Grover Green were phenomenal coordinators.  Back in June I wasn't that confident they would break the record.  But I've seen this class really develop in the last few months.  To raise more than $580,000 in five weeks … insane."  
Round-Up supporters who annually purchase raffle tickets are not merely making a casual gift.  It's pure impact.  It's an investment that St. Thomas takes seriously and applies wisely for student scholarship support that will secure the Basilian education opportunity for those who seek it.
And no where in creating an environment for excellence is the Basilian motto Teach Me Goodness, Discipline and Knowledge more alive and in full force.
"Teaching goodness is in part teaching generosity," Fr. Storey said.  "What I'm most proud of is that these students have generous hearts.  Round-Up is a practical way that we go hard on each one of our students, regardless of their background, to participate.  We can provide some ways and means but they have to put out the effort.  And every single student sold as least one quota.
"This is like teaching physics and seeing everyone earn an A.  This is a class in goodness … and everyone earned an A."
Again leading the dream-big no-limits charge were David Hotze'17, Tucker Britt '17 and Asher Price '17, the 1-2-3 sales finish for the second consecutive year.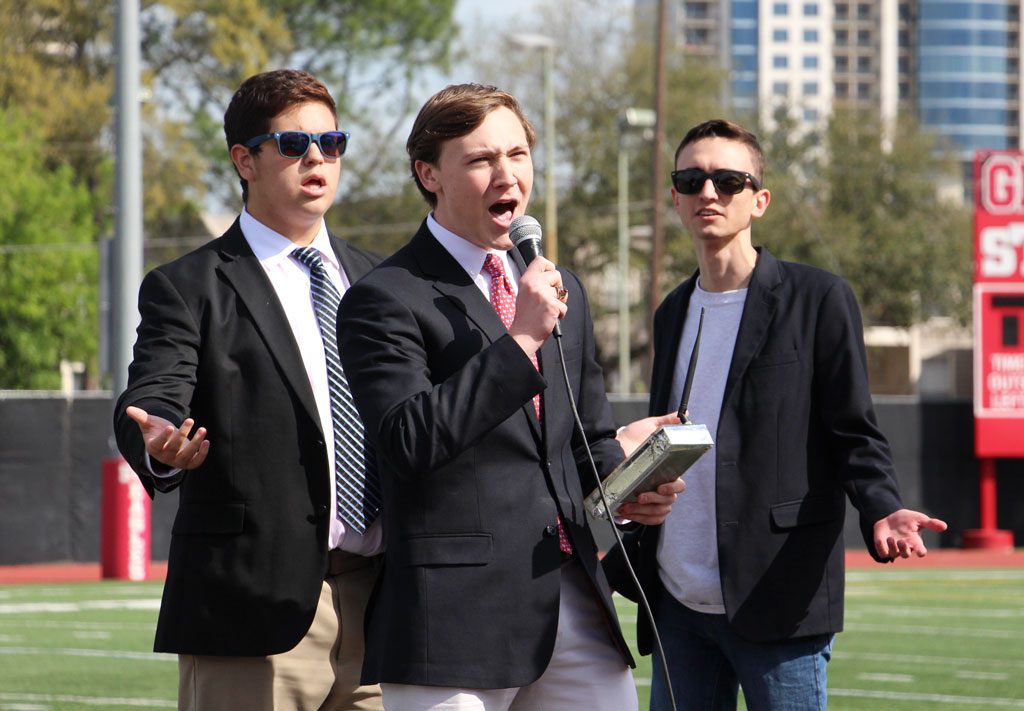 Hotze closed out as a senior just as be broke in as freshman, the individual leader of the pack, his $25,340 advancing his cumulative total to a staggering $132,490, including a mind-numbing $62,970 in 2014.
"This record means so much more than simply being top-seller," Hotze said.  "It means I had a chance to support my classmates in our team effort, help my Eagle brothers attend St. Thomas.  My freshman year I had an incredible generous donor who supported me as long as I worked hard.  But it's an even better feeling to go out with this senior class and not only beat the record but destroy the goal."
Britt was next on the board with $21,000, followed by Price, whose $10,200 placed him among the top 10 for the fourth straight year.  The titanic three-some produced sales of more than $100,000 the last two years.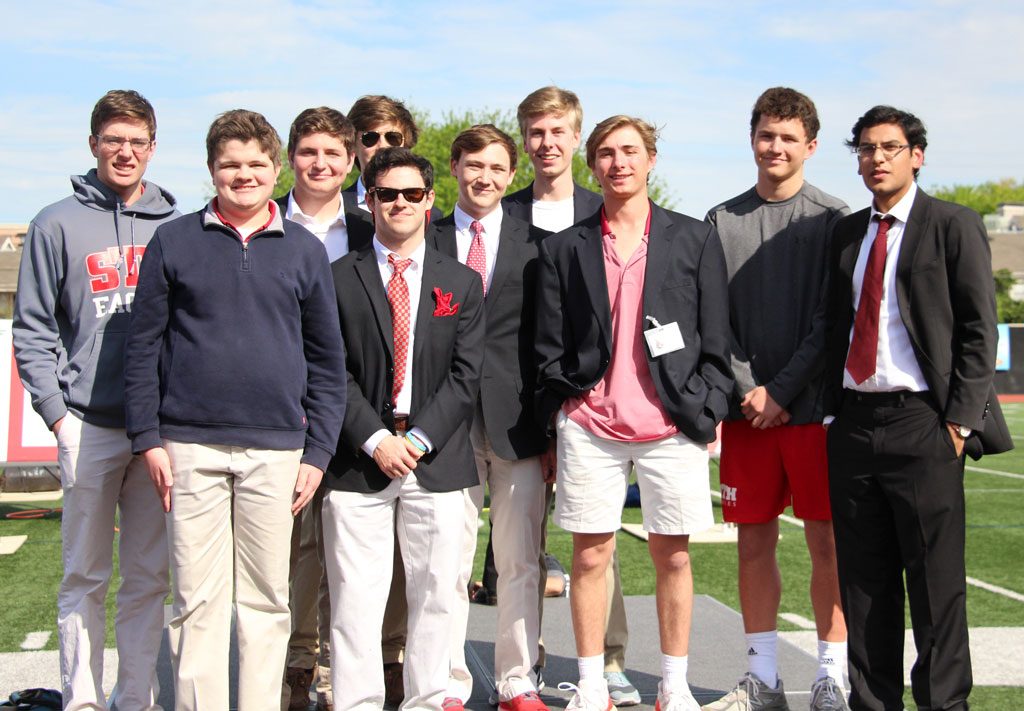 The Class of 2017 commanded seven of the top 10 results. Robert Gordon took fourth with $7,640, Powell Cutts sixth with $6,300, Mark Dolan seventh with $5,640 and Muzamil Abdullatif ninth with $4,650.
Nicolas Prodoehl led the Class of 2020 with $6,500 for fifth over-all while the Class of 2019 was fronted by Ben Huggins with $4,100 and the Class of 2018 by Creigh Klenke with $3,280.
All of whom along with their army of Eagle brothers continue the trend of seizing an entrepreneurial spirit that might cause envy among the Forbes list of hottest startups.
In 2006 Will Loweth '06 set the selling pace with $13,480, capping four straight top-10 finishes totaling more than $28,000.
As recently as 2009 the Round-Up top-10 sellers produced $50,100, followed by incremental jumps to $60,300, $82,000 and then $89,500 in 2012 fueled by Michael Johnson's $21,140, raising his four consecutive top-10 results to nearly $38,000.
Eagle students have annually embraced what was great, and made it greater.  Not in pursuit of recognition or acclaim but for the total measure of the St. Thomas Basilian mission.
Vice-president for advancement Mark deTranaltes '83 keeps watch on the weekly Round-Up board and sees "a serious methodical approach.  Eagles embrace competition.  Nothing inspires our students more than working for a championship caliber season or result, and that's how our seniors look at Round-Up.  We should hang a banner in Reckling Gymnasium.  Every year they break the record, the year goes up on the wall."
deTranaltes retains his own vivid Round-Up memories as a student from more than 30 years ago,  observed his son Mark Thomas '10 post three straight top-10 sales totals worth more than $17,000, and now appreciates the perspective from the Advancement Office where the yearly assault on the standard is becoming routine.
"Mark ran a small business out of our dining room.  It was his office," deTranaltes said.  "Call sheets, pick-up dates, ledgers, lists of referrals, weekly goals.  He wasn't among the leaders as a freshman, but he refocused, found a fresh approach, then top 10 the next three years.  And I've seen that same kind of ethic and mentally grow and grow throughout our student body in the last five years."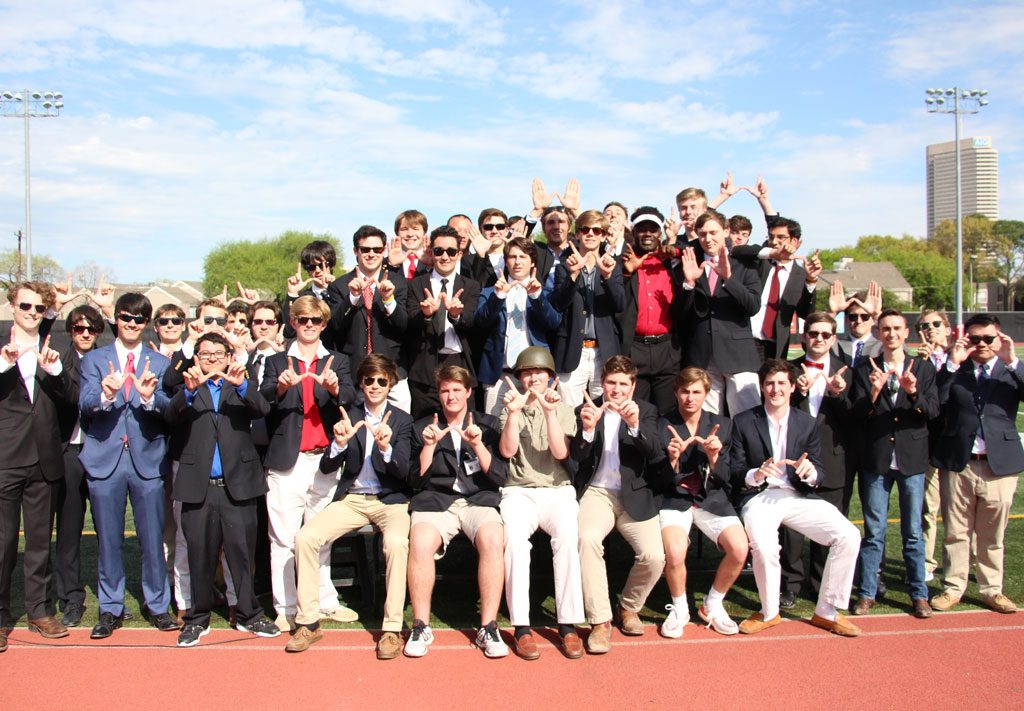 To the tune up of $581,288.
Insane.
Catholic.  Basilian.  Teaching Goodness, Discipline and Knowledge since 1900.