Shutdown pitching and tight defense have served as the fulcrum for St. Thomas success since Ryan Lousteau joined Eagle Baseball in 2009 and was promoted to head coach in 2013.
The next Eagle championship charge also figures to feature a versatile batting lineup while Lousteau redefines and restocks the staff to the usual STH standard.
St. Thomas is off to a blistering beginning, including 11 consecutive victories in an early encore to the historic 2016 campaign which included an undefeated streak of 28 straight games to start the season, the program's first-ever national ranking, and a sixth TAPPS state tournament in seven years.  
The Eagles have captured 12 of their first 13 games to launch 2017, featuring seven wins in eight games at UIL tournaments, and eight double-digit scoring games where they outscored the opposition 87-18.
The Eagles took their final three games in the Oak Ridge Tournament, defeating the host 4-3 behind pitcher Alex Schlosser '18, and then out-slugged Huffman and Caney Creek with catcher Philip Matulia '18 driving in five runs, and Nick Phan '17 and Logan Bear '17 combining for five more.
The Red & White remained white hot with four straight victories at Lamar Consolidated, taking down Cy Ridge and Katy Taylor as Max Winter '18 collected four RBI and Schlosser cranked another commanding performance, allowing only five hits and two runs over six innings while punching out six.
The closest call in the opening weeks came in their final at bat against Sweeney.  Clutch two-out swings from outfielder Nick Rodriguez '17 and shortstop Brandon Campos '17 delivered two runs to back one-hit shutdown pitching from Josh Wolf '19 and John Griffin '18 for a 2-1 verdict.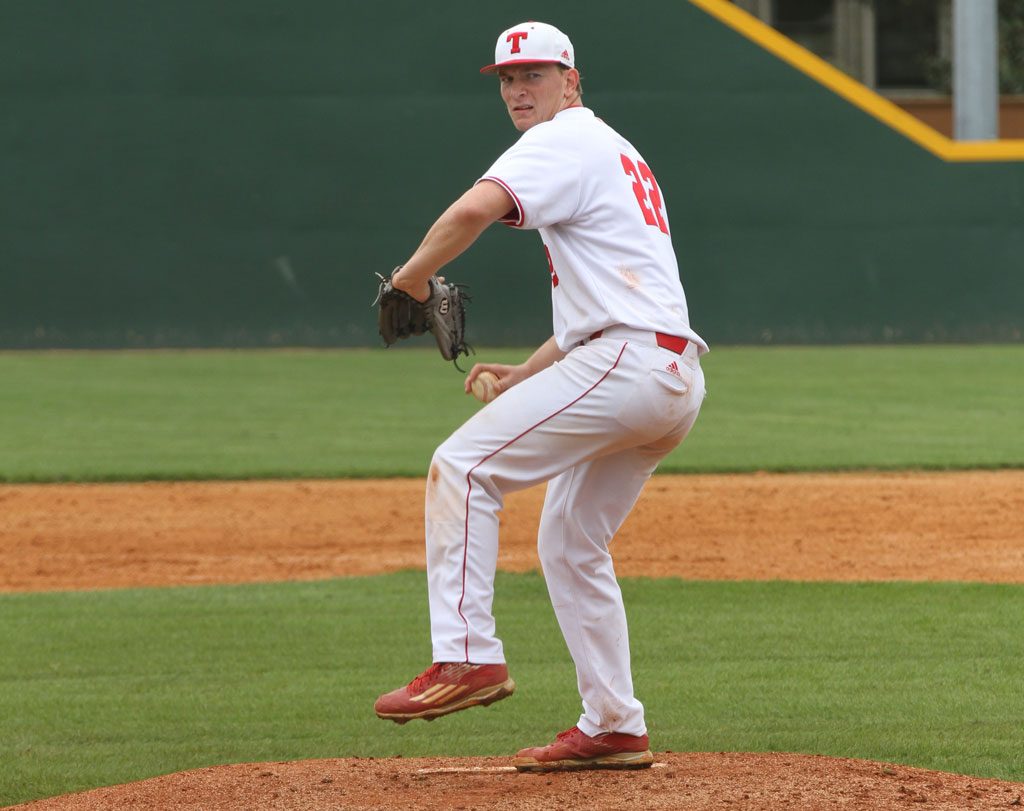 Punctuating the furious pace are the opening starts from 6' 5" 215-pound power deluxe Owen Meaney '18 who flashed anticipated swing-and-miss stuff, striking out 16 in his first nine innings and giving up only three hits and walking three.
"Owen has all the ability and upside in the world," Lousteau said.  "I've told him that if he does all the right things these next couple of years he should be drafted (in 2018).  Physical body and throws hard.  The scouts right now see consistent velocity in the low 90s.  He's working on gaining greater command, repeating those mechanics over and over, and that's coming along with time and repetition."
Meaney appears primed as a more than suitable successor to a long series of recent Eagle aces … including Austin Fairchild '12 (Kansas City Royals 2012 draft), Dusty Dworak '13 (Texas San-Antonio), Michael Rogers '14 (Rice University), Matthew Ashbaugh '16 (Washington University) and Cameron Cash '16 (Claremont McKenna).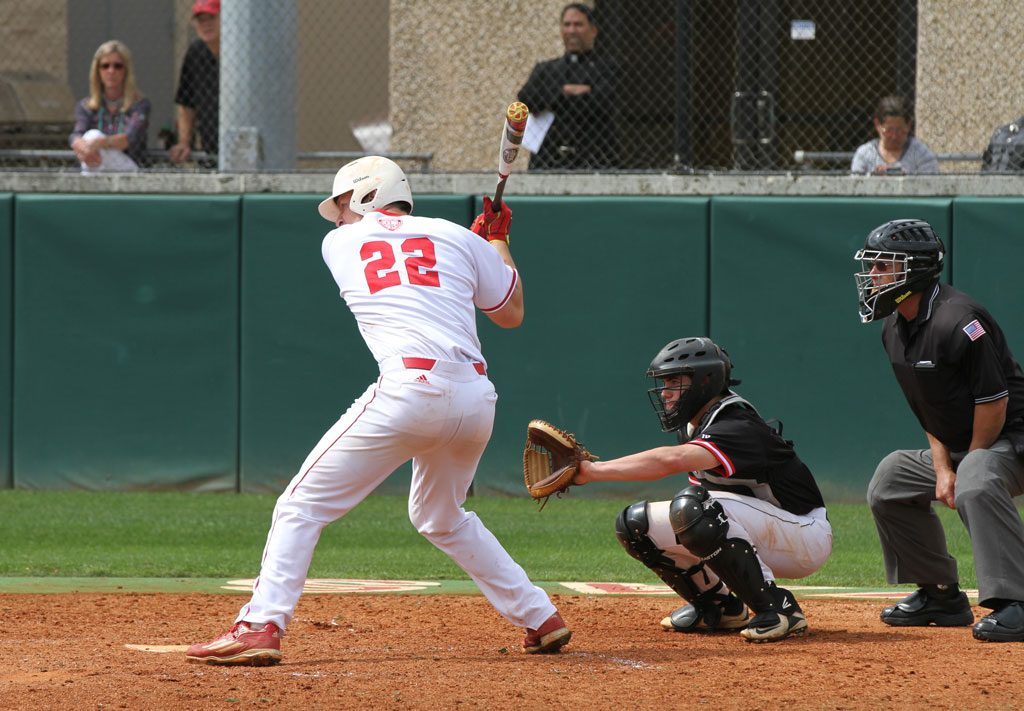 Meaney's impact is also measured at the plate where he has already collected multiple RBI games after muscling for a team-leading .400-plus average last season when he was second to Nolan Lundholm '16 in runs batted in with 31.
"I like the idea of Owen staying in the DH rather than shifting to first base on those days when he's not pitching, if we have that luxury," Lousteau said.  "Saving whatever wear and tear on his arm is a priority.  Some guys can't sit on the bench and focus on hitting but he has the right makeup.  Probably started 90% of our games at the DH spot (in 2016), had an all-state caliber season, and we expect that to continue."
Meaney was a verbal commit to Louisiana State University before his breakout sophomore season and then was a visible fixture on the 2016 Perfect Game circuit, including the All American Games at the University of San Diego, the Evoshield National Championship in September in Arizona and the upcoming WWBA World Championship in Florida.
"His maturity in handling that kind of attention is impressive," Lousteau said.  "He went into last season without much varsity experience and suddenly he's an early commitment to one of the top programs in the country.  But he is a great teammate and is emerging as a team-first leader."
Matulia (.341, 17 RBI, 21 runs in 2016) again makes for a lethal tag-team with Meaney at the top of the batting order while making a challenging defensive switch, from center field to catcher.  
"It's rare when you someone who can make that move successfully … shows what kind of athlete Philip is and what a great arm he has," Lousteau said.  "He came in here as a freshman with a varsity bat, the outfield is where he made the easiest transition and where we had a need.  But catcher is likely where his future is.  His baseball IQ and instincts are unquestioned and his body is getting stronger to be a presence behind the plate."
Surrounding Matulia and Meaney are a strong core that includes Griffin in the outfield with Ross Brock '17 who was third on the team in RBI during the 2016 regular season and delivered seven more runs in the playoff routs over Dallas Parish Episcopal and San Antonio St. Anthony's.
Setting the tone is again leadoff hitter extraordinaire Campos who topped the team in walks in 2016 and was second to Alex Carnegie '16 in runs scored.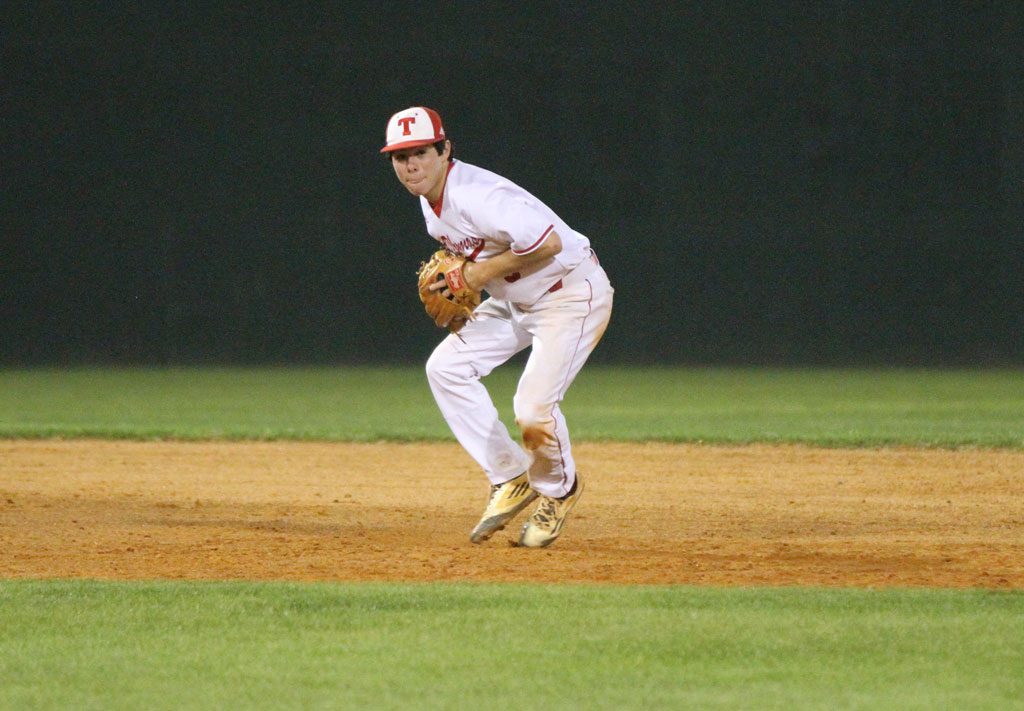 "Brandon has great plate discipline, never tries to do too much, understands who he is as a player," Lousteau said.  "He uses the entire field and does anything he can to get on base.  And I don't expect his production to be effected at all with his move to shortstop from third base.  He's making that seamlessly."
Eagle Fight Never Dies!