The Fine Arts Department at St. Thomas has consistently embraced the opportunity to broaden the creative horizons and foster the confidence of Eagle students while giving them the opportunity to showcase their craft beyond the classroom.
Nine Eagles captured acclaim at the National Scholastic Regional Art Competition sponsored by Harris County Department of Education, the latest in a long series of St. Thomas distinction led by dean Mike Nebel.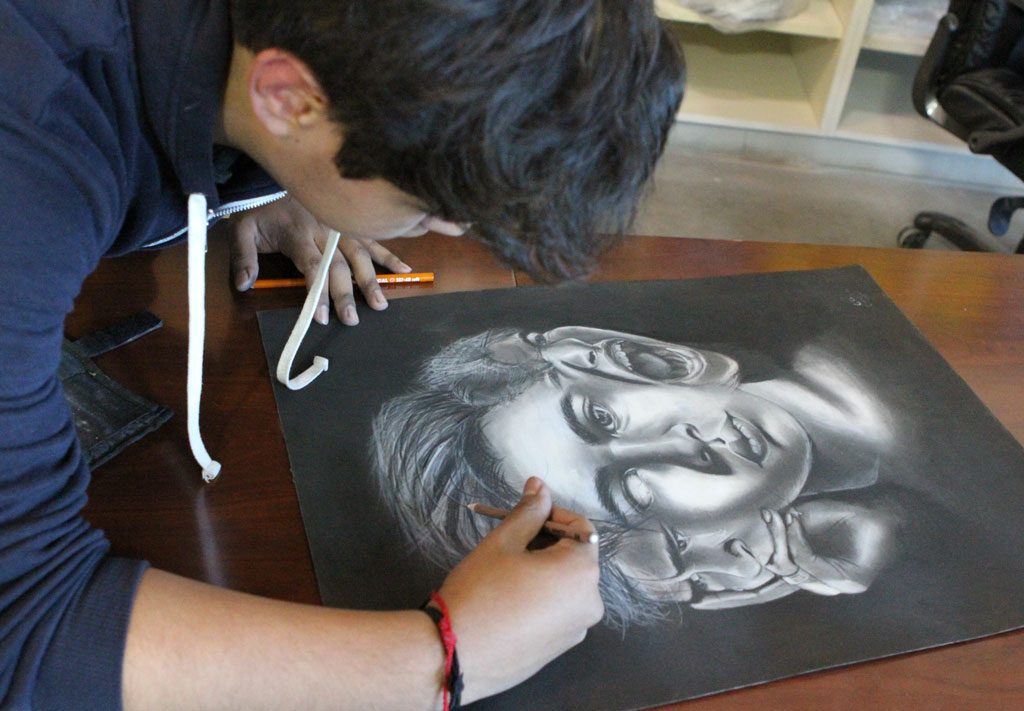 Williams Castillo '19 became the first-ever Eagle to be honored with Gold Key distinction in Drawing and Illustration, one of only 80 Gold Keys awarded among more than 1,500 entries from private and public schools.
Nick Phan '17 was recognized with two Gold Keys in Ceramics and Glass while Ryan Philipps '17, Nicholas Rodriguez '17, Michael Sides '17 and Daniel Silguero '17 all each earned one.
Sides also collected two Silver Key distinctions along with Matthew Coughlin '17, with Baxter Jones '17 and Robert Wight '17 adding one each, and Wight also receiving an Honorable Mention selection.
"Amazing" is the one word description from Nebel, taking particular pride that his Eagle artists will represent six of the 11 Gold Keys from the region advancing to the national level in New York.
"What's really impressive to me is the the depth of our results," Nebel said.  "We had more students in the competition than ever before and received more recognition than ever before.  That's what I look for … the numbers we submit and the percentage of students who are recognized.  
"I know of other high school programs focusing on only a few students to drive a particular competition result.  That's not how it works at St. Thomas.  Everyone participates and everyone is expected to hit a high level.  You rarely see this much quality work in high school, or even in introductory college courses.  And there are no predetermined limits or concepts.  This is not about predictable format."  
Nebel creates a culture that pushes the artistic boundaries of his students, challenging them to pinpoint their inspirations, their process, where they create and how being an artist might influence their daily life.
In this sculptural-based learning environment, Nebel encourages students from diverse backgrounds to identify their emotions, ideas or inner visions, and establish a voice by combining influences from the world around them with personal symbolism.
"I put in a lot of work into both of those projects so it's gratifying to see how the judging turned out,  validates all the extra time I put into creating my pieces," Phan said.  "I really had the opportunity to get in touch with my creative side, realized how much I like making things.  Ceramics is a great stress reliever for me.  I genuinely enjoy coming to ceramics every day."
Sides had heard the ceramic courses were "fun and I have always had an interest in building things.  I want to pursue engineering (in college) and believe that inspires my pieces to be technical.  Few activities are as enjoyable for me as creating, the satisfaction of thinking of a design and watching it come to life."
Nebel's goal is to reach his students and have them unearth the possibilities of artistic expression, and the group's collective competitive nature routinely rises to produce award-winning results.
"Our guys simply do not want to lose, even to each other," Nebel said.  "They are always looking for an edge, coming up with a unique twist that enables their work to separate from the pack.  Many of their designs, textures and glazing techniques I never would have thought of.  We have top scholars in our classes, high achieving student-athletes, talents of all ranges.  But more than anything else, I want the creative and clever, those who seize the freedom to express themselves.  To witness their discovery is truly rewarding."
A ceremony celebrating the Gold and Silver Key selections will be held at the Alley Theater March 25, and an exhibition of winners is ongoing at the Silver Street Gallery throughout March.
Catholic.  Basilian.  Teaching Goodness, Discipline and Knowledge since 1900.