Eagle Golf is gathering significant steam under the steady direction with first-time varsity head coach Paul Hamm.
A deep roster long on talent and potential, yet short on proven higher echelon experience is developing and gaining confidence with three tournament wins and four junior varsity victories before the upcoming district, regional and state tournaments that typically define a season's success.
But outside the strict cauldron of competitive golf, the Eagles have already posted their most impressive measurable result.
"So unexpected … can't really find one adjective … wonderful, wow, awesome, fantastic" is how coach Tim Laza described a collective Eagle effort to better equip his South Houston boys and girls teams, ignited by a chance meeting and casual conversation.
While the Eagles were posting three top-10 scores to capture second place at the Deer Park ISD Tournament at Battleground Golf Club Hamm "noticed only three South Houston scores on the extended leaderboard.  I wondered to Tim if there wasn't much student interest in the program.  He said there was but that he had only three complete sets of clubs available.  Total.  Obviously that limited and stifled participation.  I let that sink in for about 15 seconds.  I've been in the golf business for 40 years … know people all over the state … am a member at Gleannloch Pines and Augusta Pines … has to be a way to help."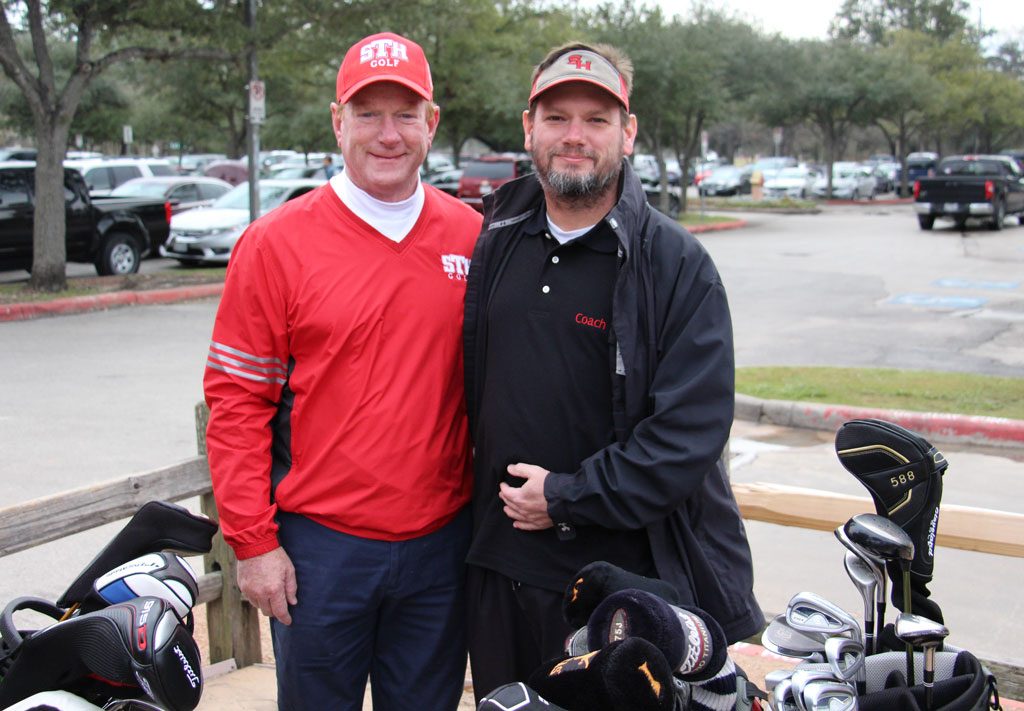 The two coaches touched base a week later to confirm a partnership.
Hamm's first move was "a post on Facebook.  And that's really all it took."
The grassroots response for assistance was immediate.  Major momentum was struck through Hamm's daughter Jody Lutz who lives in San Antonio and has connections to Jason Black, the founder and CEO of Junior.Golf in Austin that supports industry initiatives in growing the game.
The son of former University of Texas head basketball coach Leon Black was introduced to golf at age three, learned from legendary instructor Harvey Penick and owns a passion for promoting the golfing experience for younger players.
Black dialed into a relationship with global manufacturing titan Callaway Golf.  Hamm was amazed when contributors who didn't have direct access to previously owned clubs would purchase through retailers and donate.
In quick time Hamm had acquired a dozen set of high-quality proline iron sets to cluster with drivers, fairway woods, wedges and putters, plus balls, tees, shoes and ancillary items.  Hamm's instructions to his team were then precise.
"I told our players to put together as many complete bags that you would play with in a tournament," Hamm said.  "If you wouldn't play with a particular club, place it aside.  As it turned out, I would send (son) Zac out with anyone of the 12 sets that were assembled and not have it compromise his score."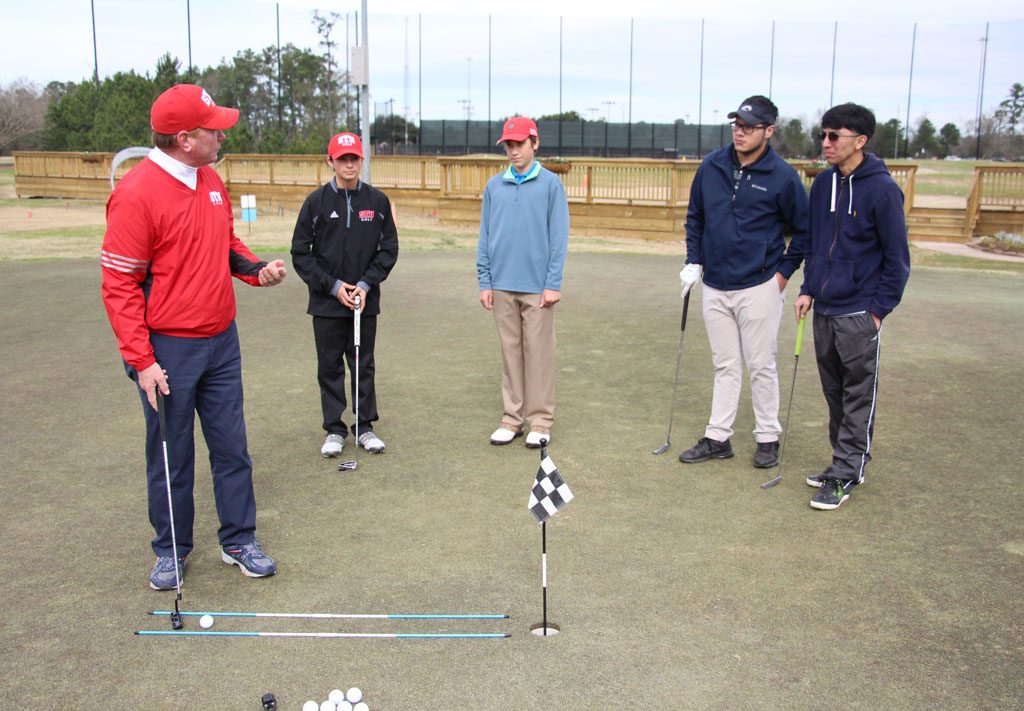 Eagle Golf met with Laza and his South Houston team for the presentation on a Saturday morning gathering at Memorial Park and then shared time together on the driving range and putting greens.
Laza is now in his fifth year at South Houston was "amazed that Hamm and St. Thomas would go to such lengths to reach out for us  This is so important for our players to improve and for me to have a baseline for instruction.  Golf reinforces honor and integrity, important lessons for high school students to learn that we stress every day.  And I can't think of a better example of honor and integrity than what St. Thomas has shown our team."
For Zac Hamm '18, this benevolence provides "more than just the opportunity for players to get better at golf, but a chance to try to make a difference in the world and be as good a Christian as you can."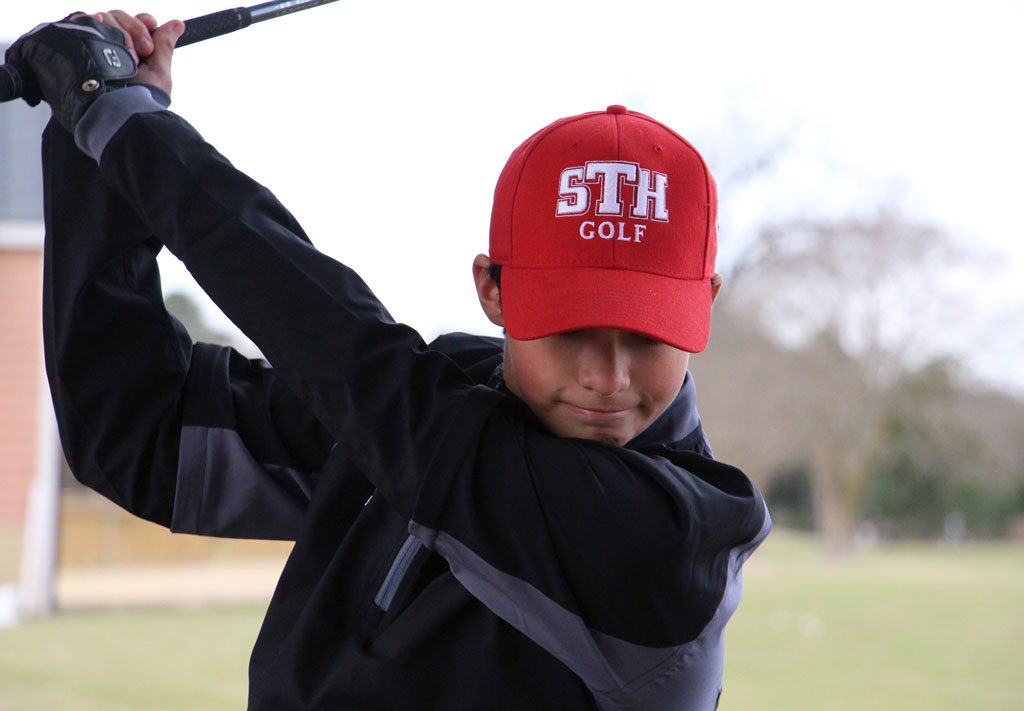 Matthew Payne '20 was introduced to golf in middle school.  He made a personal connection with the South Houston players during the Deer Park competition and "now hopes that they will be able to enjoy the game as much as I do."
And that dividend might very well be measured far beyond the careers South Houston.  While giving South Houston a means to close the competitive margin was an immediate and projectable goal, the broader boost could be laying a foundation to a lifelong connection to the game.
But Hamm's greatest satisfaction "is the real world application.  I told our team that it's important to notice when there are those who are in need of what you may take for granted.  You are blessed.  Life is not the same for everyone.  When possible, reach out to others and simply try to bridge the gap."  
Eagle Fight Never Dies!