It's said that the two most important times in someone's life are the day they are born and the day they realize why.
The revelation for Matt Thomas came in the 1980s as a high school kid in Katy igniting a living-out-his-dreams broadcasting journey.  And now his son Cameron '18 is perhaps discovering a similar path exploring the same professional purpose.
Cam served at the public address announcer for Eagle Basketball during the program's second consecutive run to the TAPPS state tournament, his first foray into following in the echoes of his father, one of the most celebrated and recognizable voices reverberating throughout the Houston sports scene since the mid-1990s.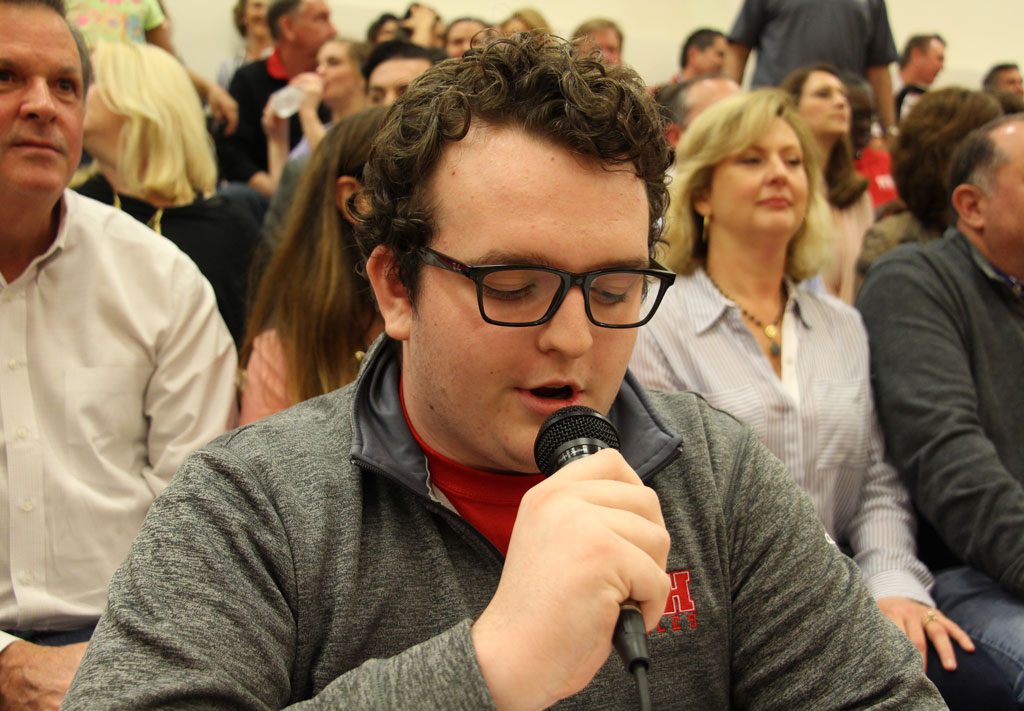 "The experience was so much more than even my expectations which were really high," Cam says of his crafting an authentic not forced, less-is-more cadence from his midcourt seat at Reckling Gymnasium.  "I was nervous for that first game … shaking.  But I got more and more comfortable as the season moved forward, just as the team grew and came together on the court.  It was so much fun to be involved in the success."
During a simultaneous hoop hysteria Matt was resuming the courtside microphone assignment for the Rockets at Toyota Center, a measured tone, soothing the air an octave below the din, while also serving as the team's radio play-by-play voice for road games on SportsTalk 790 (KBME-AM).  His chaotic schedule which includes co-hosting 790's morning drive "The Proper Gentlemen of Sports" allowed him to attend only two Eagle home games, enough to drew some quick conclusions on Cam from a relatively small sample size.
"He was enjoying all this as much as I enjoy it … could see the smile on his face … calling names and sensing the reaction from the crowd," Matt says  "When I call a James Harden basket … or long ago with Hakeem Olajuwon … there's a roar after you say something.  I saw Cam appreciating that same kind of feeling.  He liked it, so I liked it."
Cam uncovered what he believes is a "knack" for playing the in-house middleman, a conduit linking live action to those in attendance. Understatement as the rule, giving observers what they need to know and then getting out of the way.
He and his father discussed some fundamental mechanics, how to handle opponents, what to push, when to hold back, the proper verbal thrift, but Cam was left to develop an initial style strictly his own.  Until further review Matt doesn't necessarily hear much of himself in his son.
"Cam is more a reserved type and I'm not shy," Matt says.  "This has gotten him out of his comfort zone, and the same being a student at St. Thomas.  We live in Kingwood and could have sought other options for Cam but being on this campus has enabled him to grow new friendships, new experiences and now this chance with basketball that otherwise might not have been available.  I see him opening up more and I'm not sure that would have been the case a year ago."
Cam wasn't yet alive when his father was the midseason replacement in 1994 for the Rockets public address duties, at age 22 applying a signature "Hakeem … the Dream … Ohhhhhhhhhhhhhh-lajuwon" to the pre-game mayhem and enjoying what would soon bounce into the roundball ride of his life.
"I can still see (Knicks guard) John Starks in the left corner of my eye … and Dream rising and tipping the ball … like it was yesterday," Thomas recalls from the draining seconds of survival in Game Six of the NBA Finals played out before a bellowing Summit arena.
Three nights later the Rockets completed the comeback that cemented the first of consecutive NBA titles, the first and only in franchise history, and to this day the only world championships Houston may call its own.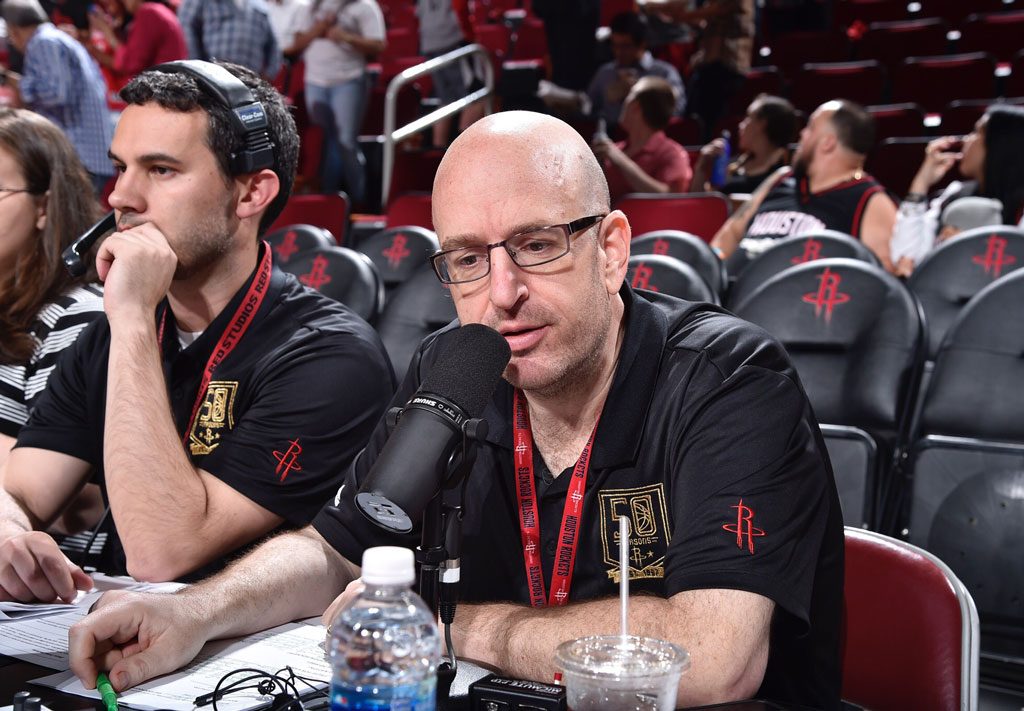 Thomas left the Rockets in 1996 for Houston Cougars play-by-play and the career roadmap soon took him from his hometown to Salt Lake City in 2004, then to Minneapolis in 2007 and the return route to Houston in 2009.
All along the way the unbreakable amalgam of sports and family united Cam and his father.
"We took in a lot of University of Utah football and basketball games, a lot of Twins games, and that's when I started to get super serious about sports," Cam says.  ""I've been to about 15 Rockets games this season, and hearing my dad made me think that doing the PA for St. Thomas was something I would like to try.  I approached my parents and then (athletic director Mike) Netzel and got the green light."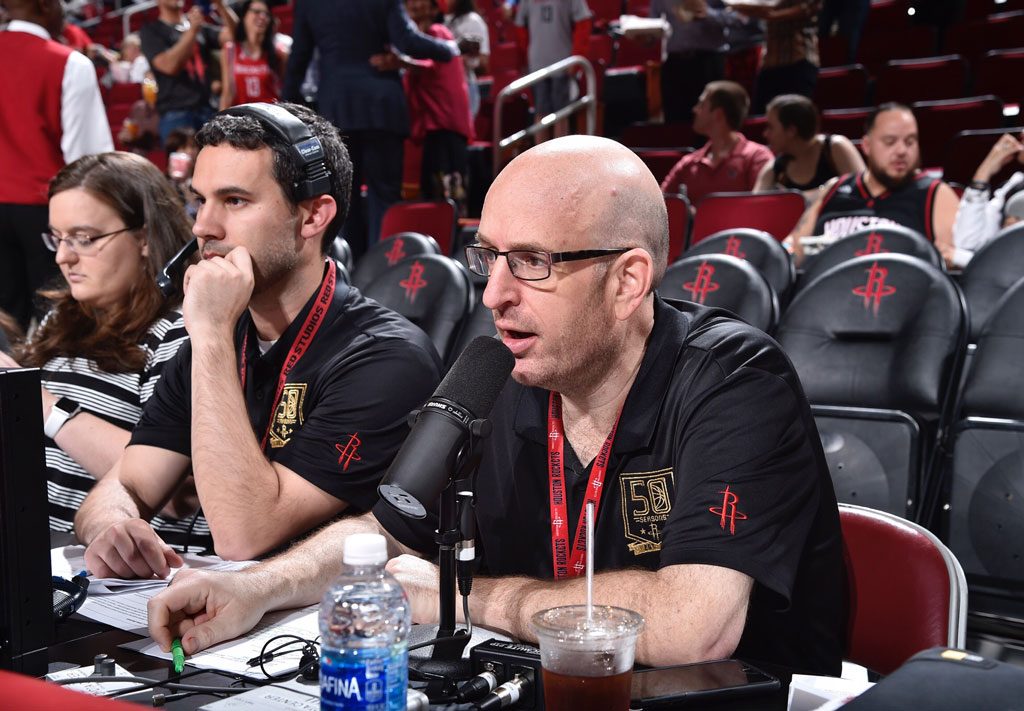 In many ways the same go signal that Matt received when attending Mayde Creek in Katy with an insatiable appetite for the nightly consumption of Gene Peterson, Gene Elston and Milo Hamilton detailing Rockets and Astros exploits on the Houston airwaves.  Thomas broke into the radio ranks as a teenager at KSEV-AM, produced Dan Patrick's morning show at 700 AM while attending UH, and was positioned and primed when the Rockets first came calling for a career-altering opportunity.
"I took that chance when I was a kid to pursue a dream and I'm proud that Cam is taking that same kind of chance and taking a liking to it," Matt says.
Notable father or not, a broadcaster must make his mark in one of several ways, a distinctive property, a singular trait.  The traditional public address announcer is a minimalist maestro, performing in deep, clear tones with an accent belonging to neither coast, a kind of voice from Nowhere, wasted words are few and the rhythm is undeniable, creating rollicking introductions and creative uses of names, a ringleader for the in-game carnival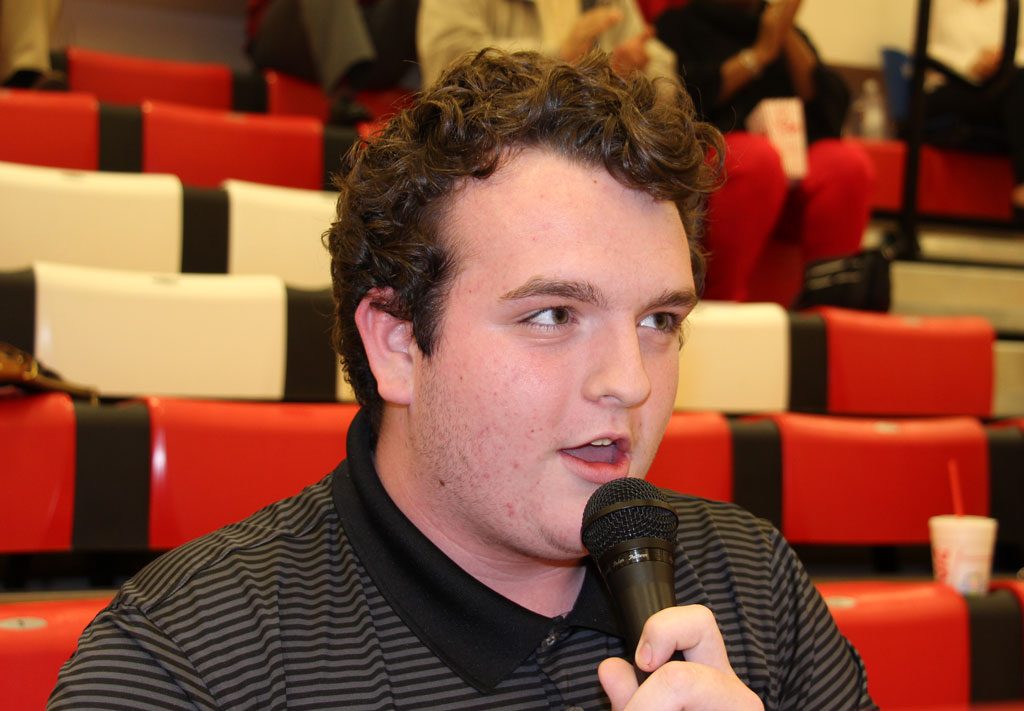 Time will indicate whether St. Thomas will provide Cam with the embryonic stage for his own broadcast odyssey.
"It's very exciting but also unnerving," Matt says.  "This business is so difficult.  You either have the ability to engage a large audience or you don't.  You won't know until you get in front of a mike, make mistakes and get better.  I have to appeal to thousands of listeners and major advertisers.  They have to value the message I deliver.  But there is just as much outstanding talent out there not working.  I don't know where the future media world is going, and Cam may be entering that great unknown, but it's exciting to see him take on the challenge and right now I'm grateful for that."
Catholic.  Basilian.  Teaching Goodness, Discipline and Knowledge since 1900.