When plotting for the St. Thomas spring production, long-time director Dan Green opted for something creepy and kooky, mysterious and spooky, and altogether ooky.
Overwhelming recommendations from his actors convinced Green that the time had arrived to debut The Addams Family.  The ghastly, ghostly and full-tilt musical slant on that devilishly delightful clan with an affinity for all things gleefully macabre premiered in March at Cemo Auditorium.
Snap, snap.
"This show isn't something I had in mind to stage but when the students express enthusiasm for a project and we can do it … we do it," Green said.  
"I was thrilled to see how thrilled the audience was with all our gifts and talents.  Each performer, from the principal characters to the chorus members, all had something every single moment they were on stage, and they all did it amazingly well.  We have an embarrassment of riches in this program and had a slew of proven polished performers in the positions they needed to be in."
The Addams Family began innocently enough as a series of one-panel gag cartoons by Charles Addams in The New Yorker in the late 1930s, became a classic TV sitcom in the '60s, a Saturday morning cartoon in the '70s, and a pair of popular films in the '90s … all as a run-up to the 2010 smash-hit Broadway musical featuring Nathan Lane and Bebe Neuwirth.
Snap, snap.
The plot swirls around a shocking development in the eccentric Addams household where the ordinary rules of human nature are reversed and Goth is grand.  Wednesday, the precocious princess of darkness, is charmed by a sweet and smart middle class all-American type from a respectable family.  The inevitable culture clash collides, friction emerges and hilarity ensues, all engulfed by a witch's brew of tango, cabaret and vaudeville-style numbers.
Fronting the ghoulish Addams gang were the pencil-mustachioed patriarch Gomez (Parker Robertson '18) and his vampirically glamorous wife Morticia (Incarnate Word Academy's Sarah O'Connor).
"Very strong leads … perfect foils… true chemistry.  Parker and Sarah each had a firm understanding of their own styles but also respected each other's craft.  Both delivered their performances with strength," Green said.  "You want some tension between that couple and they were superb engaging each other in a comical way."
The robust Robertson delivered a pitch-perfect performance in his fourth STH production, following his colorful and explosive Action in West Side Story and the not-so-foolish fool Feste in Twelfth Night, a jester who thoroughly embodied the spirit and folly of Shakespeare's madcap festivities.
Robertson had longed for the opportunity to revisit Addams Family after his chorus role in the 2014 HITS production at the Miller Outdoor Theatre, describing Gomez as "debonair and flamboyant … what a zest to that character.  I didn't realize how much range I would have with the role and then when you bring it to life, it's incredible."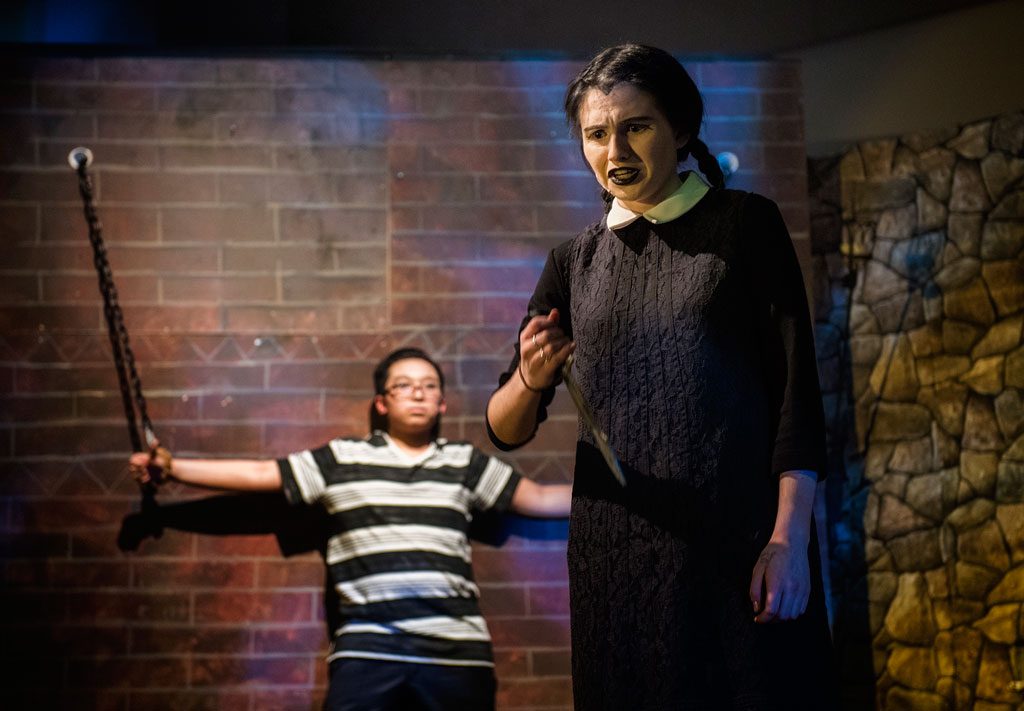 IWA junior Susannah Wilson portrayed the wicked daughter Wednesday Addams and was flanked for the fun and frolic by Daniel Tran '19 as her brother Pugsley, with Andrew Neaves '17 (Uncle Fester), IWA senior Lauren Turner (Grandma) and Alec Gordon '17 (Lurch) filling out the primary misfits and malcontents.
When casting musicals Green seeks to identify "triple threats" and recognized throughout rehearsals that Wilson would be one of many actors to "hit it out of the park."
"You have to have the capacity to sing, the capacity to dance and the capacity to tell a story as a character," Green said.  "Susannah has always had a great voice and always a great presence on stage but this was the first vehicle where she could sing it, dance it and act it in a way to put a stamp on the show."
Neat, sweet, petite.
Neaves concluded his high-caliber six-performance St. Thomas career during a weekend when he learned he had been admitted into the prestigious School of Dramatic Arts at the University of Southern California ("1,300 students audition and apply, only 20 are accepted").  
To develop his distinctive Uncle Fester, Neaves consulted and drew inspiration from YouTube clips of the classic Addams Family cartoons "that were most helpful, especially for a musical where reality is suspended."
Neaves conveyed a sui generis weirdo with equal doses of warmth, charm and enigma.
"I think playing wacky is actually harder that straight conventional characters," Neaves said.  "With Fester you have to go against your instincts of so-called normal behavior.  Honestly, I was still searching a real confidence up to and through dress rehearsals.  But each time out, the role took on some subtle depth and by the weekend I discovered the zone.  I figured out the timing, which jokes worked, which not so much, and how to sell the physicality.  You have to play Fester big but still maintain a degree of discipline."
Green commended an army of participants, from the top-flight cast including Ryan Deitz '17 (Mal Beineke) and Isaac Flanagan '18 (Lucas Beineke) to "sophomore Carl Collins who dressed like an Egyptian mummy, popped out of a sucofficus every five seconds and made everyone laugh.  It was all fun stuff."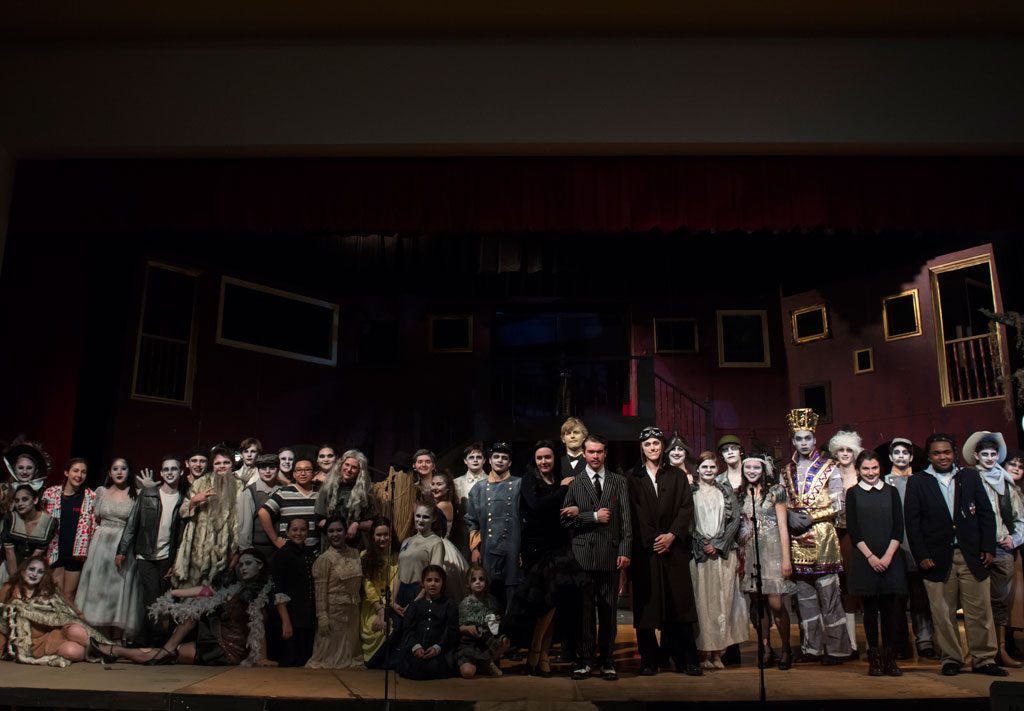 The exuberant choreography, lavish costumes and delicious scenic scheme that have all become the St. Thomas Drama standard partnered with a vivacious lineup of characters to produce a show not carried by single stars but a full constellation of vigorous talents greeted by the audience with great applause and raucous laughter.
"The artistry of the set was phenomenal, not only the usual outstanding efforts from (faculty member) Phil Gensheimer, (staff member) Duane Fuchser and the crew but also from students.  (IWA's) Laura Hoge and (sophomore) William Castillo are just two examples, painting murals that were exquisite.  With so many contributors, at some point you just stand back and let it happen."
Snap, snap.
Catholic.  Basilian.  Teaching Goodness, Discipline and Knowledge since 1900.