In five full Astro seasons 5'5″ mighty mite second baseman Jose Altuve has proven to be the smallest active MLB player routinely raking for the biggest of individual awards.
A four-time All-Star … two-time batting champion … 2015 Gold Glove award winner … the American League leader in stolen bases in 2014-15 and total hits each of the last three years.
Adding to the litany of jaw-dropping memory lasting performances is now perhaps Altuve's most impressive Opening Day showing, all of which played out hours before the official first-pitch launch into the 2017 season.
Altuve staged a private 90-minute clinic for four star-crazed second graders from St. Anne Catholic at Fr. Wilson Field on the St. Thomas campus that included batting practice and baserunning drills, infield and individual instruction, autographs and pictures, all delivered with the signature grace and graciousness that has made Altuve a beloved Houston fan favorite.
"It's always been important for me to be more than just a good player, to get out away from the stadium and give back to people," Altuve said in the Eagle home dugout following the full morning of activity. "I'm just happy to see the kids enjoy what we were able to put together for them."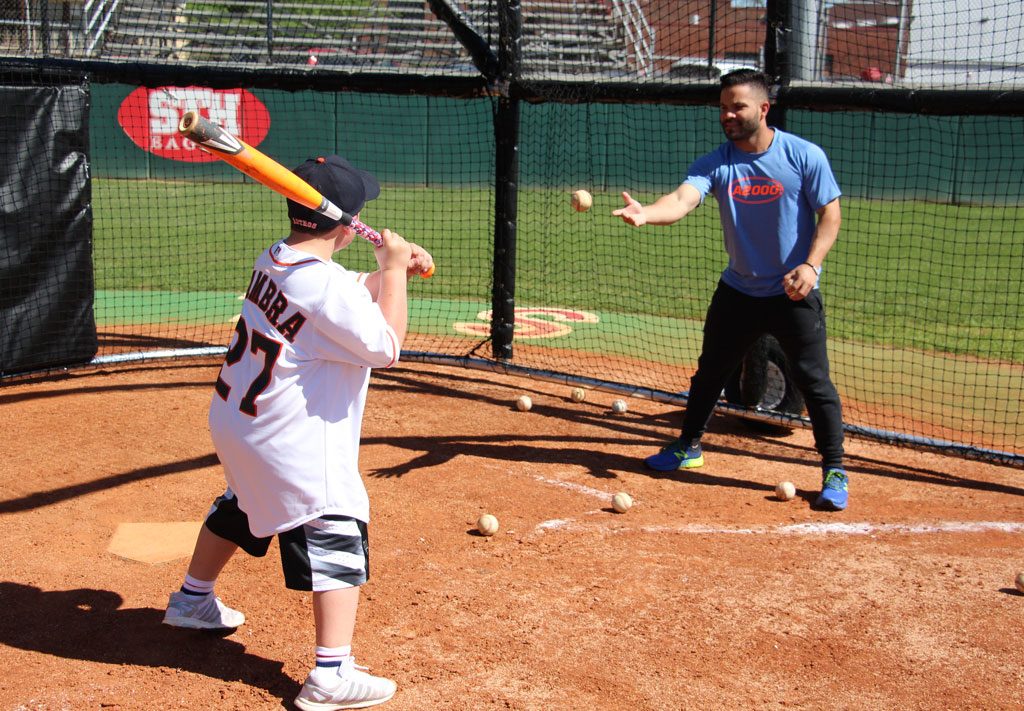 Anthony D'Ambra watched his son Dominic hammer underhanded offerings served up by Altuve at home plate while older brother Anthony '20 watched from a perch with St. Thomas classmates stealing a view during their lunch period.
"You have a MVP-caliber player tossing to eight-year-olds," the oldest D'Ambra said. "Like a dream come true, isn't it? And on Opening Day. How many guys in the big leagues do that? Maybe just one. This is something these kids will never forget."
When D'Ambra, John Dominguez '97 and Derek Schoppa partnered on an auction bid to benefit the St. Anne Foundation, the original scenario was for Altuve to host the youngsters at Minute Maid Park. But the hectic logistics associated with the first game of the season prompted a reset and St. Thomas was willing and eager in providing an uninterrupted and showcase setting.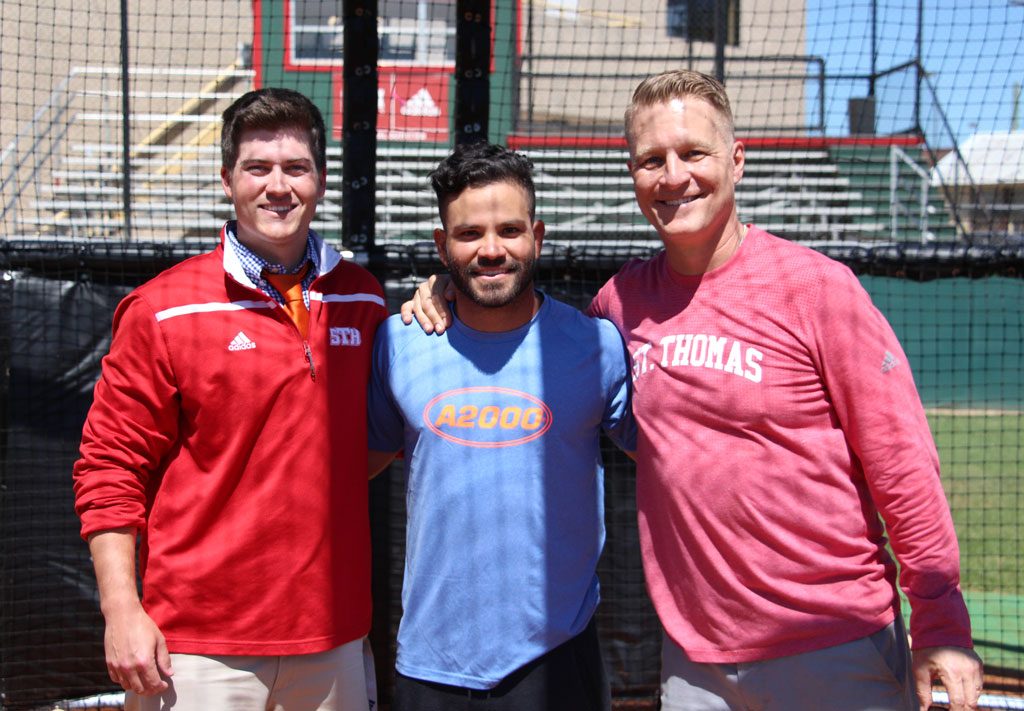 "So many of us here on campus are parishioners of St. Anne, and whenever we as St. Thomas can step up and help a fellow Basilian school, we will absolutely make it happen," athletic director Mike Netzel said. "(Eagle Football video coordinator) Dennis Yanta is very involved in the Foundation Auction and reached out to ask what could we possibly do. Easy decision to get involved. We just didn't want those kids to be disappointed (with a postponement)."
Dominguez admitted that John IV "was so excited (the night before) he couldn't fall asleep. He was so anxious to get out here. For Jose to do all this on Opening Day, one of the best players in the game right now, to have the patience and make sure it's a full experience for the boys, you cannot say enough about him. It's an honor for me to be out here. Very very cool."
Altuve's modern day take on his individual day-night doubleheader meant one-on-one instruction for Isa Garcia on the same field where his father Isa '02 was an Eagle record-setter, three-time all-state performer and major contributor for the 2001 state champions before finishing his career at the University of Houston.
Schoppa said that his son Adam "knew he was meeting Jose Altuve and getting the poster on his bedroom door signed but I'm not sure he was expecting all this. It's awesome to see someone so appreciative of his position that he would come out here to give back. A beautiful backdrop, a perfect day, we couldn't have asked for more."
In short time the diminutive Altuve has elevated from curious novelty to one of the best all-around players in the game, named the Sporting News 2016 Major League Baseball Player of the Year, only the fourth second baseman selected for an award presented each season since 1936.
He is pound-for-pound inch-for-inch dollar-for-dollar the absolute best bang for the buck in the big leagues ($4.5 million in 2017), unassuming in his celebrity, unshaken by his sudden rise in profile, embracing the opportunity to impact the lives of others.
"When I was the age of these kids here today I didn't get to meet and learn (from a major league player)," Altuve said. "Giving them this chance, that's what our Astros team is all about. It's not just me. Tomorrow it could be George (Springer), and the next day Carlos (Correa). I'm always excited to take part in something for a great cause. (Houston) is my second home and anything I can do to help my community I will do."
Netzel took in the full interaction between All-Star and Little Leaguers and came away "so impressed in how Jose engaged the kids. They saw the human side which reveals a special person, not just an elite Houston Astro. Jose makes it so easy to root for him and his team."
Catholic. Basilian. Teaching Goodness, Discipline and Knowledge since 1900.