Generations of Eagle arrived for a bonding that renewed Basilian values, invigorated the St. Thomas soul and raised valuable monies which enable the tradition-steeped 117-year institution to continue inspiring students personally and professionally.
A brisk cloudless afternoon beneath an ocean blue sky greeted more 200 participants zigzagging the demanding Jackrabbit and Cypress Creek courses of historic Champions Golf Club, which first carved its deep place in the game's history hosting such prestigious events as Ryder Cup matches, the United States Open and the Champions International.
Throughout the 26th Annual St. Thomas Golf Tournament, wide fairways were split, wedges shanked, enormous greens missed, inevitable wagers placed and many a Macanudo lit.
And before the day was done, the treasure that is 94-year-old Jackie Burke '40 briefly held court in the expansive Champions dining room before departing to a heartfelt standing ovation.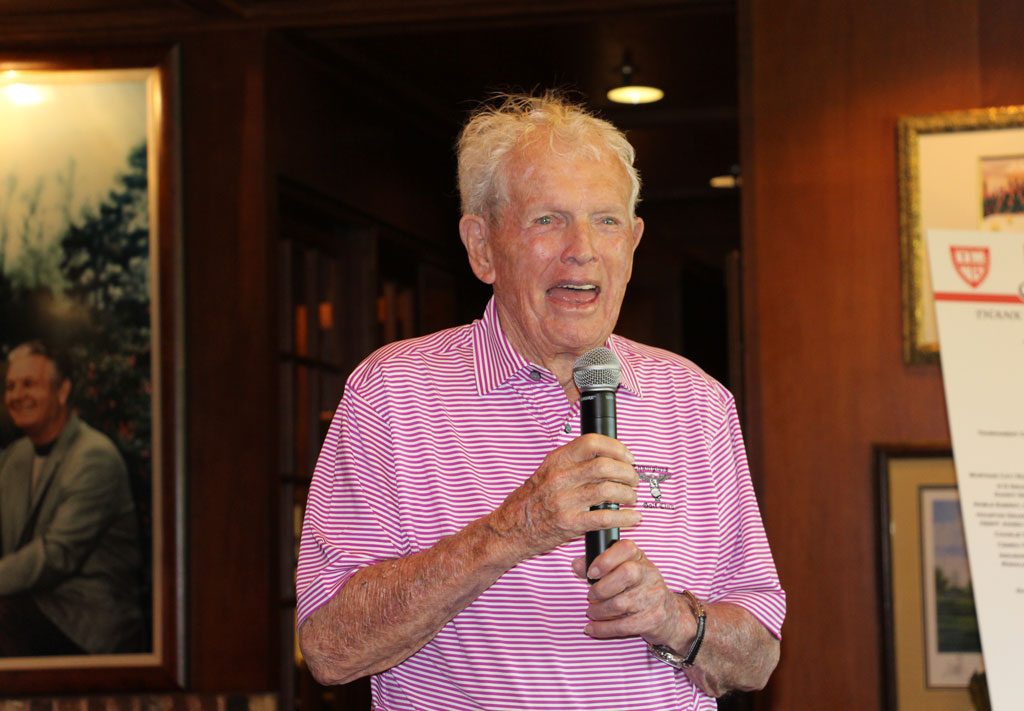 "You can't describe nor match the magic when Jackie meets with our Eagle family," said vice president for advancement Mark deTranaltes '83.
The Champions founder, forever Eagle and second-oldest living Masters champion is annually encouraged (with $10,000 in expense money) to return to the hallowed golfing grounds to relive some of the rich tapestry he helped weave more than six decades ago with a dramatic final round charge to the coveted green jacket.
But the World Golf Hall of Famer repeatedly declines overtures from Augusta National where he shares a permanent locker with Tiger Woods, more comfortable engaging assorted Eagles representing five different decades in the famed golfing club he built in 1957 with the late Jimmy Demaret, and every day since was worked to grow the game, teach it and play it.
Burke maintains vivid memories of his iconic times … two major tournament victories in 1956 when he was PGA Player of the Year … five U.S. Ryder Cup teams with the likes of Ben Hogan and Sam Snead … captain of an American squad that included Jack Nicklaus, Arnold Palmer, Lee Trevino and Billy Casper … and just as readily drains from his vast reservoir of wisdom when asked why he retains such deep convictions and connections to St. Thomas.
"My father always told me to leave more than two footprints on this world," Burke said while stationed in the flurry of activity outside his wood-paneled office.
"We don't do a lot of events like this. But St. Thomas has been a part of my life forever and we're going to do this right because St. Thomas has always done it right. I know what (Fathers) Higgins and Allnoch and so many of the Basilians taught these guys in here. You either got along or got the (heck) out of school."
And correctly on cue a number of near-by listeners casually hanging on each and every Burke blurb burst with laughs and back slaps.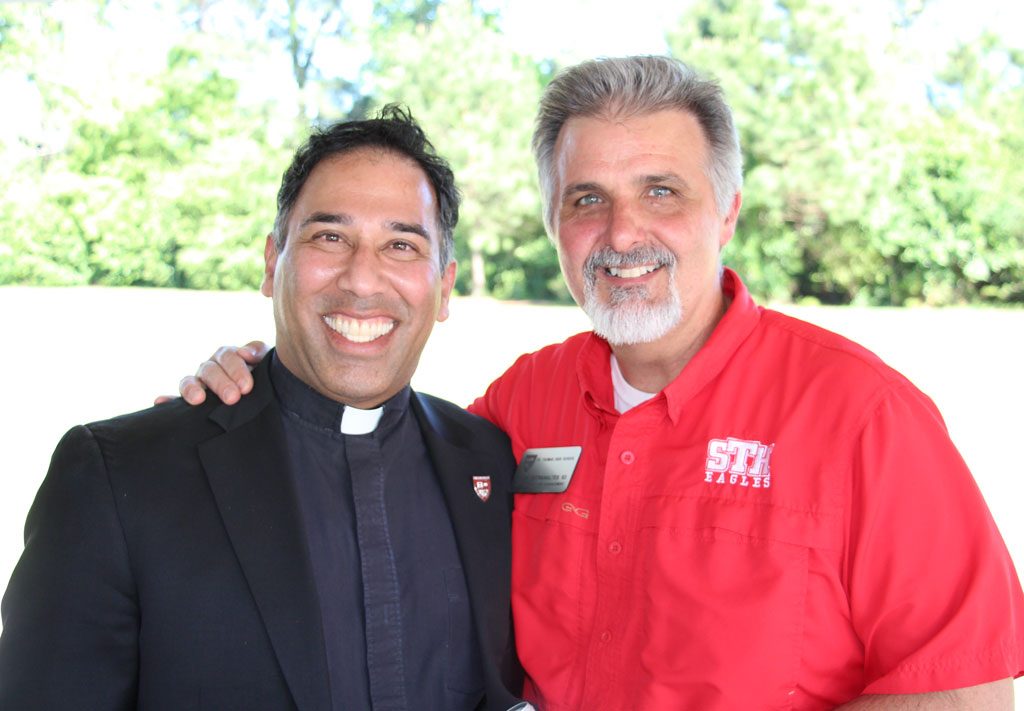 deTranaltes has orchestrated tournament logistics, sponsorships and participation for five years and is routinely struck by much more than the monies raised for St. Thomas tuition assistance and Eagle Athletics which this year totaled $120,000.
"The breadth and width of alumni who come together is what makes this gathering significant," he said. "Some graduated five years ago and played this year for the first time … many others are constants and have been involved for two decades. The brotherhood is for life. The friendships are what bring everyone back."
Posie Clinton '91 is a notable example, making this Monday in April an automatic entry for more than a dozen years. When greeted with the the first-time opportunity to co-chair along with three fellow classmates, "it never crossed my mind to not do it. I play golf here every year with the same group of guys I played with in high school … same group I play with every week … but this day brings such a different feel. We all are determined to keep our Eagle tradition alive."
Co-chair Brian Cronin '91 is another decade-plus veteran of the event that provides the chance "to remain in contact with those classmates who I only see playing the tournament … a great time where it absolutely doesn't matter how you play … just fun."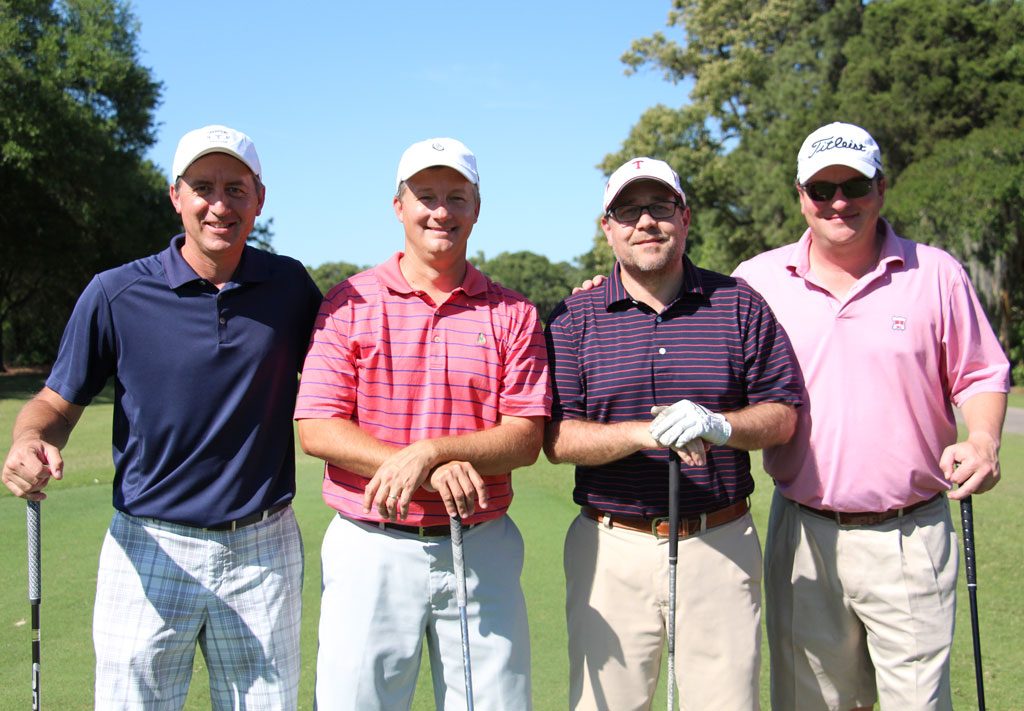 Bill Dennis '91 said he "never misses this … 25 straight years … seeing friends going all the way back to St. Michael Catholic. It's all really more of a family reunion experience for me than anything else."
The co-chair routinely made the rounds at Champions during his own St. Thomas years through a family membership. Dennis would regularly brush against the legendary Burke or gather a glimpse of him working with standout touring pros such as PGA Champions Steve Elkington and Hal Sutton, or Rocco Mediate.
"This is such a special and historic place, and I have to admit, I'm so competitive that I see this as another tournament to try to score as well as I can," Dennis said. "But that being said, there's also a great appreciation to support an event that helps students with scholarships and makes St. Thomas more available for those who wouldn't otherwise be able to participate."
David Hanse '91 said the teaming of the co-chairs was a natural, "a group of guys who I've been in their weddings and they've been in mine. We all currently have different perspectives of St. Thomas … Brian has only daughters … Posie has three sons and one who is there now (Posie '19) … Billy has a five-year-old … I have an older daughter who went to St. Agnes and a younger son. But we all share the same appreciation for the school and want nothing but success for it moving forward.
"The tournament brings a mix of different constituencies together … those who went to St. Thomas … those who have sons attending now … and those who simply have affection for the school and like to play golf. As chairs we tried to expose the event to those who have been involved in some way with St. Thomas in the past, enjoyed their experience either as a student or parent, and yet haven't discovered further reasons to really stay involved."
Eagle Fight Never Dies!