Rick Apolskis '85 didn't just play football.  He stalked with mean intentions.
He didn't just experience hardships.  He lived through them in public.
He didn't return to the beloved birthplace of his career to bask in individual acclaim.  He gladly shared in a communal celebration of spirit and brotherhood.
In April, Apolskis was again familiar with the St. Thomas terra firma, among the latest Eagle luminaries gathered to be formally enshrined in the school's prestigious Sports Hall of Fame that now totals 65 members.
"It's coming home," he says with deep satisfaction.  "I grew up at St. Thomas starting at age four.  Going to school here just became a part of life.  I'm truly honored to be back.  Totally unexpected.  A humbling experience."
As he entered Cemo Auditorium, the emotional flashback for Apolskis struck with "the faces … like Jim Schwartzbach … my ninth grade coach … thought I should play quarterback.  Fortunately in 10th grade coach (Bill) O'Neil, coach (John) Carrigan and coach (Mike) McConnell figured out that I needed to play defense."
Rick proved to be a man-ster masher among school boys as he captained Eagle Football to three district championships and two TCIL state titles while his teams went undefeated four straight years in the annual series with Strake Jesuit.
His mother Roxanne was devout in attending each and every game, grimacing with each and every collision.
"Don't get hurt … that's all I remember … just prayed and prayed and prayed … do not get hurt," she says.  "There was one year when Rick had mononucleosis.  College scouts were going to be at the game so there was no way he wasn't going to be on the field.  The coaches wrapped him in some sort of brace to protect his spleen and he went out there and played."
Routinely the only pain administered was the result of riveting thundering hits from Apolskis, who buried ball carriers and quarterbacks beneath an avalanche of pressure so captivating that it has come to define the Eagle standard.
In 1984, Apolskis was recognized as one of the top high school lineman in the nation, a three-time all-state performer who was twice named to the Houston Chronicle All-Greater Houston team and a semi-finalist for the city's top defensive player award.
Yet what Apolskis appreciates most is that "we had great success as a team … a really close knit group.  The experiences taught me so much about life.  The importance of discipline and effort, learning to compete.  You have a job to do and at the same time you understand how important it is to encourage others to do the same."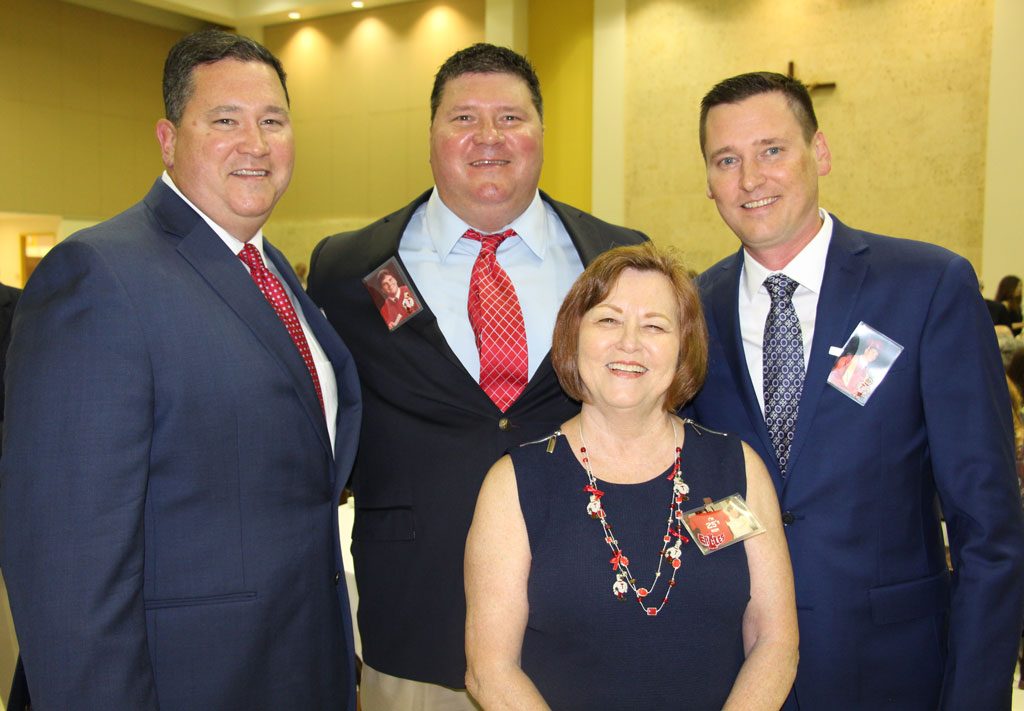 Rick's rib-racking exploits came with his younger brothers David '89 (left) and John '92 (right) routinely in tow before each later carved their own Eagle athletic distinction.
"Rick was always my idol, no question about it," David says.  "I couldn't wait for Friday nights to go with my mom and dad to watch those games.  Rick dominated from the defensive end.  Teams could not get around him.  He was relentless.  And he is like that in everything he's done in life, always giving his best."
David followed in Rick's wake with the same athletic urgency and identity, a highly decorated recruit and fulcrum for the 1988 state football championship before accepting a scholarship to the University of Southern California, while John was a key contributor in Eagle Tennis, winning the 1991 state title, the program's first in 14 years and one of only 10 in school history.
All of which helped extend the Apolskis athletic legacy that stretches deep throughout generations.  
Rick's grandfather Chuck played defensive end for the Chicago Bears and his great uncle Ray was a linebacker and offensive lineman for the then-Chicago Cardinals before and after his World War II military service commitment as a captain in the Marines who fought in Okinawa, Japan.  He then was part of the Cardinals' last NFL championship team in 1947.
Family patriarch Richard Apolskis lived out his hoop dreams playing for eventual Hall of Fame coach Guy Lewis at the University of Houston, one of five starters scoring in double-digits in 1965 when the Cougars defeated Notre Dame in the Midwest Regional of the NCAA tournament before falling to Oklahoma State in the Sweet 16.  The next season Elvin Hayes and Don Chaney arrived to firmly stamp the program on the national radar just as Richard was concluding his college career.
The next dribble-drives led Richard to St. Thomas where he was the varsity head coach from 1972-78.  Roxanne says that allowed "Rick to run under the bleachers for seven years watching his dad throw folding chairs."
And the die had been cast for where Rick would take his soon-to-be bludgeoning football talent.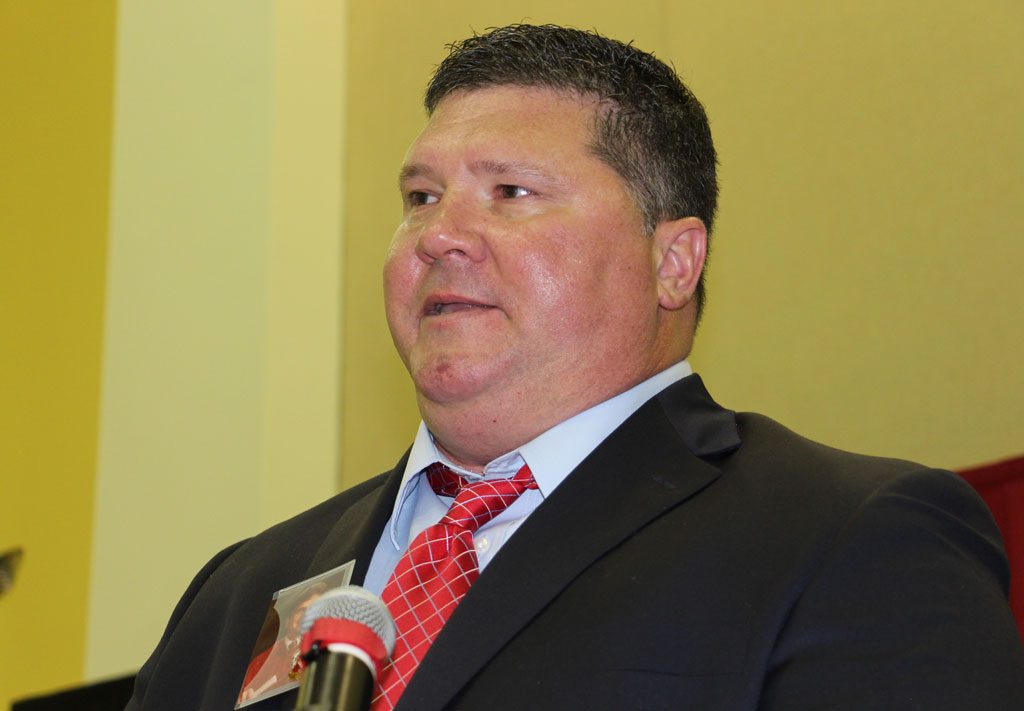 "Rick did not want to go to Sharpstown and no way was he attending any other private school," Roxanne says.  "He was determined to go to St. Thomas.  He got a job that he really shouldn't have had … didn't even know he was working (at Sharpstown Mall).  And he saved every dollar to help us pay the tuition because he was going to St. Thomas."  
Rick's rocketing football profile provided a choice of any college destination throughout Texas.  He also visited Notre Dame and Louisiana State before deciding on Arkansas where he was a three-year starter at offensive tackle for teams that captured consecutive Southwest Conference championships in 1988 and '89 to earn invitations to the traditional New Year's Cotton Bowl clash.
Rick was surrounded by a star-studded roster that included Steve Atwater, Quinn Grovey, Wayne Martin and Barry Foster to notch a 14-1 conference record during those seasons, finishing a collective 20-4 with head coach Ken Hatfield.
After graduating with his bachelor's degree in Accounting and Financial Management, Rick played for the New York Giants, and NFL Europe's Barcelona Dragons and Birmingham Fire before opting for a distinguished professional career that included more than a decade with global food and beverage leader PepsiCo.
Yet all the success was razor-thin to never materializing.
Weeks into his freshman year in Fayetteville, Rick received the devastating news that his father had suffered a heart attack and quickly passed away at age 41.
"He almost fell over when he got word," Roxanne recalls.  "He hadn't even played a football game yet.  He had gone to the dorm that night … waiting for us to drive up to see him … and (Richard) never made it through the morning."
David was a St. Thomas freshman and credits his mother for "keeping all of us united.  She was the rock.  It was especially tough on Rick because he was away from home and felt he should come back and take care of the family.  But Mom told him, 'We've got this.'  She was amazing.  Even today I'm not quite sure how she did it."
Roxanne is steadfast in her belief that "St. Thomas is what held our family together.  This community cried with me … grieved with me … made sure my boys had everything they needed.  Benefactors stepped forward to ensure David and John would continue and complete their education here.  To this day I don't know who they were.  But I'm eternally grateful beyond words.  I love this place … got me through some really bad years."  
Years that brought more turmoil when David was two time zones away at USC.
A starter and second-team freshman All-American center in 1990 after a redshirt season, David was diagnosed with testicular cancer only two days before the Trojans were to report to practice in August 1991.
A testicle was immediately removed and three weeks later David had cancerous abdominal lymph nodes taken, followed by several weeks of chemotherapy treatments and months of uncertainty.
Again adopting an example set by his older brother, David persevered with a dogged determination, undaunted through the unrest.  He responded favorably to the treatment and rehab, and returned in 1992 to finish the final two years of his Trojan career.
On a joyous evening that spawned rich reminiscing, Roxanne relished that her "boys have stuck together.  In many ways Rick's induction is a culmination of our worlds all coming together in one place … and St. Thomas is that place."  
John's commencement exercise was the last event that brought the Apolskis family together on the St. Thomas campus.  He then graduated from Stephen F. Austin University and is now a territory sales manager based in Jacksonville, Texas for US Foods, the second largest foodservice distributor in the country and the 10th largest private company in America.
For the band of brothers, the Basilian motto Teach Me Goodness, Discipline and Knowledge that each embraced during their Eagle experiences has proven to be the compass for the core values vital to their success as husbands, fathers, business and civic leaders.
"It's the bedrock,"  John says.  "I live by it every day.  Use it in presentations with my business colleagues.  Goodness … being as good a person as you can possibly be.  Discipline … staying ethical and moral without compromise.  Knowledge … never stop learning in any aspect of your life."
David agrees that the credo "lives inside of you.  You never lose it.  When I went to USC, one of the reasons I was able to transition so quickly was that I was disciplined … understood to be humble and hungry … the best you could be on and off the field.  That was instilled in all of us at St. Thomas and we've all tried to make that a part of our lives."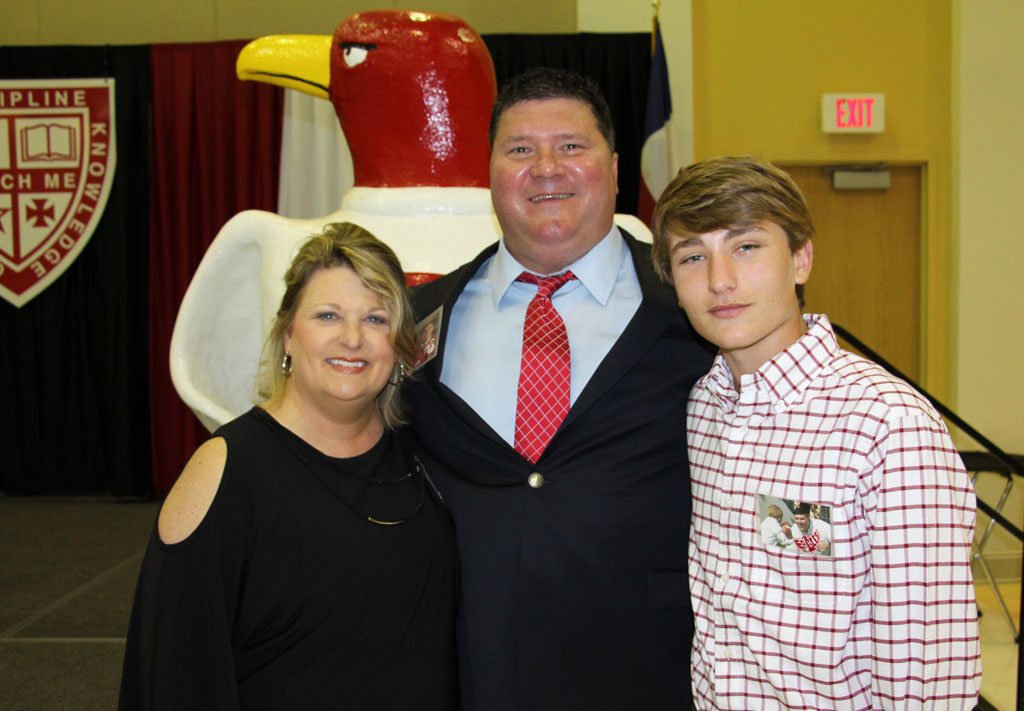 Rick shared the night back in the Red & White spotlight with his wife Jennifer and son Alexander.  After 26 years of marriage the family is firmly anchored in Arkansas.  
But a rare weekend return to St. Thomas served as a revitalizing reminder of where pride once crossed with passion, helping pave a path through life's unpredictable challenges to reveal unimaginable rewards. 
Eagle Fight Never Dies!