The 117th St. Thomas Commencement Ceremony provided one sense of finality while flashing vast potential to drive optimism for the future.

One hundred and seventy-two graduates who were awarded $8.5 million in merit-based scholarships to colleges and universities assembled in a stream of Red and White, embodying the value of a formative college preparatory education rooted in the Basilian ideal of teach me goodness, discipline and knowledge, poised to pursue human aims and define true worth in the eyes of God.

Eagle students, their families and supporters along with St. Thomas faculty and staff saluted achievements from soon to be innovators, motivators, leaders and caretakers.
In between the moments of joy and reverence were invitations to take stock with satisfaction for the passion and perseverance in creating the journeys just completed, and to charge confidently for the ones about to be embarked in a shifting world.

Under largely overcast skies in the football stadium bearing his family name, Weldon Granger addressed the Class of 2017 emphasizing "one word that is often used in describing what you are looking for out of your life and where your next journey should lead you. That word is success. What is success? Is it financial gain? Is it the accumulation of material things? I am here to tell you that in going forward you must consider and realize that success is about achieving a life of happiness, fulfillment and purpose."

Granger is the long-time owner and managing partner of JonesGranger Law Firm headquartered in Houston, a dedicated and vibrant advocate for St. Thomas for decades and long-time champion of Catholic education in Houston.

His diligent philanthropy is supported by an extraordinary ability to connect with others and a commitment to helping make the world a better place.

Granger shared the story of a Louisiana sharecropper who "never received one day of schooling, never learned to read or write," and raised 11 children with his wife who had but an "8th grade education."

The oldest of the 11 was faced with choosing from "work in the salt mines or go on to college as the first of 60 cousins."

He would graduate from the University of Southwestern Louisiana, then attended Mississippi State and the University of California Medical School in La Jolla "where he did his postdoctoral work. That young man later became the head of the Department of Physiology and Cardiology at Texas A&M Medical School."

Two younger brothers were inspired to become "the head of the Department of Physiology and Cardiology at LSU and the other to Mississippi State where he serves as assistant head of the Department of Physiology and Dean of the Medical Sciences Program."

Siblings followed to the wake to mold distinguished careers in law, education, real estate, including "one of the first women accountants to ever hold a managerial position with Texaco Oil. The last three brothers established their own oil and gas services companies."

Granger was of course recounting the against-all-odds odyssey of his own family and "successful" parents who raised "a family of children who became productive, responsible citizens and who contributed to their communities. This is an example of struggle, discipline and hard work. It is an example of ordinary people doing extraordinary things."

Granger then urged the Class of 2017 to emulate the virtues of his late wife Fran who "taught me true generosity because her actions were never for credit or attention, but from the heart and sometimes through tough love. I ask that you continue to give, through service to your community, and good deeds to those in need throughout your life, so that when you get to a ripe old age like me, you might look back and know that you not only took from this bountiful world but made every effort to give of your time and support to those in need. And, remember to enjoy as much of life as possible, with a good attitude and a smile towards all."
Salutatorian Michael Hill '17 (left) will next attend Cornell University to study biomedical engineering. He confidently reflected that the Class of 2017 had been consistently challenged across diverse disciplines "but we persevered. Through the values and lessons that we've learned, we have been set up with a solid foundation by St. Thomas to allow us to achieve great things in our lives if we continue to work hard."

Valedictorian and National Merit Finalist John Miggins '17 was awarded a prestigious scholarship by the Greater Houston Chapter Alumni Association of Phi Beta Kappa during the spring semester and will continue at the University of Southern California to study biochemistry and film.

Miggins encouraged his classmates to "maintain your status as a Man of St. Thomas by focusing these college years and beyond on what you see for yourself in your own future, not what others claim to see. If you live according to your audience, you will be coaxed into compromising yourself in exchange for friends, fame or fortune, but let me give you just a little help …. materialism, notoriety and approval are not the key to true wealth."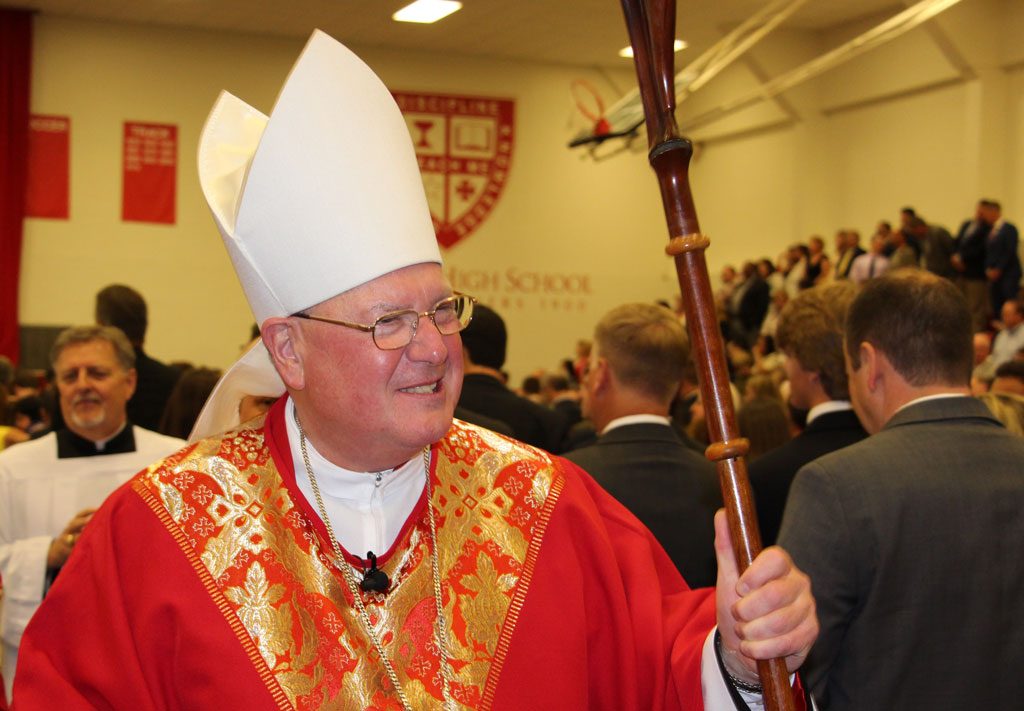 The joyful weekend of pomp and tradition received a jolt when His Eminence Timothy Cardinal Dolan, Archbishop of New York, agreed in February to serve as the principal celebrant of the Baccalaureate Mass.

Cardinal Dolan was moved by the invitation from tireless St. Thomas supporters Melissa and Mark Dolan, Mark '17 and nephew John '18, deep distant relatives of the Cardinal but unknown until the initial request to his office four years ago.

His moving homily peppered with large doses of his charming style and penchant for humor provided what President Fr. Kevin Storey, CSB described as "a lifetime of memories" for those in the Reckling Gymnasium audience.

But Cardinal Dolan was quick to assert what he gained from his first-ever connection with St. Thomas.
"Whenever you have parents and families who sacrifice for quality faith-based education … that to me is an inspiration. As one who constantly struggles to keep our schools open I need to see this … the results of this … because every once in a while I'm tempted to wonder if all the blood, sweat and tears are worth it. And then I come to St. Thomas and see the families, the faculty, the alumni, and most importantly I see the students … I say you bet it's worth it … you bet it is."
The Class of 2017 left a lasting legacy of academic acclaim, including Miggins, Scott Pickering '17 and Adam Lawrence '17, each earning Finalist distinction in the National Merit Scholarship Program's 62nd competition, joining 24 previous St. Thomas scholars since 2010 who reached at least the semifinal phase of the National Merit Program with 11 National Finalists in the last four years.

Eight other stellar graduates joined Hill as National Merit Commended Students who, along with Miggins, were also two of 50 senior members of the National Honor Society, which also included Lawrence, one of four National Hispanic Scholars.
Collectively the Class of 2017 provided the leadership to fuel yet another phenomenal Round-Up, which for the 14th consecutive year generated a record-smashing total in raffle ticket sales to benefit St. Thomas tuition assistance, generating more than $581,000, crushing the previous benchmark by more than $80,000.

The Class of 2017 also demonstrated exceptional active volunteerism in their communities, led by Carlos Perez-Abreu who totaled more than 200 hours with the Dublin Oak Academy Camp; Nathaniel Newhouse with 195 hours devoted to the Leukemia Society, Pines Camp and his Eagle Scout Project; Riley Lam and David Lane, each with 180 hours as counselors with Camp Balcones Springs; and David Guajardo who accumulated more than 140 service hours supporting MD Anderson, the Math ACES program and serving as an Eagle Ambassador.
Multiple Eagle graduates will next attend Texas A&M University (24), the University of Houston (16), the University of Texas-Austin (15), Texas Tech University (13), the University of Arkansas (11), Baylor University (6), Louisiana State University (5), St. Edward's University (5), Texas A&M University-Galveston (5) and the University of Texas-San Antonio (4).

Eagle scholars will also be attending Rice University, Washington and Lee University, the University of Southern California, Cornell University, Georgetown University, Fordham University, the University of North Carolina, the University of Missouri, Clemson University, Southern Methodist University, Southwestern University, DePaul University, George Washington University, Tulane University, Loyola University Chicago and the Savannah School of Art and Design, among many other prestigious institutions.

In addition, eight student-athletes are embracing opportunities to extend the careers at the college level, increasing the St. Thomas number to 108 across nine sports since 2012.
Catholic. Basilian. Teaching Goodness, Discipline and Knowledge since 1900.