GAME 39 – TAPPS DIVISION I STATE CHAMPIONSHIP, CONCORDIA UNIVERSITY, AUSTIN
Eagle Baseball 15
Beaumont Monsignor Kelly Catholic 1
WHAT YOU NEED TO KNOW
Third baseman Logan Bear '17 drove in six runs while Owen Meaney '18 (LSU) added three RBI to lead the Eagles to an overwhelming five-inning victory to capture the 24th title in program history … fourth since 2010 … and second in four years with head coach Ryan Lousteau.
The Eagles finished the season winning their final 12 games … including a six-game sweep through the playoffs … for a record of 34-5 … and a phenomenal 64-7-1 during the last two seasons.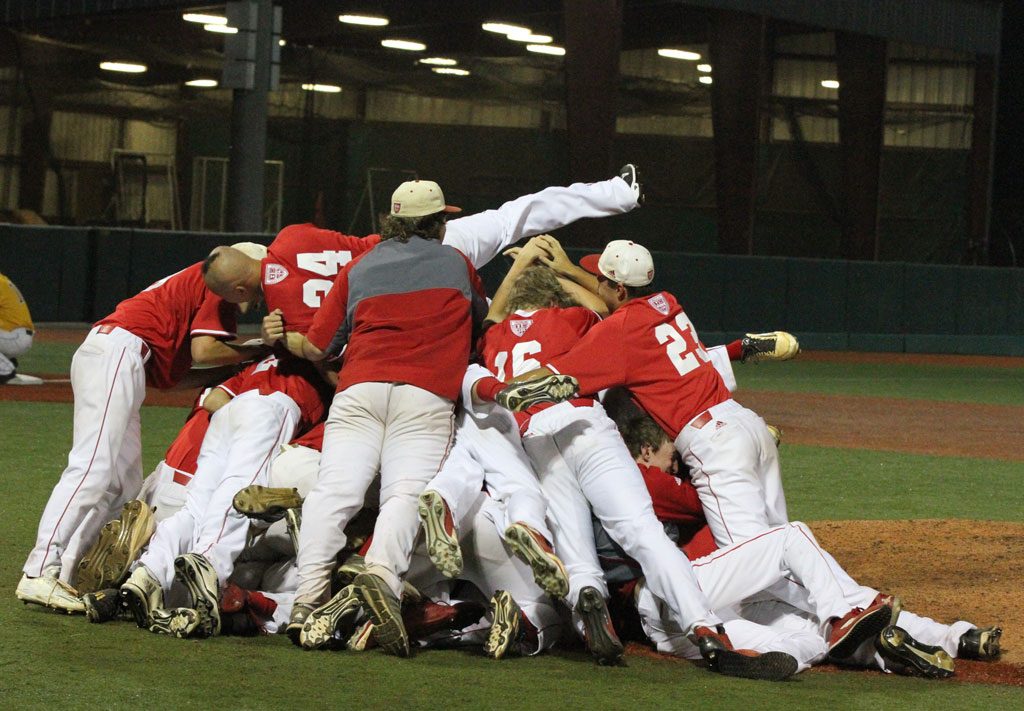 TURNING POINT
State semifinal hero Meaney returned to the spotlight and quickly ignited the title game onslaught with a run scoring whack to the warning track in dead center field for a 1-0 lead after just three at-bats.

Bear then wrapped a four-run first inning with a blast to right center, clearing the bases with a stinging stand-up double to raise the score to 4-0.

The thunder bats effectively decided the game with six runs in the second, two-run blows from Meaney, Bear and second baseman Daniel Perkins '17 to crush the count to 10-0.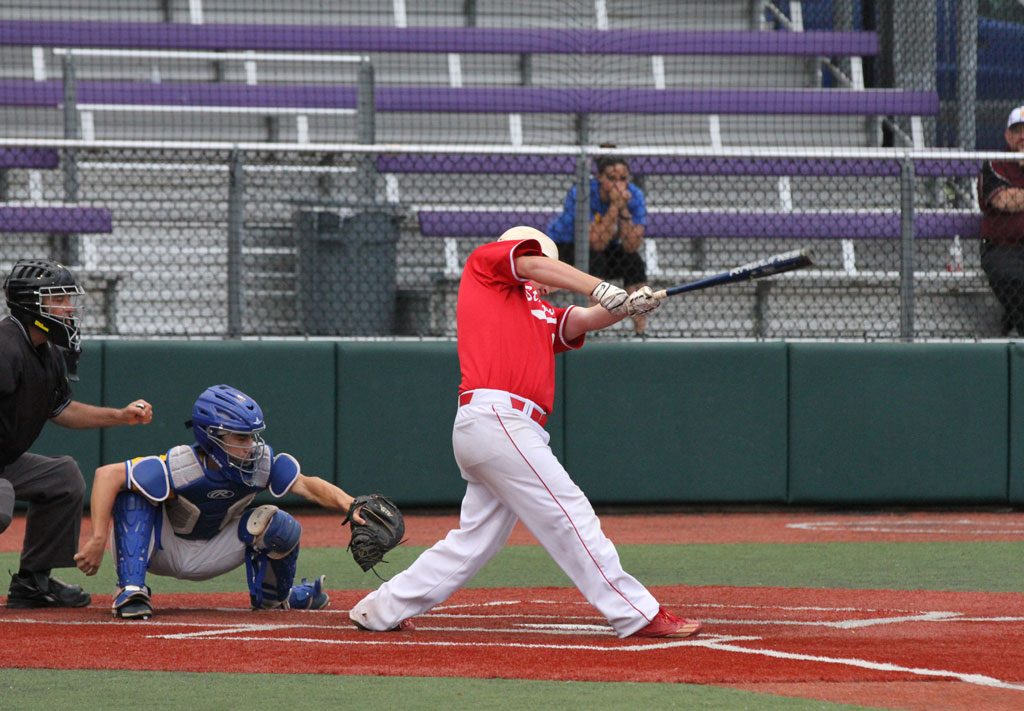 RAPID REACTION
Head Coach Ryan Lousteau: "Our goal every year is to win it all but you have to believe it, not just talk about it. Our guys really gained their confidence to close out the regular season … understood what it was going to take and that they could do it. We always emphasize 'Team' first and foremost … an extension of our school that is rooted in brotherhood. And I think that carries over onto the field. Our guys truly care for one another … want to win for their teammates. And I will take that intangible every single year over pure talent. There was a common goal … a collective mission … and they refused to be denied."
Bear: "This has been the greatest ride of my life. My last year to play baseball … what a way to go out. The seniors all wanted to make one final statement. And we did."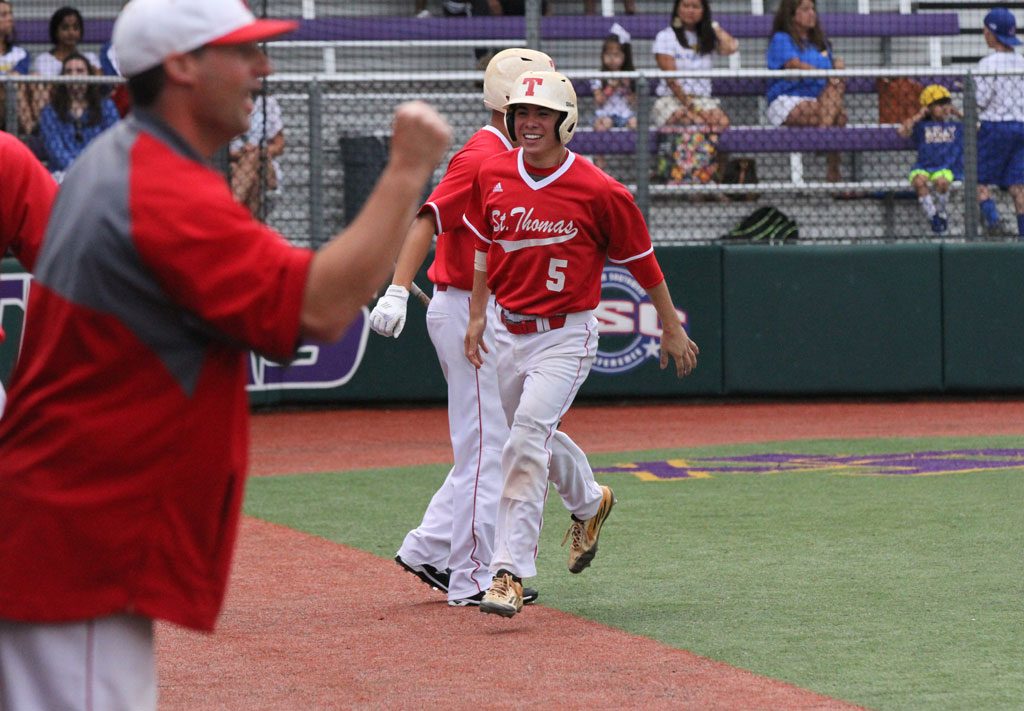 Catcher Philip Matulia '18 (Louisiana Tech): "Our seniors took command throughout the season … really started balling … in the weight room … practice … game night … found that gear. And now we'll have our plaque on the wall with all those other (Eagle) champions. I'm ecstatic … dreaming my whole life for this … really at a loss for words."
Winning pitcher Simen Borland '17: "Nothing compares to this feeling right here."
Athletic Director Mike Netzel: "Every time we reach this tournament it seems we're the team that carries the target … a lot of pressure … but our guys routinely rise to the challenge."
Lousteau: "We went through a hitting session (Wednesday) afternoon and the group was as locked in as any that I've had. We were really to roll."
ARMS RACE
Borland scattered hits in each of the five innings for his third playoff win and ninth victory this season in 10 decisions … benefiting from three double plays … two started by Bear to end the third and fourth innings.
Borland's performance completed a scintillating series of outings from the Eagles staff which allowed two or fewer runs in five of their six playoff victories.
Borland: "I'm nervous before every start … tonight even more so. All those early runs really took some of the edge off … allowed us to just relax. Then I knew if we just played our game we would get it done."
MEANEY'S MASTERPIECE
In his first career playoff start Meaney allowed Dallas Parish Episcopal only two base runners after a leadoff single to start the state semifinals … finishing with a one-hit shutout … striking out 12 including seven of the last nine batters … and drove in the game's only run with a fifth-inning single.
Meaney twice retired 10 straight batters … interrupted only by a hit-by-pitch with one out in the fourth inning … and a two-out walk in the seventh before he ended the game with a called third strike.
It was Meaney's first outing since April 26 … a dominant two-hit shutout over St. Pius X striking out 13.
The Eagles produced traffic on the bases in every inning but could only capitalize when Meaney delivered a ground single to right to bring home shortstop Brandon Campos '17 from third after he reached base to start the fifth inning on an error … stole second … and advanced to third on a passed ball.
Meaney: "I felt really prepared … comfortable on the mound … confident attacking the zone. And then driving in the only run … just a great feeling to put our team in the final game to give us a chance for what we all wanted."
Lousteau: "We gave Owen some (pitching) rest during the playoffs. Sometimes that's a good thing, other times it isn't. This was a great thing. He accepted it as a positive and responded with his best stuff of the season … dominant … such a competitor."
PATIENCE IS A VIRTUE
Borland's season of excellence was a testament to waiting for his time to shine after Matthew Ashbaugh '16 and Cameron Cash '16 served as the inning-eating arms at the top of the staff throughout 2015-16, and serves as an example of the unselfish culture which allows the program to thrive outside the toxic 'me-first' mentality so pervasive in contemporary athletics.
Borland: "I knew coming into the season that someone was needed to fill the void. When there was an opening, I trusted I could be that guy. I just stayed believing in the coaches (as a sophomore and junior) … kept trying to improve."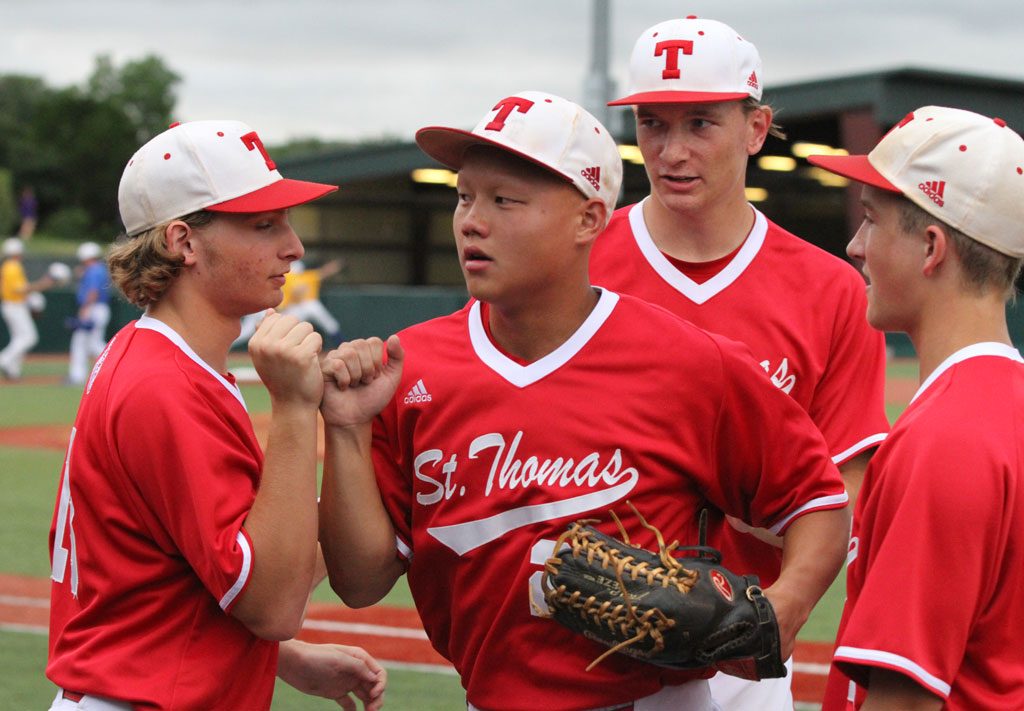 Netzel: "So much credit to Ryan and his coaches for keeping players engaged and involved in the program … developing their skills and confidence. Look at how they plugged in an entirely new infield … Nick Rodriguez new in center field … a new pitching staff … so many seniors who paid the price to be ready when the opportunity was there."
MOMENTS THAT MATTER
During the furious finish to secure the district's number two playoff slot, Borland outdueled Tomball Concordia Lutheran's Shane Baz, a projected top-30 selection in the 2017 MLB draft, allowing only five hits and two runs in a critical 5-2 verdict at Fr. Wilson Field that generated measurable momentum for the championship drive.
Netzel: "We all sensed that the guys walked off the field that night with a deeper determination … a different mind set … that we could win it all. They held that throughout the playoffs … never taking anyone lightly … just coming out with a purpose and smashing it. And that's how they finished it off."
AFTERMATH
The runaway title rout over a familiar district foe returns Eagle Baseball full circle during a supreme decade of dominance.
In 2008, Colin Bear '08, Patrick Hicks '10, Jonathan Mejia '10 and Matthew Stuart '08 led St. Thomas to a 12-2 five-inning drubbing over Kelly for the second of consecutive state titles under head coach Ken Schulte.
During the next five seasons eternal Astros icon Craig Biggio piloted the program, including four straight state tournaments, three straight championship games and titles in 2010 and '11.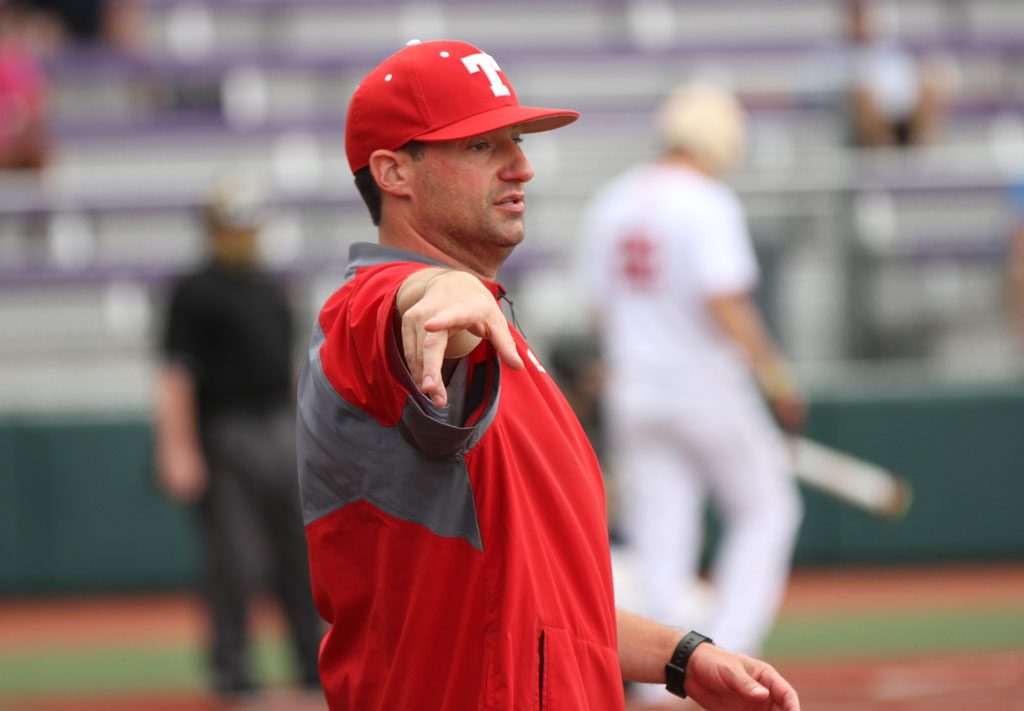 In 2014 Lousteau was promoted from Biggio's staff as his successor and cashed in repeated thrill-a-rama playoff rallies capped by a two-out two-strike walk-off single from Ben Condara '14 to score Rawlings Elam `14 with the margin that beat TCL 2-1 in the winner-take-all and guaranteed a third state crown in five years.
After two encore seasons where the Eagles were eliminated in the playoffs by the eventual state champs by a total of three runs, Lousteau guided Eagle Baseball back to the throne with a deja vu all-over-again beat-down over the outfit from Beaumont.
Lousteau: "It's all about coaching good players. I mentioned to our staff that there's a book project right now on Casey Stengel. He managed five World Series winners in a row with the Yankees (1949-53). And later (with the 1962 Mets) he managed the worst single-season team ever (120 losses). I'm a firm believer that at our foundation is good talent and good kids. We try to build that belief, come together as one and put the players in the best position possible to be successful."
Matulia: "(Coach Lousteau) is always in command but he allows us to be ourselves … be loose … play our game."
Bear: "He stays so even during the season. He commands great respect and I think that motivates each and every player to give him our best every time we step on the field."
ROUNDING THE BASES
Bear, Borland, Campos and Meaney were all named to the state all-tournament team.
The Eagles won 22 of their first 24 games before a mid-season mini-slump resulted in three straight district defeats. The tide began to shift with a dramatic come-from-behind victory in the final at-bat over St. Pius X and the Eagles never lost again in route to the state title.
The Eagles swept the regular-season series with Kelly by scores of 3-1, 14-4 and 9-4.
The Eagles slammed through the playoffs outscoring Plano John Paul II 32-4 and San Antonio Antonian College Prep 20-7 … fueling a seventh state tournament and fifth state final in eight years … and setting the stage for the mid-week coronation in the Austin outskirts.
Paolo Cannatella '16, Nolan Lundholm '16 and Eric Moore '16 were among the many former Eagles attending the title-clinching evening.
The championship marks the 101st state title in school history, secured one year following the milestone achievement of Eagle Track and Field.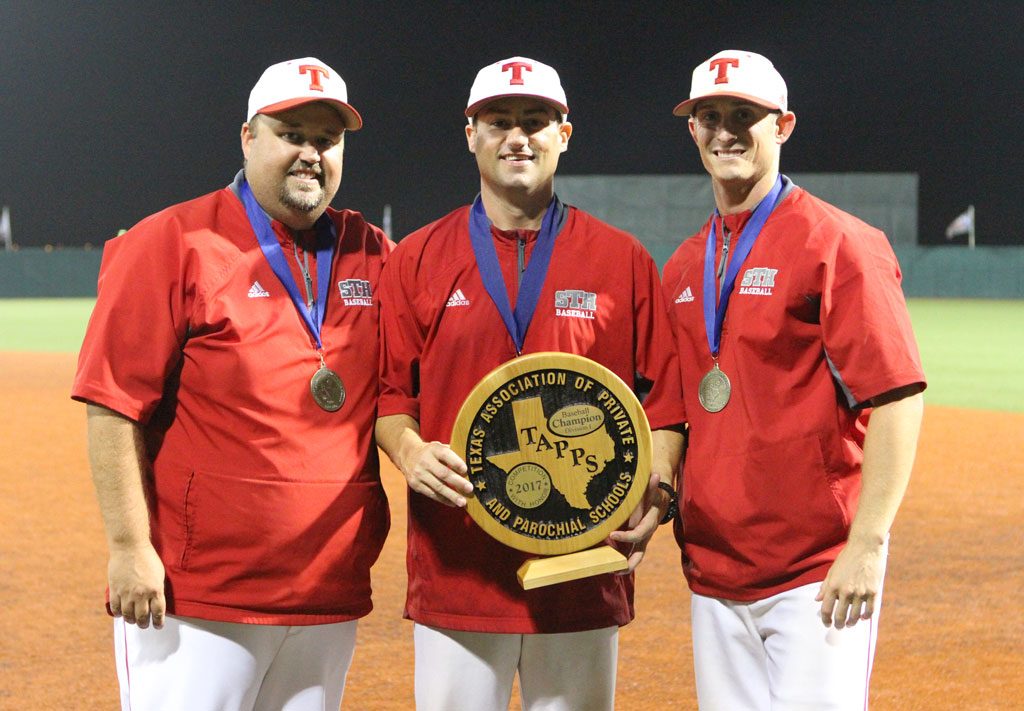 Eagle Fight Never Dies!