In 2008 fine arts dean Mike Nebel was settling into his first academic year at St. Thomas and was often interrupted by the metronome sounds reverberating from outside his second story lab that overlooks the home of Eagle Baseball.
A constant thud … thud … thud bellowing from below.
A precocious youngster swatting a tennis ball with a broom stick handle into the brick and mortar time and time and time again would soon earn from Nebel the moniker Wall Ball.
Eventually Logan Bear '17 moved his left-handed smashing swing a few dozen feet to inside historic Fr. Wilson Field where he followed the family's state championship form established by his older brothers Colin '08, Austin '10 and Devin '13.
Logan emerged his senior season to play a pivotal role in the latest Eagle title quest.  His final Red and White appearance produced a sizzling white hot sendoff … driving in six runs in a five-inning 15-1 runaway to secure the program's 24th state crown, the second in four seasons and fourth since 2010.
Days later in the wake of the coronation at Concordia University Texas in Austin, Nebel was present to punctuate Logan's full circle, gifting him and his brothers with commemorative bats from Nebel's personal collection, each signed by members of their respective championship teams, and at the same time making good on an unsigned promise made a decade ago to the Bear's mother Shawn.
After hearing rave reviews from Colin of a new fine arts instructor who was connecting with students in unconventional ways while driving deep discovery and curiosity, Shawn approached Nebel with a direct request that carried a no-nonsense tone and intent.
"She said, 'I really hope you'll remain at St. Thomas until my youngest son graduates,'" Nebel recalled.  "I asked, 'Well, how old was he?'  She said, 'He's in elementary school.'  I thought … wow."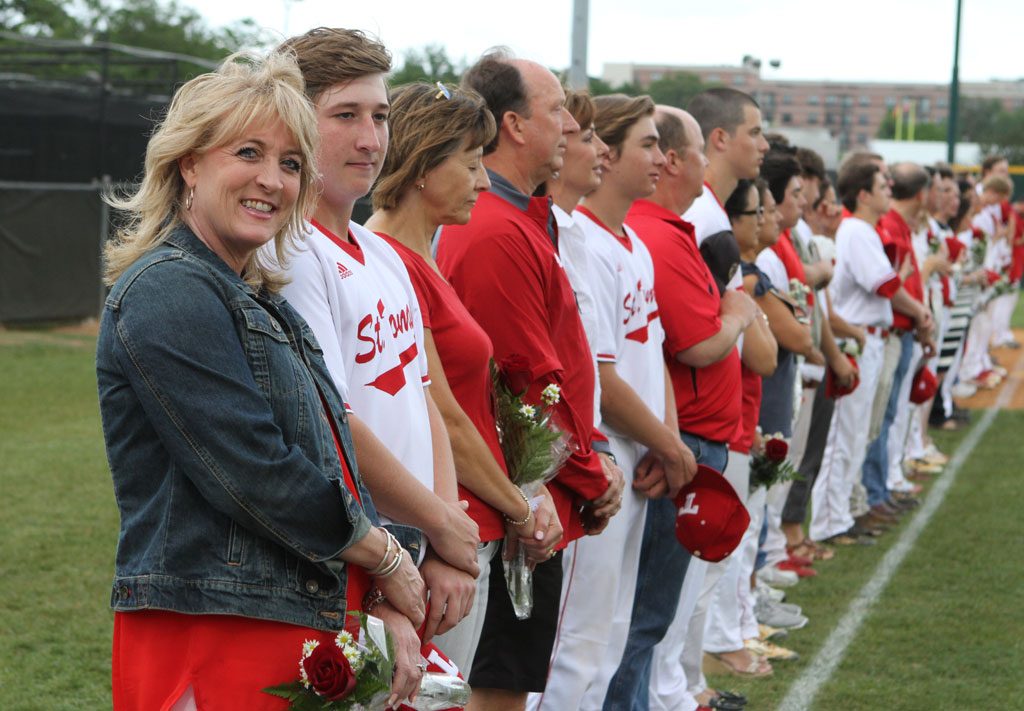 Shawn emphatically remembers that "I made Mike assure me that he would not leave until Logan graduated.  I was very serious and Mike took it to heart.  He's such a quality person, a good man.  I sensed that right from the beginning.  He puts all his students first but he really put his arms around my four boys."  
Austin followed Colin in photography while Devin and Logan excelled in Nebel's award-winning and nationally acclaimed ceramics curriculum.
"The Bear boys always performed above and beyond the standard," Nebel said.  "All four obviously carry their own personality but they all have the same devotion to family, love of baseball and always gave all that they had striving to be the best.  Outstanding family … incredibly genuine people."
Nebel struck an immediate bond with Colin who was among only seven students in an Advanced Photography course.
"That group would meet in the mornings at various restaurants along Washington Avenue, just to learn about different lighting sources and industrial settings," Nebel said.  "One time a friend of mine who owns a commercial photography business was there and he gave them an impromptu lesson.
"Later in the semester we had a culinary death march, a reward for some really beautiful work, and this was before digital when we were still developing film in a wet darkroom, the days of agitating photo paper and contact sheets."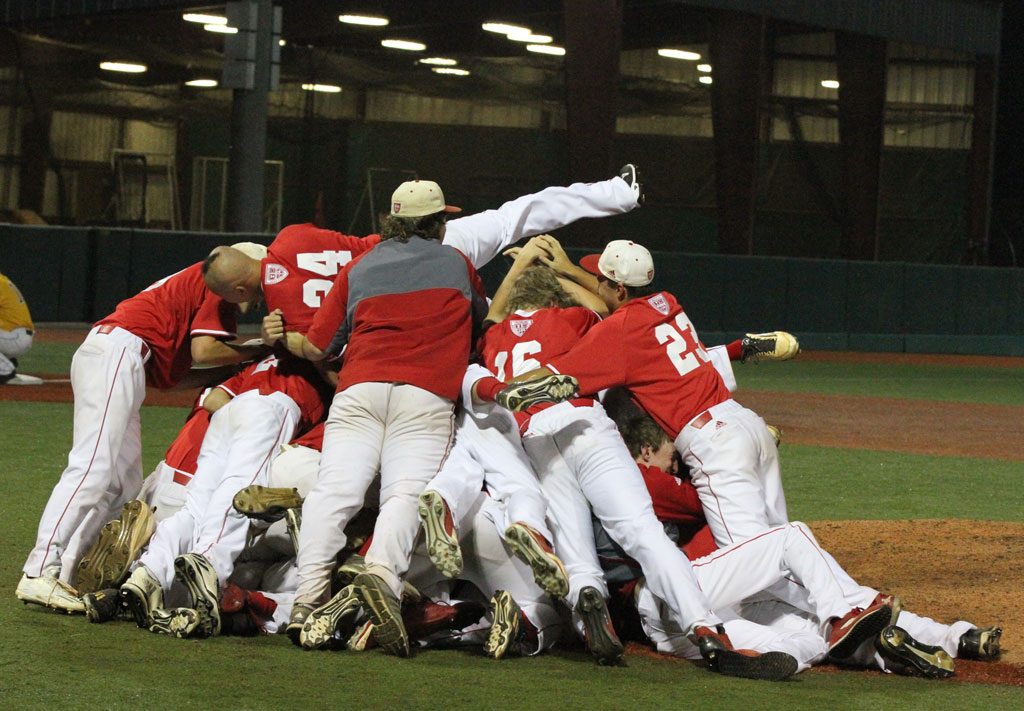 As the championships from Eagle Baseball would mount, Nebel received bats featuring signatures from each member of the title-winning team … beginning in 2008 with Colin (who later played at Northwestern State) … then 2010 with Austin (Sam Houston University) … and again in 2011 with Devin (Northwestern State).
All of which left Logan precariously positioned to complete the Bear family's grand slam.
"I told all my baseball students all year, you have to deliver a state title," Nebel said with a laugh.  "I wanted that for all of them, of course, but especially for Logan.  And they always said not to worry, we'll get it done.  And they did."
Nebel never gave a second thought to relinquishing the riches from the most rewarding of seasons.
"I just thought the Bear boys would treasure those bats more than I ever would," Nebel said.  "Once this (2017) team won and Logan was a big part of that, I said to myself I cannot keep these.  The Bears were each a part of championships and a brotherhood of players who will  remain connected for years to come.  And these bats would be something they would always be able keep for lifetime memories.  I just wanted to do it for them."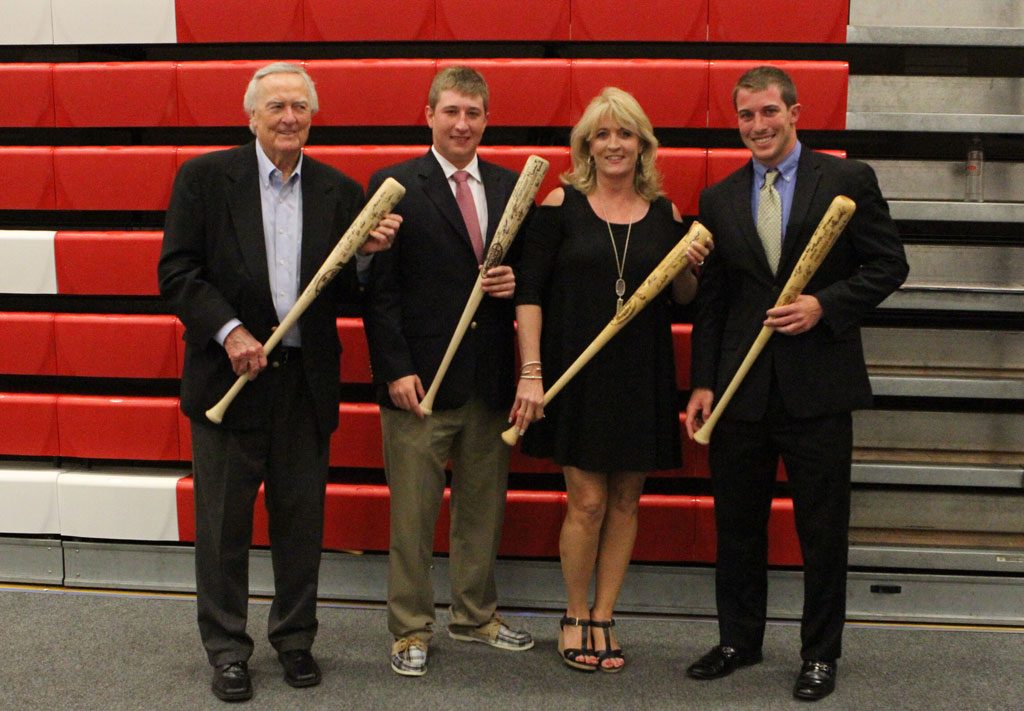 Shawn's father Jack Thompson was on hand for the presentation, a one-time high school basketball star from the Bronx who was recruited to the University of Houston by future Hall of Fame coach Guy Lewis.
Thompson developed into a two-year starter in the Cougar backcourt, teaming in 1961 with All-Americans Gary Phillips and Ted Luckenbill when UH reached the Sweet 16 in the program's first-ever NCAA tournament.
Thompson then captained the 1962 team to a 21-6 record and a spot in the quarterfinals of the National Invitational Tournament in New York.
The grandsons would become captivated by a different brand of ball to carve their own separate yet same athletic identities, each sharing not only the essential divine qualities that elevate performers into champions, but also a relationship from outside the game as enduring as the triumphs themselves.
"I cannot even come up with words for Mike Nebel," Shawn said.  "He is the most sincere man … molded and mentored my sons in and outside the classroom … just the complete package.  He truly represents what St. Thomas stands for as a school.  He's one of the reasons we were here all these years.  My boys have come away with so much more than a diploma.  They grew up here … learned the value of hard work and dedication … the love for their sport, coaches and teammates.  What more could a mother ask?"
Catholic.  Basilian.  Teaching Goodness, Discipline and Knowledge since 1900.