The quarterback whisperer turned roving roaring celebrity … tutoring some of the most pulsating players and personalities gripping sport's most exacting position … landed his traveling quarterback camp at Granger Stadium … a tour touching hotbeds of promising talent from coast to coast.
He preached an inspiring sermon of poise and composure under suffocating pressure to aspiring blue-chip recruits, commanding the attention of his sleep-deprived teenaged Sunday morning congregation that would cause envy from the most eloquently persuasive parish priest.
"If you're a quarterback, and George Whitfield is available, your focus is immediate, your eyes wide-open, and you're ready to rock," said newly minted Eagle Football head coach Rich McGuire.
Whitfield has elevated himself from off-the-grid guru to sought-after-confident of the stars and ESPN Game Day insider.
His modus is commanding a calm in the tsunami storm of defensive duress. Whitfield has concocted a series of unorthodox havoc drills to build colossal in-game confidence of his pupils … waving brooms or bombarding with beanbags or conducting dropbacks in the backdrop of the Pacific Ocean through sinking sand and pounding surf … all designed to restrict visual awareness or cause discomfort in the midst of chaos.
The innovative techniques have brought crazed endorsement from the likes of Ben Roethlisberger and Cam Newton … Andrew Luck and Jameis Winston … Texas A&M Heisman winner Johnny Manziel and a college kid client list connecting Power 5 programs from every corner of the country.
The training stations dotting Hotze Field were no different in scope than what Whitfield routinely presents to his A-list clientele, appropriately scaled to meet that day's skill level.
"For most of these guys, this is their last camp for the summer," Whitfield said in between the morning / afternoon inferno sessions. "They have a foundation … have thrown a million reps with teammates and through all the 7-on-7 tournaments. I want to make sure they're equipped with the tools to deal with what is upcoming in the fall … an added arsenal … an emergency kit … to take into a game that counts … be prepared for the unexpected."
Whitfield's connections with Eagle assistant head coach Jerrod Johnson first led Whitfield to St. Thomas in the spring after he scouted appropriate sites to work a host of his high-profile proteges, including Tampa Bay Buccaneers slinger and 2013 Heisman Trophy winner Winston, and New Orleans Saints running back Adrian Peterson. That two-day stopover convinced Whitfield the Basilian campus would provide the optimal setting for when his quarterback travels next brought him to Houston.
"I've been all over the country and in all honesty I've never worked with a group with a setup quite like this," Whitfield said. "Where St. Thomas separated is they embraced this day and made it their own. Always a 'we' attitude. Many places will open the doors but it's really only about their own players and coaches. Here I feel like an Eagle. The small things … jumping in to coach … assist … push … whatever it takes to make for the best possible experience for every single camper. I would come here every other week if I could."
Athletic director Mike Netzel admitted that "we don't usually seek to stage these kinds of events but George Whitfield is an exception and I assured him we would do it right. From our stadium venue to audio-visual facilities to our coaching staff taking an active role, we wanted to deliver whatever organizational support he would need. The connection with Jerrod obviously serves us well. He's a tremendous ambassador for our school and our program."
McGuire raved "to have this caliber of student-athlete on our campus, along with their parents, allowing them to see what we stand for and what we have to offer. A day such as this promotes our identity in a way unlike any other."
Whitfield grew up in Ohio where he quarterbacked football-mad Massillon High, rejected Division I offers that demanded he switch to defense, and enjoyed a productive career with Division II Tiffin before becoming a graduate assistant at the University of Iowa.
Whitfield veered off the traditional coaching tract before a series of seemingly random events led to him training school-age quarterbacks in the San Diego area where Whitfield Athletix is now based in Mission Beach.
Gradually Whitfield built an under-the-radar identity utilizing creatively designed "engineering" which emphasize footwork, throwing motion and throwing on the move.
Earning the trust of the two-time Super Bowl-winning Roethlisberger in 2010 was a game-changer for Whitfield, and even though he is not quite yet 40-years-old, his reputation has rocketed to near rock star status within the football ranks.
Whitfield's one-day St. Thomas stay attracted the city's NFL media czar John McClain with the Houston Chronicle and information titan Mark Berman with KRIV-TV (FOX).
After conducting a sweat-soak morning workout, Whitfield reconvened his troops in Turner Hall for a brief lecture and video tutorial that featured the ad-lin antics of Tony Romo and the one-time maniacal Aggie Manziel.
With the lights back up, Whitfield then quizzed the audience.
"Raise your hand if your team is counting on you this fall to win," he instructed. "For many of you, you will pick up something this afternoon that's going to win you a game. You'll bolt something down to go against the best team on your schedule. And for some others in this room, today you're along for the ride. You'll have a great time here but won't really bolt down that improvement. Choose which one will be."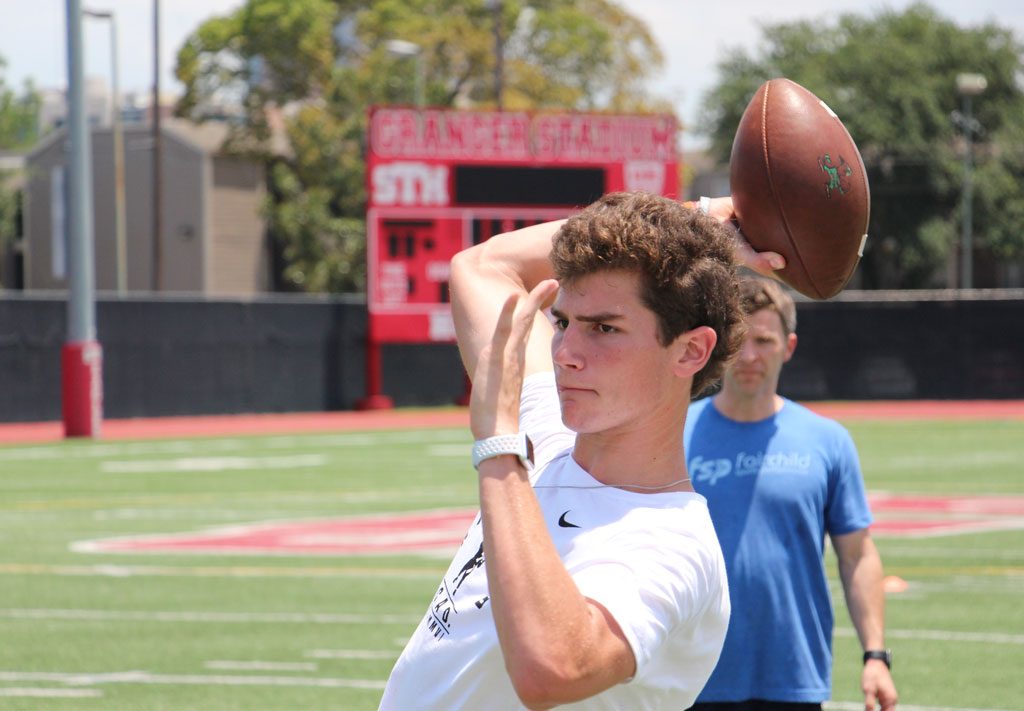 Among the nearly 50 campers was Eagle Football's Peyton Matocha '19 who appears poised to firmly accept the torch from record-setting Michael Keating '15 after starting all 11 games as a sophomore in 2016.
Matocha's physical tale-of-the-tape measures 6'4" and 185 pounds after emerging from the summer's Quarterback Industrial Complex … Elite 11 combines, multiple college camps, high-level seven-on-seven passing leagues … and is now considered a fast-rising dual-threat talent within the state.
"The college camps are about exposure, getting yourself known," Matocha said. "The emphasis here is entirely different, all about adjustments, some subtle, some much larger, to deal with in-game challenges. Often times the small things can make a big difference."
McGuire quickly grasped that "a lot of what George is scripting today for these quarterbacks is that 'Oh, no, this isn't right, how do I instantly react to save and extend the play, create something explosive. For Peyton, that's already one of his natural strengths, but obviously the insight and reinforcement from one of the best in the business is invaluable."
Whitfield and Netzel also sought out the expertise of Ben Fairchild, the founder / operator of Fairchild Sports Performance and an industry innovator recognized throughout the region.
"George is heavily focused on the skills that determine quarterback success," Fairchild said. "I wanted to stress the other component of development, get the campers thinking about the underlying attributes that support and take that skill set to another level … practical strength, mobility, speed and agility.
"These are over-the-head athletes, rotational athletes, lateral movement athletes, and should train inside a program built for those specific needs. Dense exposure is even more important for the developing age group before they elevate their performance ceiling. The older an athlete, the more difficult it is unteach."
Even with an ever-rising rep and demand for his unconventional methods, Whitfield relished his anonymous one-stop stay in the shadows of the Houston skyline before locking, loading and directing his caravan points west to San Diego.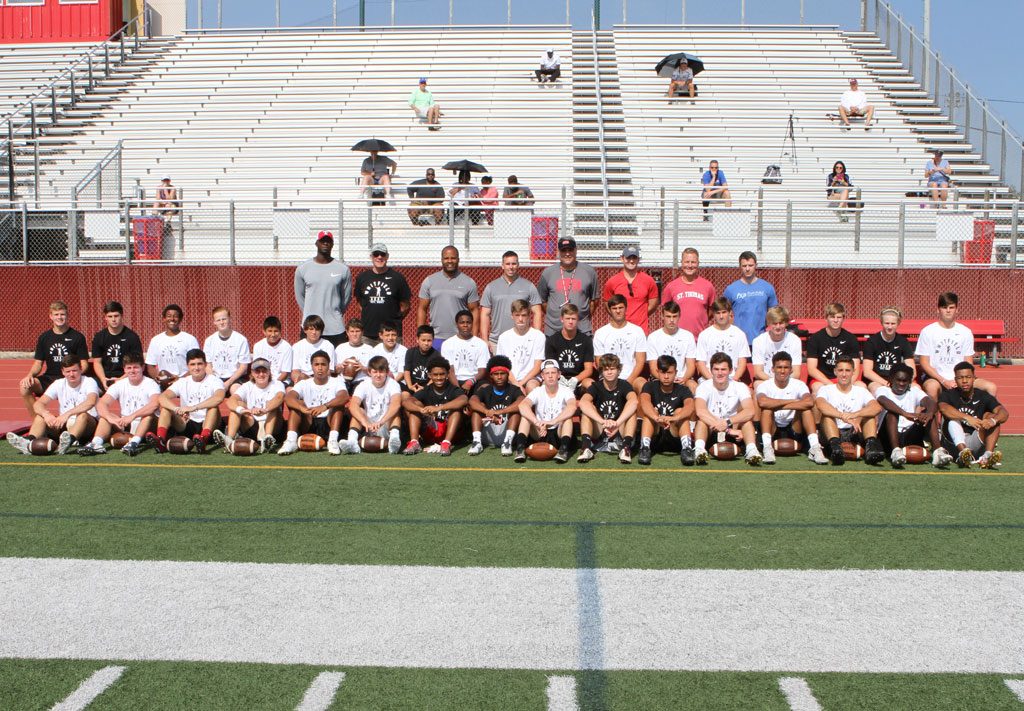 "I have roots in Texas," Whitfield said. "My mother was born in Cleburne (on the fringe of the Dallas–Fort Worth metroplex) … grandparents in Beaumont … where I learned to ride a bicycle. Growing up in Ohio … spending my summers in this state … and now operating our academy in California … that's a shared epicenter. I love football and that's why I was here at St. Thomas in Houston, a city that shares that same passion."
Eagle Fight Never Dies!