A host of incoming Eagle freshmen didn't wait until the official start to their high school experience to discover that the words Teach Me Goodness, Discipline and Knowledge are so much more than a mere motto, but in fact a way of St. Thomas life.
Camp GDK returned as a dynamic two-day leadership and character development workshop rooted in the words which have served as the foundation of the school's sacred Basilian mission for 117 years, designed exclusively to provide incoming freshmen a compass for the core values a young man of St. Thomas is expected to embrace and then be positioned to share and role model for others.
Nine-year athletic director Mike Netzel was an integral force behind Camp GDK's launch in 2016 and sees the desired far-arching trajectory taking form.
"To me the biggest move forward (from last year) was the involvement of our student leaders," Netzel said. "That first year was a top-down driven message. But (faculty member and assistant football coach) Andrew Quittenton recruited some phenomenal ambassadors. I cannot say enough about Jacob Manley, Melvin Larkins, Danny Garcia, Ian Wheeler and Adrian Marquez Avila … really stepping up … pulling other guys into the fold. As a group they believe that this is their school. They want to get the next core of students moving in the right direction. That is real leadership. Not talking. Doing."
Quittenton seized the chance to impact "so many incoming students arriving from all over Houston from so many different backgrounds who don't really know the St. Thomas culture. This experience allows them be more comfortable from that very first day of class. But more importantly, as an educator in a Basilian school, you're trying to shape young men who are going to become future leaders in our community. We definitely saw individuals step up in our camps after given that chance to lead … that translates into the classroom … the athletic fields … debate … whatever these young men identify as their path."
Quittenton and Netzel banded with campus ministry director Marty Matulia and summer programs director Gail Calkins to orchestrate campers through a series of energizing presentations, interactive discussions, and team­-building activities, all entwined with a spiritual perspective, to better prepare them for their transition into college preparatory.
At the bedrock of Camp GDK … the next class of St. Thomas students gaining an authentic understanding that a leader's greatness is found in bringing out greatness in others.
This summer's most meaningful sessions were ongoing community service projects with the Memorial Park Conservancy.
In June, volunteers aided the park's continuing recovery following the devastating 2011 drought and subsequent fire that wiped out nearly 50 percent of its trees.
More than two dozen Eagle students worked the biocycle area within the Southside Trails system, uprooting pine seedlings designated for the Eastern Glades project which will include trails and boardwalks, picnic pavilions, plus a lawn and wetland, essentially a 100-acre park within the park that will restore Memorial Park's natural ecology.
"Amazing" was the one-word description program coordinator Kelly McCann used when she witnessed what unfolding in the sweltering Houston heat.
"These St. Thomas volunteers rescued more than a thousand trees," she said. "For one day they more than tripled our manpower hours. We absolutely rely on this kind of involvement because we simply don't have the staff in place. We gave the students 15 minutes of instructions and turned them loose and their effort was extraordinary.
"We see the conservancy as part of our mission to educate the public and get them involved with the outdoors. Behind the scenes projects such as this is where it starts, with this age group. We look forward to an ongoing relationship with St. Thomas and not only a one-and-done contribution."
In fact, Camp GDK was back just four weeks later, with Quittenton heading a group transporting water by wheelbarrows and buckets for those same pine saplings now planted deep into Eastern Glades.
At the same time Garcia '18, Wheeler '19 and Marquez Avila '20 joined Netzel and another dozen freshmen establishing a one-mile fence line barrier within the Memorial Groves area to protect World War I features before ecological restoration will take place.
The remains of Camp Logan were hidden by underbrush for generations. The training facility was built in 1917 for the 130th Infantry. The surviving foundations for headquarters, artillery ranges, mess halls, latrines and bathhouses are the last of its kind in the United States.
After an exhausting full morning drenched by Houston's thick suffocating humidity, the St. Thomas contingent returned to campus and Netzel seized a teaching moment that exemplifies the power of Camp GDK.
"Be thankful that you have the bodies and physical strength to be able to perform that kind of labor," he began. "And be thankful that your parents are making the necessary sacrifices and commitment that enable you to attend St. Thomas and afford you options that will determine how you're going to live the rest of your life.
"So many of the individuals whom you saw working Memorial Park today didn't have the kinds opportunities you have in front of you right now. And every single of one of those individuals represents great value to our community. Make sure you understand what that means. Acknowledge people and thank me … whether here at St. Thomas or in your own neighborhood … who make your life what it is … who keep the power active in your homes … air conditioning units running during 100 degree summers … cars reliable to get you where you need to go. That is hard physical work performed every single day. Appreciate there are a wide variety of jobs that are necessary to make our city and country the best anywhere in the world. Understand there is a value in every single person whom you encounter every single day."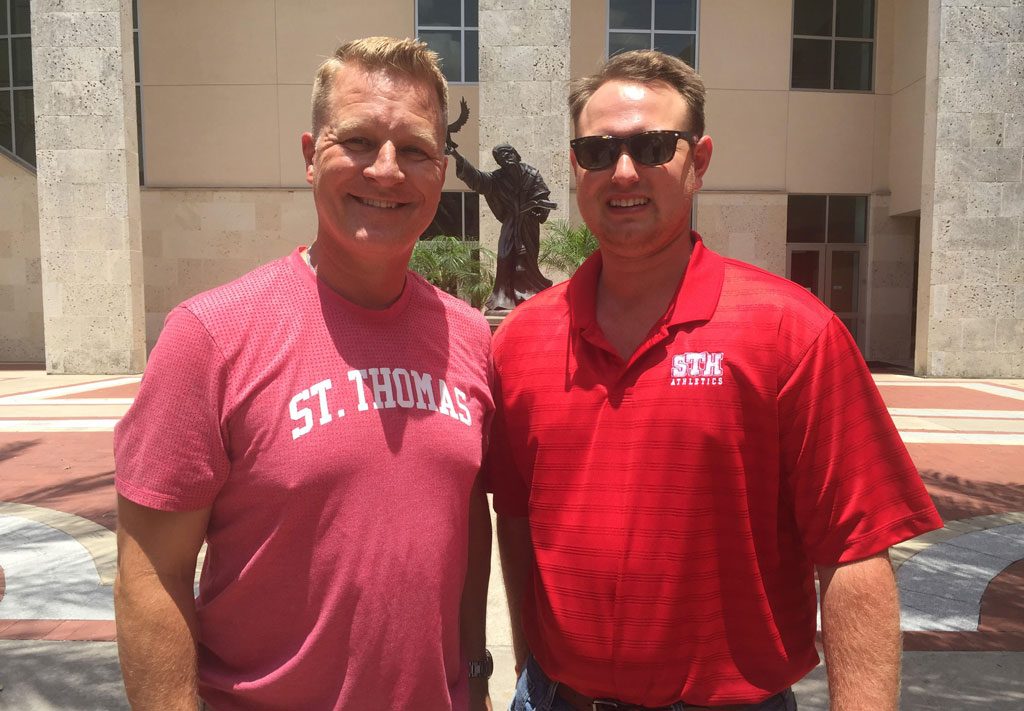 Tim Redden '09 helped lead a panel group that included David Jones '16, the 2016 TAPPS Male Athlete of the Year and now a student-athlete with Big Red football at Cornell University … former two-sport all-state Eagle performer Pete Huggins '16 who accepted a football opportunity to study at Middlebury College … and Luis Contreras '13, a summer intern with Cima Energy who is studying in Texas A&M's Petroleum Ventures Program, a new entrepreneurial training to better prepare undergraduate and graduate students interested in the oil and gas industry.
"I saw some eager faces in that audience and it reminded me that it wasn't that long ago when I was sitting right where they were," Redden said. "They were locked in, no heads in hands or nodding off, ready to hear the message and that afforded all of us the opportunity to try to impact them in a special way."
Redden was a state champion with Eagle Baseball and is now practicing with Donato, Minx, Brown & Pool, P.C. after graduating from South Texas College of Law in May 2016. He spoke for the group of Eagle graduates when he said that "St. Thomas means so much to me. I've been blessed to accomplish a lot to this point in my life and attending this school is one of the reasons why. The foundation for success was established here and I'm confident I'll carry that with me forward the rest of my life. This learning environment is not just academics and that's what we wanted to emphasize to these students as they become decision makers really for the first time in their lives."
Peter Corbett '21 was more than familiar with St. Thomas growing up and attending Annunciation Orthodox School. His mother is Mary Dana Corbett, the daughter of Vincent Mandola '61, who is among the legendary first family of Houston food, and owns and operates Nino's, Vincent's, Grappino di Nino, La Gelateria and Pronto Cucinino.
Camp GDK conveyed to Corbett that "this is a school that cares, whether it's people, the community or the environment. What we were able to do at Memorial Park was a way to give back and also give to ourselves given that we use the park for cross country, tennis and various other activities."
Luke McLane '21 is enrolling at St. Thomas from St. Cecilia Catholic School and said he "learned a lot from both the study skills camp and the (Camp GDK) leadership. Both were great introductions to the school, the academics, the values and the spiritual side (of St. Thomas). I met a lot of classmates and saw their personality outside the classroom, how they operate in a less structured setting. I think I'll be much more relaxed coming back in August."
Netzel takes great satisfaction that more and more incoming freshmen are building great character from communication, collaboration and critical thinking, learning effective strategies for academic and personal triumphs, as Eagle students begin to define what is important to them, and then how to make use of their new knowledge to learn and live better.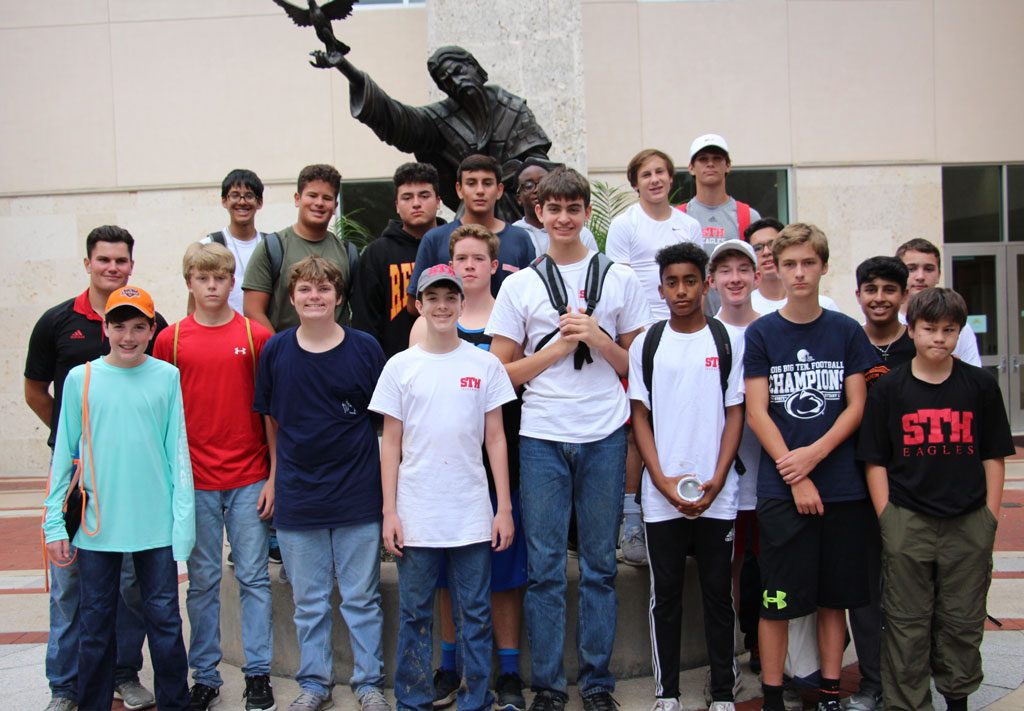 "Camp GDK is a game­-changer when you consider all the demands of the ever-changing social landscape," Netzel said. "This experience translates as an informal house system, where freshmen arrive and have a connection to two-three student leaders who serve as their go-to guys when they're on campus, to work with them, mentor them. Our goal is to build champions for life."
Catholic. Basilian. Teaching Goodness, Discipline and Knowledge since 1900.