Within days of Hurricane Harvey making landfall in Rockport with 130 mph gusts on an unprecedented path of life-threatening destruction and flooding through the Greater Houston area, Eagle Athletic Director Mike Netzel and former Eagle state baseball champion Tim Redden '09 organized a quicksilver relief effort that generated significant results for the storm-ravaged seaside town.
The massive damage inflicted less than 200 miles southwest of Houston crushed buildings, splintering roofs and displaced thousands of people, as much as 60-70% of the businesses/residences impacted, either destroyed or damaged beyond repair.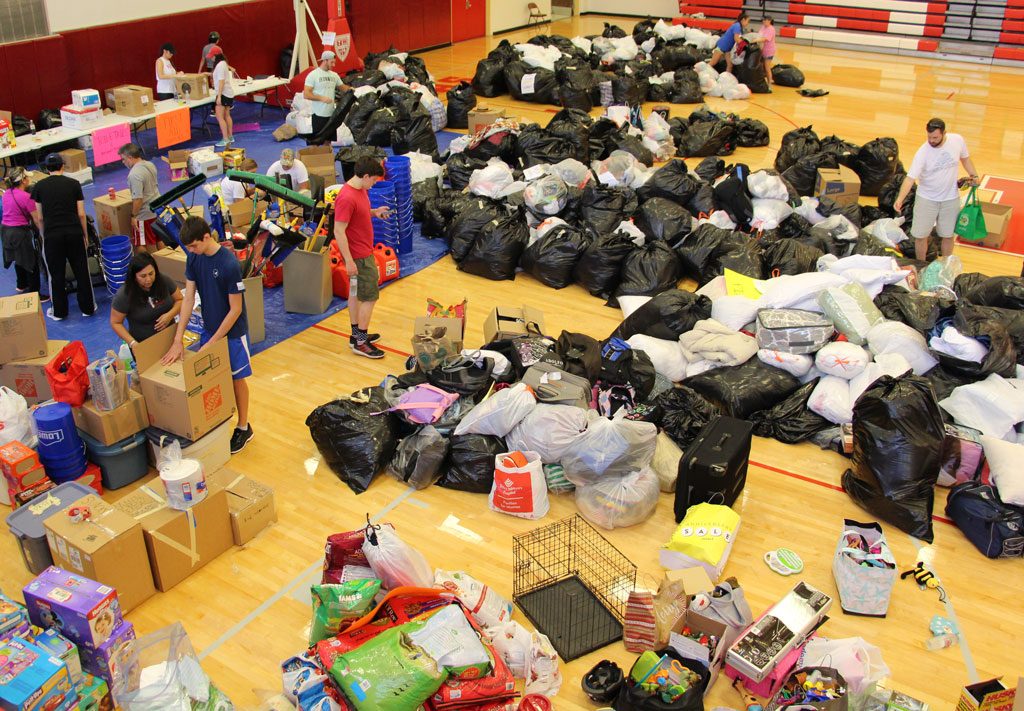 Netzel: "My immediate takeaway from the response was God is good, a testament to the humanity of our community, that people trust in our school, understand that our heart is for people, and the reach of St. Thomas stretches throughout the city. Incredible that we could make just a dent and I'm so grateful to all those who gave of themselves during one of the worst weeks in Houston history."
Redden's home community was ground zero for Harvey and in desperate need of assistance … water, cleaning materials, non-perishable food, hardware supplies, batteries, flashlights, clothing … any and all necessities required when a home is suddenly and randomly gone.
Redden: "I grew up in Rockport … moved to Houston when I was 13. My mother (Tammy) still lives there. It was awful to see the pictures of that destruction. Rockport and the people easily could have fallen through the cracks which are why Mike and I wanted to at least do the most we could, put together something and the result was incredible. The reaction was honestly overwhelming. Anyone who understands St. Thomas knows our identity, to reach out to those in need. It's the teaching of goodness, discipline and knowledge."
St. Thomas Principal Aaron Dominguez '96: "Given what this the city endured when Harvey hit I wasn't sure we would have had that kind of turnout, the number of supplies and support, but I'm not surprised. Proud is not near strong enough a description. This is typical of our St. Thomas community, ready and willing to respond. I can't relate the number of contacts that were made to me, what could people do, how could they get involved. This was just one example of what it looks like when that commitment comes to fruition."
Delivery to Rockport took place within 48 hours thanks in large part to dedicated St. Thomas supporters Amy and Bo Huggins, the president of Houston Distributing, part of a swarm to the area immediately following the storm that included 6,500 workers, both local and from across the nation.
Redden is now practicing in Houston with Donato, Minx, Brown & Pool, P.C. after graduating from South Texas College of Law in May 2016.
Redden: "Our home in Rockport took on structure damage, the foundation, and roof, water in the house, but at least we had a standing building. Most of the people didn't. I have great memories growing up there … fishing with my father … my grandfather championed the Little League program. What I saw when we arrived resembled a war zone."
The long road to normalcy for Rockport remains uncertain months into the aftermath. Hurricane Harvey affected about one-fourth of the county's 9,228 structures, causing around $420 million in property losses, according to county statistics. Around 6,000 of the county's 24,000 residents lost their homes.
—
Faculty member Grover Green … his family of five including week-old daughter Anastasia … and six relatives including his father-in-law scheduled for cancer treatment at MD Anderson … were effectively forced from their Walnut Bend residence by the torrential flooding caused by Harvey.
Yet despite an emotional roller coaster of a week … and in the true Basilian spirit of St. Thomas … Green was on campus giving to the relief efforts for Rockport.
Green: "St. Thomas is family and Houston is family. This is what our faith calls us to do. There are those in far, far worse circumstances than (my family) right now. We had flood insurance and can recover. So many throughout the Gulf Coast may not. We barely made it out of the neighborhood around 3:00 a.m. But we arrived safely at a hotel and wanted to reach out to the Rockport community. It was just the grace of God."
—
Travis Bartniski '18 is a third generation Eagle (Edward '57 and Mark '83) and an exemplary student-athlete ambassador who served the Rockport relief initiative.
Bartniski: "I wasn't able to get out of my neighborhood during the early days of Harvey so that event was the best way for me to give back. Shows you the reputation of St. Thomas … that even those who were not direct members of the community got involved. I believe that people who were in their own need … receiving support in their own situations and within their own houses … made the time to support our effort."
Emma Gorski is a former Eagle cheerleader, in her second year leading Eagle Cheer and a second-year law student at South Texas College of Law. She was one of the hundreds who contributed to benefit Rockport.
Gorski: "I love St. Thomas and love that they consistently act out of concern for others. My family vacationed in that area all the time during the summers when I was growing up so there's a personal connection to that community. My sister has a two-year-old and I couldn't imagine those without anything … diapers, formula … just broke my heart. I live right behind Memorial High School and thankfully escaped without damage. So many others were devastated. You try to what you can do and hope it can make just a little bit of difference."
Catholic. Basilian. Teaching Goodness, Discipline and Knowledge since 1900.