Eagle Football was scheduled to open the season for the fourth consecutive season against The Kinkaid School in what figured to be the St. Thomas head coaching debut for Rich McGuire.
Hurricane Harvey had a decided more devestating agenda.
So the first adjusted game plan of McGuire's inaugural campaign was reaching out to Falcon head coach Nathan Larned and assembling more than 100 student-athletes who flipped from foes to quickly turned teammates, banning together to provide short-term relief to flood-crippled neighborhoods throughout the city.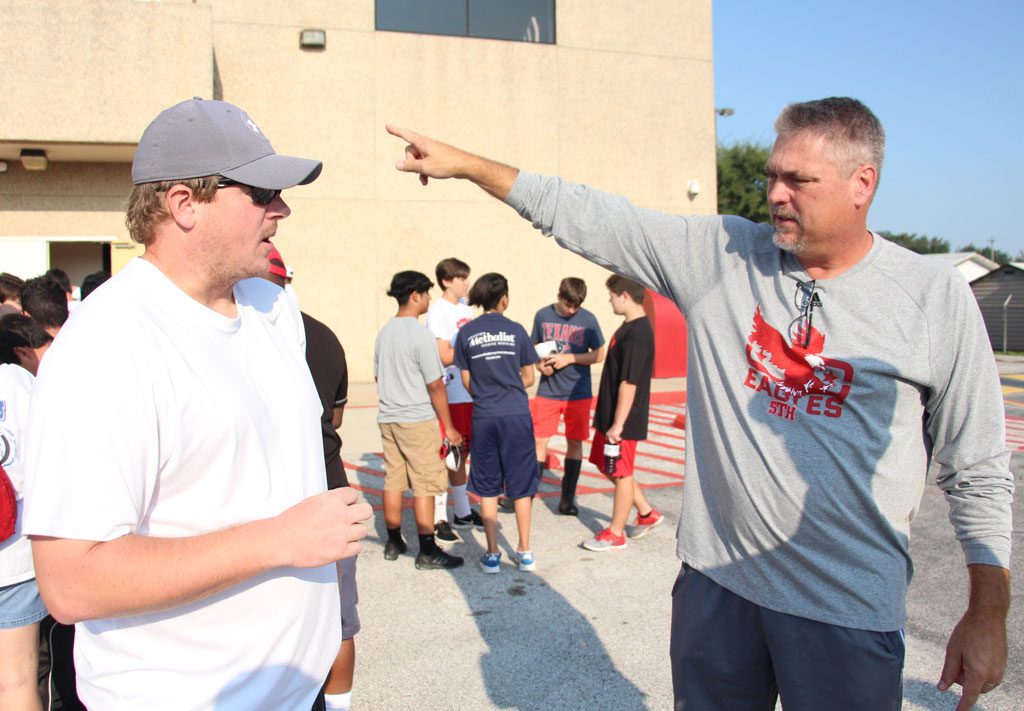 "I texted Nathan earlier in the week. We obviously couldn't play Friday but we could do something," McGuire said. "This is a way for both of us to get a win. We'll both start undefeated."
For nearly a week after Harvey slammed into Rockport, an unprecedented amount of rain was dumped into the Greater Houston area, floodwaters turning streets and highways into rivers, and reaching the rooflines of single-story homes, the nation's fourth-largest city mostly paralyzed by one of the largest downpours in U.S. history, the third catastrophic flooding event a region of 6.5 million people has experienced in three years.
The aftermath produced waterlogged areas with a reported 37,000 homes heavily damaged and 32,000 people reported in shelters across Texas.
"All of our guys understand how fortunate they are that their homes are safe," Larned said. "So I told them, let's rock and roll, get after it and go help people. Not a single hesitation within our team."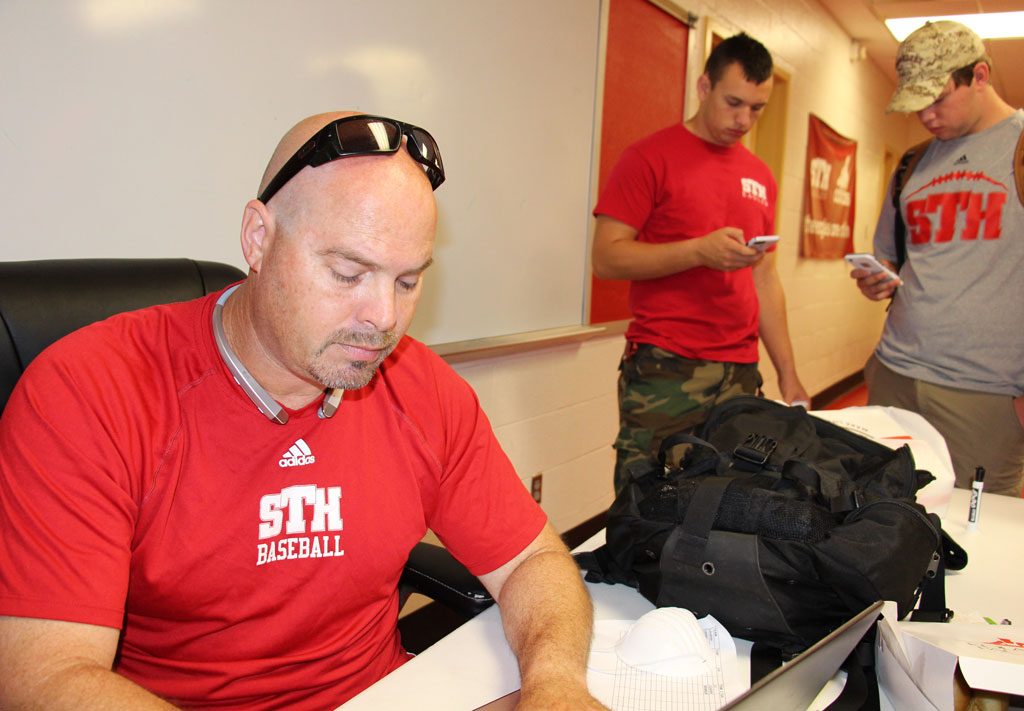 McGuire and members of his coaching staff including Ray Davis, Jerod Johnson, Andrew Quittenton and Josh Hooten, plus athletic coordinator and head soccer coach Kenny Martin '01 and faculty member Darrell Yarbrough organized, dispatched and accompanied students on recovery missions, the worst of times bringing out the best and brightest from the Eagle community, now in lockstep with their Kinkaid counterparts.
"We're dispersing groups of 10-12 to various neighborhoods that were hit hard, starting with groups of Kinkaid families and St. Thomas families," McGuire said. "We determine where they are, how we can reach them and how we can assist them. We've discovered in the last couple of days that once you get to a house, you've got the neighborhood, multiple homes that are in need. We just go door-to-door."
Previously McGuire escorted contingents to Meyerland, again reeling from water overflowing the crested banks of Brays Bayou, and suburban Kingwood along the raging San Jacinto River.
"Shattering … beyond words … truly sad," McGuire said. "You're literally tearing out someone's life and putting it out on the curb. Furniture … carpeting … keepsakes … all up and down the block."
The previous hard hits for Eagle Football were August 23 in a scrimmage at New Caney, the same night Kinkaid hosted Stafford in what promised to be a preliminary to the season-opener for two storied programs and acclaimed college preparatory institutions separated by less than 10 miles on the city's urban map yet connected in ways unforeseen only weeks before.
On the first day of September 2017, as the effects of Harvey's unmerciful entry to the Gulf Coast continued to create life-threatening havoc and destruction, rivals joined hearts for their city's greater good, delivering the message that their neighbors are not alone in the wake of unimaginable disaster.
"What I love about the private schools in Houston, the competition is intense when it comes time to get on the field and on the courts," Larned said. "But most of the coaches are friends, have a bond, and when there's a need for our communities to come together, we often react as one. This is no different. We have teachers from Kinkaid, random friends I've included in a group text, who will be a part of this. It's may not be much in the grand scheme, but it is what we can do. So let's do it."
Catholic. Basilian. Teaching Goodness, Discipline and Knowledge since 1900.