GAME THREE: Hotze Field inside Granger Stadium
Episcopal 38
Eagle Football 24
WHAT YOU NEED TO KNOW
Quarterback Peyton Matocha '19 threw for two touchdowns and ran for a third but the injury-plagued Eagles surrendered the game's final 23 points in their third straight defeat to start the season.
TURNING POINT
Matocha connected twice with Dylan Dixon '19 for touchdowns and dove into the end zone for a short-range score and 21 unanswered points to give St. Thomas a 21-8 lead with 1:08 left in the first half.
But after Matocha left the game early in the third quarter, Eagle Football failed to generate a first down while Episcopal sandwiched two touchdown marches around a 75-yard punt return score to take command of the game.
RAPID REVIEW
Head Coach Rich McGuire
"We are beat up … never seen anything like it. Defensively we just don't have the depth for the full 48 minutes. But there are no excuses. We have to find a way to rally with whom we have. There's obviously disappointment but we're not discouraged. We go back to work and discover a way to turn this season around."
MARATHON MEN
Matocha was exceptional at the mission-critical position, orchestrating three consecutive touchdown drives in the first half that totalled 14, eight and 16 plays.
First, Matocha dialed up Dixon with a toss to the left corner of the end zone on third-and-goal from the nine-yard line for the initial Eagle points.
Next, on the first play of the second quarter, Matocha again found Dixon, again on third down toe-rapping the boundary in the left corner, for the first St. Thomas lead at 14-8.
Then, Matocha gave the Eagles their largest advantage on a third-down keeper to finish a 7:00-plus possession that travelled 95 yards for 21-8.
18-WHEELER ROLLING
Running back Ian Wheeler '19 produced 111 hard-driving yards, including a 20-yard carry on the second scoring drive, and a 20-yard rush and 25-yard reception on the third touchdown series.
MORE MCGUIRE
"Ian may have been the most determined player on the field. For two-thirds of the game, the offensive line did a tremendous job opening holes and establishing the line of scrimmage."
THE BIG BOOT
Thunder-foot kicker Jacob Manley '18 continued his sensational senior season, drilling a 41-yard field goal, splitting the uprights for the sixth time seven games, for a 24-15 count with 6:00 remaining in the third quarter and the final Eagle points of the game. Manley's only one miss in 2017 was a block on the final play of a one-point loss to Cedar Hill Trinity Christian in the season opener.
GETTING DEFENSIVE
Captain Kris Broland '18 returned for the first time this season and injected a much-needed dose of talent and leadership. His sack midway second period pushed Episcopal into a second-and-goal from the 19-yard line. Two plays later safety Daniel Coco '20 intercepted Jack Grams in the end zone to stifle the scoring threat.
MORE MCGUIRE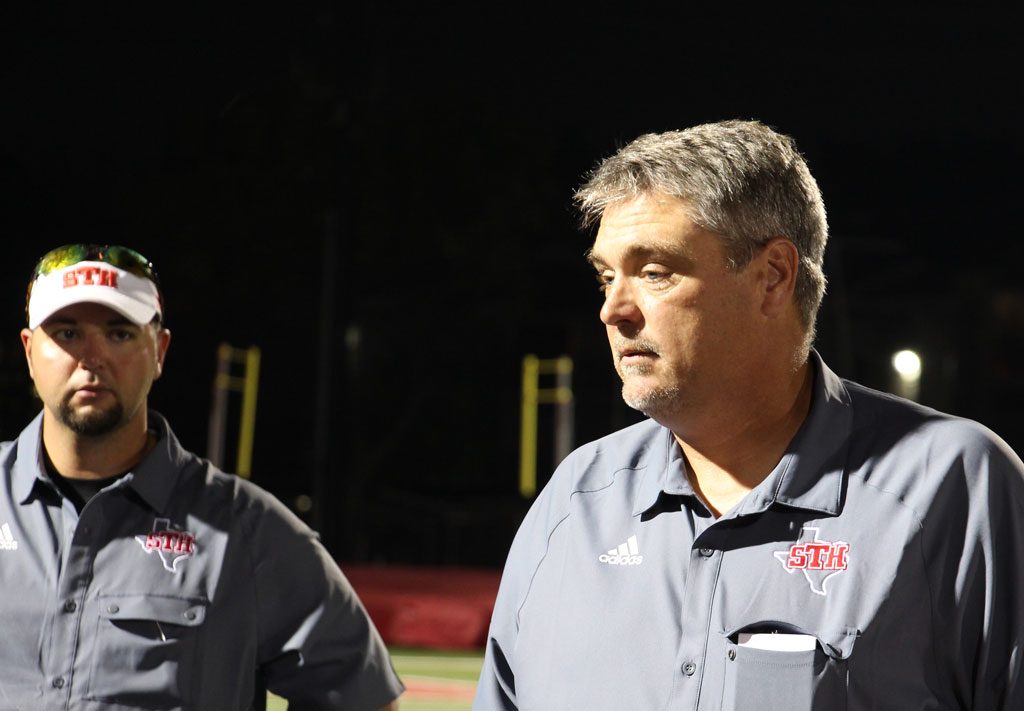 "It was a huge plus having Kris back at linebacker. We have really missed his level of play. I thought our secondary was tremendous throughout. (Junior) Brandon Hondros made play after play on deep balls. The defense was just on the field too much in that final quarter."
FRIDAY NIGHT FIVE
The 15-point cushion late first half lasted only 15 seconds when Episcopal busted an ensuing kickoff 80 yards for a touchdown for the 21-15 count at halftime, the first of two dagger scoring returns that swung a mighty momentum shift affecting the outcome.
The second touchdown series was jump-started by an ad lib dagger from a moving Matocha to receiver Josh Madden '19 for 16 yards.
The third touchdown series included Matocha rolling to the far right sideline before reversing field and picking up a jaw-rattling block from offensive lineman Bryce Guidroz '19 that freed Matocha for a short gain. Two plays later he was in the end zone with his third touchdown.
The Eagles were outscored 23-3 in the second half.
The defeat is the fifth loss in the last six games where dominance had become expected during a streak of 27 consecutive home wins through Week One of 2016.
STATE OF PLAY
The well-worn adage within sport is that every team faces adversity. Mediocre teams are destroyed by it. Good teams survive it. Great teams get better because of it.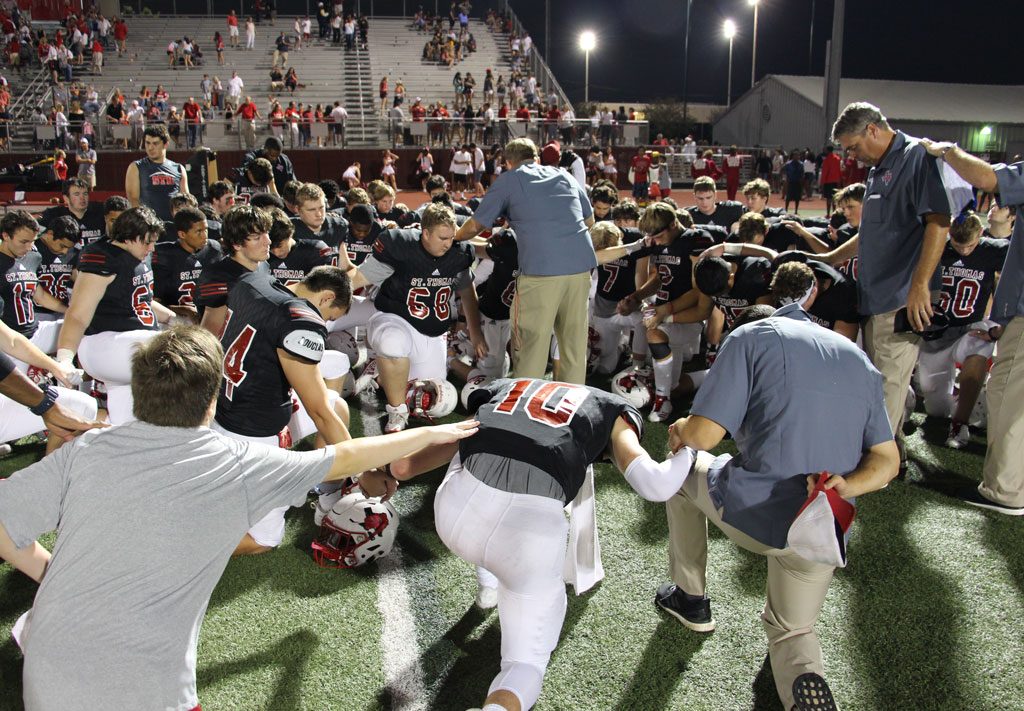 McGuire will soon discover who within his first group as the Eagle head coach is born for the storm, knowing that hardship and misfortune reveal true character. A team can either hide from it or run to it and attack, embracing a Not Going To Break Me resolve.
If it's all the same
I'm gonna play the game
Say not gonna break me
Not gonna break me
Not gonna break me down
Not gonna break me
This time around
BLACKOUT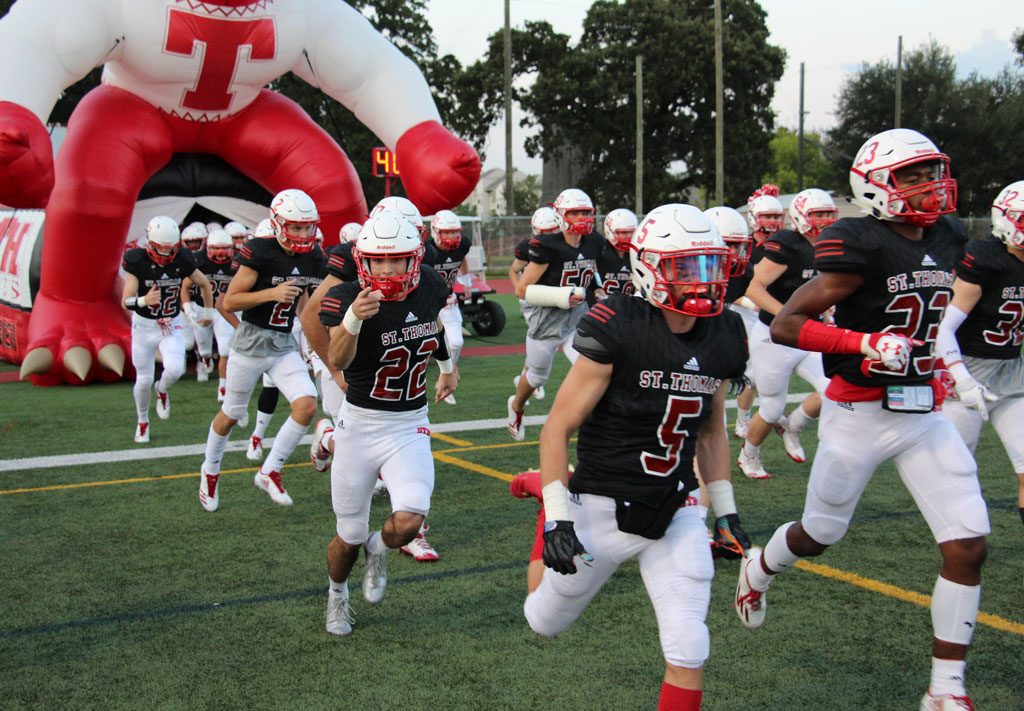 The Eagles went through their pregame routine in their traditional home red jerseys, then returned from the locker room session flashing black tops for the first time.
Eagle Football continues to feature an innovative helmet design with the block STH logo outlined with the state of Texas throughout the season.
UPCOMING
Eagle Football hosts Pasadena Friday, October 6 during the annual homecoming weekend and then travels to San Antonio October 13 to face Central Catholic.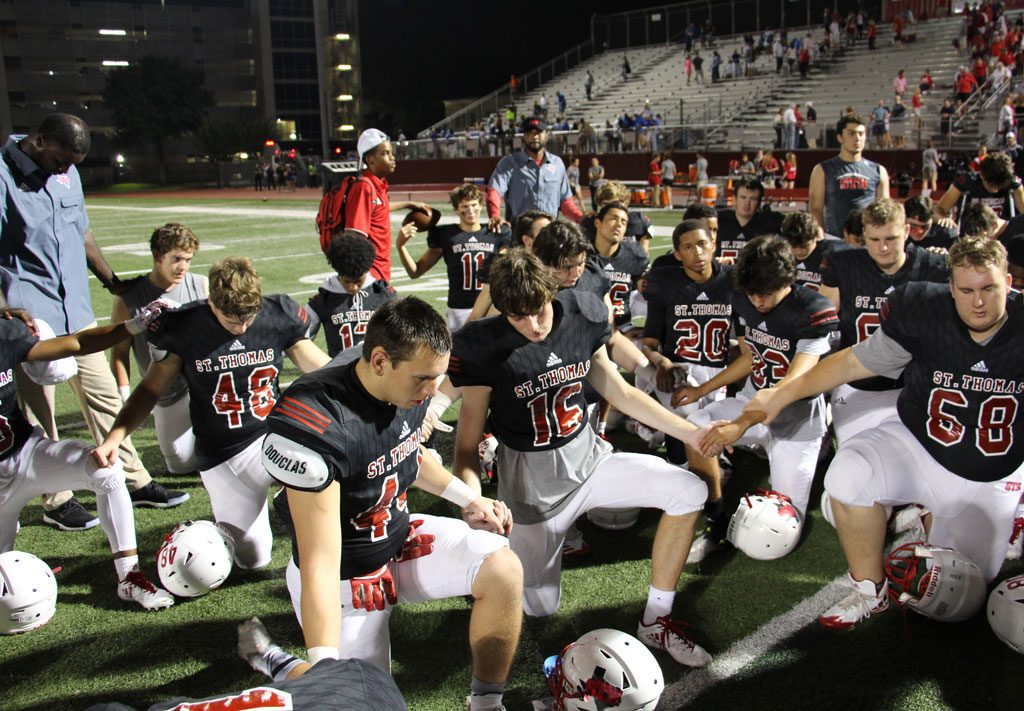 Not gonna break me down
Not gonna break me
This time around
This time around
This time around
This time around
This time around
This time around
Not gonna break me
This time around
Eagle Fight Never Dies!