GAME FOUR: Hotze Field inside Granger Stadium
Pasadena 21
Eagle Football 42
WHAT YOU NEED TO KNOW
Quarterback Peyton Matocha '19 twice tag-teamed with Parker Nelms '18 for touchdowns in a 42-point first-half avalanche that included scoring plays from offense, defense and special teams as the Eagles pounded Pasadena for the first St. Thomas head coaching win for Rich McGuire.
TURNING POINT
The first of two short-range touchdowns from wide out suddenly turned running back Blaine McDaniel '18 was followed by a scoop-and-score touchdown from defensive back Jackson Reece '18 on Pasadena's first offensive snap.
On the ensuing kickoff following Pasadena's only touchdown before liberal St. Thomas substitution in the second half, defensive back Brandon Hondros '19 bolted from the left corner to the middle of a congested pack, and back to the left sideline to race untouched 95 yards to the end zone and a commanding 21-7 advantage.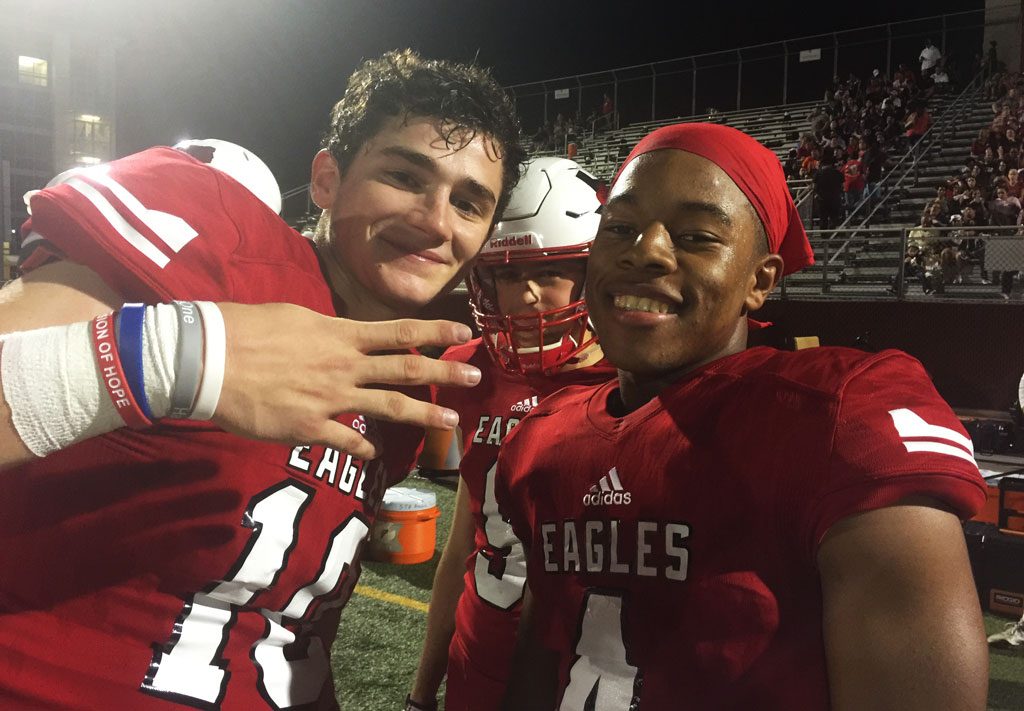 Matocha then dialed-up Nelms with a pair of scoring tosses in the second period, and in the face of absolute Red & White superiority, the white flag was effectively raised to the skies before halftime.
RAPID REVIEW
Head Coach Rich McGuire
"More than the final score this win represents the resiliency and guts of our guys. They buy-in and they battle. They really needed some positive results after what has been an eight-week grind … through fall practice … the interruption with Hurricane Harvey … injuries … adversity in so many forms. And they have never wavered. This group really deserved a night like this."
ACTION JACKSON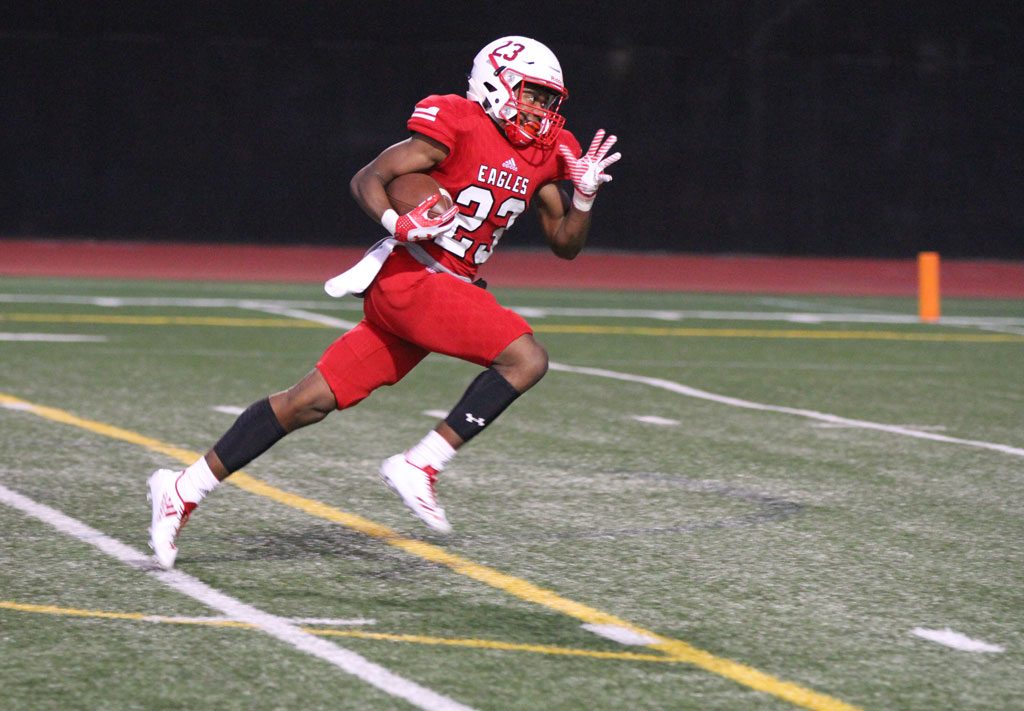 Reece responded with his career-best performance that only began with the momentum infused fumble return for points.
In Pasadena's next offensive possession, he batted down two long passing attempts while in iso coverage, added a third break-up in the next defensive series that forced a punt deep in Pasadena territory, and then added an interception on the final play of the first half with Eagle Football in firm control by 35 points.
MORE MCGUIRE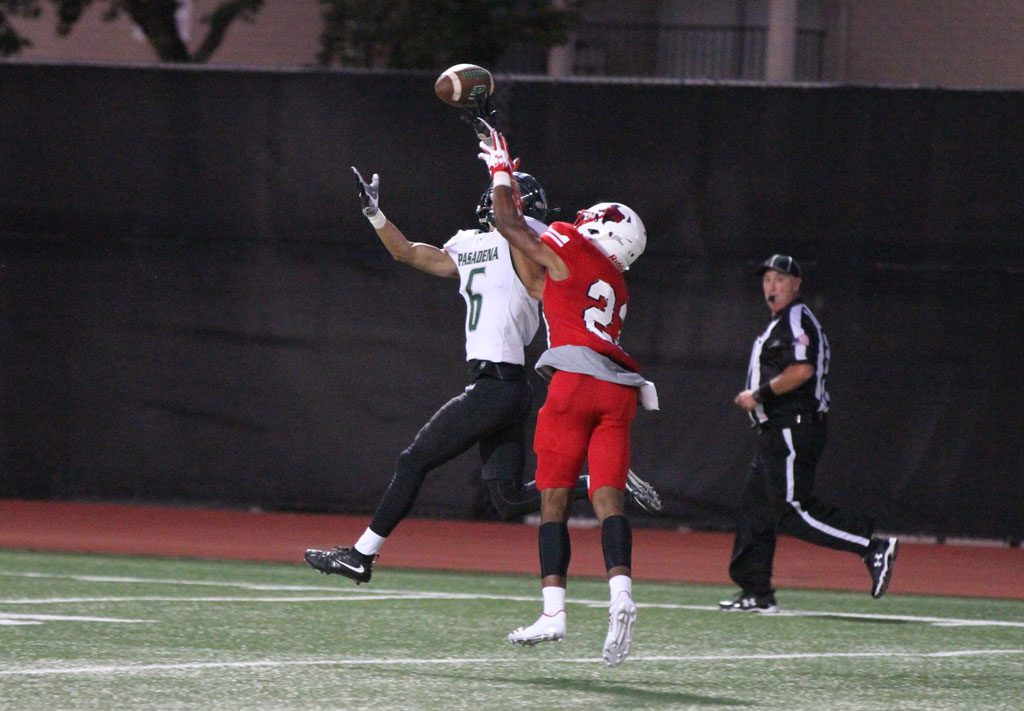 "They attacked Jackson and he showed without question he was up for the challenge. His technique is unbelievable … has really honed his craft … obviously working with (former University of Houston standout and nine-year NFL cornerback) Stanford Routt is a huge factor. But give Jackson all the credit for championship work ethic. We work turnover drills heavy in practice and he took that mentality to the game. And to the end zone."
MAJORDOMO MATOCHA
The junior quarterback in this 15th consecutive start consistently poured sauce all over an overmatched Pasadena defense.
In the first offensive set of the game, Matocha capitalized on a clean pocket to find Nelms for 20 yards and later motored for 15 yards in a drive that McDaniel capped from the one-yard line for 7-0.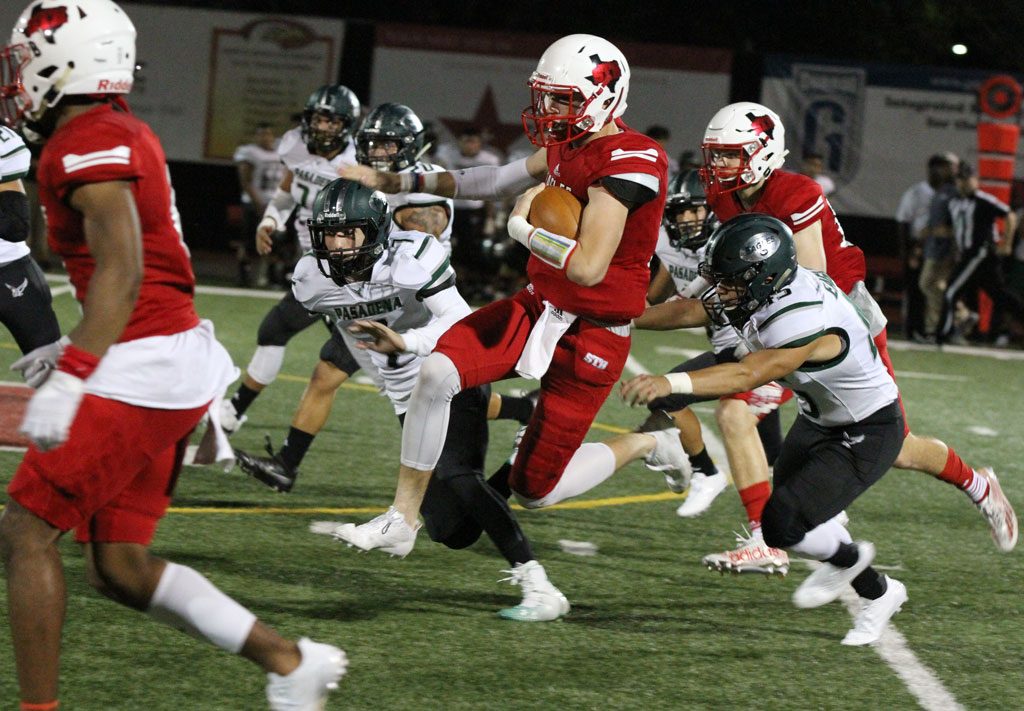 Operating with a 21-7 cushion in the second period, Matocha scrambled for 42 yards on a third-and-13, and two snaps later delivered to Nelms in stride alone to the end zone from 37 yards for 28-7.
After Pasadena botched a snap from punt formation, Matocha needed only four plays to connect with Nelms from 23 yards to push the count to 35-7.
In the final possession of the first half, Matocha followed a 32-yard hook-up with an ad lib 18-yard completion to Nelms to set up McDaniel again from the brink of the end zone and the soaring 42-7 advantage.
MORE MCGUIRE
"The biggest plus (tonight) was our offensive execution was excellent. Solid protection. Correct recognition. Putting up points. That translates to success throughout the season.
"Going into the week we worked Blaine into more of a role in the backfield, including some (direct snap) wildcat, never knowing when we might need him back there. And tonight we did."
FRIDAY NIGHT FIVE
Eagle Football outscored Pasadena 93-21 in the two-year home-and-home series that was even more one-sided than the margin suggests.
The victory breaks a four-game drought at Hotze Field inside Granger Stadium.
The Eagles ended the first half with a 42-point scoring binge despite only 24 offensive snaps.
Tackle Chris Rose '18, and linebackers Kris Brolan '18 and Seth Dietz '19 continue to be a collective force in the Eagles defensive front seven.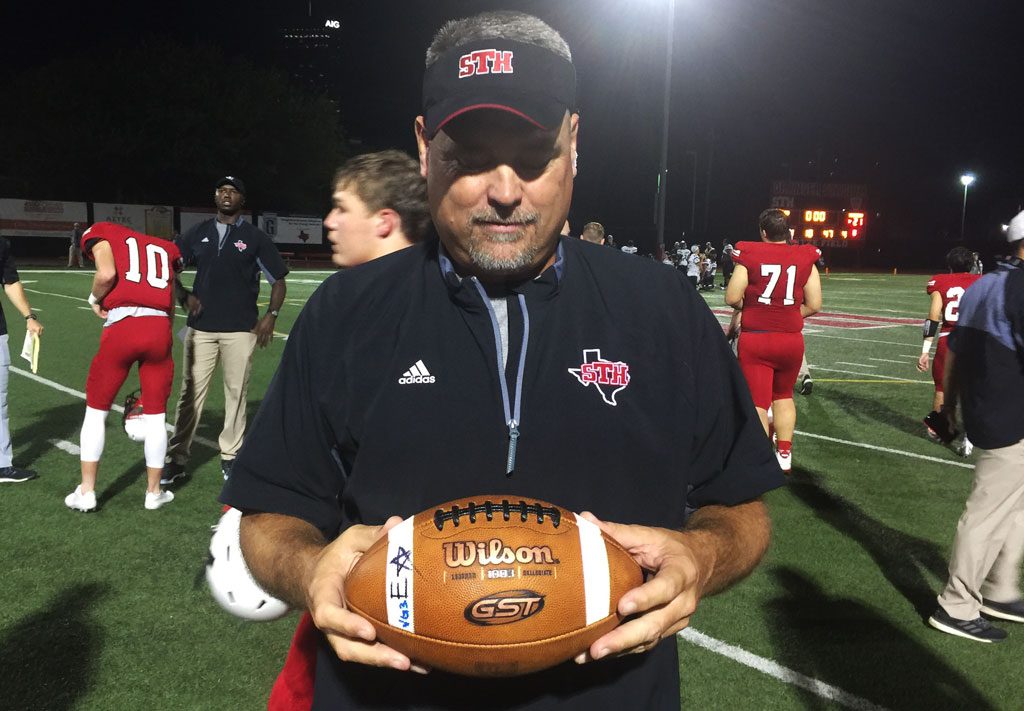 McGuire was presented with the game ball from athletic director Mike Netzel following what McGuire hopes is the first of many wins on the Eagle sideline.
STATE OF PLAY
There is often a difference between desire and achievement. For the first time Eagle Football manned by McGuire married the two with a decisive outcome as thorough as it was convincing after digesting defeat during the first three weeks of the season.
Pasadena proved to be the proper tonic to a struggling start. The weeks to come will determine if the beatdown is, in fact, the breakthrough to create season-turning mojo and belief that there is much to be accomplished during the second half of the St. Thomas season.
For now, the victory simply provides a Get Down With It joy and relief.
Everybody raise both your hands
Everybody, everywhere
I said, clap your hands
Everybody clap your hands
Oh yeah, my my my
Oh yeah, my my my
POMP AND CIRCUMSTANCE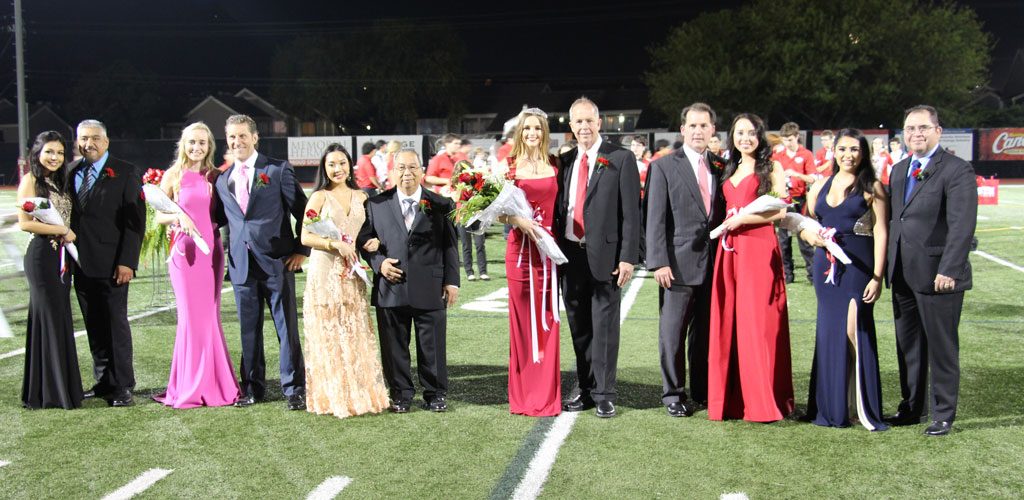 Celebrated at halftime were 2017 Homecoming queen Emma McLean (St. Agnes Academy) and her court of Triciajane Asuncion (Incarnate Word Academy), Oliva Cohn (SAA), Victoria Fauntleroy (SAA), Teresa Garcia (Duchesne Academy of the Sacred Heart) and Abigail Torres (IWA).
UPCOMING
Eagle Football travels to San Antonio October 13 to face Central Catholic before an off week and then beginning district competition against Beaumont Monsignor Kelly Catholic October 27 at Hotze Field inside Granger Stadium.
Everybody raise your right hand
Everybody, everywhere
I said, snap your finger
Come on all girls snap your hands, come on all boys
I said, snap your finger
Oh yeah, yeah, yeah
My my my
Oh yeah, my my my
Eagle Fight Never Dies!