HEAD COACH: John Kwok
6th year as head coach
11th year in the Eagle program
2016 and 2017 TAPPS State Tournaments, 2015 Super Regional Final, six playoff seasons
LOOKING BACK TO 2017
An Eagle Basketball campaign which included a midseason surge of 13 wins in 15 games ended with a second consecutive trip to the TAPPS 6A state tournament.
The Eagles posted a 19-10 regular season and opened the playoffs with 6-9 Everett Vaughn '18 scoring 16 points while dominating the defensive boards to lead a convincing 66-48 win over San Antonio Antonian in College Station.
Vaughn and Jared Cebrun '18 were key contributors in a 14-0 run in the final 4:30 of the second quarter when the Eagles took command of the game to move in front 38-27 at halftime.
The following day against Trinity Christian the Eagles overcame a desperation three-pointer that forced overtime to win 46-40.
Eagle Basketball trailed throughout in a game dictated by TCA's deliberate tempo and 34-28 with 3:40 remaining in regulation. Forward Melvin Larkins '18 ignited the comeback with tip-in before Max Vosloh '18 was part of four straight free throws to tie the game 34-34.
Vosloh (15 points) opened overtime with a three-point jumper from the right corner and the Eagles never again trailed. Five free throws in the final 1:47 completed the final margin.
In the state semifinals at Abilene Christian University in Abilene Eagle Basketball was in front the entire first half but could not overcome a frigid output coming out of halftime and were defeated 71-51 by Dallas Bishop Lynch.
Larkins converted inside on a high-low feed from Vaughn to give the Eagles their biggest lead of the game at 24-15 with 5:16 left in the second quarter.
Eagle Basketball was outscored 10-2 over a three minute stretch of the third period to trail 46-37, and had no recovery for a 9:30 stretch overlapping the third and fourth quarters where they managed only seven points leading to a lopsided final.
Drake Everist '18 and Cebrun led the Eagles with 11 points each.
In March Cebrun was named TAPPS second team all-state while Vaughn, Vosloh, Fisher and Everist were all selected second-team all-district.
LOOKING AHEAD TO 2018
The Eagles return an experienced talent group poised to make the most of its democratic offense.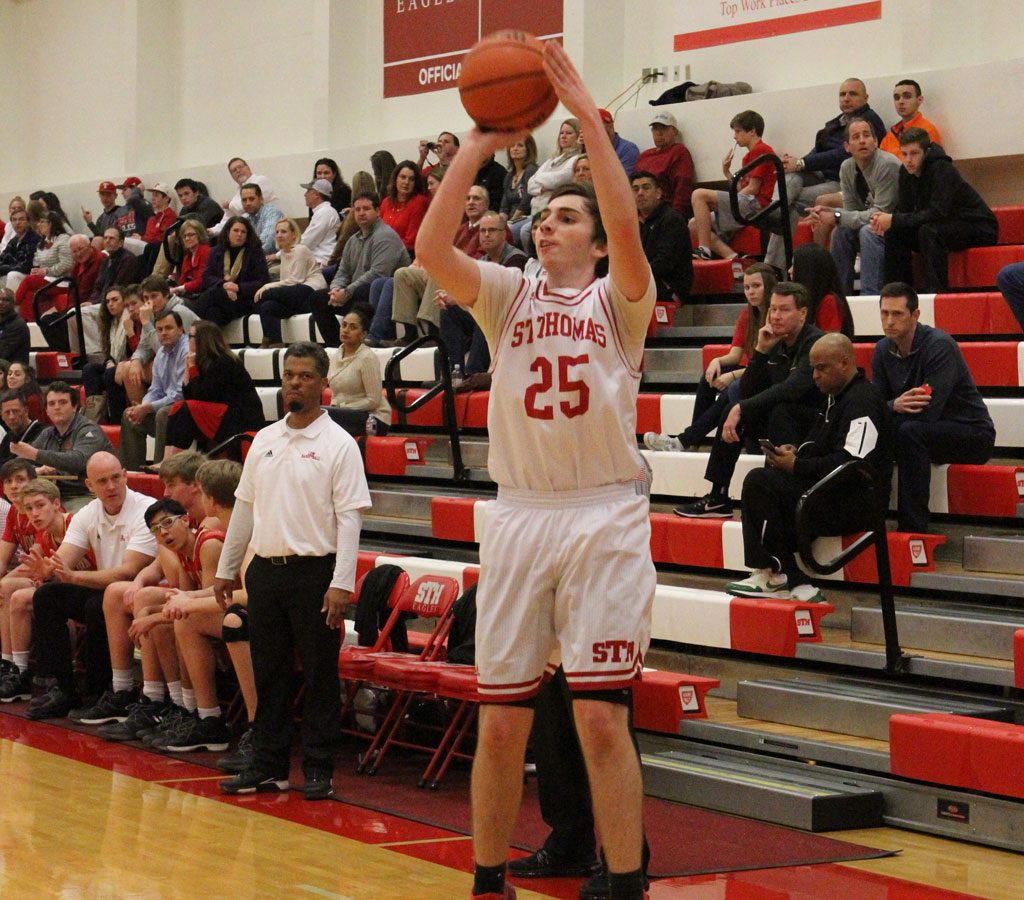 Whoever assumes the point guard duties will be expected to stabilize the position and make the best use of the surrounding interchangeable catch-and-shoot snipers Fisher, Vosloh and Everist who figure to thrive along and beyond the three-point line, and also on the weak side against a scrambled defense adjusting to pick-and-roll action sucking in help defenders. Each set flows into the next. It will be liquid. There will be no buffering.
Cebrun is a crafty scorer with a sneaky explosiveness who can initiate, attack and finish at the rim or utilize a bag of leaning mid-range shots.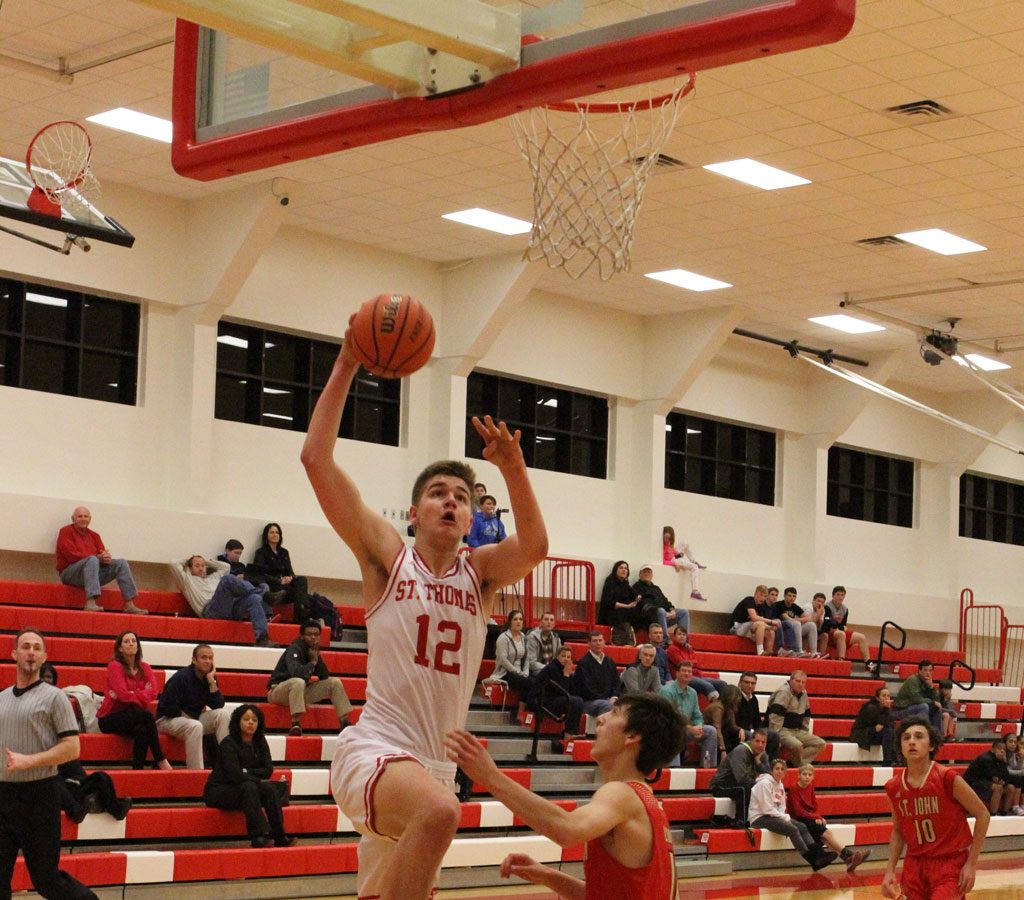 Vaughn offers a rebounding and stifling defensive presence shutting down the paint and preventing opposing teams from collecting easy shots around the basket, if not blocking shots then making them all the more difficult. His inside-out versatility at the offensive end is further evidence of an on-court maturity, knowing how to play and playing without fear.
Combo guard Mo Taylor Jr '18 is crafting his own reputation as a skilled ball-handler, on-ball defender and open-court catalyst who can beat opponents off the bounce and from the arc.
The namesake of the one-time Houston Rocket and 10-year NBA veteran who led the Los Angeles Clippers in scoring in 1999 and 2000 appears positioned for a breakout final Eagle season.
The tiers of team-building within Eagle basketball that includes consecutive state tournament appearances present a foundation featuring a versatile roster aiming to secure the program's first state championship final since the 2008 and 2011 title seasons, the only crowns in the previous 27 years.
Eagle Fight Never Dies!