All for one and fun for all was the theme as St. Thomas Drama brought the swashbuckling The Three Musketeers to life in Cemo Auditorium for an extended engagement at the Moran Fine Arts Center in Cemo Auditorium.
Director Dan Green and his host of versatile and talented actors enjoyed the rich embrace of the masterful 1844 tale by Alexandre Dumas … treachery, heroism, narrow escapes, and most importantly, honor as the Musketeers battle against the cunning Cardinal Richelieu and his henchman Rochefort.
En garde!
"Danny Vannoy wanted me to consider this material and typically I hope to provide a play the seniors believe in," Green said. "I sifted through a half dozen scripts, discovered the right one for our group and audience. I wanted some bravado, some flamboyance, some comedy. I wanted us to have fun."
In directing The Three Musketeers for the first time, Green opted for an adaptation largely faithful to Dumas's original story of a young man arriving in 17th-century Paris to join the King's Musketeers, only to be quickly embroiled in political intrigue, romance, and of course, sword-fighting.
Touche!
"We met six days a week and at least 45 minutes every one of those days was devoted to the choreography," Green said. "It was demanding, but you put a sword in a high school student's hand and tell him he's going to fighting someone else, there's not much extra motivation required. I just had to make sure everyone was safe. They all respected this had to be a craft and not just splashing and waving and understood the artistic priority in telling an adventurous and romantic storey."
The ensemble confidently portrayed a full array of colorful yet psychologically convincing characters, all doused with an extra large lust for life while accepting the challenge of rapid-fire scene-to-scene action.
Daniel Griggs '19 delivered a savvy mix of humor and danger to D'Artagnan, the remarkably good-natured and engaging protagonist who has come to Paris in hope of becoming one of Louis XIII's revered musketeers.
D'Artagnan's three daring mentors stood out as distinct personalities with a collaborative chemistry and all thoroughly enjoyable … Porthos (Isaac Flanagan '18) both brash and braggadocious … the religious yet libertine Aramis (Michael Patton '18 in his ninth STH production) … and the mysterious Athos (Jake Moreau '18).
As the four go about their business, dropping their quarrel to make common cause against the arrogant blades and villainous machinations of Richelieu (Michael Banks '18) and Rochefort (Danny Vannoy '18), Green kept the story clear and dynamic.
The beautifully self-possessed cast featured standouts among the Dumas's women … Jessica Kluksdahl (Incarnate Word Academy) as Queen Anne … Abby Meyer (IWA) as Constance … Susannah Wilson (IWA) as Sabine … and Emma Loden (IWA) who portrayed the nefarious Milady de Winter with a vivid performance of one of literature's most delicious femmes fatales.
"The guys all have a genuine like for each other and that showed," Green said. "They are seasoned veterans. Griggs possesses natural comic timing. The language was very modern in this play and that fueled a fast interpretation. The actors didn't have to be concerned with subtext which was important because this work is so plot-centric.
"Griggs and Abbey Meyer contributed some tender moments. And ultimately the heroes are only as good as the villains. Banks, Vannoy and Emma Loden were superbly wonderful. I especially enjoyed the sequences when Richelieu, Rochefort and Milady were particularly threatening. Really well written and really entertaining."
The terrific showcase of evil plots and ferocious duels, outsized personalities and athletic grace was greatly served by an inventive set construction expertly crafted by designer Phil Gensheimer, fellow faculty member Daniel Bryant '93, and staff member Duane Fuchser, all bolstered by a contributing crew of Eagle students.
"The set was changing every three minutes, 21 scene changes in all, and we had six and half weeks to put this together, essentially because of Hurricane Harvey," Green said. "We worked right up until we opened the house to make sure we could execute without a hitch. Time was such a critical factor in telling this story. I have the highest expectations but was still somewhat surprised that the show had that exacting fluidity. But, then again, I'm not surprised because our actors are so skilled and dedicated."
The evergreen Musketeers story has survived several retellings with a long arc of remakes including Broadway musicals and multiple movies.
Since 1900, every decade has seen at least one new version on film or television … including the 1921 silent era cinema starring Douglas Fairbanks … then advancing through generations with the far-ranging talents and personalities such as Gene Kelly and Vincent Price (1948) … Charlton Heston, Michael York and Raquel Welch (1973) … Charlie Sheen and Kiefer Sutherland (1993) … and most recently, Christoph Waltz, Orlando Bloom and Milla Jovovich (2011).
All for one and one for all, indeed.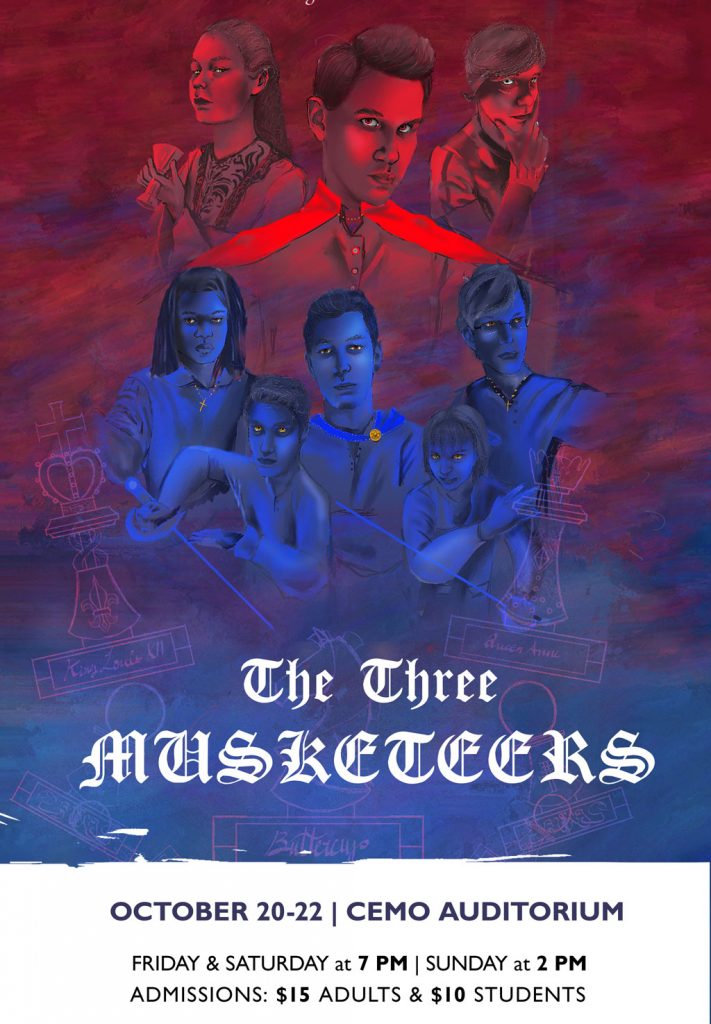 (playbill cover artwork by William Castillo '19)
The St. Thomas Spring Musical is scheduled for March 23-25.
Catholic. Basilian. Teaching Goodness, Discipline and Knowledge since 1900.