GAME SIX: Hotze Field inside Granger Stadium
Beaumont Monsignor Kelly Catholic 22
Eagle Football 41
WHAT YOU NEED TO KNOW
Quarterback Peyton Matocha '19 threw for three touchdowns and ran for two others in a first-half blitzkrieg as the Eagles launched the district race during Alumni Weekend with an overwhelming win for a third consecutive victory that wasn't nearly as close as the final might indicate.
TURNING POINT
After turning the ball over on their first offensive snap, Eagle Football buried Kelly with an avalanche of touchdowns on six consecutive series.
Matocha began the Surge Knight beatdown with a 35-yard payoff strike to receiver Josh Madden '19 streaking up the right seam, then capped a crisp seven-play 88-yard march with a read-option carry untouched to the end zone for 14-0.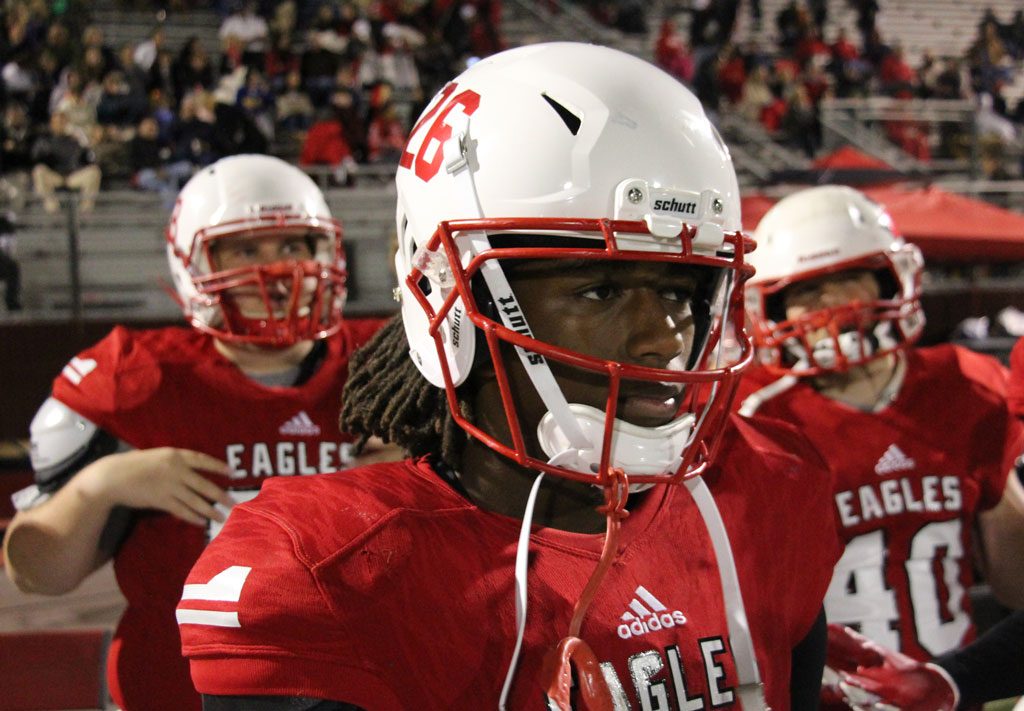 St. Thomas recovered a fumble on the ensuing kickoff, and running back Ian Wheeler '19 carried on three straight plays for the final 25 yards and the touchdown for 21-0 roughly seven minutes into the game.
Kelly soon resembled a collapsed building. Just a hole surrounded by a bunch of bricks strewn all over the road.
RAPID REACTION
Head Coach Rich McGuire
"It was just click, click, click and that's what I've been expecting from our offense. Executed at a tempo which is what I want … a focus for us during the week. Our offensive front doesn't have great depth but they continue to produce. No pressure on the quarterback. And defensively we're getting better, getting healthy. Should have a couple of more guys back next week which is really important."
ROCKING IN THE FREE WORLD
The early Eagle success portended an offensive onslaught.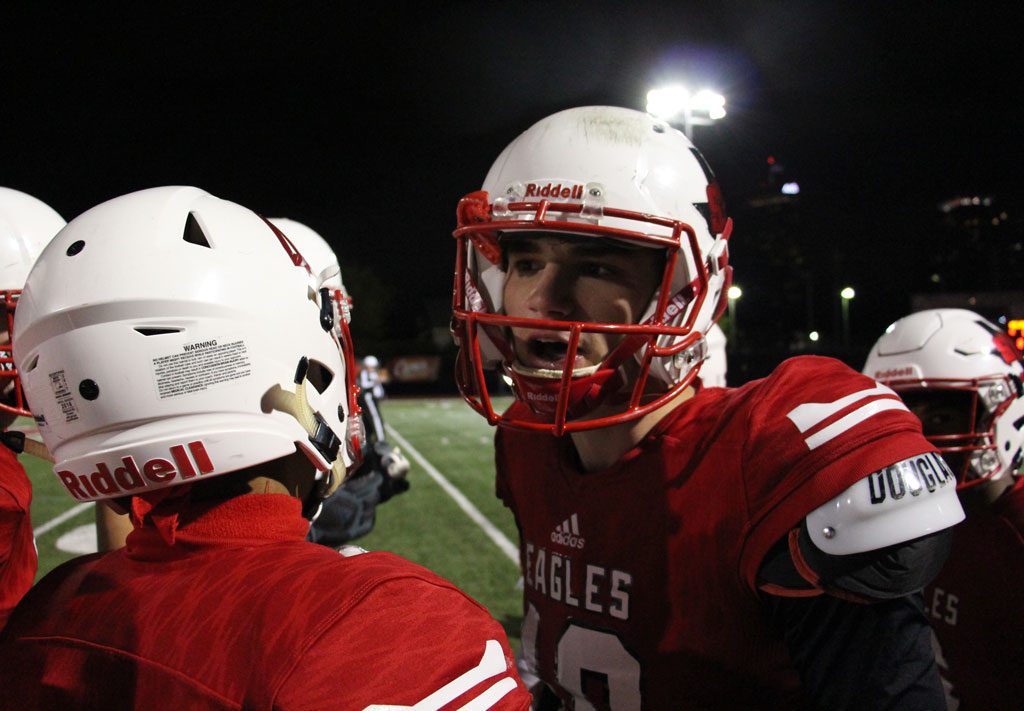 Matocha enjoyed impenetrable protection playing less than the first half and needed only 15 plays to post 20 points in the second period, beginning with a 42-yard romp to push the margin to 28-0.
Next, he orchestrated a flag-filled possession that saw two Blaine McDaniel '18 touchdowns erased by penalty. Matocha cooly dialed up Dyan Dixon '19 down the middle on third down for 32 yards to set up McDaniel who finally cashed in a score that stood to crush the count to 35-0.
Inside of three minutes remaining before the halftime, Matocha drilled a dart to receiver Parker Nelms '17 who spun away from defenders inside the 10-yard line and scooted free for a commanding 41-0 advantage.
Yet Matocha's most impressive completion ignited the second scoring series. Hanging in the pocket seemingly for an entire election cycle before rolling to his right, he planted and lasered a throw to Madden behind the secondary good for 29 yards. Four plays later Matocha danced to the end zone and Kelly was digesting defeat the rest of the evening.
MORE MCGUIRE
"That was probably Peyton's best game of the season. Very few misses. A few drops. Really on target. Excellent reads. Great ability to keep plays alive. Can throw when his body isn't in prime position and still put it on the money."
LOPSIDED SERIES
The Eagles have won nine straight games in an over-matched match-up by a combined score of 456-77.
FRIDAY NIGHT FIVE
The Eagle's fifth touchdown was fueled by a perfectly executed pooch kickoff to the left sideline that remained in bounds just long enough for a sprinting Mateo Casares '19 to recover at the Kelly 25-yard line.
McGuire substituted liberally throughout the running-clock second half.
The TAPPS realignment for 2018-2020 has Eagle Football in a newly created Division I 10-team district including the current opponents Beaumont Kelly, St. Pius X and Tomball Concordia Lutheran along with Austin St. Dominic Savio, The Village School and Katy St. John XXIII, plus Antonian Prep, Central Catholic and Saint Mary's Hall from San Antonio.
The general alignment for 2018-2020 is 6A District 4 with Beaumont Kelly, Awty International, St. Pius X, The Village School, St. John XXIII and Concordia Lutheran.
Less than four miles from the Eagle's runaway rout, the Astros returned the World Series to Houston for the first time since 2005 and only the second time in 56 major league seasons. The 5-3 decision over the Dodgers gave the American League champions a 2-1 edge in the best-of-seven for the 113th championship with the first World Series home win in franchise history.
BROTHERHOOD UNLIKE ANY OTHER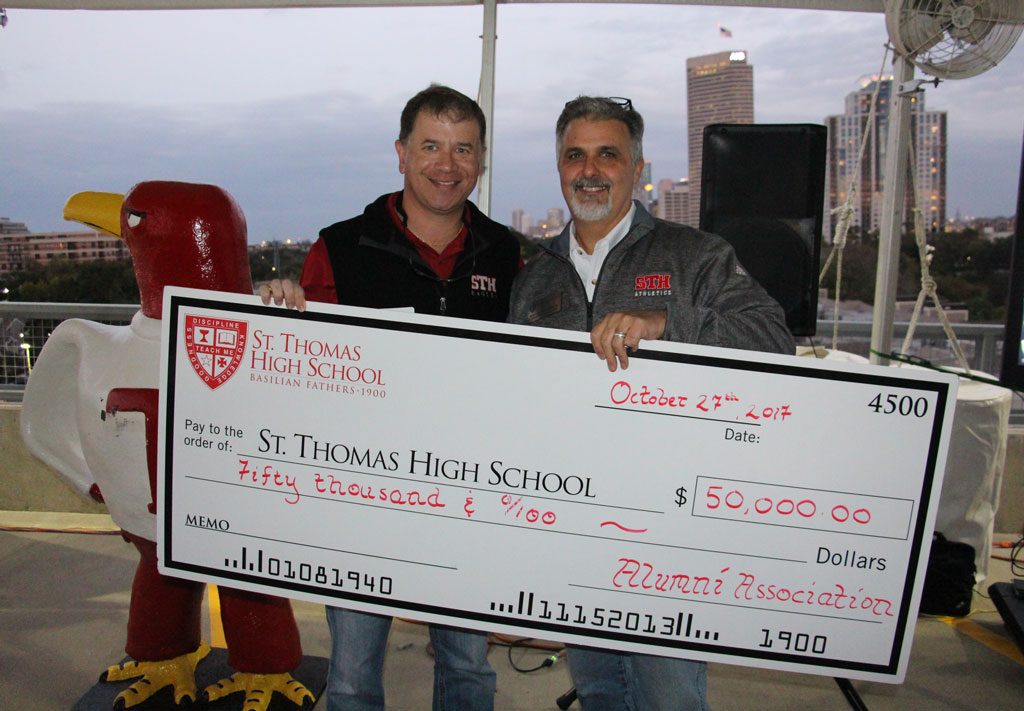 Prior to kickoff, the St. Thomas Alumni Association presented $50,000 to vice president of advancement Mark deTranaltes '83 for 4500Forever Finish Strong, the ongoing capital campaign raising the final $12 million to complete the Joplin Campus expansion.
STATE OF PLAY
Eagle Football has recovered from a 0-3 start to even its record in the wake of the delayed start to the 2017 season where scheduled games with The Kinkaid School, Strake Jesuit and College Station were cancelled by an abrupt Hurricane Harvey hiatus and the wettest weather event ever to hit the continental United States.
The latest Friday night feast is the first step in regaining the district crown after collecting four straight titles during a run of straight-flush seasons from 2012-15 that included 21 straight district victories.
In searching for a level of confidence and certainty that makes doubt seem like a disease, Eagle Football moves forward swiping some sentiment reflected in Goodbye June's Liberty Mother.
Take a little time
It only gets better
Pack up your shovel
There's gold in the desert oh yea
Now that I told you exactly what to do
Give me one, give you two
It all comes back to you
UPCOMING
The Eagles host Concordia Lutheran Friday, November 3 at Hotze Field inside Granger Stadium before traveling to St. Pius X November 10 for the regular season finale.
MORE MCGUIRE
"It's a three-tier campaign. The pre-district was truncated. Now we're in the mix that matters. The next two weeks will determine where we start in the playoffs, preferably at home with that first game, and what level of play we can achieve that will define our season."
Chasing down a beautiful dream
Won't you come follow me now now
Chasing down a beautiful dream
Won't you come dream with me now now
Eagle Fight Never Dies!