The St. Thomas Alumni Association has gifted the school with a $50,000 contribution to the 4500Forever Finish Strong capital campaign, the final fundraising initiative designed to complete the Joplin Campus expansion.
Association Vice President Dominic Savarino '88 (Tuscan '19) made the formal announcement with St. Thomas Vice President for Advancement Mark deTranaltes '83 during the recent Alumni Weekend celebration.
"We are ever-grateful for the Alumni Association for recognizing this significant development in our efforts to best serve our students, now and for decades to come," deTranaltes said. "This is an unprecedented move by the organization which is not built as a fundraising arm. They operate with limited resources so every single dollar is meaningful."
deTranaltes recalled discussions when the donation was first proposed.
"Within minutes a member suggested that theirs is a 'rainy day' reserve and that he couldn't identify a better 'rainy day' cause than helping the campus expand … that the future of St. Thomas is why they were all here. The response was immediate 100% approval which speaks to the group's loyalty to St. Thomas and appreciation of the contributions our students make to society."
The monumental acquisition to secure the adjacent property from HISD is a commitment by the Basilian Fathers and supporters to further strengthen St. Thomas' forward momentum at the vanguard of college preparatory education, not only in Texas but throughout the region.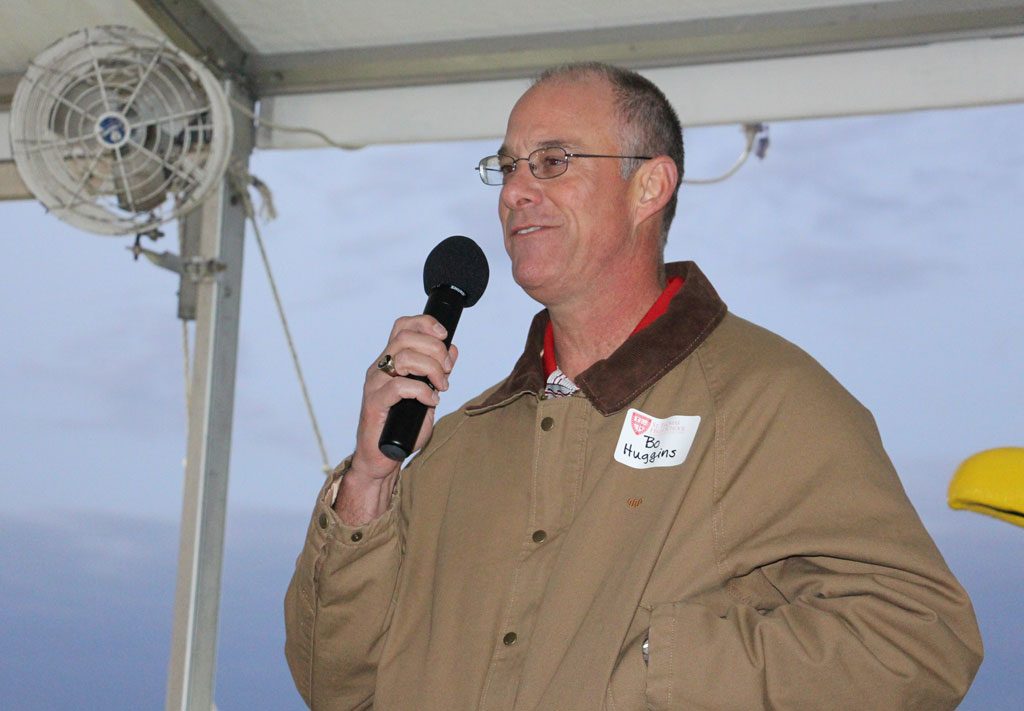 4500Forever Finish Strong, co-chaired by Amy and Bo Huggins (Pete '16, Ty '17 and Ben '19) has raised roughly $8 million of the necessary $12 million for the Joplin Campus redevelopment.
HISD broke ground in October 2016 on its new campus for the High School for Law and Justice at Scott St. and Coyle St. in East Downtown. The project is currently slated to be finished by June 2018 with St. Thomas then aiming to take full possession of the purchased property within 60-90 days.
"Our goal is for our current parents to recognize that we are gaining possession in short time," deTranaltes said. "Just as we were under an urgent deadline with the initial phase to make the purchase, we are now in a similar critical time frame to have bulldozers and crews on the curb at the soonest possible moment to begin the renovations to make the facilities St. Thomas worthy."
The Joplin Campus will include four new state-of-the-art science labs, an innovation lab, three technology classrooms, a robust area for foreign language, speech and publications, plus an expanded location designed exclusively for Eagle Broadcast Network and cutting-edge digital media services to support faith-based, academic, performance and athletics programming.
Also among the most notable features are a black box theater for drama and music rehearsals, an historic 600-seat theater to augment the Moran Fine Arts Building and Cemo Auditorium to better serve the performing arts, plus a vibrant 8,000 square foot student center dedicated to giving students the best out-of-classroom experience possible with a range of resources to meet their daily needs while fostering personal growth as they arrive early on campus or remain into the early evening hours.
Replacing the existing second floor weight and locker rooms will be an expanded science corridor with classrooms and four state-of-the-art technical labs for STEM (science, technology, engineering and math) curriculum which emphasizes a collaborative and applied approach to the four specific disciplines while providing students with a foundation to pursue a number of growing, in-demand careers.
The redevelopment actually begins with a new and improved location for Fr. Wilson Field and filling that vacancy with two natural grass practice fields to serve many of the 12 varsity sports of a surging Eagle athletic program which captured seven consecutive TAPPS all-sports awards from 2010-2016.
This commitment to the growth of Basilian education will enhance continued academic innovation, helping develop the complete student in STH's ever-diverse population, including a senior lounge, study rooms, club meeting rooms and a dining option area accommodating approximately 125 students.
"For more than a hundred years, our students and campus community have not only achieved, we have consistently exceeded even our own considerable expectations," president Fr. Kevin Storey, CSB said. "We recognize that we can do more and we will. With only a few short months remaining in this Finish Strong campaign, I know that we will once again show that, together, there is nothing St. Thomas cannot accomplish. Every single gift to this campaign … large or small … matters and will ensure that Eagles for generations have the opportunity to participate in the academic excellence and Basilian tradition at the heart of our community.
"We are forever blessed by the extraordinary generosity demonstrated so far … how much our supporters treasure the St. Thomas experience … and also showing those outside our community the incredible value of an investment in this institution. I genuinely look forward to completing this journey as we continue to work together."
4500Forever and 4500 Finish Strong are the most comprehensive financial efforts in the school's 118-year history, anchored by the legacy commitments from Dona and Al Clay '61, and Jane and Bill Joplin '54, in raising more than $60 million to provide an essential physical expansion and position St. Thomas to cultivate academic innovation, retain the finest teacher-scholars, dramatically enhance financial aid and student opportunities, all while continuing to build a premier Catholic college preparatory environment.
Catholic. Basilian. Teaching Goodness, Discipline and Knowledge since 1900.