GAME SEVEN – Hotze Field inside Granger Stadium
Tomball Concordia Lutheran 38
Eagle Football 31
WHAT YOU NEED TO KNOW
Quarterback Peyton Matocha '19 ran for two touchdowns and threw for a third but the Eagles (3-4) were outscored at home 24-10 after enjoying two early seven-point advantages to snap a three-game winning streak and drop their record to 1-1 in the district.
TURNING POINT
An injury-depleted Eagle defense allowed a touchdown on only six plays to open the second half and St. Thomas trailed for the first time at 28-21. After stoning TCL on its next offensive series, the Eagles fumbled the ensuing punt which was recovered and cashed in for an immediate field goal to raise the deficit to 31-21.
After kicker Jacob Manley '18 narrowed the gap back to a single-score margin, the Eagles were gashed on another six-play scoring series, with TCL converting two third downs to effectively put the game out of reach at 38-24.
RAPID REACTION
Head Coach Rich McGuire
"We lost another two-three defensive starters and just got worn down without the necessary depth. We trying to do some creative things, even an on-sides kick to keep the ball away and their offense off the field. It just didn't work out.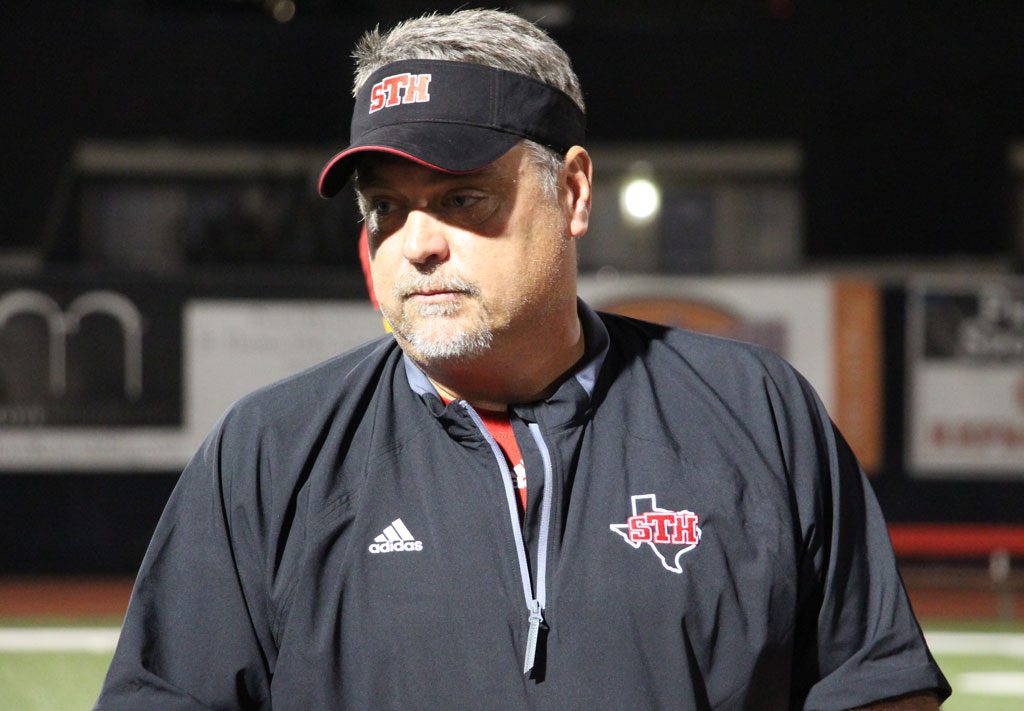 We put up enough points to win most games but we're just not holding up minus all the bodies on defense."
SMELLS LIKE TEEN SPIRIT
The Eagles opened the game as the latest offering in the Fast and Furious franchise. On the fourth snap Matocha connected with receiver Parker Nelms '18 deep in the TCL secondary, and he needed only to break through one ill-fated tackler for a 43-yard pitch-and-catch touchdown less than two minutes into the game.
TCL required just three plays to pull even, but Matocha quickly countered, crisply conducting a nine-play 68-yard drive in roughly four minutes, keeping from short range and diving for the right-corner pylon to make it 14-7.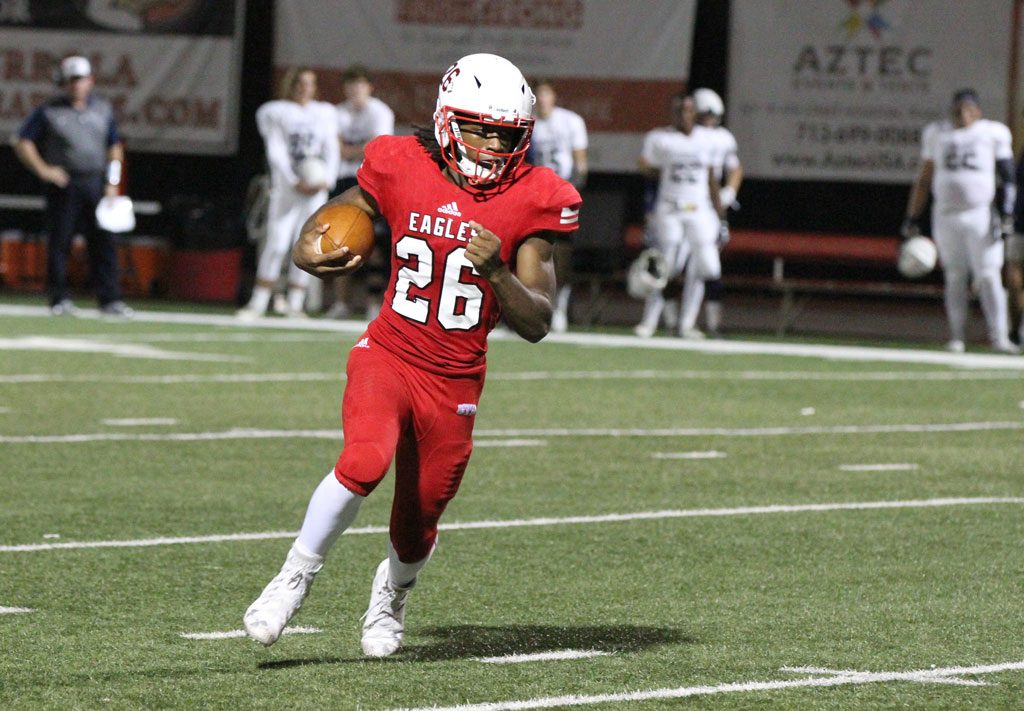 Early in the second quarter, the Eagles again turned up the tempo and turned a five-play series into points. Matocha and Nelms continued their tag-team assault with a pair of strikes worth 38 and 17 yards to set up running back Ian Wheeler '19 for the score and the third Eagle touchdown in four possessions.
PAINT IT BLACK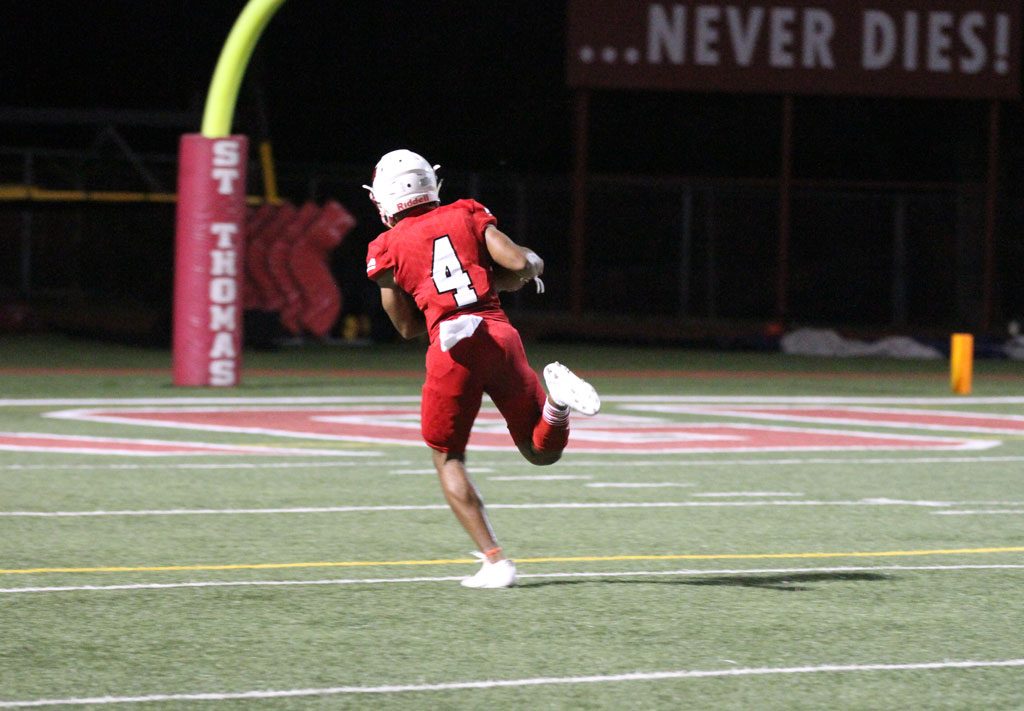 With less than six minutes remaining in the first half, Matocha perfectly pump-faked the TCL secondary and delivered a dart to Nelms for what appeared to be a 46-yard touchdown and a comfortable 28-14 cushion.
But the score was erased by a penalty and the series eventually ended with a 47-yard field goal sailing wide left.
TCL drew even before halftime at 21-21 and the Eagles never again captured the lead.
FRIDAY NIGHT FIVE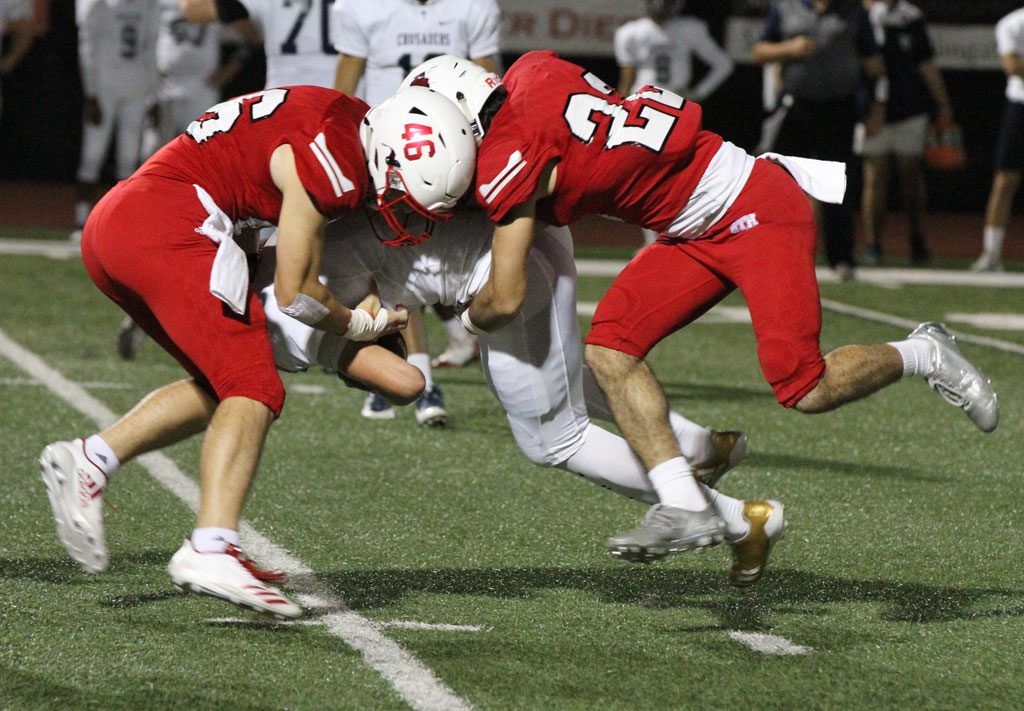 Late in the first period Brandon Hondros '19 and Eli Young '18 crashed in for a critical red zone stop and two plays later defensive back Jackson Reece '18 recovered a TCL fumble to keep the Eagles in front 14-7.
In the third quarter defensive back Hondros and linebacker Seth Dietz '19 keyed that second gut-determined stand, forcing TCL to settle for a 21-yard field goal after enjoying first-and-goal at the two-yard line.
Midway third period Dixon appeared to secure the most acrobatic grab of the season, rising at midfield on the right sideline to take in a Matocha throw, only to have a defensive back take out his legs from behind, flip and land upside down on the turf to have the ball dislodged and fall incomplete.
Trailing 38-24 in the final six minutes, Matocha found receiver Hunter Cheek '19 with a high arcing toss to the edge of the end zone. Cheek adjusted his route in the right corner, took in the floater and stepped in to cut the count to 38-31, only to see TCL bleed the final five and half minutes off the game clock in its next offensive series.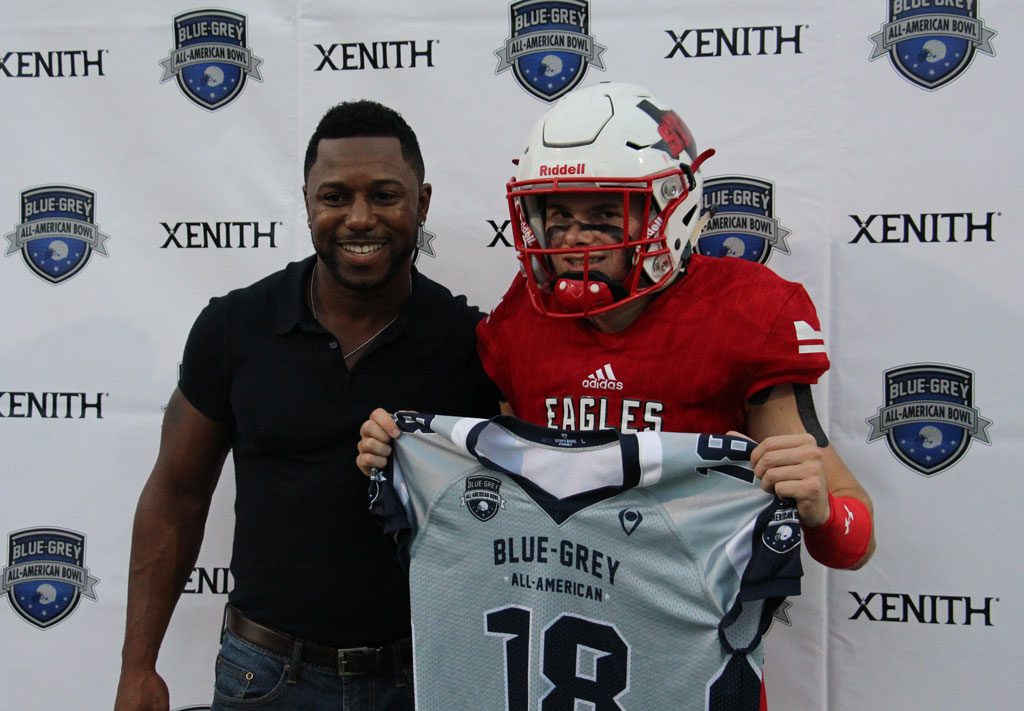 Before the game, Blaine McDaniel '18 was recognized after being selected to participate in the exclusive invite-only Blue-Grey All-American Bowls which are annually played at Dallas Cowboys' AT&T Stadium, Tampa Bay Buccaneers' Raymond James Stadium and Jacksonville Jaguars' EverBank Field.
SMASHMOUTH SERIES
The Eagles had owned the series with seven straight wins dating to 2012 by an average margin of 22 points (219-66).
STATE OF PLAY
The Eagles can still earn a share of the district title in what has become an annual high-stakes stare-down with St. Pius X.
The visit to close the regular-season presents a prime opportunity for what McGuire described 'shock the world' redemption, given his injury-racked roster and what would appear to be zero momentum overall.
Welcome to November, football's most important month, when teams either hear their names ringing among surging contenders or fading pretenders.
Oh, get around me now like a circle round' the sun
Hear my name ringin'
Ringin' when I'm done
UPCOMING
The generational series with SPX will determine at least a share of the district crown for the sixth consecutive year in the regular-season finale. A win for Eagle Football would likely result in a three-way tie for the title. A defeat would drop the Eagles to the third playoff slot and a road matchup in the first-round TAPPS Divison I playoff with the runner-up from District 1.
Prior to 2016, Eagle Football captured the previous two head-to-head matchups with SPX by a combined score of 87-33 and the four up-close encounters from 2012 by an average margin of 18 points.
MORE MCGUIRE
"There's still so much in front of us to play hard for … but we'll have to prove we have the maturity and mental toughness to answer the challenge … find the competitive edge moving forward. We'll find out if we can bring it or not. We'll have to pressure the quarterback (next week). I feel pretty good about our secondary but we obviously have to get some reasonable health."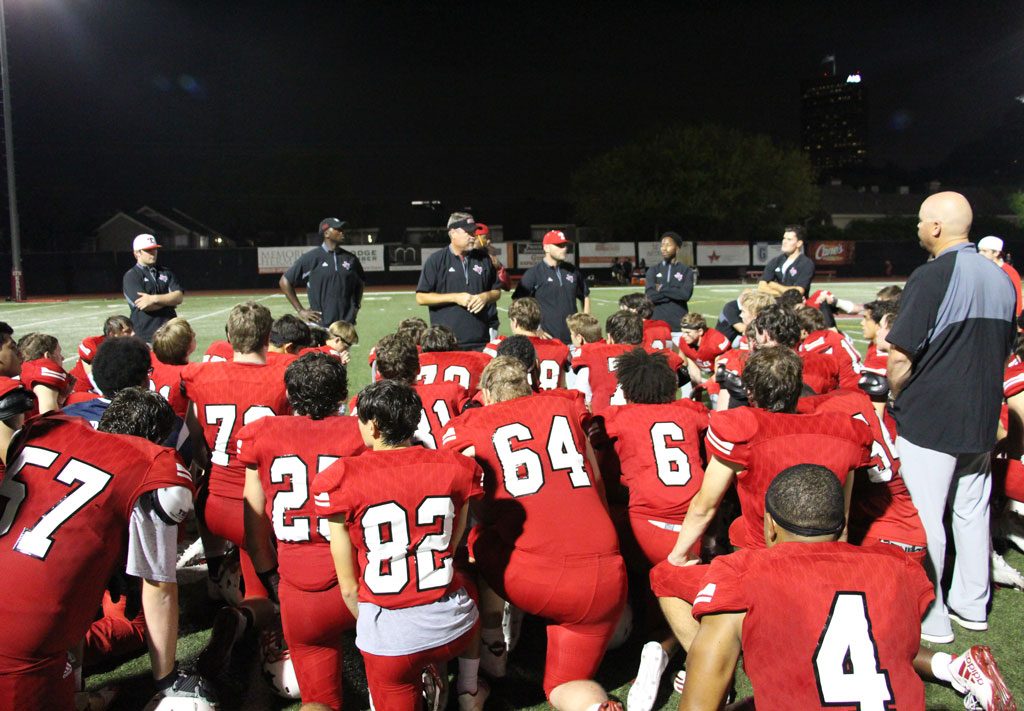 Hear my name ringin'
Hear it ringin'
Hear my name ringin'
Hear it ringin'
Hear my name ringin'
Hear it ringin'
Hear my name ringin'
Eagle Fight Never Dies!