The St. Thomas M&M Boys were paired side by side for the November National Signing Day just as they were in the state championship spotlight five months before, pillars supporting the second St. Thomas title in four years, fourth in eight years and 24th in the program's dynamic history.
But this traditional all-in Wednesday was a two-pronged individual celebration reserved for two-time all-state pitcher and thunder bat Owen Meaney '18 and his tag-team all-state catching partner Philip Matulia '18.
Meaney followed through with his September verbal commitment to the University of Texas while Matulia confirmed his April decision to next play for Louisiana Tech.
Meaney was sold on the depth of UT's academic support, their palatial athletic facilities and the program's rising momentum already underway with second-year head coach David Pierce.
"I really believe they're on the way to restoring Longhorn Baseball to where they're a nationally dominate program," Meaney said. "Coach Pierce really reminds me of (Eagle) coach (Ryan) Lousteau, same demeanor, allowing players to perform with an intense but relaxed confidence. The combination of excellent academics and athletics reminds me of St. Thomas, such a rich history of tradition and winning championships. That's what drew me to St. Thomas, that brotherhood, and history. I felt the same at UT."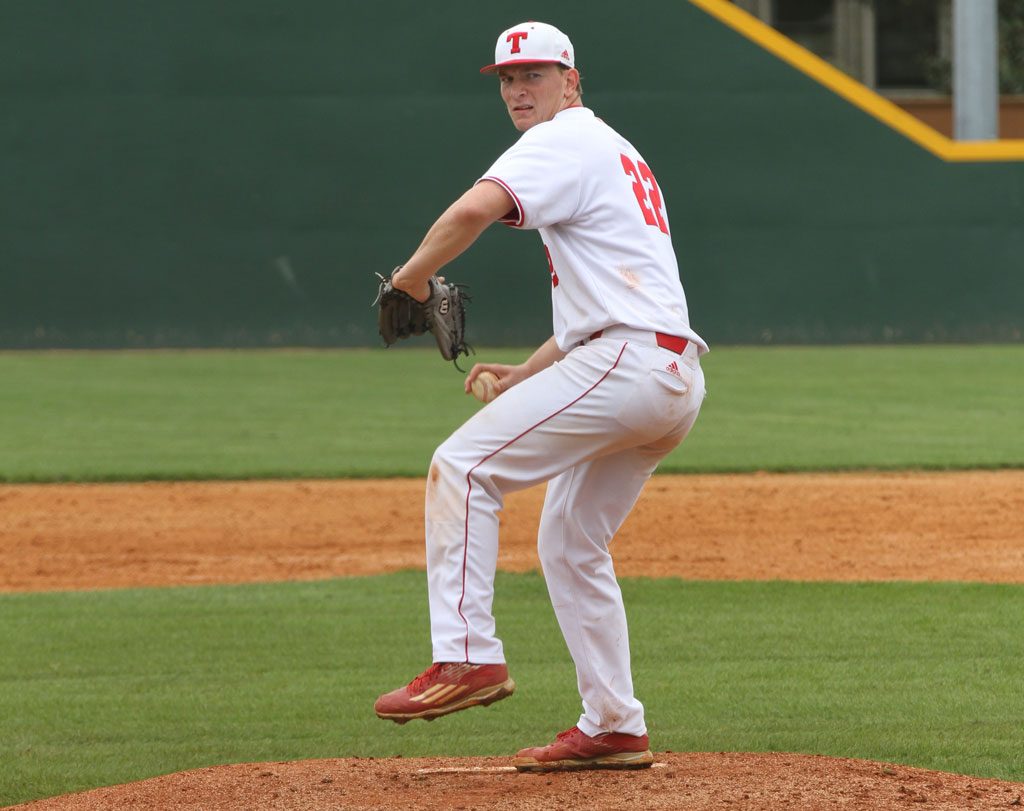 Lousteau marveled that "Owen has always shown great maturity and competitive edge. It starts with his repertoire and command and he's shown the scouts both. He's going to play for an outstanding coach in David and a staff that does an excellent job with pitchers. That group is tremendous developing talent."
Throughout his unbeaten junior season Meaney saturating the stat columns … eight wins with three shutouts while allowing only 21 hits and nine earned runs in 52 innings … striking out 90 … allowing opponents a .119 batting average.
And his most exhilarating exhibition of pitching and purpose, of nerve and verve, came in the TAPPS 6A state semifinals against Dallas Parish Episcopal, where with every pitch Meaney grew stronger … the at-bats grew fiercer … and the air in the windpipes of the opponent grew tighter.
In his first career playoff start, Meaney allowed an innocent single to lead-off the game … only two other base runners the rest of the way … finishing with a one-hit shutout … striking out 12 including seven of the last nine batters … AND drove in the game's only run with a fifth-inning single.
Matulia (the son of long-time St. Thomas Campus Ministry Director Marty Matulia) led Eagle Baseball in 2017 with eight home runs and 42 runs batted in … hitting .315 while slugging nearly .600 with a .433 on-base percentage … the only private school player to earn All-Greater Houston by the Chronicle … and all while making the transition from the outfield to his first full season as a starting catcher.
"Even though there was a certain formality to the day there was also excitement putting pen to paper and seeing my name alongside Louisiana Tech," Matulia said.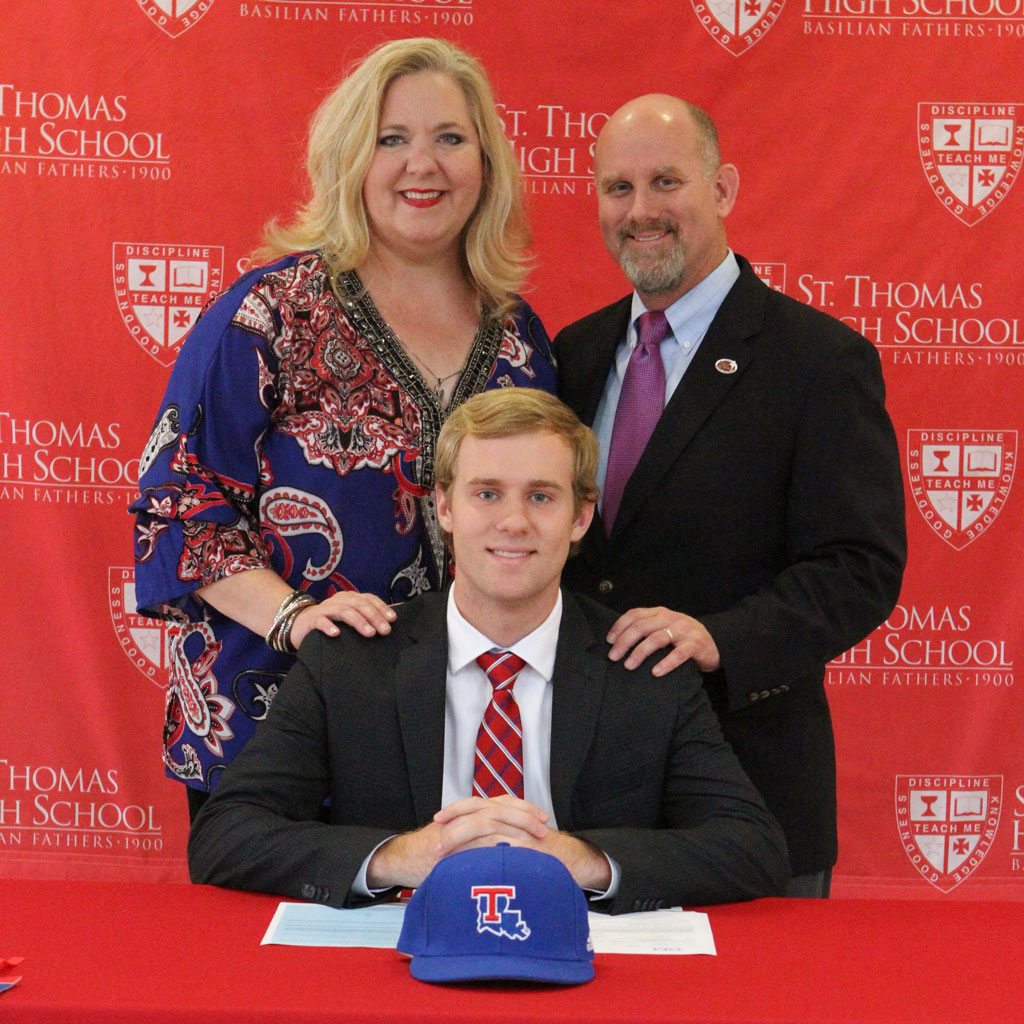 "The summer was really an affirmation that I was making the right move. And the more I distanced myself from my (verbal) commitment, the more I felt comfortable knowing where I was headed without dealing with all the pressure of scouts watching every move throughout my senior year."
The two Eagle brothers-in-arms shared not only the Hall of Honor stage but also a large dose of mutual respect and admiration as teammates with a bond beyond baseball.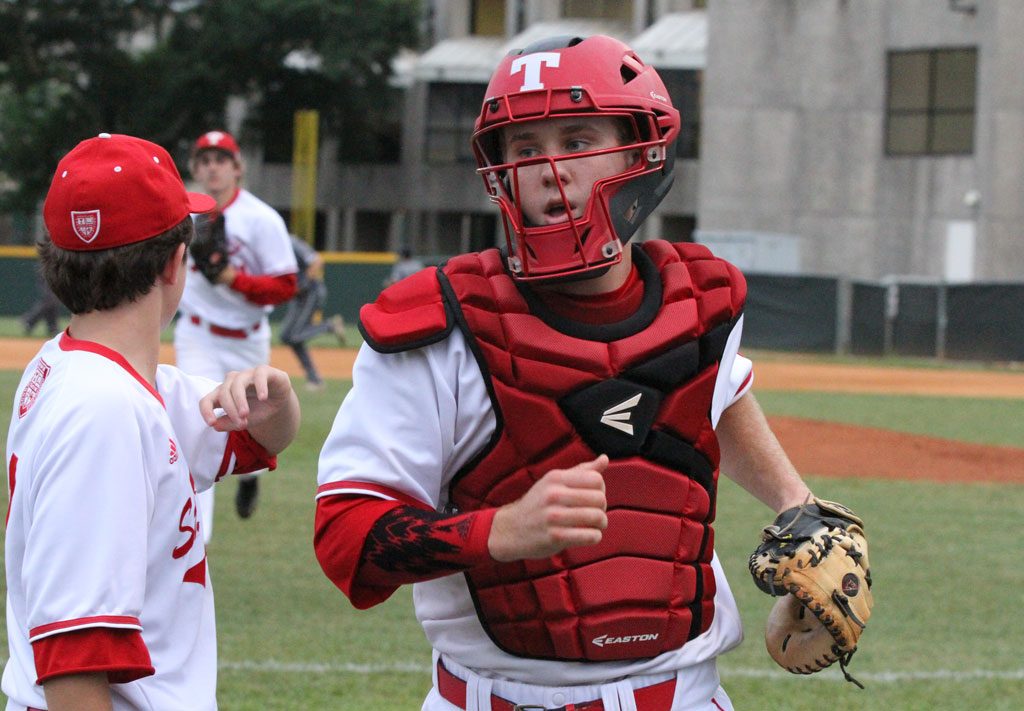 "I truly appreciate how Philip carries himself," Meaney said. "I remember meeting him the first day of my freshman year and we were instantaneously friends. We've been on this same baseball journey together, long and hard, and it's all come together for us both at the end."
Matulia says Meaney "has been such a valuable friend the last four years. I love his competitive nature, how he drives himself to be the best, and that drives me to do the same. Plus he's an incredibly giving person."
Following one more battery-mate season Matulia and Meaney will matriculate in separate directions, college destinations roughly 400 miles apart.
And if the two should eventually stare-down in a final at-bat to determine one team continuing a College World Series dream, and the other wallowing in heartbreak and heartburn, how might that mano-a-mano make out?
Matulia, with a slight pause of consideration: "I would like to think I could turn (the ball) off him. I would have to have a quick bat that's for sure. I obviously know his stuff, have an idea how he would pitch me. Perhaps there's an edge there somewhere."
Meaney, without one degree of hesitation or doubt: "I strike him out. Of course."
Eagle Fight Never Dies!