To commemorate his 50th appearance in a quick stage career already smart, accomplished and occasionally quirky, Parker Robertson '18 decided to submerge into something convincingly cruel and deliciously sinister … dripping in dark revenge, tragedy with heartbreak … all threaded by horror and coal-black humor.
Unrelenting grisliness. Just for giggles.
Robertson stepped out front and center in the musical thriller Sweeney Todd: The Demon Barber of Fleet Street, a weekend HITS version of Stephen Sondheim and Hugh Wheeler's 1979 musical macabre set in a gloomy London of the 1800s or thereabouts.
A tale of lost innocence, betrayal, the monstrous perversion of justice and a compulsive need for revenge, all while ruling out decency and mercy.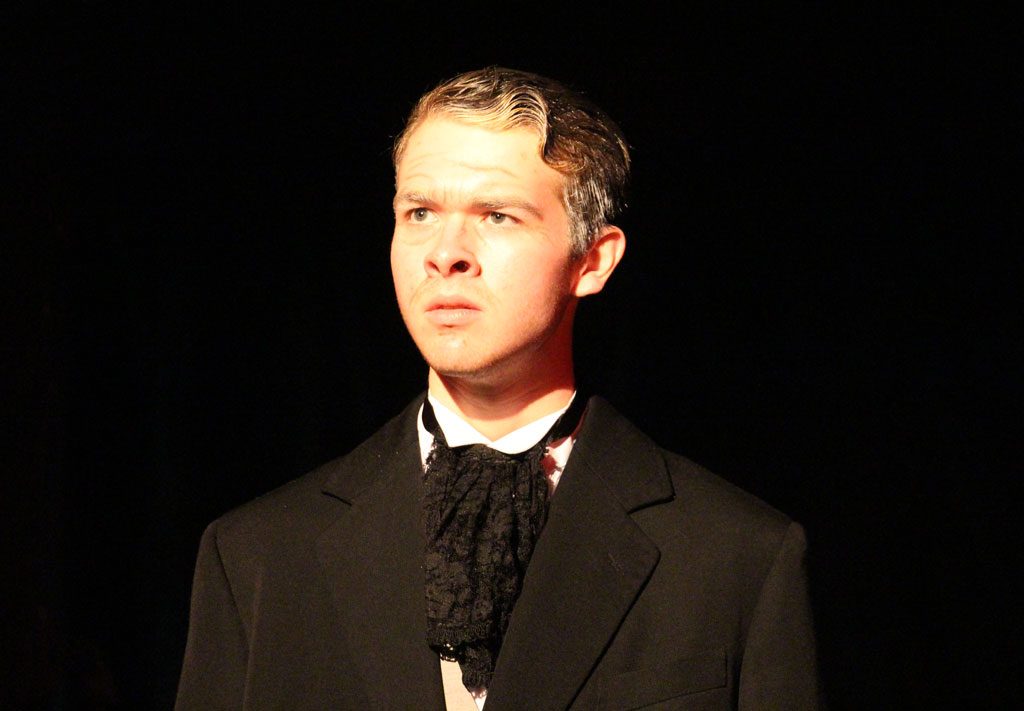 "The opportunity was inspiring and unlike any other I've experienced," Robertson says. "There's a quote that best describes my motivation. 'I'm not an actor because I want my photograph taken. I'm an actor because I want to be a part of the human exchange.' I don't care if it a classic or avant-garde … if the audience is 15, 50 or 5,000 … doesn't matter."
Robertson brought a fine wide-ranging voice, a chilling expressive presence and uncanny timing to the vile Judge Turpin who banishes the title character, born Benjamin Barker, to exile and imprisonment even though he had committed no crime.
The heartless Turpin then makes off with the younger man's lovely wife Lucy and young daughter Johanna, who grows up to become the hanging judge's ward and prisoner. He soon finds himself in the crosshairs of a bloodlust-obsessed antihero once Sweeney escapes and commences his one-man rampage of revenge.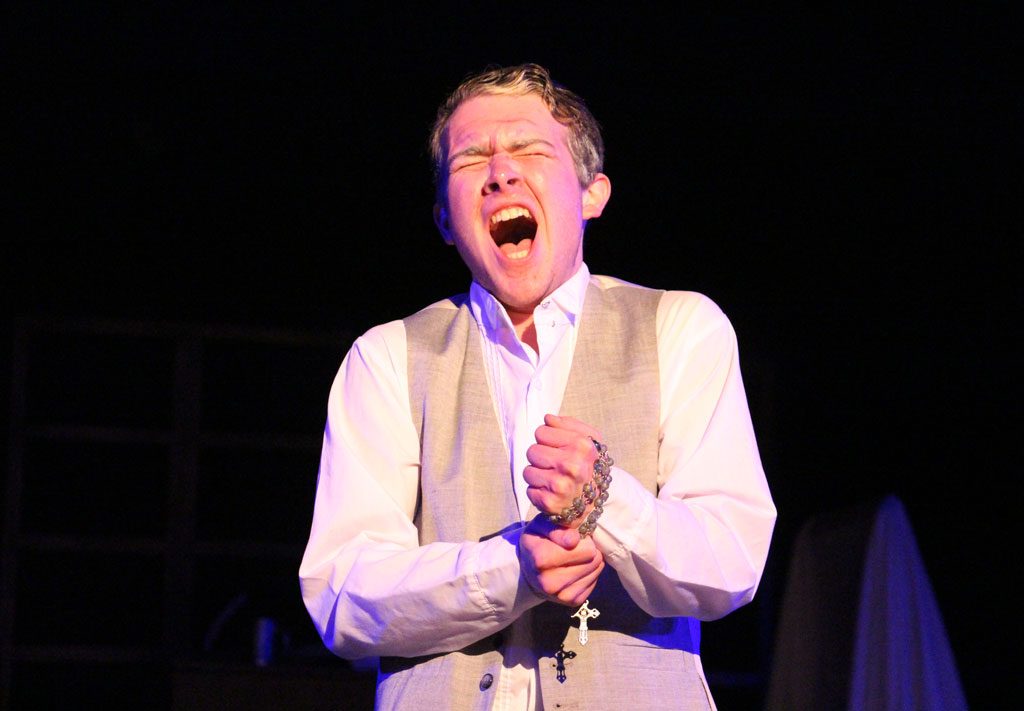 "Over the years I had listened to the show, seen the (2007 Tim Burton) film a couple of times, so you have an expectation of how you might play the character," Robertson says. "Alan Rickman was obviously great alongside Johnny Depp but as an actor, you want to discover something genuine to your talents … something unbiased to what you have previously seen … not simply an imitation of someone else but your own interpretation."
Given the real-life mayhem associated with Hurricane Harvey, Robertson and the cast had to adjust once the three-month, six-hour Saturday-only rehearsal schedule was truncated to five weeks.
Yet Robertson was still able to harness a serpentine charm while also discovering that sometimes evil can become him.
"I spent just as many hours in the mirror as reading alone … experimenting with facial expressions … morphing my face … adjusting posture … discovering the subtle physicality," he says.
"There's a zone … creepy, ominous … where you have to deep dive. That means pulling upon other works or art unrelated to the role … Rembrandt and El Greco portraits … anything to try to see how this guy views the world. The judge is dead behind the eyes so I searched for pictures of sharks who have that glass-eye, dolls-eye look. Inspiration can come from unpredictable sources."
Robertson was asked to portray a walking form of abusive privilege, a monster do-er of wrongs, "a dark role for any actor but especially demanding for a student," director Marley Wisnoski says. "I had to select someone who could handle the material, not only vocally, but also the heavy nature of the character. Parker was more than equal to the challenge. He came in and we agreed on a clever approach while still remaining true to the story."
Robertson and Wisnoski collaborated previously during the 2016 HITS production of Elf, The Musical Jr.
"Parker is a professional actor in the making, if he isn't there already," Wisnoski says. "He's fantastic as a performer … very smart … makes good choices. We have limited rehearsals (at HITS) and he's always prepared to the fullest … takes a very intelligent approach to every role. I've also worked with him in a stage management capacity … always organized … understands theatre in-and-out. It's always a joy to work with him."
The joy exuded for two-year-old Robertson when his parents provided his very first in-person exposure to the stage, Hello, Dolly! at Miller Outdoor Theatre.
"They've told me that their expectation was I might cry but apparently I was mesmerized, just stared at the performers for the entire show," Robertson says. "They asked me on the way home if I would wish to see the show again and my immediate answer was 'yes.' We went five times."
At age five Robertson was cast at HITS in Grease ("I had one line … Could she get me a friend? … from Summer Nights").
The litany of roles embraced by Robertson's burgeoning talent through the years at HITS, Miller Outdoor, plus productions at St. Thomas and Duchesne Academy of the Sacred Heart include …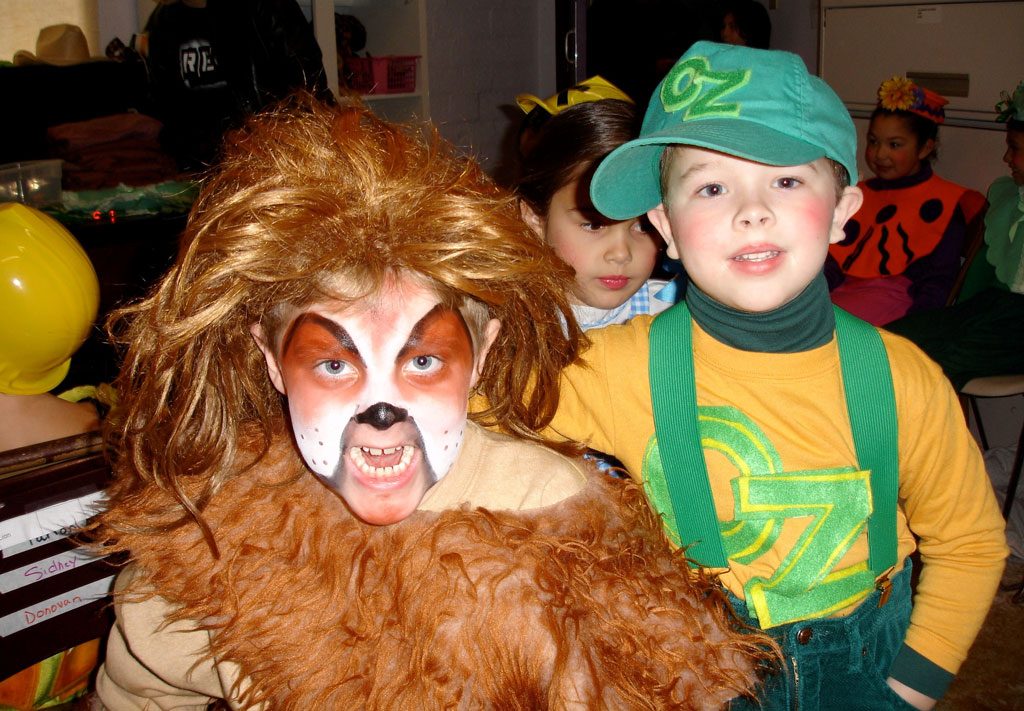 The Wiz in 2005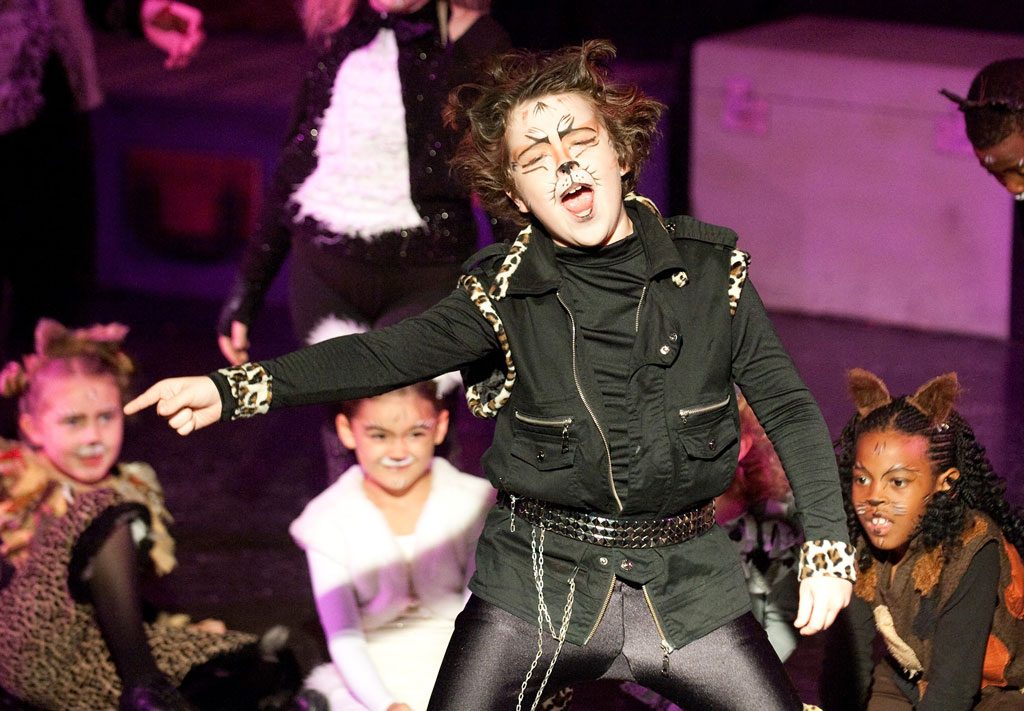 Cats in 2010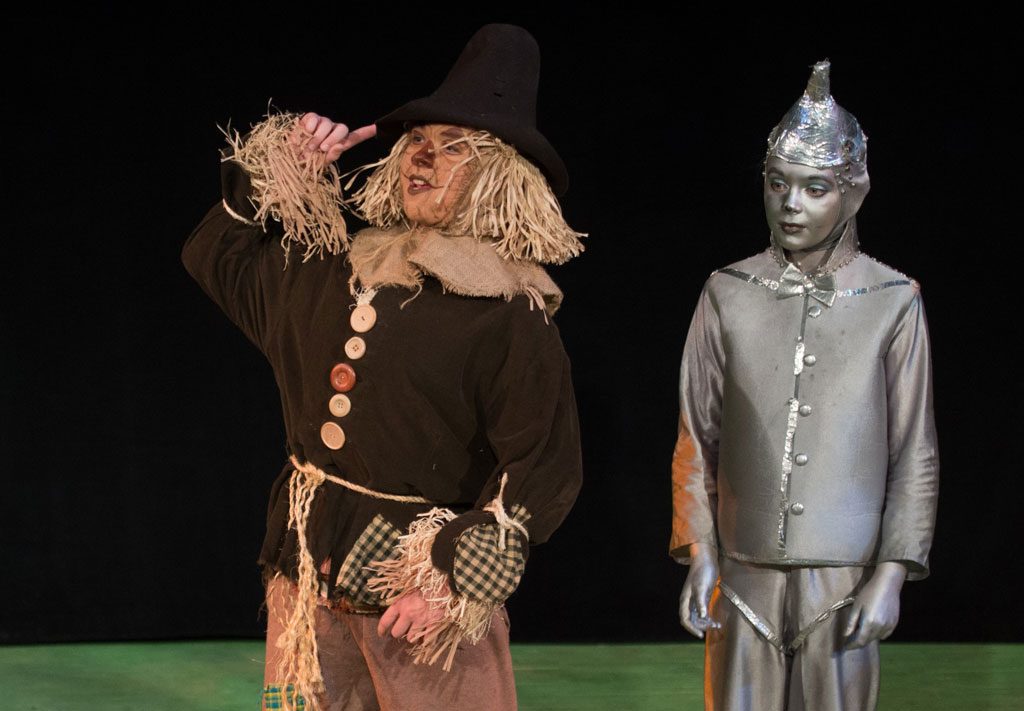 The Wizard of Oz in 2012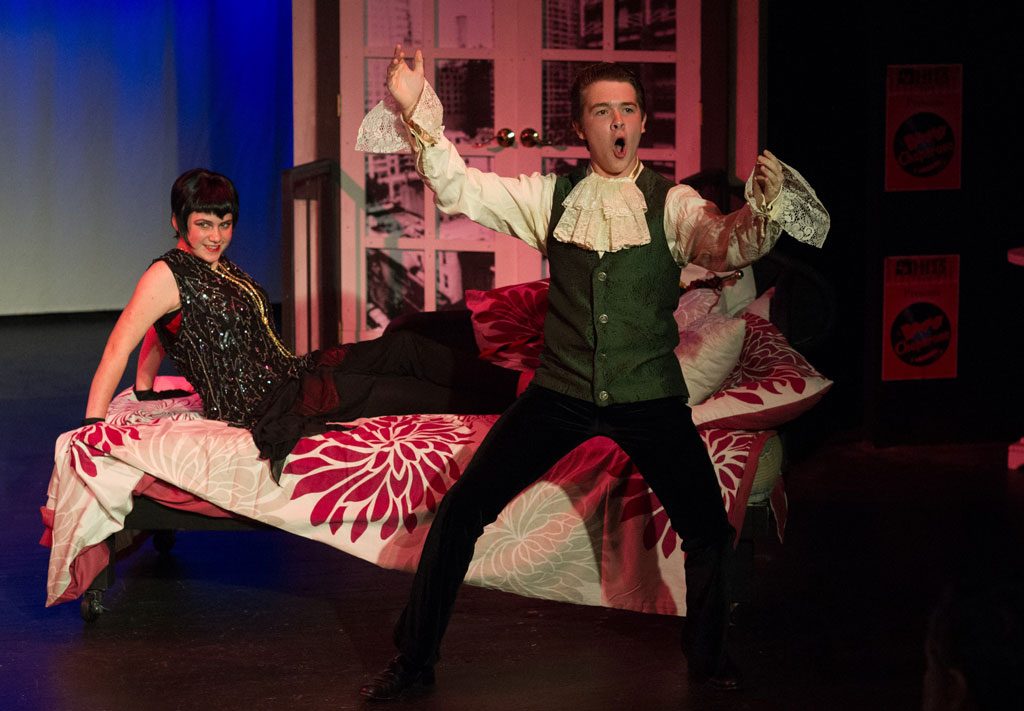 The Drowsy Chaperone in 2013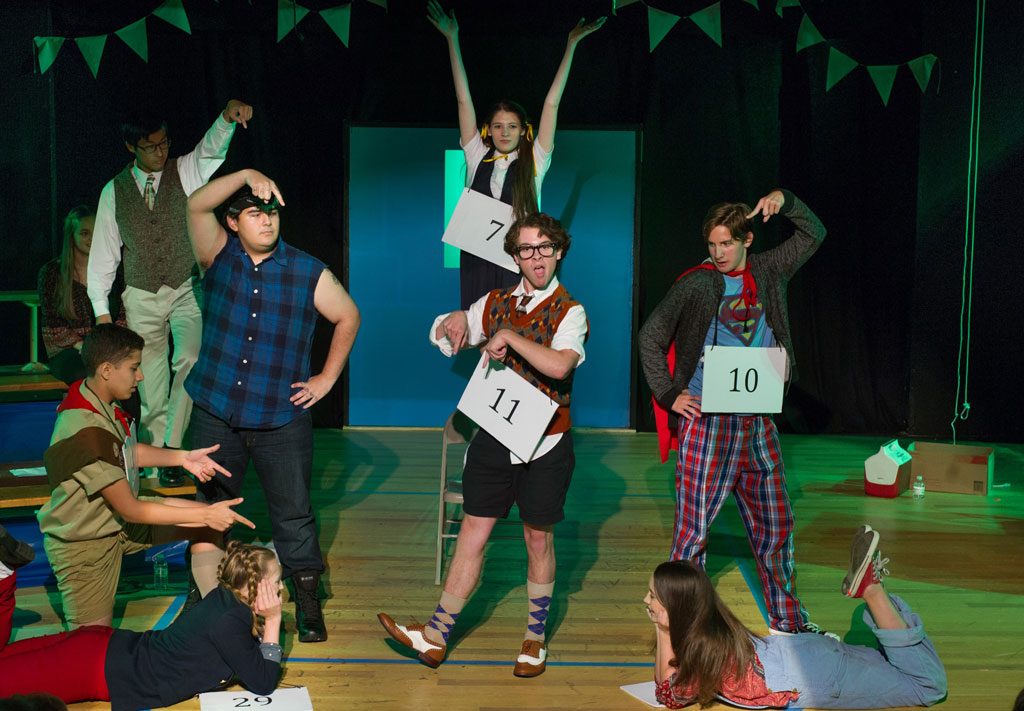 The 25th Annual Putnam County Spelling Bee in 2016
The robust Robertson seized the Cemo Auditorium stage in only his second St. Thomas production with the colorful and explosive Action in West Side Story … followed with the not-so-foolish fool Feste in Twelfth Night, a jester who thoroughly embodied the spirit and folly of the madcap festivities … and then delivered a devilishly delightful pitch-perfect performance as the patriarch Gomez in The Addams Family.
"West Side and Twelfth Night were my favorites because of the amount of preparation demanded," Robertson says. "The Action character is hot-headed so I spent months with physical workouts and searching for that emotional rage. For Twelfth Night I lost 20 pounds over the summer, grew my hair out to play a vagrant type.
"(Director) Dan Green has such a passion and vision for each production and each performer. We developed an instant rapport that allowed me to finely tune those roles with a strategy that allowed me to grow and develop this craft in a way might not have otherwise."
Robertson is banking that his best if yet come, committed to further his acting career following his fast-approaching St. Thomas graduation. He's targeting more than a dozen destinations in a process as exhausting as it is competitive with scrutiny well beyond the academic admissions process.
Additional written essays … digital portfolios … pre-screen videos to reach an audition phase. Many of the call-back auditions then on campuses but also part of the mix are "unifieds" held in New York in January, Chicago and Los Angeles in February, where more than 30 universities and theatre programs conduct simultaneous auditions and interviews for entry.
"The possibilities are literally all over the map," Robertson says. "Rider University (New Jersey), North Carolina School of the Arts, Boston University, SUNY (State University of New York) Purchase. Texas State has an amazing theatre program. Their musical department accepts only 14 students a year. It's exciting and humbling all at the same time."
Catholic. Basilian. Teaching Goodness, Discipline and Knowledge since 1900.