Marty Matulia was only a few months into his new role as the campus ministry director when he quickly gained an acute understanding for the value of student mission trips and "the power of paying it forward."
Now in the closing weeks of his deeply impactful and respected 16-year tenure, the one-time college hardball hand describes his final St. Thomas effort as the "grand slam home run in the bottom of the ninth inning."
In March Matulia teamed with Dads' Club cohorts Rafael Garcia and Ed Cordes, along with faculty member Danny Hernandez '08 and Johnny Sangree '04, in leading 11 Eagle students to a region of unmatched aesthetic beauty buffered by the most unsavory of underbellies.
For decades Honduras has forged a difficult time dodging its decidedly dangerous identity and long history of military rule, corruption, crime and poverty which have rendered it one of the least developed and most unstable countries in Latin America.
That stunted political and economic growth lies in stark contrast to the country's untrammeled natural resources, the mesmerizing views of Caribbean coral forests and the world's second-largest reef system.
Along with the breathtaking Bay Islands and award-winning West Bay Beach in Roatán are 91 protected areas and national parks, impressive archaeological sites, and exquisite bird watching opportunities of more than 750 different species.
Yet …
Between 2010 and 2015, Honduras had the highest murder rate in the world.
Routinely more than 60% of the nearly nine million in population live in poverty while more than 40% of Hondurans live in extreme poverty, many in rural areas, outside of the two most populous cities, Tegucigalpa and San Pedro, where farming is the main source of income and survival.
Modest economic and equality gains were briefly notable until President Manuel Zelaya was deposed in a 2009 military coup that has stalled the redistribution of wealth.
Although primary-school enrollment is near 100%, educational quality is poor, the drop-out rate and grade repetition remain high, and teacher and school accountability are low.
In the mix of such incongruity, social upheaval and economic inequality, the St. Thomas contingent was welcomed to a Catholic retreat center that serves as a boarding house for 16 male students aged 15-21 where academic opportunity is combined with a daily work exchange. They shared in simple but comfortable cabana-style dormitories, communal meals, bilingual liturgies, safely harbored where the division of culture, language, history and lifestyle was immediately dissolved.
"Such innocence and joy in these young men despite their economic strains," Matulia says. "They were so excited to see us, just starved for male interaction, even with the adults, among the so many things we often take for granted in the United States. These young men understand they're receiving educational options available to so few others in their villages. There's also the hope a handful will continue at the seminary."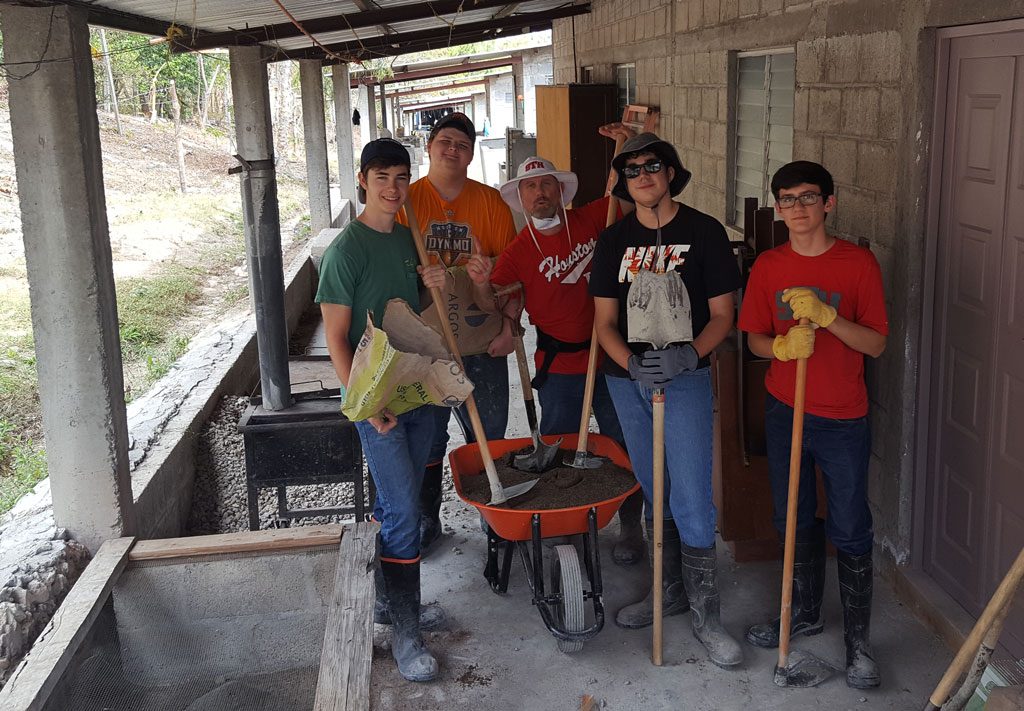 The mission group provided a permanent and immediate difference in the life of those in need, delivering manpower and construction assistance, building materials and tools for a week of meaningful day-long work projects, creating two high-functioning water tanks, one devoted exclusively for tilapia with the intent that the aquaculture will promote sustainable development.
"The most compelling element in any mission trip is building community," Matulia says. "This is a third world area but we arrived as partners, taking direction to assist their existing needs."
And most evident to Matulia from the immersion was that the poverty hadn't stripped the people of an unwavering spirit and faith.
"Their reverence for Christ and the Church is remarkable," Matulia says. "Even without a weekly routine for Mass the students will gather and do the liturgy together, are responsible for the readings and even the reflection."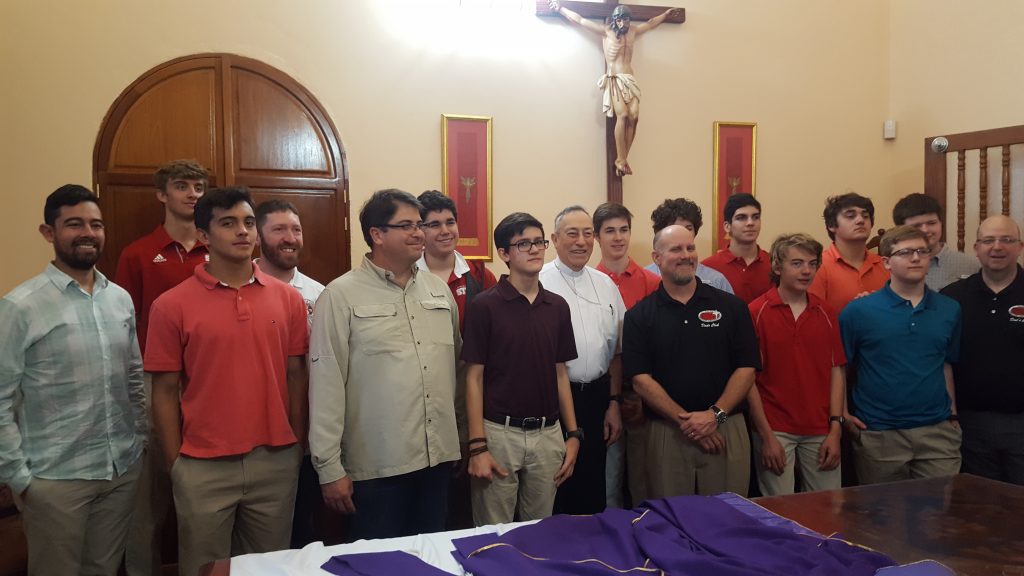 The St. Thomas Sunday began with a 5:00 a.m. wakeup call for Mass with Cardinal Óscar Rodríguez Maradiaga, the Archbishop of Tegucigalpa, who also provided a private audience in the sacristy.
The group then explored the solitude of the uninhabited outskirts, including a three-hour hike through hillside paths, lush tropics and rugged terrain that included waterfalls and cascades.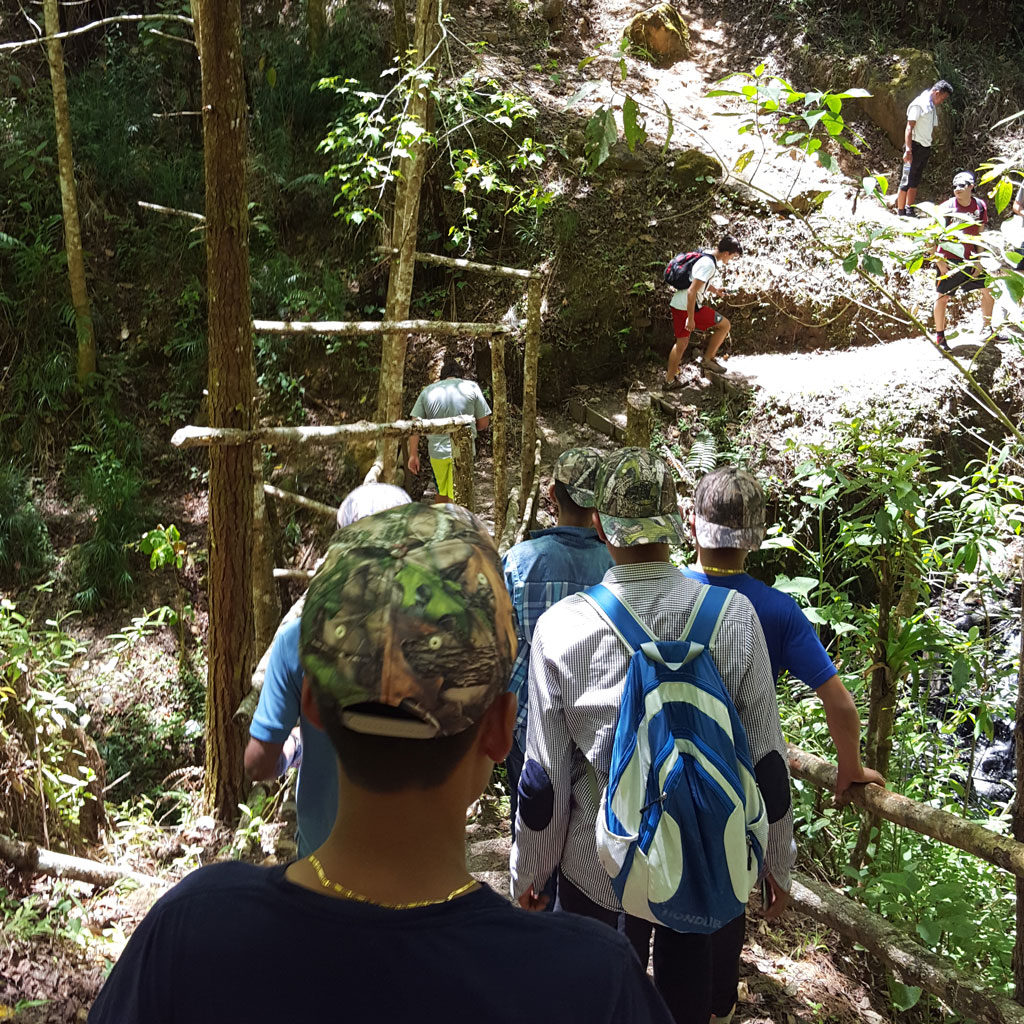 Breaks from the physical labor included Eagle scholars contributing to nightly English tutorial, a Karaoke session high in hilarity, and a midweek soccer match that found Matulia, appropriately clad in the official blue and white scheme of the Los Catrachos national team, serving as goalkeeper for the host Hondurans, who also claimed Rafael's younger son Diego '18, given his mother's Honduran dissent.
"We kicked their butt, a slaughter," Matulia says with a laugh and only slight nod to the obvious talent and tactical advantages. "I gave up only one goal … just the best time."
The traveling party also sampled Valle de Angeles (Valley of the Angels), part of a circuit about 30 minutes outside of Tegucigalpa restored to the charm of the old Spanish Colonial mining towns, featuring a variety of restaurants, souvenir and wood carving shops.
"Our group never once felt unsafe," Matulia says.
And never has a more unlikely providence-spawned pairing produced the likes of Marty and Rafael.
Originally from Cuba, Garcia grew up in Honduras attending the American school in Tegucigalpa, then spent his senior high school year in Jacksonville, Florida, before enrolling at Georgia Tech. As an undergraduate, he would visit his future wife Claudia who was attending Virginia Tech. On random weekends the two would travel to nearby Radford College in Virginia where Matulia was a student-athlete helping merge Highlander baseball into Division I Big South competition.
"Believe it or not, the three of us actually met even though we didn't know each other," Matulia tells with utter amazement of an against-all-odds encounter. "Rafael and Claudia had a mutual friend who attended Radford, a student I knew casually. They would visit her, attend Mass on Sundays. I distinctly remember them as a couple, and years later at St. Thomas I recognized I had met them both. In 1988. In Radford, Virginia."
The absurd re-introduction occurred six years ago as Rafael's older son Daniel '16 was emerging as a consistent presence within St. Thomas Campus Ministry, an enthusiastic volunteer with an unwavering commitment helping others, taking a cue from his father who has supported the Honduran retreat center financially for years and convinced Matulia the site would prove ideal for the next St. Thomas service project.
Matulia initially collaborated his student mission efforts with Bruce Clay, the brother of longtime St. Thomas benefactor Al Clay '61, whose leadership gift was essential to the 4500Forever capital campaign.
What Clay and Matulia launched in 2003 with an Eagle excursion with St. Pius X to north central Mexico morphed into a six-year pilgrimage … and was followed by consecutive years to hurricane-ravaged Hackberry, Louisiana … then to Eagle Pass in 2011… Joplin, Missouri in the wake of devastating 2012 tornado damage … Weslaco in 2013-14 … all in the run-up to international trips that landed Eagle students in Nicaragua in 2015, Cuba in 2016 and Honduras … each and every group fostering lasting commitments to social justice and the underserved.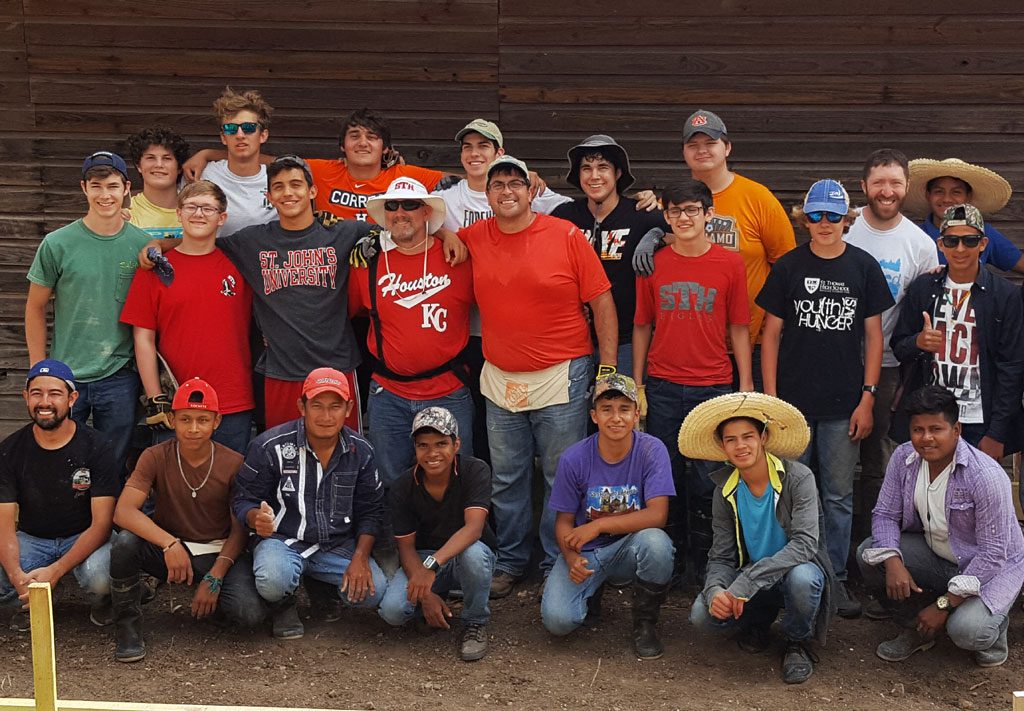 "We've been able to touch only very small corners of the world but in a sense, we've been bridge-makers," Matulia says. "We brought our resources, expertise, compassion, blessings … ourselves … and tried to make a small difference. Yet, what we all have received in return is beyond measure, more than I can fully explain."
Eagles attending the Nicaraguan mission trip included Diego Garcia '18, Jake Moreau '18, Marcus Gutierrez '18, Cole Letlow '19, Matthew O'Connor '19, John Sparks '19, John Cordes '19, Luke Pane '20, John Lucas '20, Alex Wise '20, Alex Kinsel '21, with faculty member Danny Hernandez '08, Johnny Sangree '04, Rafael Garcia and Ed Cordes.
Catholic. Basilian. Teaching Goodness, Discipline and Knowledge since 1900.