The St. Thomas spring musical unleashed a killer comedy complete with brass and sass showcasing a bevy of theatrical talents and illuminating backstage expertise.
Curtains premiered in March on the Cemo Auditorium stage, the breezy Tony-award nominated murder-mystery whodunit from 2007 Broadway, the last big show created by John Kander (composer) and Fred Ebb (lyricist), the formidable team responsible for Cabaret, Chicago and Kiss of the Spider Woman.
"I wanted to do an ensemble piece that gave our really deep senior class the opportunity to have fun," director Dan Green said. "This offered eight-10 strong roles and a number of great numbers for the entire cast. There is a particular challenge in assuring each actor has his or her moment. There's an element of patience for both the performers and the audience but we all enjoyed a big payoff by the end."
Curtains unfolds in Boston's 1959 Colonial Theatre, where untalented unlikable Jessica Cranshaw (Alyssa Moreno, Incarnate Word Academy '18), the hapless star of a tryout musical-within-the-musical Robbin' Hood, is poisoned on opening night during the curtain call, and local detective and musical theater fan Frank Cioffi (Parker Robertson '18) arrives to investigate the dirty deed.
Cioffi lines up and quarantines the usual showbiz suspects but quickly the lure of the theater proves irresistible for the tune-humming lieutenant. The stagestruck sleuth is drawn with equal vigor toward making the show a hit, as he is in solving the murder, just as crazed for cues as clues.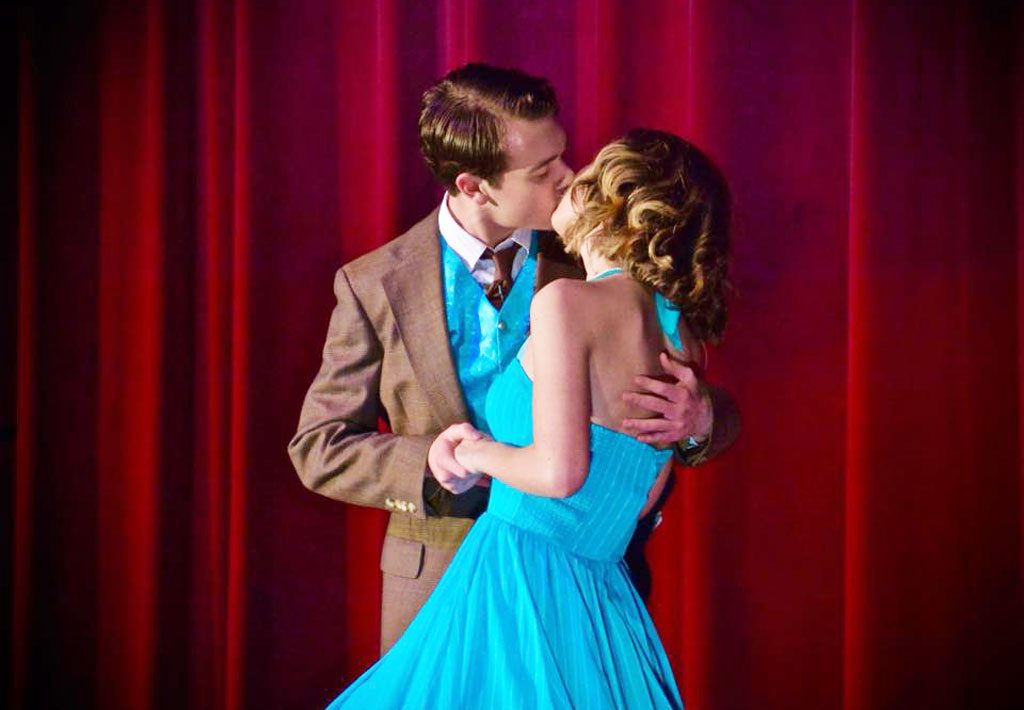 As an unexpected romance blooms with ingenue Niki Harris (Abby Meyer, IWA '18), Cioffi eliminates her from suspicion but is still left with a long list of possible culprits to consider: properly pugnacious and battle-scarred producers Carmen and Sidney Bernstein (Emma Loden, IWA '18 and Michael Banks '18) … lyricist-turned-reluctant-star Georgia Hendricks (Susannah Wilson, IWA '18) and her former hubby, composer Aaron Fox (Dante Segura '19) … snide director Christopher Belling (scene-stealing Carl Collins '19) … choreographer and leading man Bobby Pepper (Jake Moreau '18) … soubrette Bambi Bernet (Caitlyn Gilliam, St. Agnes Academy '20), who also happens to be the Bernstein's daughter … stage manager Johnny Harmon (Cooper Gottschalk '18) … deep pocket investor Oscar Shapiro (Isaac Flanagan '18) … smug theater critic Daryl Grady (Michael Patton '18) … and, well, the rest of the Robbin' Hood cast.
A complex plot only begins with financially motivated producers, scheming understudies, feuding songwriting exes, all colliding over a crisis-riddled musical. So many motives, so little time, because the show must go on!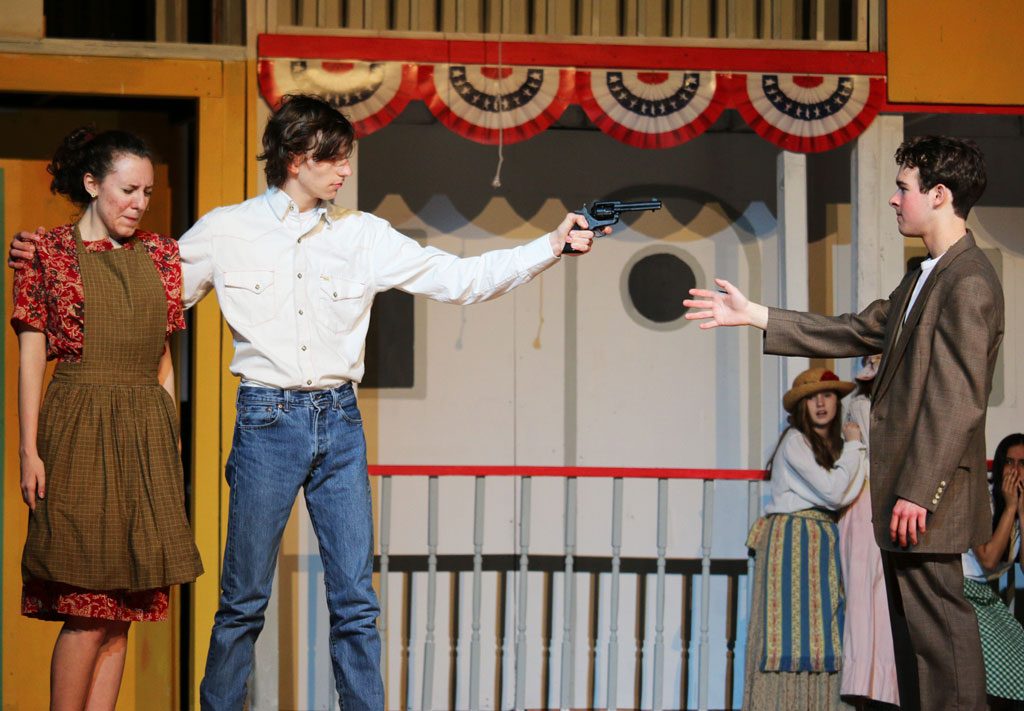 Complications abound and the body counts mount as unwieldy characters spar and jab and bicker and barb.
The assorted cloak-and-dagger aspects smartly directed by Green and Teresa Stranahan all came together to create a rowdy and campy tongue-in-cheek series of madcap settings for a cast of oversized personalities zipping through the material, ping-ponging off set-up lines with equal aplomb.
"I really admired the ethic and dedication during rehearsals as our stage became complete," Green said. "We were largely off-stage until the week of the engagement, and then re-packaged and assembled in a matter of five days. And our understudies provided great force and depth to the cast. They proved to be as accomplished and well respected as the principals."
Leading a stellar group of senior actors and crew members making their grand St. Thomas finales, Robertson shined in the rich dialogue-driven role of the charming gumshoe/de facto show doctor, delivering a commanding centerpiece performance that included a magnetic Fred-and-Ginger tap-dance number with Meyer that flashed impeccable comedic timing and their quick-witted chemistry, all part of an entertaining engagement buoyed by splendid support characters played with assured control.
"I had watched videos of (Tony Award-winning) David Hyde Pierce and his delivery was completely different than the interpretation I chose," Robertson said. "His approach was much dryer … obviously hilarious … and that's a testament to the strength of the material that the character can be driven any number of ways.
"This was as demanding as any production I've been involved with at St. Thomas. Up until the final show, we were subtly making changes to extract the most from everyone. I've looking to study straight acting moving forward (at the university level) so this is probably the final musical I'll be involved in and the last here with a great group. The focus from everyone throughout the process was let's make sure this our best-ever show. Not until we took those final bows did we become somewhat reflective and understand all we had shared during these years together."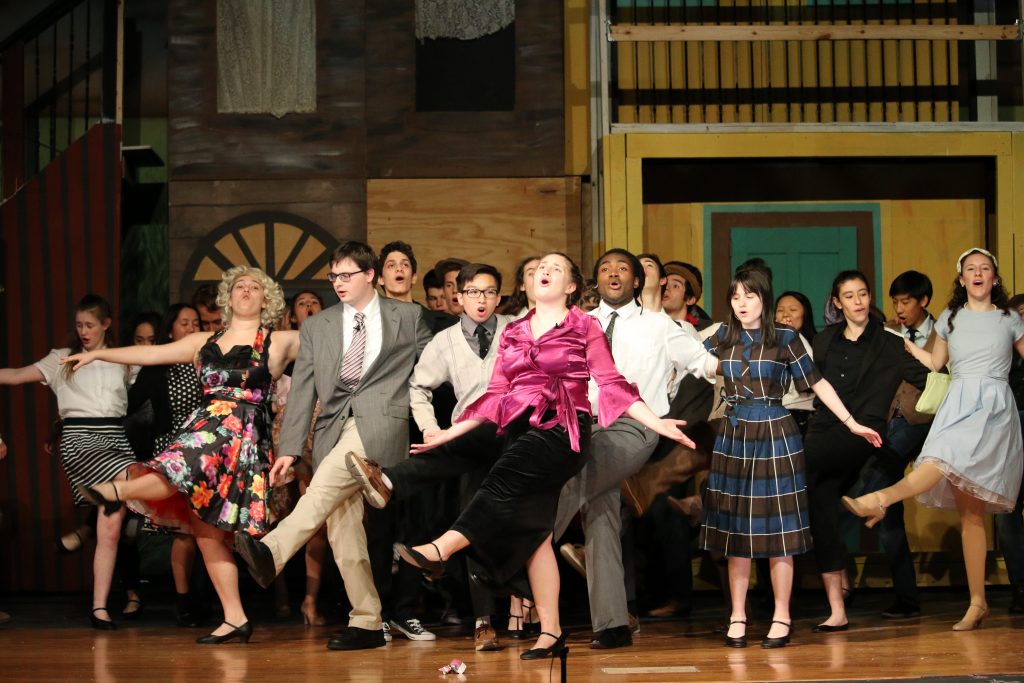 The lavish expenditure of energy by a top-of-the-line cast included a script firing a tireless fusillade of jokes, witty wisecracks, delightful dance numbers, colorful inventive sets and costumes, all cleverly choreographed for a large contingent of proficient performers giving a maximum effort and matching the full array of skills and craftsmanship from a legion of contributors.
"(Faculty member) Elizabeth Schaeperkoetter and (University of St. Thomas drama student) Iris Lacsamana were remarkable instructing tap-dance in three weeks or less," Green said as he rattled off a litany of unsung supporters.
"(Faculty member) Chris Patton, his mother (Debbie) and younger brother (Michael) have now given to nearly a dozen productions. (Faculty member and alumnus) Daniel Bryant and Chris Hodge were invaluable in designing the set and the LED stairwell. Katy Neaves (mother of Andrew Neaves '17 now studying and performing at the University of Southern California) … (senior) Joseph Hassell on our light crew for six shows … (senior) Josh Genheimer on the set crew for seven … the efforts are endless.
"I've seen so many of these seniors mature since the fifth, sixth, seventh grades. Their talent is undeniable but their heart and dedication are what we'll miss the most. And Isaac Flanagan embodies the spirit of what we hope all of our actors will embrace and take as far as they can."
Catholic. Basilian. Teaching Goodness, Discipline and Knowledge since 1900.