Jack Green '18 is driven to fulfill a life of impact.
He enters the famed Wharton School of the University of Pennsylvania at a time when it is rated as the best business school in the United States for the first time by Forbes in its 10th biennial rankings in part to the highest salaries for alumni five years after leaving school.
And before arriving on campus Green has already carved a notable distinction among that incoming freshman class. He is one of only 125 graduating high school seniors from across the United States who qualified for the exclusive four-year Immediate Scholarship Reservation (ISR) as part of the Navy Reserve Officer Training Corps (ROTC) program.
Green parlayed his stellar academic credentials and profile with the ROTC commitment into full tuition and additional financial benefits up to $180,000. Last fall his strongly competitive ACT score, coupled with his St. Thomas GPA and extensive extracurriculars, immediately accelerated his ROTC application. During the interview process, he emphatically conveyed the persistence, perseverance, compassion and character qualities the Navy seeks to separate from the pack of applicants.
"This is all about leadership," Green said. "To me, that's what the military embodies more than anything else. That was the thrust in all my essays and one-on-one encounters with interviewers. There's no question that the combination of Wharton and the Navy will give me the means to grow as the leader I strive to be in any role I find myself professionally and personally."
The Navy ROTC program requires students to gain college admittance on their own merits then seek to apply the scholarship to five select university destinations in order of preference.
Green originally positioned Harvard University as his preferred choice with UPenn number two. But just prior to the admissions deadlines in the spring he received a call from a university representative his immediate Ivy League interest.
"I told him I would absolutely commit if offered the opportunity," Green said. "Within a week I was notified I had received the recommendation and I was in Wharton."
[

CLICK HERE FOR THE EAGLES' NEST SPRING 2018

]

There is no service obligation incurred for the first year of Navy-sponsored college tuition.

Once his degree requirements at Wharton are complete, Green will be commissioned as a Naval officer and serve a minimum five-year active duty. He'll expand his rigorous Wharton curriculum with ROTC electives, including Naval Sciences, Calculus, Physics and courses relating to national security policy and military history/affairs while also participating in ROTC training on campus and in special programs and camps throughout the calendar year.

Green (who also received a Presidential Scholarship to Southern Methodist University) credits a collaborative effort from staff members in the St. Thomas Learning and Enrichment Center (LEC) along with faculty for establishing an "attack plan" that proved to be an invaluable catalyst fueling his academic success.

Directly after arriving as a freshman from St. Vincent de Paul Catholic School, Green embraced a streamlined approach for organizing and prioritizing his daily routine, from note-taking to exam preparation to teacher consultation, all forging a highly disciplined and overarching strategy that eventually provided the path to UPenn.

"(The LEC) really got me into shape that first year and that made a huge difference," Green said. "The emphasis was to keep the structure simple. Improve the focus. Trust the study skills. My teachers were a direct extension. I came to class every day knowing the demands, the deadlines, no excuses. I had to be on the mark every day and that environment really helped me develop the necessary foundation.

"And I can't describe the extra support I received from the Dean of Students office during the ROTC process. Whatever I needed, whenever I needed was always there."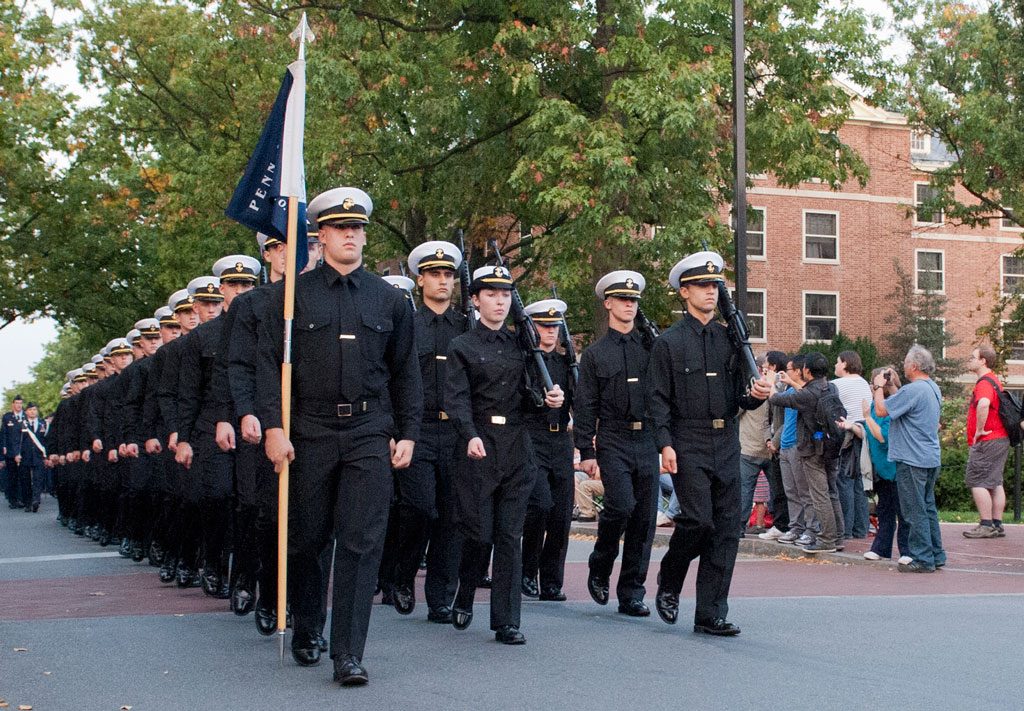 Moving forward Green is expected to embody the Navy culture of integrity, accountability, initiative and toughness. His leadership is already influencing his younger brother Wyatt '22 who was on the St. Thomas campus in June and July taking courses for credit well ahead of the fall semester to strike his freshman year with measurable momentum.

Learning from the example. A life of impact.

[CLICK HERE FOR THE 2018 COMMENCEMENT]

[CLICK HERE FOR 2018 COMMENCEMENT GALLERY]

[CLICK HERE FOR 2018 COMMENCEMENT GALLERY]

[CLICK HERE FOR 2018 LEGACY GRADUATES GALLERY]

Catholic. Basilian. Teaching Goodness, Discipline and Knowledge since 1900.