Extraordinary academic acclaim with equal measure of due diligence and dedication to faith and service, all rooted in the Catholic Basilian credo of Teach Me Goodness, Discipline and Knowledge culminated in the 118th St. Thomas Commencement celebrated at Granger Stadium.
The festive and colorful event recognized the exceptional achievements of 188 graduates who were awarded $13.5 million in merit-based scholarships to colleges and universities throughout and outside the United States.
At a time when St. Thomas is appealing to high-achieving scholars unlike ever before and providing students from wide-ranging backgrounds with a rigorous and caring intellectual environment, the faculty, family and friends saluted the Class of 2018 and their significant contributions to scholarship and learning during their Eagle careers, enlivening the Basilian mission with passion and talent while impacting the lives of people across the extended Eagle community without borders.
Tom Vaughn '85, CEO of Vaughn Construction and a deeply dedicated school and Eagle community supporter, delivered the commencement address, sharing invaluable insights and his personal testimony with graduating seniors as they continue on the path to being lifelong learners, embracing the unpredictable world that lies before them.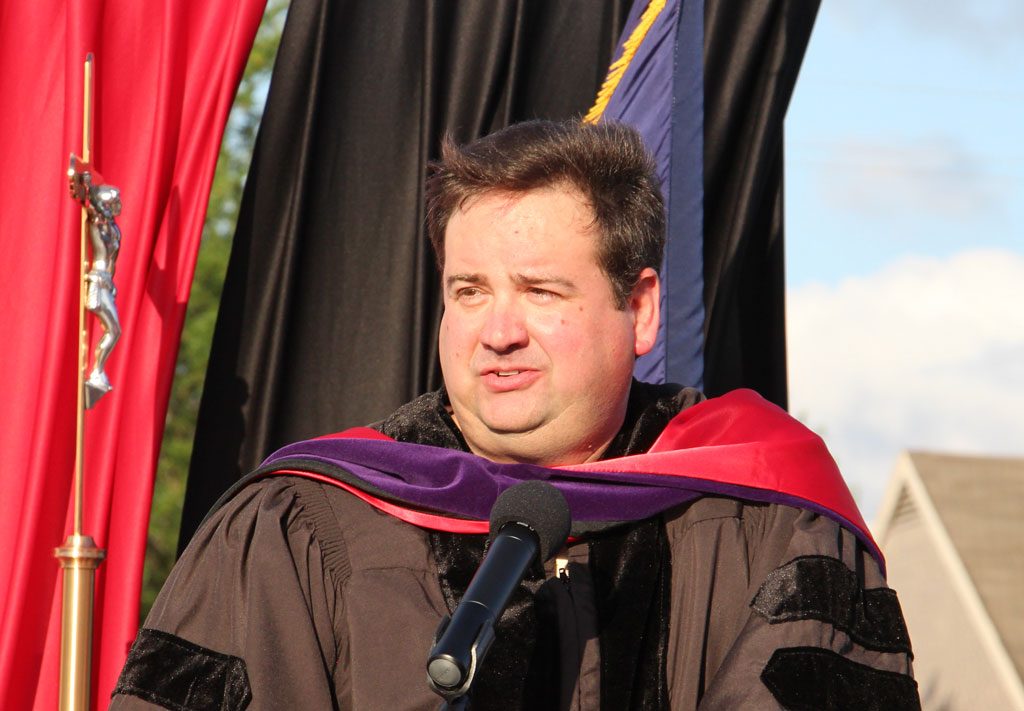 Under largely clear skies Vaughn emphasized to the Class of 2018 that as they go through life their "St. Thomas experience will become more and more important to you. It's hard to appreciate when you're inside the St. Thomas bubble … You're going to have moments like I did when the light bulb goes on and you say 'wow, I was really well prepared.'"
Before embarking on his esteemed professional career, Vaughn obtained his Bachelor of Business Administration with honors from Texas A&M University, and his Juris Doctor magna cum laude from the University of Houston.
For nearly a quarter century Vaughn has excelled in the construction industry, succeeding his father and Vaughn Construction founder Joe Vaughn '62, serving as president or CEO for the previous 18 years. The company focuses on healthcare, education and research facilities, having seven offices in Texas, specializing in Construction Management at Risk and delivering some of the largest public design-build projects in the state.
Vaughn Construction is currently partnering with global architecture and design firm Perkins + Will to create a multidisciplinary science wing at St. Thomas that will give the institution an unprecedented environment for equipping college preparatory students as leaders in pursuing future scientific challenges.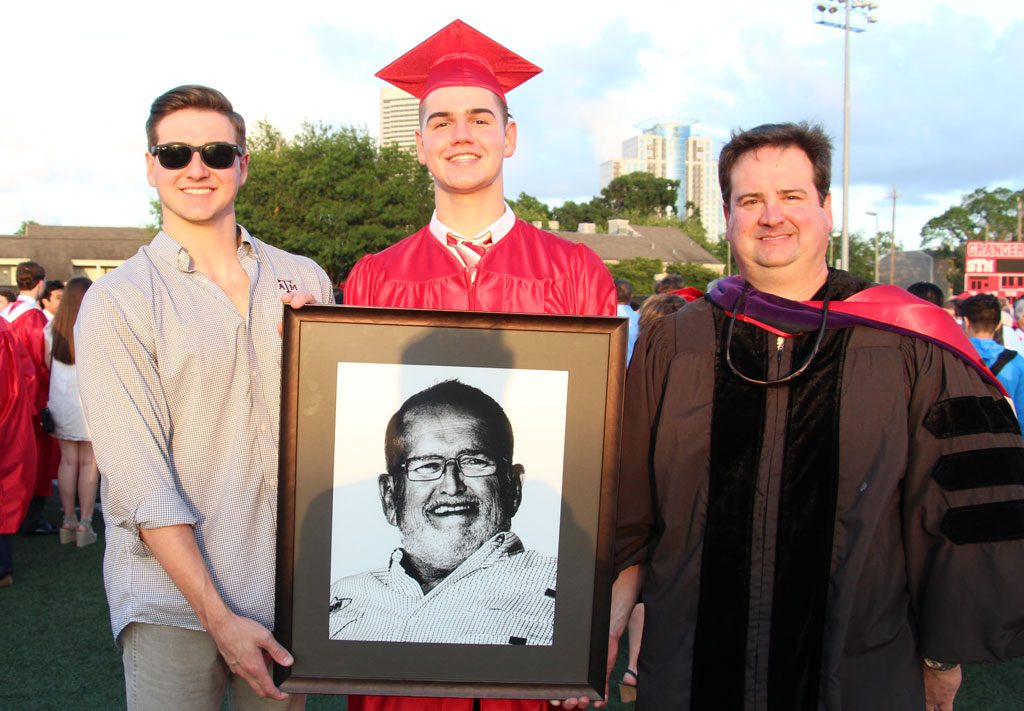 Vaughn's return to campus was particularly poignant given that Everett '18 was extending the family's rich St. Thomas identity, following his brother Jay '15, and contributing to the deepest legacy class in the school's illustrious 118-year history.
In closing Vaughn offered a genuine request to those honored, to say "thank you to someone today. You may not yet fully appreciate your St. Thomas education but a great many have sacrificed to get you here … parents, grandparents, generous donors, faculty, the Basilian Fathers … Don't wait for your light bulb moments. It may be too late. And as an alumnus, I welcome you to one of the most unique, elite and respected brotherhoods in the entire country."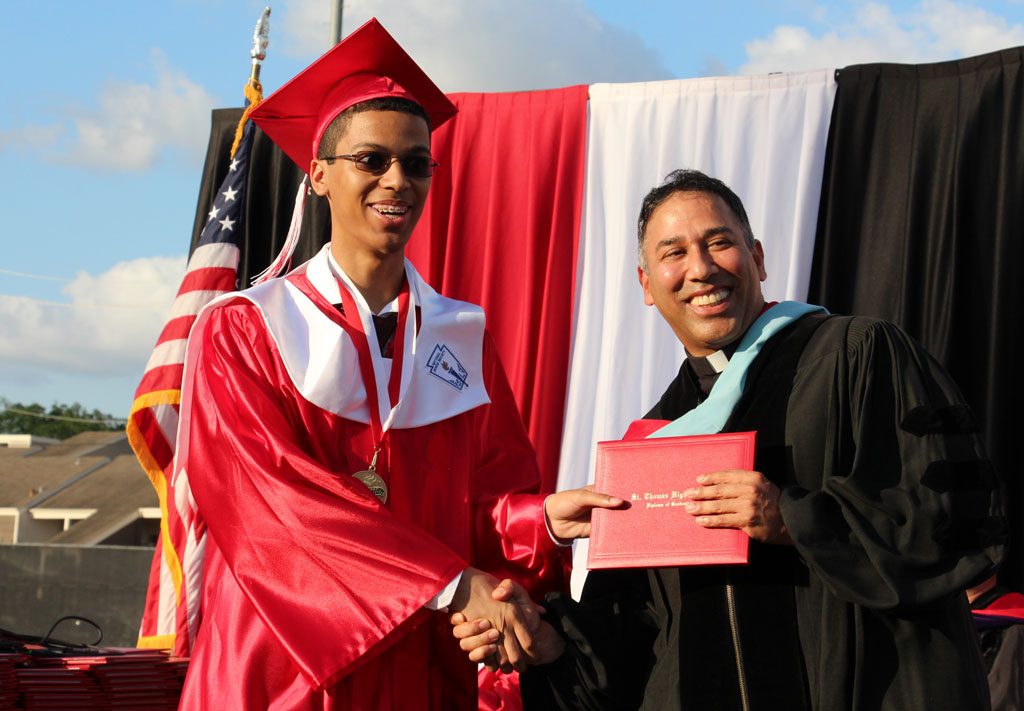 Valedictorian Juan Castillo accepted an extensive merit-based scholarship to attend Harvard University after considering similar opportunities at the Massachusetts Institute of Technology and California Polytechnic State University. He received the St. Thomas Achievement Awards for AP Physics II, Advanced Economics/AP United States Government, AP Computer Science and Theology/Healing Racism.
Castillo challenged his classmates to continue living lives of leadership, to trust the Basilian GDK motto in directing "the attitudes we develop toward the world we live in, taking our place, albeit in a very small way, on the vivid stage that is global life … to see the world from the perspective of a researcher, a linguist, a humanitarian, the list goes on … effecting change in our own way with the friends we make, with the values we cultivate. But before we can hope to meaningfully change the world, we must develop in ourselves those attitudes, virtues and values that will bring about the change we desire.
"After inviting for so long the ideals of others, it's time that we trust in our own knowledge and experiences to forge our own ideas and live a life in accord with them. And when our future becomes our present, it will be the product our free will, our intellect and our indelible human dignity."
Castillo and Salutatorian Kenneth Dang both earned Semifinalist distinction in the National Merit Scholarship Program's 63rd competition along with Cooper Gottschalk and Michael Patton.
The four represented among the top one percent of scores taken from the PSAT and joined 28 previous St. Thomas scholars since 2010 who reached at least that phase in one of the nation's most prestigious and long-standing academic competitions.
Henry Adair, Nathaniel Belcher, Nicolas Brito, George Fisher, John Horner, Mario Juguilon, Gabriel Meriano, Christopher Miller, Travis Rosenblad, Parker Rzasnicki and Mathew Soto were all recognized as National Merit Commended Students while Josh Falcone, Josh Gensheimer and Alex Whiteley were named National Merit Hispanic Scholars.
The elite group of National Merit recipients were among 44 senior members in the National Honor Society.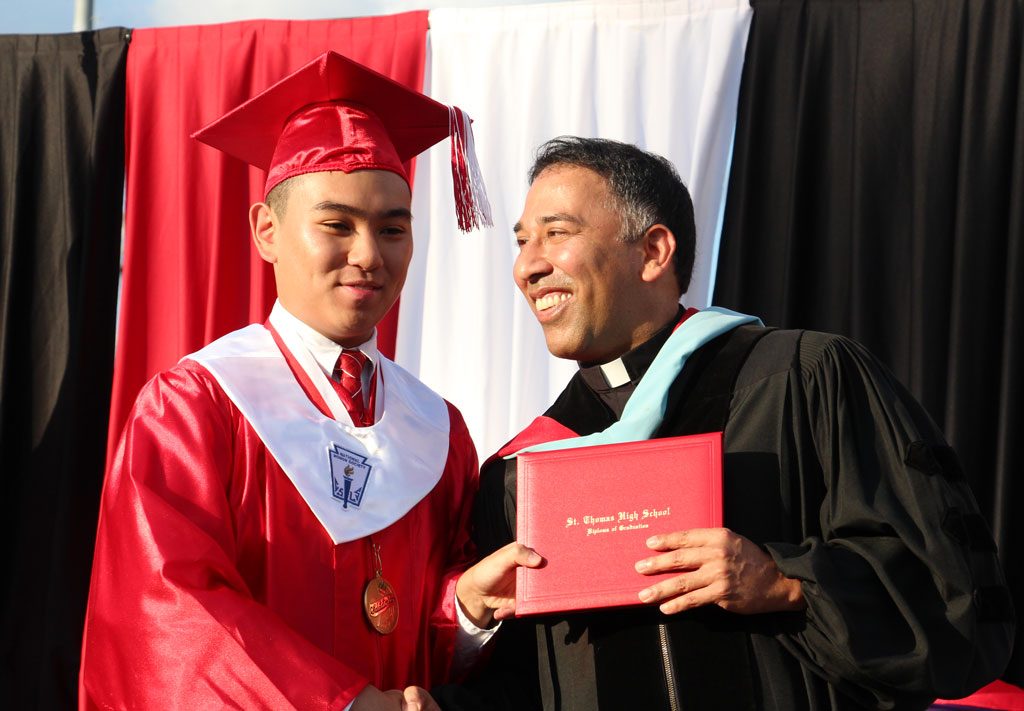 Dang received the St. Thomas Achievement Award for AP Biology and Theology/Sacred Scripture and leads another large St. Thomas contingent attending Texas A&M University where he will study Engineering.
Perhaps the most inspirational moments of his Eagle years came during the September aftermath of Hurricane Harvey, the wettest weather event ever to hit the continental United States, soaking parts of the Greater Houston area during a four-day deluge with more than 50 inches of rain.
The flood damage … biblical in proportion … frightening to behold "caused a panic and uncertainty but in that terrible disaster we also found love in one of the most difficult places to find it – chaos," Dang said.
"Love is taking care of others. Love is work. So in the midst of a fearful storm, I witnessed neighbors taking care of neighbors, Eagles taking care of Eagles, simply the human family embracing the human family with open arms. Maybe that's when I began to realize what (former principal) Fr. (Patrick) Fulton meant when he told us (during our freshmen introduction) that God has brought us here to St. Thomas because He knew we needed to be here to find each other, to find ourselves in this great community."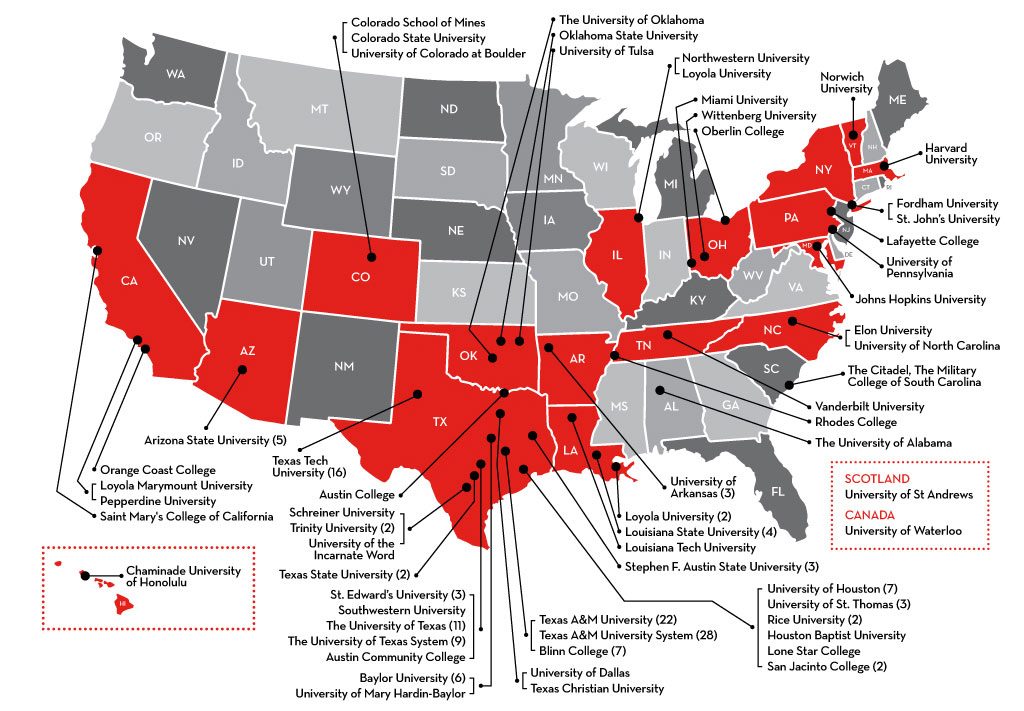 In addition to Texas A&M, multiple Eagle graduates will enroll at the University of Texas-Austin, the University of Texas-Dallas, Texas Tech University, Baylor University, the University of Houston, the University of Arkansas, Loyola University New Orleans, Rice University, St. Edward's University, Texas State University, Trinity University, Louisiana State University and Arizona State University.
Eagle scholars are also attending The Citadel, Johns Hopkins University, Fordham University, Loyola University Chicago, North Carolina School of the Arts, Northwestern University, the University of Pennsylvania, Pepperdine University, St. John's University, St. Mary's College of California and Vanderbilt University among many other prestigious institutions.
Eleven St. Thomas student-athletes, including six to Division I programs, are extending their careers at the college level, increasing the number to 119 across nine sports since 2012.
Collectively the Class of 2018 provided superior leadership to fuel yet another phenomenal Round-Up fundraising effort which produced a record-smashing mark for the 15th consecutive year.
Eagle students relentlessly reeled in more than $574,000 in raffle ticket sales and raised the 2014-18 total to more than $2.6 million, all for tuition assistance for future Eagle students, a Basilian practice which dates for 91 years.
The historic and annual milestone proved triumphant – not only in the lives of those in and connected to the Class of 2018 – but in the life of the Catholic Basilian institution where their participation continued the great tradition of St. Thomas and deeply enriched the vibrancy of the 118th commencement celebration.


[CLICK HERE FOR THE 2018 COMMENCEMENT CEREMONY]
[CLICK HERE FOR GALLERY OF LEGACY GRADUATES]


[CLICK HERE FOR COMMENCEMENT GALLERY]


[CLICK HERE FOR COMMENCEMENT GALLERY]
[CLICK HERE FOR THE EAGLES' NEST SPRING 2018]


Catholic. Basilian. Teaching Goodness, Discipline and Knowledge since 1900.