The Basilian Fathers with the extended St. Thomas community are joyfully proud to recognize the continued legacy of esteemed Eagle graduates who have joined and are rising through the ranks of the consecrated clergy.
Bishop Oscar Cantú '85 of Las Cruces, New Mexico, has been appointed coadjutor bishop of San Jose, California, announced July 11 in Washington by Archbishop Christophe Pierre, apostolic nuncio to the United States.
Earlier Fathers Robert David Hust '00 and Paul Anthony Foltyn '84 were ordained to the Sacred Order of the Priesthood June 2 with the imposition of hands and the invocation of the Holy Spirit by His Eminence Daniel Cardinal DiNardo celebrated at the Co-Cathedral of the Sacred Heart.  Archbishop Emeritus Joseph A. Fiorenza and Auxiliary Bishop George A. Sheltz '63 concelebrated the ordination Mass with Cardinal DiNardo.
The three distinguished St. Thomas graduates are all native Houstonians who attended inter-loop Catholic elementary schools before entering college preparatory – Cantú at Holy Name, Hust at St. Thomas More and Foltyn at St. Vincent de Paul.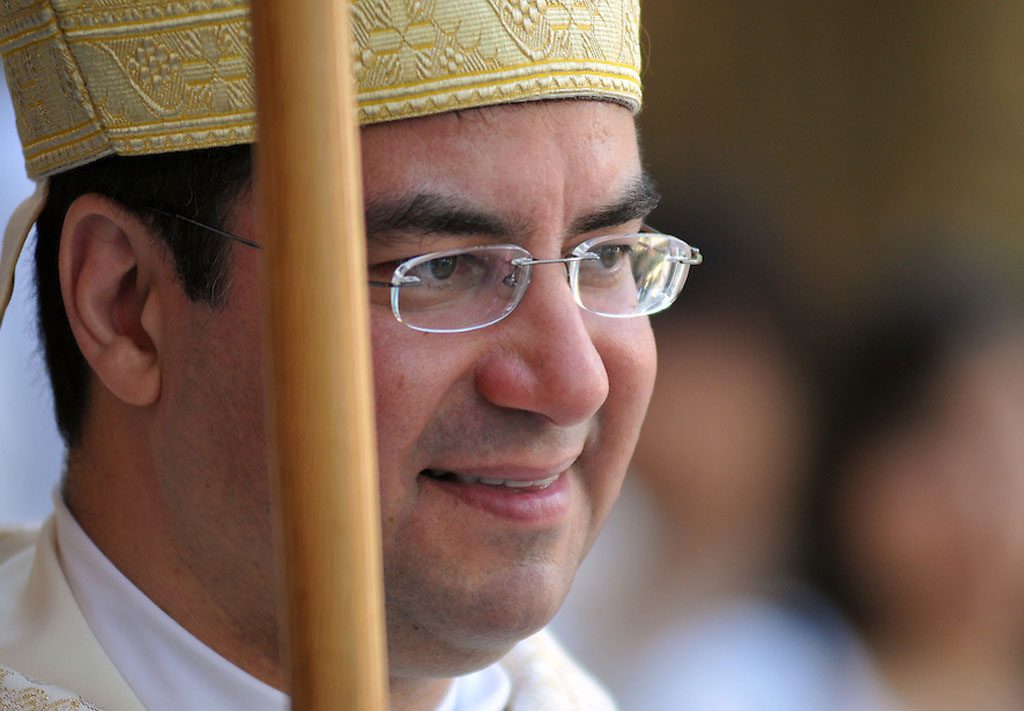 Cantú is the former chairman of the U.S. Conference of Catholic Bishops' Committee on International Justice and Peace. He is currently a member of the USCCB Subcommittee on the Church in Latin America and the Subcommittee on Hispanic Affairs and was one of two delegates chosen by the bishops to represent the USCCB during Pope Francis' visit to Mexico in 2016.
Before he was named to head the Las Cruces Diocese, Cantú was an auxiliary bishop of San Antonio for five years.  He has master's degrees in divinity and in theological studies from fellow Basilian University of St. Thomas and was ordained a priest in May 1994 for the Archdiocese of Galveston-Houston.
Cantú spent his priestly career working in parishes throughout the Greater Houston area, first as parochial vicar at St. Christopher Parish and later as pastor at Holy Name Parish. He also taught at the UST and at St. Mary's Seminary.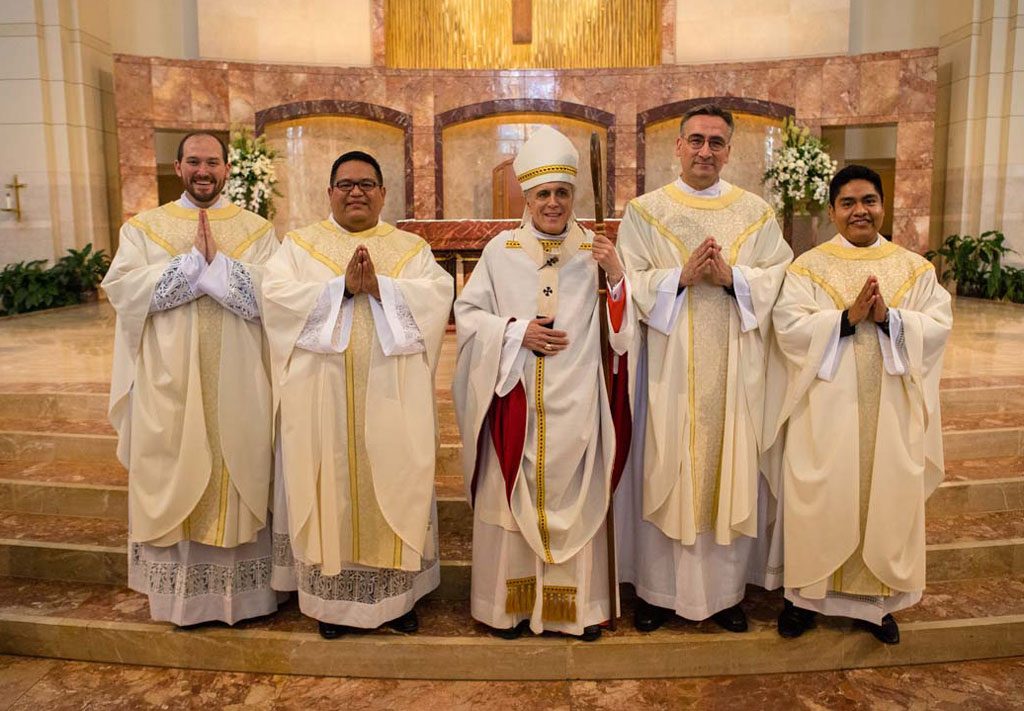 Hust (far left) will serve at St. Vincent de Paul following assignments at St. Michael and St. Helen in Pearland. His stay at St. Mary of the Immaculate Conception in La Porte included the Houston International Seafarers Center at the Port of Houston.
Foltyn (second right) will serve at St. Cecilia having previously assisted St. Bartholomew the Apostle in Katy and his home parish Shrine of the True Cross in Dickinson. He also served summer assignments at St. Helen, St. Jerome and did a pastoral year at St. Francis de Sales.
Previously Foltyn and Hust were ordained to the Sacred Order of Diaconate in 2017 by Sheltz.
O Jesus, our great High Priest, hear our humble prayers on behalf of your priests, Bishop Cantú, Father Hust and Father Folytn. Give them a deep faith, a bright and firm hope, and a burning love which will ever increase in the course of their priestly lives.
In their loneliness, comfort them; in their sorrows, strengthen them; in their frustrations, point out to them that it is through suffering that the soul is purified. Show them that they are needed by the Church, they are needed by souls, they are needed for the work of redemption.
O loving Blessed Virgin Mary, Mother of Priests, take to your heart your sons who are close to you because of their priestly ordinations, and because of the power which they have received to carry on the work of Christ in a world which needs them so much. Be their comfort, be their joy, be their strength, and especially help them to live and to defend the ideals of consecrated celibacy.
Catholic. Basilian. Teaching Goodness, Discipline and Knowledge since 1900.