The burning desire of youth to reinvent the world never grows old.
John Sage '96 was recognized by the Houston Business Journal in its 2018 40 Under 40 – a roster call of the city's most important young entrepreneurs, creative leaders and brightest stars changing the rules of the game or creating entirely new playbooks.
Sage broke from a thriving engineering career and morphed an insatiable appetite for travel to become an acclaimed international travel provider in quicksilver fashion.
His personal wanderlust has included the sweeping, dramatic ocean views and pristine beaches of Santorini, Greece, the volcanic island in the Cyclades where Sage and his wife Tiffany were married in 2011.
He speaks directly to kayaking under an ancient Roman aqueduct in France, wild and funky lambic brews in Belgium, the Tuscan vineyards and hill towns of Montepulciano and Pienza, and opera performances at Teatro Massimo in Palermo.
Since 2001, Sage estimates 16 vivid visits to Europe and more than 140 cities.
All in his wheelchair.
A snow-skiing accident may have left Sage paralyzed from the waist but he has remained a relentless and robust man in motion … locomoting without lower legs … or limits.
"I was always a problem solver … just the way I'm wired," Sage says. "After the injury, it was 'How do I load my wheelchair into my car?' I'll figure it out. 'How do I travel in Europe?' I'll figure it out. 'How will I continue my life?' I'll figure it out. I was just getting started and was still able to see so much enjoyment in front of me. And I was not going to feel sorry for myself."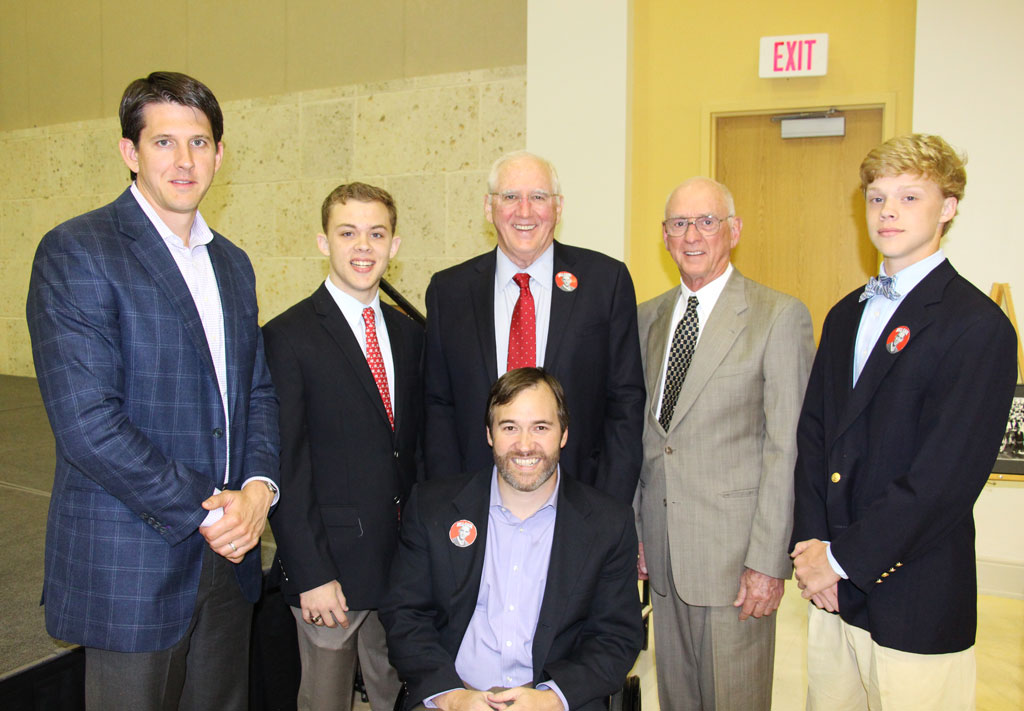 The roots for Sage's steadfast determination and seemingly endless exploration were planted at St. Thomas where he continued a lengthy family legacy that includes his father John '66, one in a select group of Eagle graduates inducted into both the school's Hall of Honor and Sports Hall of Fame, along with assorted uncles and cousins.
"During my high school years I engaged a wide variety of classmates," Sage says. "I always appreciated and valued the differences between people, cultures and languages. And I think that ignited a curiosity for the world and travel. And of course the academic background absolutely challenged and prepared me for LSU. My studies there led to Exxon Mobile. But really the foundation from St. Thomas would have supported my pursuits in any number of directions."
The tumultuous turn in January 2001 was suffering a T-4 spinal cord injury at age 22.
After only six weeks of intense treatment at TIRR Memorial Hermann, one of the most renown and progressive rehabilitation hospitals in the United States, Sage was discharged and miraculously graduated in May with his Bachelor of Science in Petroleum Engineering.
During his twelve years at Exxon Mobil Sage was primarily responsible for computer models of underground oil and gas reservoirs. During that same time, his extensive European excursions in his manual wheelchair required the same sort of precision planning and exhaustive attention to detail required by his profession with a decided dose of trial-and-error execution. As his first-hand experiences began to stack the notion of a viable business option was stoked.
Sage Traveling was launched in 2009 catering to clients with mobility issues as a resource for accessible travel in Europe. Sage's thorough exploration empowered him to inform on details such as how many feet from a hotel to the nearest bus stop, routes that avoid cobblestones and how to access the elevator at the Eiffel Tower.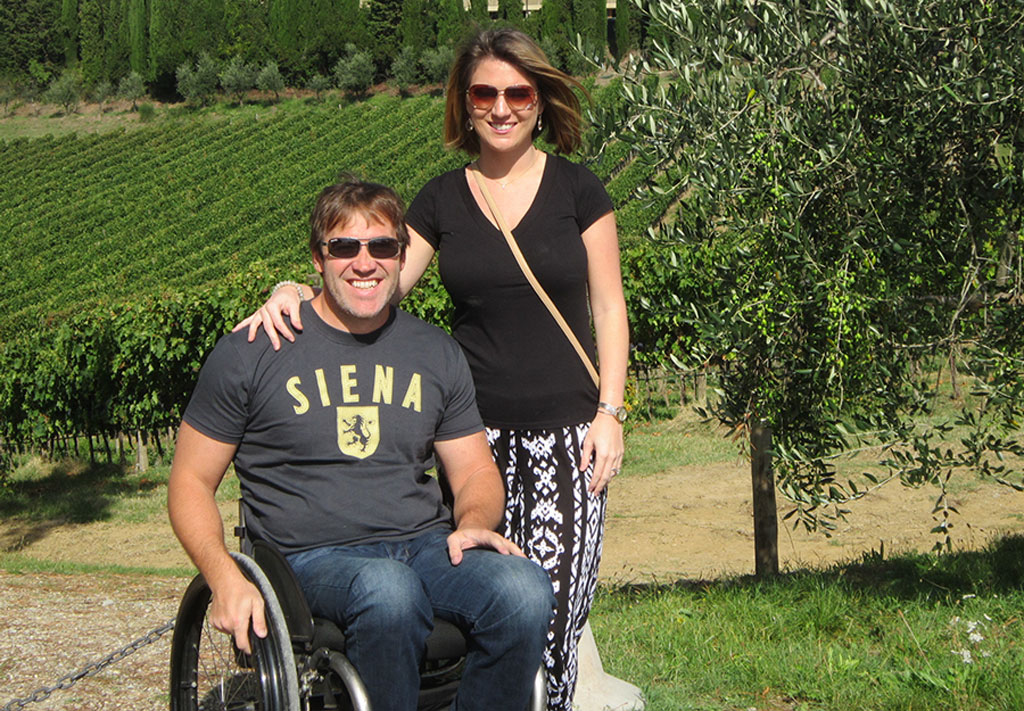 "Tiffany and I pooled enough capital to finance a two-year experiment," Sage says. "The original concept was a website funded through advertising. Didn't work. Trip planning was the ticket. I had an engineering and spreadsheet skill set. I knew step by step processes. Just a trip rather than a gas well. We figured out search engine optimization and gradually had clients from Australia and Argentina booking trips to the Vatican and Paris."
Sage was confident enough to leave his engineering career in January 2013 to devote his full focus to the business venture.
"There were more than a few skeptics," Sage says. "I was leaving a world-class operation with a good salary and pension. But the vision of working for myself was enticing. I went from one of the biggest and most prestigious companies in the world to maybe the smallest. Success was predicated on challenging conventional thinking. At Exxon Mobile, the process is essentially already in place."
Sage's innovative outside the box mentality created demand – a wholesale operation that sold packages to travel agents in addition to the retail sales to customers he had previously established. He expanded his European inventory to include Caribbean destinations. And Sage then encountered the breakthrough moment attending a 2014 travel agent convention in Fort Lauderdale, Florida, emphasizing cruise excursions.
"No one was talking about accessibility and it dawned on me that I was easily the most knowledgeable source in a trade show featuring thousands of professionals," Sage says. "I made a strategic decision to launch a separate business to business company (Accessible Travel Solutions) and have developed shore excursion options in more than 80 ports."
Sage has emerged as the primary global tour operator focused exclusively on accessible travel. In 2016, he was named Tour Operator of the Year by Travel Weekly. In 2017, he finalized a partnership with Royal Caribbean Cruise Lines with additional cruise line relationships likely by the end of 2018.
In six years Sage Travel has transformed from one full-time employee arranging 16 accessible trips to Europe, to a team of 13 highly specialized agents planning nearly 670 itineraries for travelers with impaired mobility.
"I think it's rare when you can help people, create jobs, have a ton of fun and get paid for it," Sage laughs. "It's a grand slam home run. Our staff is all female who work from home. They were skilled professionals who decided to cut loose from the commutes and the office politics. We've assembled a really talented team."
Sage continues to expand to fresh markets and seek exclusive services for those with special needs who hope to step – or roll – barrier-free out of their comfort zones … whether a boat tour in Zurich … snorkeling in Cozumel … gondola views of mountaintop glaciers in Interlaken … or wheelchair accessible transportation to the Notre Dame Basilica and the Roman ruins.
Sage's energetic commitment to serve others is impacting beyond the travel circuit. He has volunteered as a TIRR peer to mentor recently-injured paraplegics and as a facilitator in the Bridges to Life prison ministry founded by his father, and navigated his handcycle in several BP MS 150s, a two-day fundraising bike ride organized by the National MS Society to support research.
In the past, youth – and physical disabilities – were handicaps to professional success.
No more. Those who grew up in the tech age own ambitions unencumbered by tradition and status quo, perfectly suited to the dynamic, entrepreneurial and impatient digital world prioritizing greater inclusion.
The Houston Business Journal received nearly 500 nominations for its most recent 40 Under 40. A panel of judges from across industries scored the nominees on leadership, overcoming challenges and community involvement.
John Sage is one of the disruptors, rebels, innovators in the front lines of inspiration.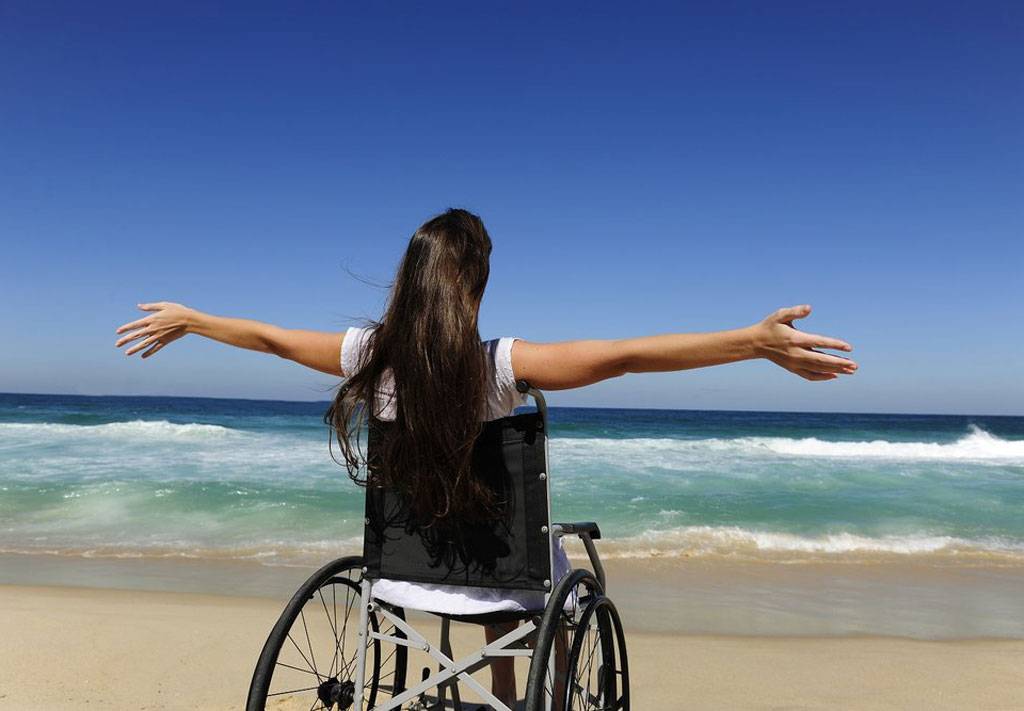 From a life-altering event bringing unimagined obstacles came an opportunity to pioneer a unique niche in the multi-billion dollar travel industry, all while providing a zeal and passage for what is priceless.
Catholic. Basilian. Teaching Goodness, Discipline and Knowledge since 1900.