The greater St. Thomas community gathered in Cemo Auditorium to salute and celebrate president Fr. Kevin Storey, CSB who was recently elected the new Superior General of the Congregation of St. Basil and accepted those responsibilities immediately for a four-year term.
During his term as president at St. Thomas attained numerous milestones in enrollment, fundraising, employment, campus facilities, academic programs and athletics. He played an essential role in elevating St. Thomas for future growth, including a prominent and galvanizing position in 4500Forever, the most ambitious capital campaign in school history.
Fr. Storey also ensured St.Thomas adhered to the values of its Basilian founders and the institution's mission of teaching goodness, discipline and knowledge while reaching out to the underserved, particularly students in need of financial assistance.
"After 15 years here St. Thomas really is my home. Leaving this community is bittersweet … like leaving family," Fr. Storey said to those in attendance. "But my hope is that I can lead the Congregation of St. Basil in a way that is reflective of the passion and love I have for them. Whatever I am able to accomplish is because of what I have learned from all of you in terms of leadership and commitment.

"Some may believe that teaching goodness, discipline and knowledge is the property of the Basilian Fathers or owned by the outstanding faculty and staff at St. Thomas or the alumni or parents or students … and it isn't. What I have come to understand during the last 15 years is that teaching goodness, discipline and knowledge is owned by all of us and produces a community spirit, unlike anything I have ever experienced in my life. This St. Thomas identity existed long before I arrived and will continue to thrive long after I leave. I have great thanks and appreciation for all of you who embraced me, and had the faith and patience in me that together we could accomplish all that we have. These are the best memories of my life as a Basilian priest."
Fr. Storey's impact and influence at St. Thomas measured beyond college preparatory and financial spreadsheets. His genuine nature touched the hearts and minds of many of those around him. He was remembered for a passion and knowledge that brought wisdom, a humor that ignited joy and a relentless dedication that spawned inspiration.
Shortly after the elation of winning the bid for the new property wore off, the reality of a $60 million dollar price tag set in. I immediately took to our alumni database, researching the previous capital campaign dating back over a 15-year time span. After crunching the numbers for a few days I brought my results to Father Storey and the presentation was not a chipper event. I was thinking of renaming the campaign from 4500Forever to Mission Impossible. The history was just not there. The numbers in the database clearly, and I mean clearly, stated this goal was out of our reach.

As soon as I was done Father Storey thank me for the work, and then went on to give a five-minute homily about the Holy Spirit, about why we are here, and how the Spirit directs and guides our life. I came out of his office charged with that Spirit. Upon returning to my desk I saw an inspirational meme online that read – Fortes, inquit, fortuna iuvat – Fortune Favors the Bold. There was that Spirit again sending me a message. I got up, wrote it on my whiteboard. That was almost six years ago … it is still there today.
– Mark deTranaltes '83, Vice President for Advancement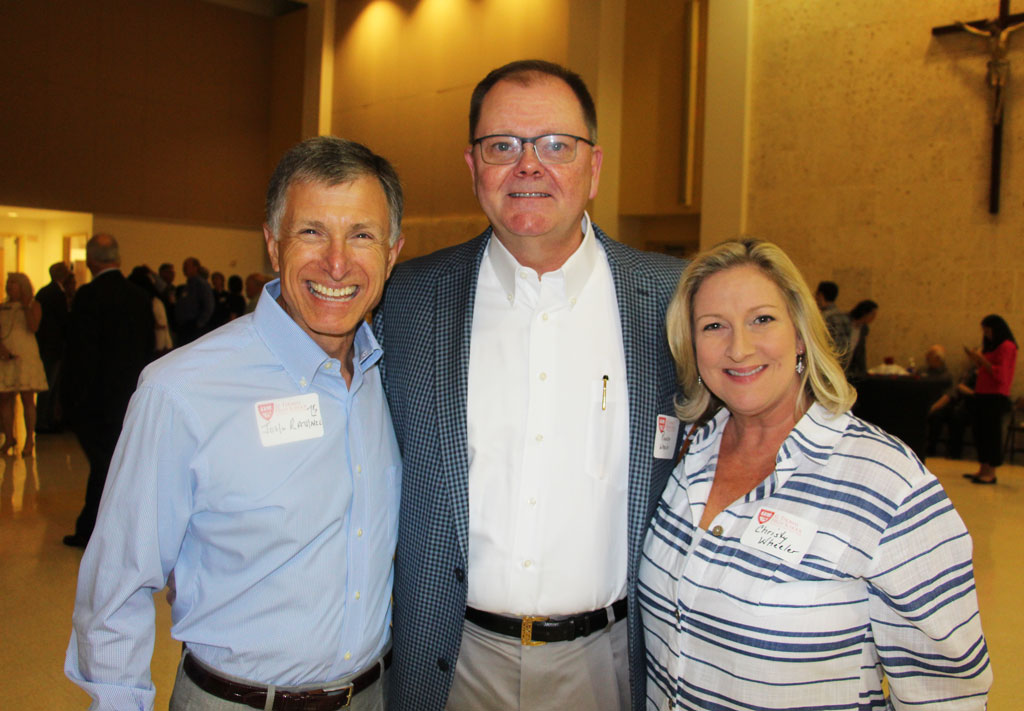 Father Storey arrived when St. Thomas was in need of his unique leadership capabilities. He didn't have the obvious profile when the school was facing transition and the most ambitious capital campaign in its history but he navigated those challenges with amazing savvy despite lacking practical experience. I knew from our first introduction he had a force of character.
– John Rathmell '75, St. Thomas Board of Directors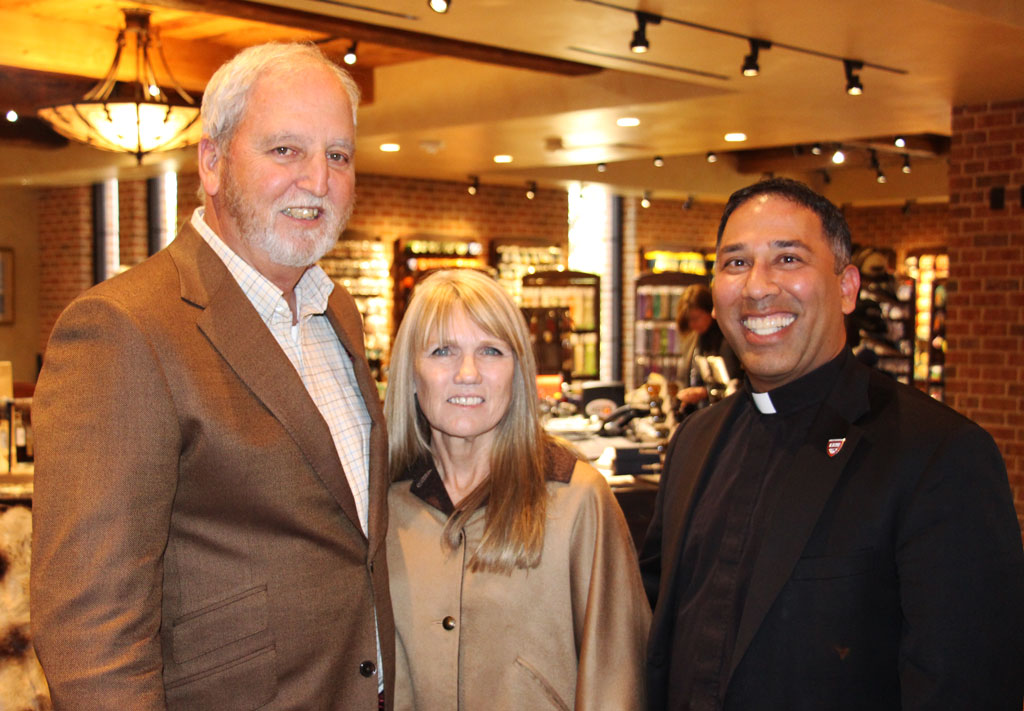 Father Storey owns a great passion for what he's doing. He speaks of St. Thomas from the heart. We're approached every day for sizable contributions, often by professional fundraisers. But when you come across someone who is directly involved and personally committed, there is a sincerity that you cannot overestimate. He's tenacious. Determined in all the right ways.
– Glenda and Russell Gordy, Houston philanthropists

Father Storey owns an exhaustive source of optimism regardless of the situation … an invaluable quality when operating from the top of an academic community. He wasn't afraid to accept challenges even though he wasn't absolutely prepared for the demands. Before even settling into the president's role he's thrust with raising $60 million on the clock … like drinking from a fire hose. But his love for St. Thomas and the Basilian Fathers is unmatched.
– Mike Netzel, St. Thomas Athletic Director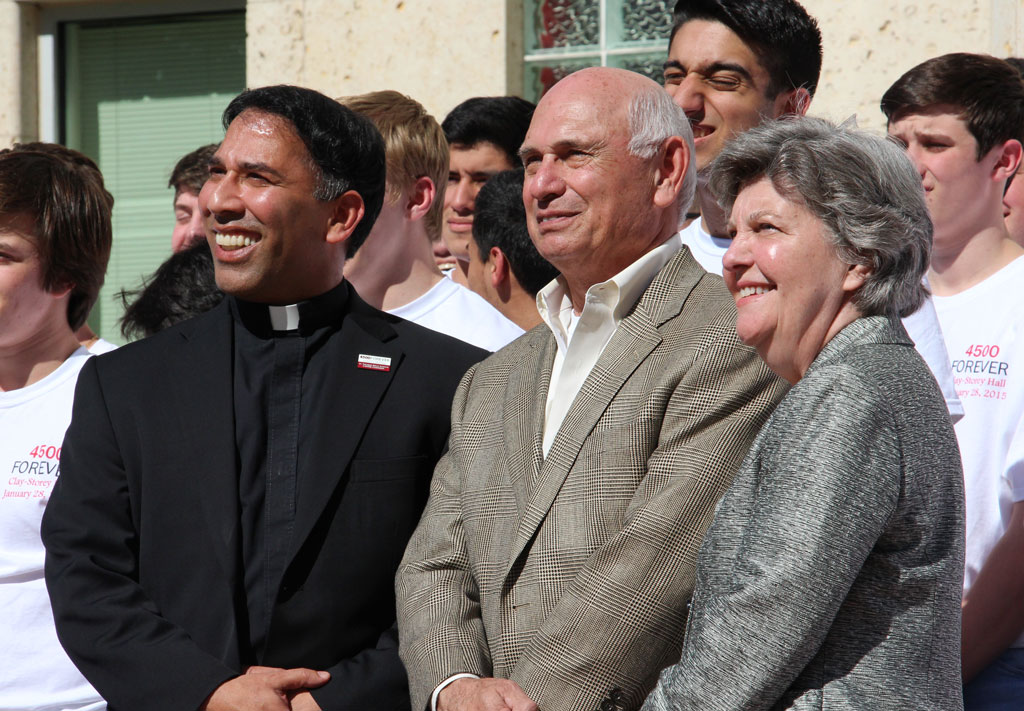 A great guy to work with and work for. We made some serious progress together.
– Dona and Al Clay '61, ardent St. Thomas supporters

Father Kevin Storey is the most relentlessly positive person we have ever met. Further, he is also possibly the most authentic person we have ever met, and has always conducted himself consistent with his Basilian vows and the tenets of our Christian faith. Finally, he will always be remembered as one of the most courageous, visionary leaders that St. Thomas has ever had.
– Amy and Bo Huggins, ardent St. Thomas supporters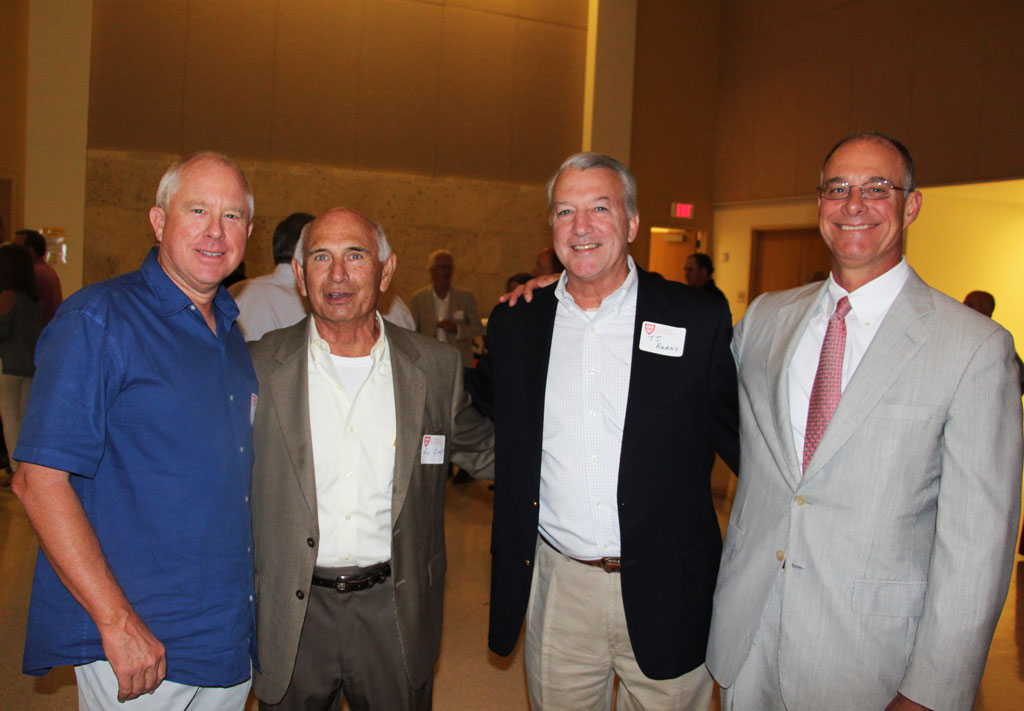 We truly enjoyed working with Father Storey throughout the 4500Forever capital campaign and watching him develop into a phenomenal leader as president. We will really miss him, his great enthusiasm and love for the school. Most of all we will miss having Christmas Eve dinner with him. Our family wishes him all the best. He will remain in our thoughts and prayers as he begins his next journey. We believe the Basilian Fathers will be in good hands.
– Suzanne and Danny Grant '78, ardent St. Thomas supporters

This is my 23rd year at St. Thomas. I saw Father Kevin as a teacher, a principal and a president. He was proud to serve St. Thomas and always wanted the highest quality for the school. I once asked Father Kevin how he preferred a particular job done. And he said, 'Sergio, you are the professional. You are the person who knows best.' He always treated everyone regardless of their position with the utmost respect. No one was above or below in his eyes. I will miss him. I'm sad to see him leave but I understand the opportunities God has for him in the future.
– Sergio Plata, St. Thomas Director of Operations

I am delighted for you. Impressed but not surprised. You are blessed with exceptional instincts. I am certain you will do well in your new assignment.
–George Romano '64

You certainly have been very fruitful with your efforts at St. Thomas … elevating the school to a much higher grade … and have left us with a legacy which will be an inspiration to achieve even greater levels. I will keep you in my prayers for your next glorious journey!
– Paul Sofka '56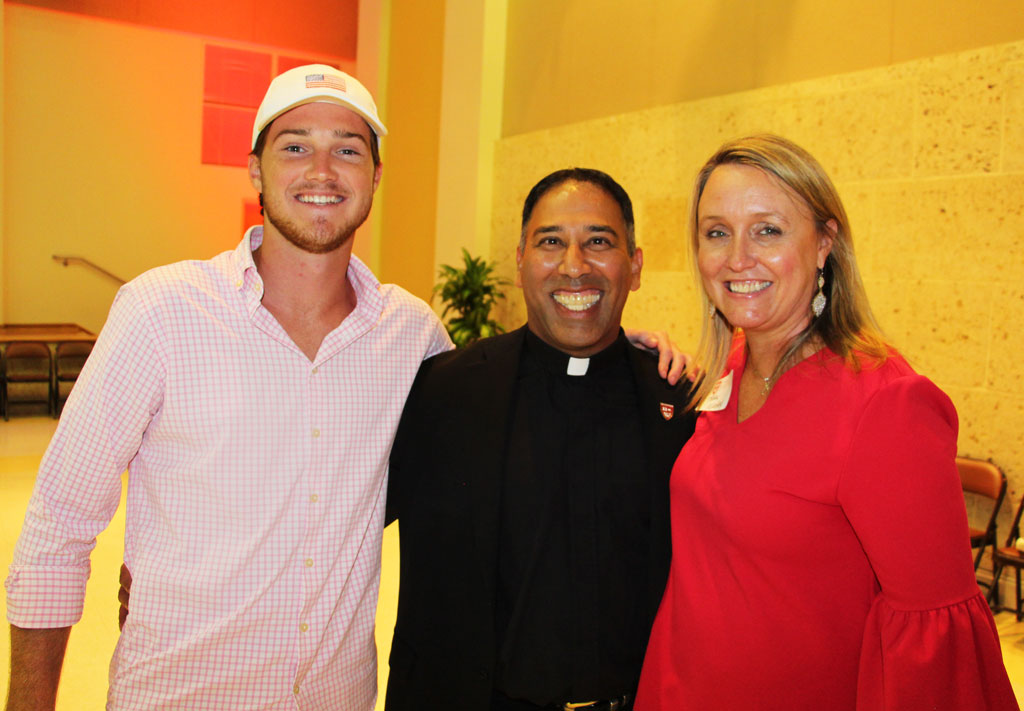 Catholic. Basilian. Teaching Goodness, Discipline and Knowledge since 1900.