The Most Reverend John McCarthy '49, the first-ever native Houstonian appointed Bishop in the Roman Catholic Church who led the Catholic Diocese of Austin for 15 years, died August 18 at the age of 88.
Bishop McCarthy was a gregarious priest for more than 62 years and bishop for nearly four decades, providing national leadership for the Church in its efforts to address the causes and ramifications of systemic poverty. He was represented in an exclusive group of distinguished St. Thomas graduates who rose within the hierarchy of the Catholic Church along with the Most Reverend Brendan Cahill, STD '81, Bishop of Victoria, TX; Most Reverend Oscar Cantú, STD '85, Coadjutor Bishop of San Jose, CA; Most Reverend Vincent Rizzotto '49, Retired Auxiliary Bishop of Galveston-Houston; and Most Reverend George Sheltz '63, Auxiliary Bishop of Galveston-Houston.
Fr. McCarthy was inducted into the prestigious St. Thomas Hall of Honor in 1980.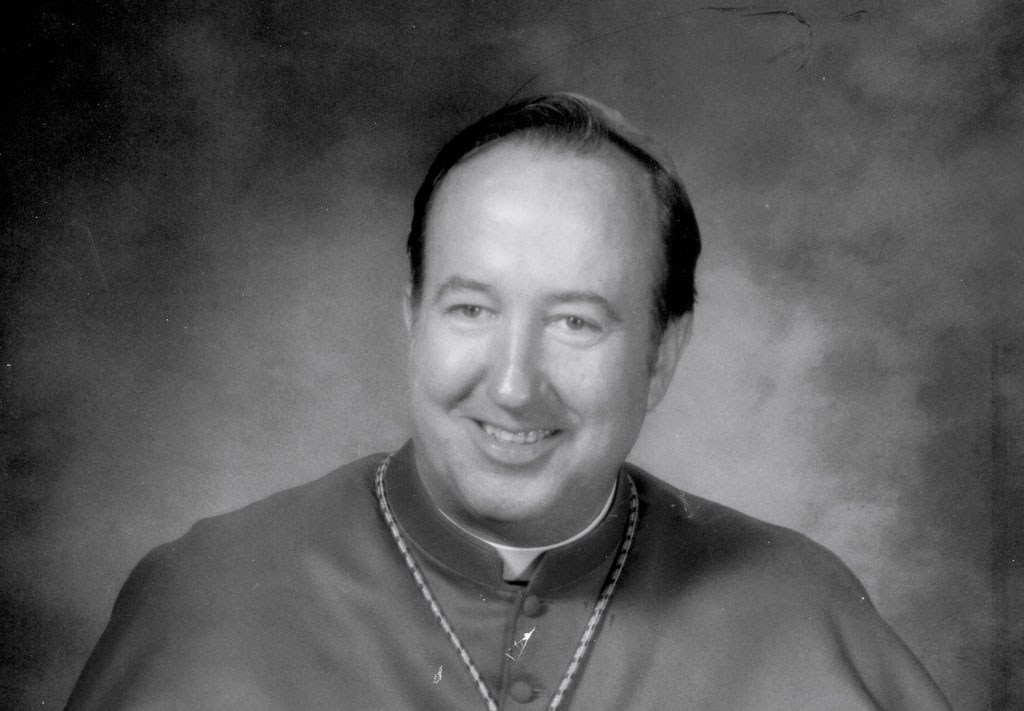 In 1973, following a series of parish ministry assignments in Houston, Fr. McCarthy was named the executive director of the Texas Catholic Conference (now the Texas Catholic Conference of Bishops). Six years later, he was appointed by Pope John Paul II an auxiliary bishop for the Archdiocese of Galveston-Houston where he spent 1979-86 expanding the social outreach in the approximately 150 parishes in the diocese.
In February 1986, Fr. McCarthy was installed as the third bishop of Austin. During his 15-year tenure, the diocese experienced tremendous growth, not only in the Catholic population but also in developing academic institutions, campus ministries and health care, as well as the diocesan retreat center, Cedarbrake.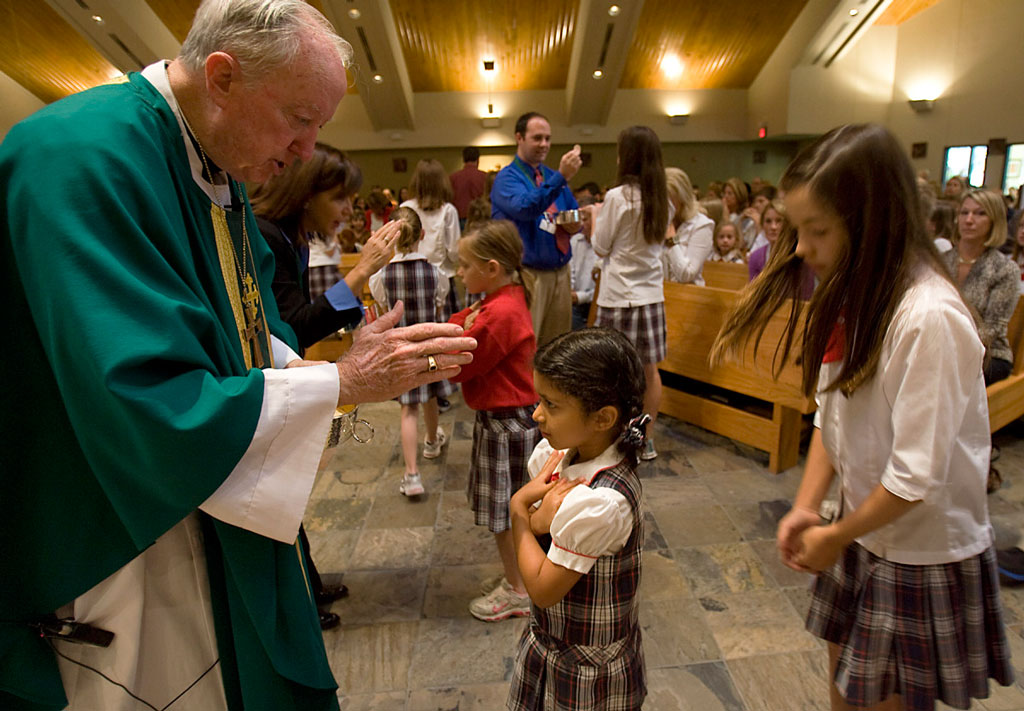 Essential to Fr. McCarthy's ministry as bishop was the ethos to show God in the world by respecting and embracing people of all origins and stations. He said the role of the Catholic Church is "not to tend to its own store" but to lessen pain and suffering, reach out to the poor and strive for justice.
Pope John Paul II accepted Bishop McCarthy's resignation in January 2001. He was at the time described by his successor, Bishop Gregory Aymond, as "a shepherd who completely emptied himself for this Church and others. He has been and continues to be a sign of Christ to this diocese and … to people of all races and faiths."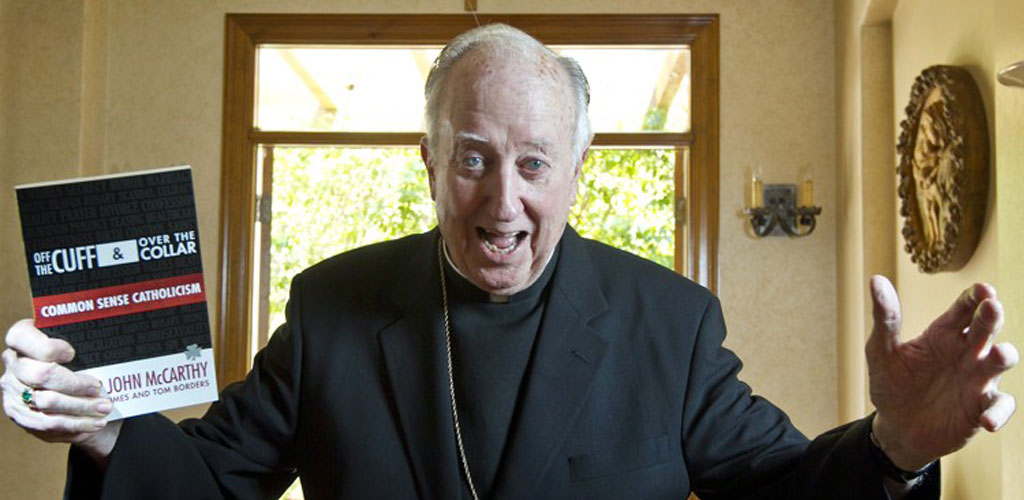 In retirement Fr. McCarthy remained a beloved figure in Austin frequently found at parishes conducting Masses as a guest priest. In 2013 he authored Off the Cuff & Over the Collar: Common Sense Catholicism "for people who have always found the Church to be somewhat confusing and mystifying. I'm actually hoping for a wide audience, one that would include not only solidly committed members of the Church but also the indifferent Catholics as well as the hurt or even hostile, departed Catholics (counted in the millions), and finally those curious about this enormous old boat bouncing around in the ocean of life. And that covers almost everyone!"
John Edward McCarthy was born during the early days of the Great Depression. His father George McCarthy worked as a civil engineer but died suddenly when John was only 18 months old, the youngest of four children. At age five he survived a life-threatening ruptured appendix.
In the midst of extreme economic strains John's mother Grace O'Brien McCarthy couldn't manage the $1.50 a month required to send her youngest son to a parochial school, but he attended anyway and was a product of a lifelong Catholic education, beginning with his first grade at All Saints Elementary in the Houston Heights. After graduating from St. Thomas he earned a bachelor's degree in 1956 from fellow Basilian University of St. Thomas where he went on to receive a master's degree in theology in 1979.
Fr. McCarthy was ordained to the priesthood at St. Mary's Seminary in May 1956 and never relinquished the fight for the outcast and marginalized. After serving St. Pius Parish in Pasadena and St. Cecilia in Hedwig Village, he became the pastor at his home All Saints Parish, and then St. Theresa in Memorial Park where he developed a "Sisters in Social Services" program which became a model adopted by Catholic Charities USA as parish social ministry.
Fr. McCarthy embraced the civil rights movement and Great Society agenda in the mid-1960s. He became one of the founding members of the Catholic-sponsored Campaign for Human Development, which has donated more than $250 million to grass-roots organizations in deprived neighborhoods throughout the United States. In Washington, D.C., he worked for the U.S. Catholic Conference as assistant director of the Social Action Department and later as director of the Division for Poverty Programs.
The Bishop Emeritus of Austin is survived by a sister-in-law, Charlene McCarthy of Houston, and extended family.
Catholic. Basilian. Teaching Goodness, Discipline and Knowledge since 1900.