HEAD COACH: Rich McGuire
2nd year as head coach
4th year in the Eagle program
2014 and 2015 TAPPS state semifinals
LOOKING BACK TO 2017
First-year head coach Rich McGuire was searching to rejuvenate Eagle Football following a five-win season that interrupted a run of straight-flush district championships.
McGuire brought a deeply rooted belief in his bedrock principles – ball, block, cover, cut and slice, pursue and gang tackle – and a firm understanding how to organize, develop, set up a system and communicate the value in following it.
The delayed start to the 2017 campaign was played out after scheduled games with The Kinkaid School, Strake Jesuit and College Station were canceled by an abrupt Hurricane Harvey hiatus and the wettest weather event ever to hit the continental United States.
After an abbreviated 3-5 regular season that featured consecutive wins over Pasadena, San Antonio Central Catholic and Beaumont Kelly, the Eagles were forced to open the Division I playoffs on the road for the first time in seven seasons.
An injury-devastated defense minus eight starters from the projected September line-up was blistered for two touchdowns in the first six minutes by Plano Prestonwood Christian Academy, and the Eagles exited the post-season tournament in the first round for the second straight year after reaching the state semifinals three times from 2011-15.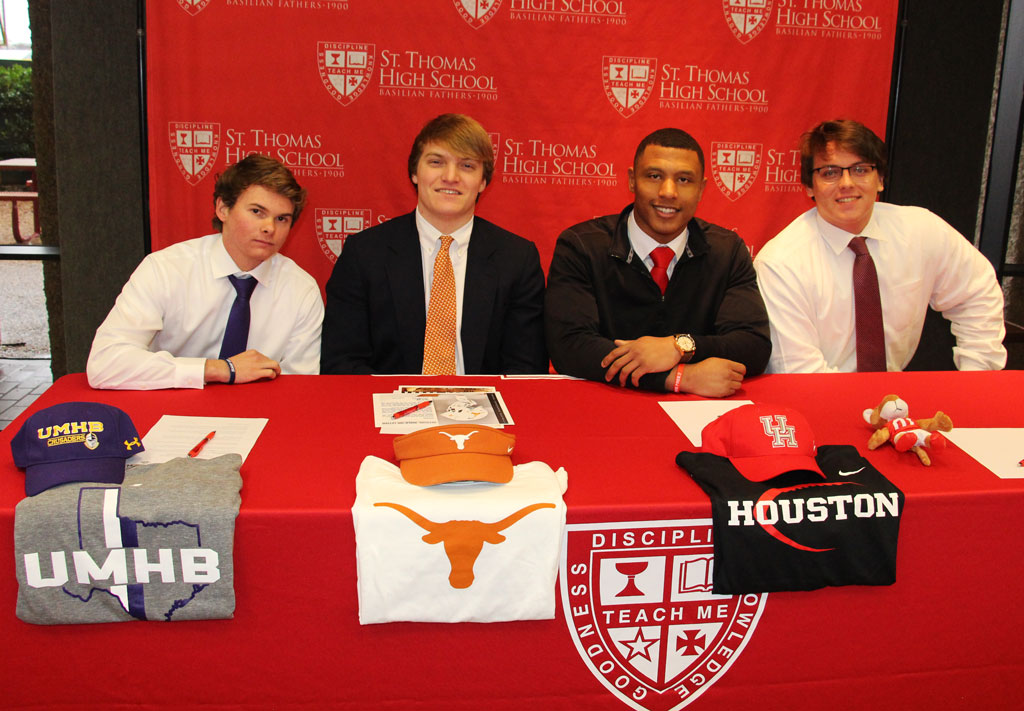 February's traditional National Signing Day celebrated tackle Max Banes '18 and linebacker Melvin Larkins '18 continuing their careers at the University of Houston, linebacker Jackson Hanna '18 to the University of Texas, and receiver Blaine McDaniel '18 to the University of Mary Hardin Baylor.
LOOKING AHEAD TO 2018
Despite the dip-down debut, McGuire is determined to reposition Eagle Football from the TAPPS middle class to its penthouse.
There is no quandary at quarterback where Peyton Matocha (6'4" 205 pounds) is well positioned to start and sling for his third consecutive season after picking up scholarship offers from Army and Texas-El Paso during the summer.
Following 22 consecutive starts, Matocha has gone from algebra to calculus in understanding how to prepare and then execute from film study, proving he can read defenses (and more of the field) and make the intermediate throws in tandem with a diet of screens and deep balls.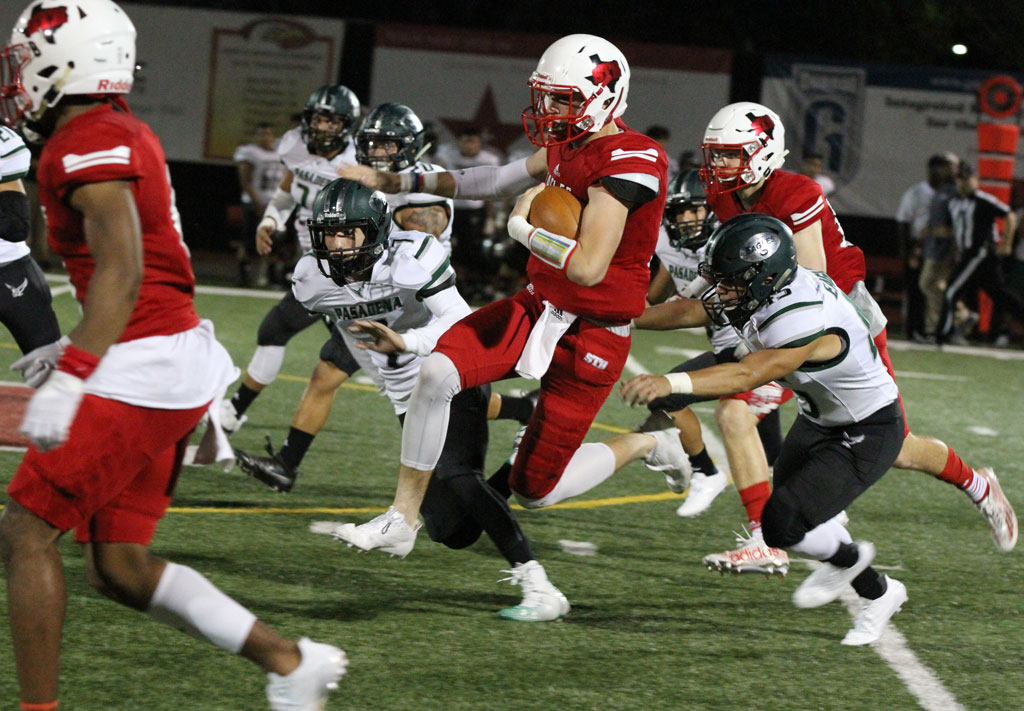 "Peyton has really transformed his body and he's committed to being excellent in everything he does, not just how he looks," McGuire says. "It's the mindset and confidence that comes with it. The ability to create a galvanizing effect for the guys in the locker room to prepare and hold each other accountable. Pressure not just on the field but off the field and one the sideline. I've seen great growth over the previous two years."
Ian Wheeler '18 and Dylan Dixon '18 return to make the offense much more than a one-man gang and give the Eagles versatile all-purpose break-away performers to team with clutch receiver Hunter Cheek '18.
Limited experience in the defensive front makes it difficult to speculate on effectiveness – too much new personnel and too little game repetitions, forcing the staff to be creative with schemes.
Establishing a functional secondary featuring Brandon Hondros '19 and Daniel Coco '19 along with disruptive edge rushers is critical to 2018 success.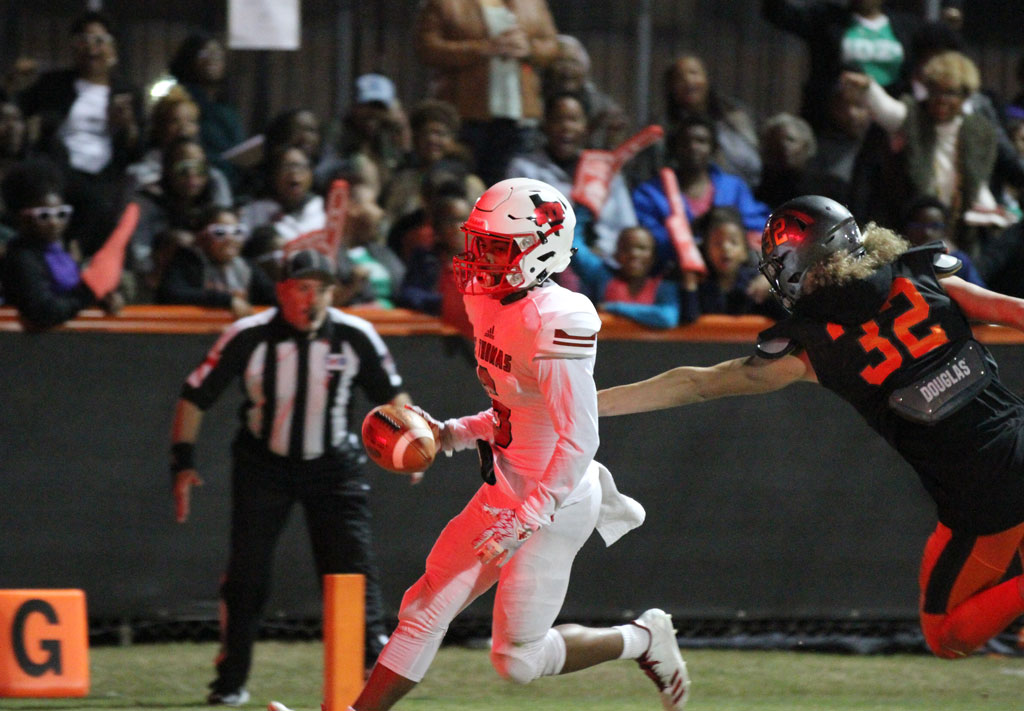 The Eagle prospects largely hinge on an offense proving to be as potent as expected, turning talent into consistent production, avoiding serious injury to key personnel and proving that the mid-season improvement from 2017 was more than just opponent-based.
Eagle Fight Never Dies!