GAME SEVEN: Crusader Stadium, Tomball
Eagle Football 42
Tomball Concordia Lutheran 27
WHAT YOU NEED TO KNOW
Quarterback Peyton Matocha '19 continued his season-long aerial assault with four touchdown passes and 349 yards while workhorse running back Ian Wheeler '19 bullied for 226 yards rushing and two scores as Eagle Football took advantage of a revitalized defensive effort in a 42-27 win to open TAPPS District 3-6A Div. I competition.
TURNING POINT
In the closing moments of the first half, the Eagles had a 58-yard touchdown nullified by an illegal blocking penalty. On the next snap from the TCL 28-yard line, Matocha discovered receiver Josh Madden '19 alone breaking away up the right seam for an easy connection to raise the count to 21-0 at halftime.
After defensive back Brandon Hondros '19 forced a third-down incompletion for a three-down series to start the second half, Matocha needed only two minutes to finish a 57-yard drive with the payoff pass to Jordan Augustine '20 for a commanding 28-0 lead.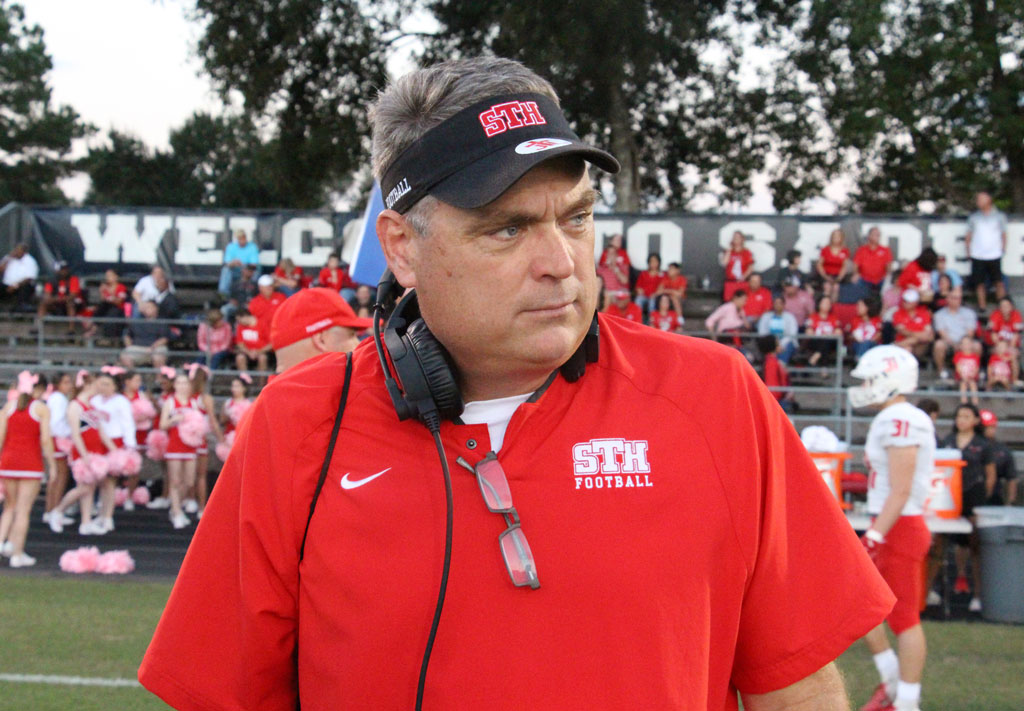 RAPID REACTION
Head Coach Rich McGuire
"I can't be more proud of our group for the mental toughness … fighting through an ugly portion of our season. We had our best week of practice. Great life in their step. The focus was fixed. Our season started tonight. Now the mission to get better every day, every week, and we'll see how far that can take us."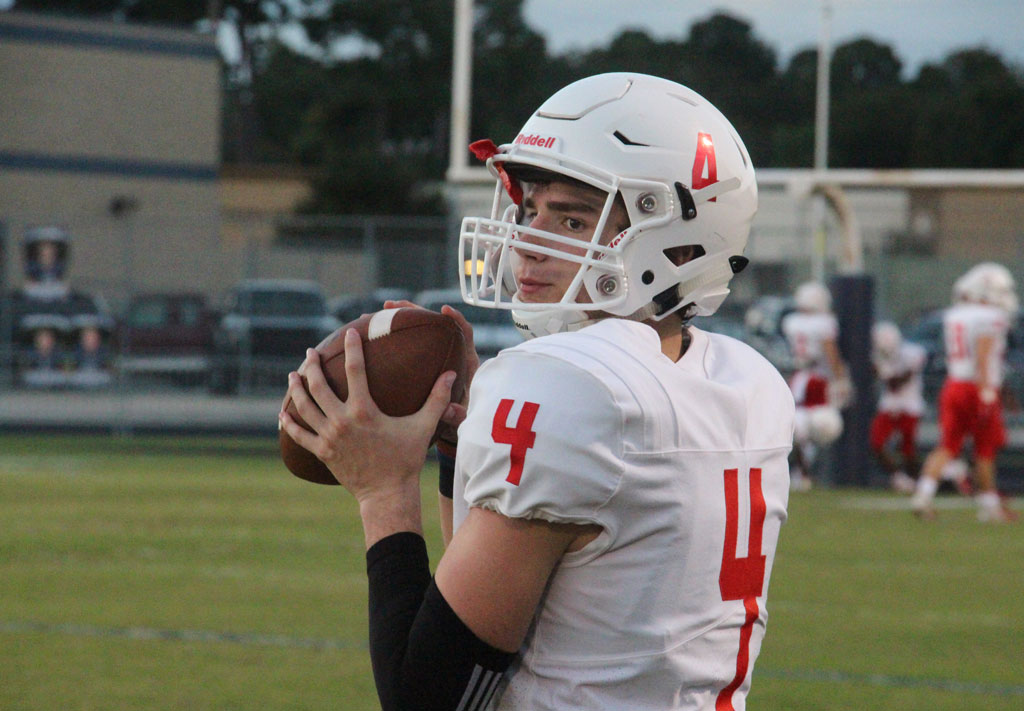 BINGO. WE'VE GOT A BINGO
Matocha wasted little time taking full advantage offensively of the Crusaders' inept and unimaginative pass rush. He crispy orchestrated an eight-play series to launch the game, teaming with Josh Crissmon '20 for an 11-yard toss with a little more than three minutes gone in the contest.
A screen pass to Wheeler that netted 30 yards up the right sideline into TCL territory ignited the Eagles' third possession. Matocha and Crissmon tag-teamed for the second touchdown of the first quarter and their seventh scoring combination of the season.
WHEELER ROCKING IN THE FREE WORLD
The senior running back was a force throughout a game where the Eagle offense was only stymied by its own mistakes and failed execution (610 total yards and 32 first downs but zero points on three series that  reached the TCL 10-yard line). Midway second quarter he gouged the Crusaders for runs of 38 and 16 yards in a drive that stalled and ended with a missed 27-yard field goal.
After TCL put up its first touchdown, Wheeler ripped off consecutive 12 and 18-yard gains to complete a quicksilver three-play touchdown series for a 35-7 edge.
In the next Eagle possession, Wheeler battered and bruised TCL for a 47-yard jaunt. He then effectively put the game away in the follow-up series, carrying six times including the final four snaps covering 20 yards for this second touchdown of the game and a 42-21 cushion with less than three minutes remaining.
VENI VIDI SUDDENLY VICIOUS
The beleaguered Eagle defense had been searching for answers like some lost soul. The unit responded with easily its most efficient execution of the season, stoning TCL on four consecutive three-and-out series to start the game and posting a shutout until six minutes remained in the third period.
MORE MCGUIRE
"We changed a lot schematically … almost exclusively man-to-man coverage. We moved Josh (Madden) into free safety and that allowed (junior) Daniel Coco to slide over to the strong slot. That got him much more involved in stopping the run. He and Hondros were super active and aggressive in support of our front seven. Madden gave us a huge boost. He's just an athlete. Max Garcia moved around from left defensive end and inside linebacker. I was disappointed in some big plays that got away down the stretch but we just had so much more energy on that side of the ball than what we've seen in the first five games of the season."
FIVE FOR FRIDAY
The win avenged the first Eagle setback in the brief history of the series, a 38-31 home defeat in 2017. Previously, Eagle Football had owned the head-to-head with seven straight wins dating to 2012 by an average margin of 22 points (219-66).
The win improved the Eagles road record to 2-2.  Matocha completed 22-37 and also rushed for 34 yards.  Receiver Spencer Kryger '20 enjoyed a career-best outing with nine grabs for 134 yards.  Hunter Cheek '19 also caught nine balls for 94 yards.
Matocha has posted PS4-like numbers throughout his third straight starting campaign. Through six games he had thrown for more than 2,000 yards and 20 touchdowns including the longest scoring toss in program history … the 98-yard pitch-catch-and-run with Cheek in the 28-21 victory at Stafford. Prior to Friday night, Matocha was also the Eagles leading rusher with 420 yards and another six scores.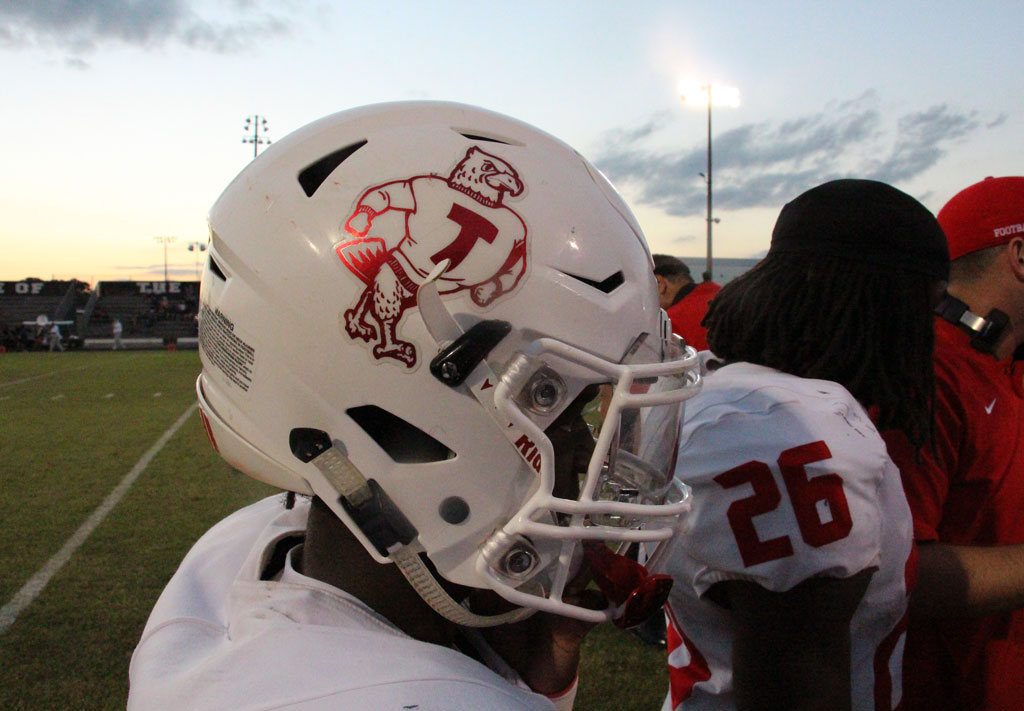 The Eagles are honoring Joe Little '18 throughout the 2018 season with a helmet decal after the Texas A&M freshmen tragically passed away in College Station days before the 2018-19 academic year was to begin. St. Thomas is also flashing a back-to-the-future helmet logo representing the timeless Tom Eagle design.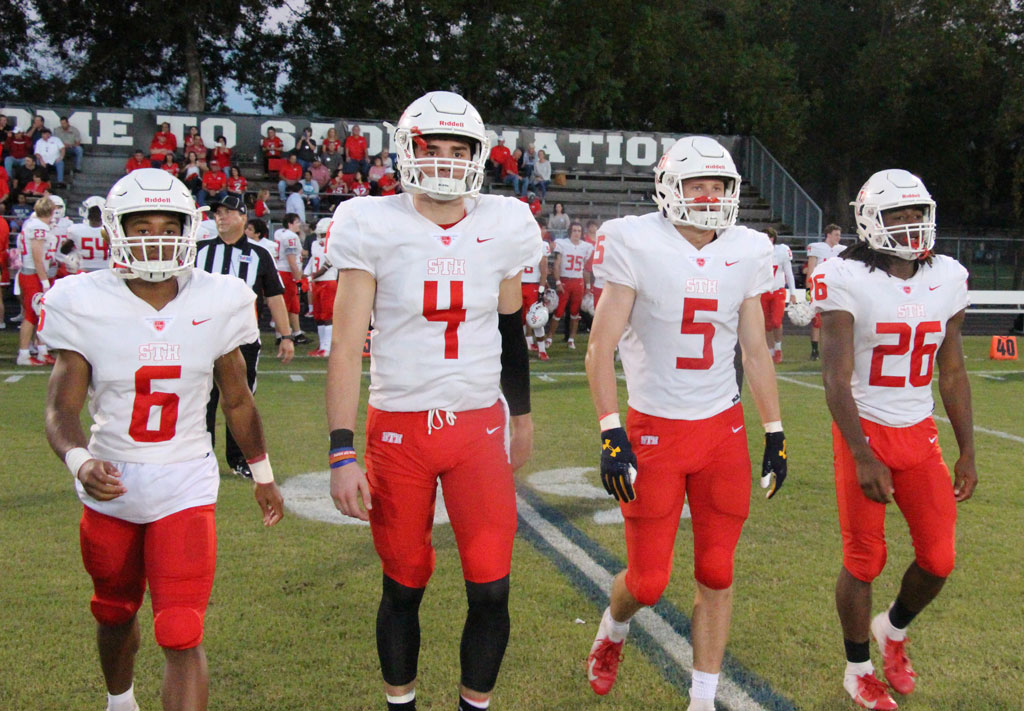 The Red & White are in the first season of a partnership with NIKE which was negotiated early in 2018. The fiercely innovative program-wide agreement, unparalleled in school history, is supplying 12 varsity sports, with Eagle Basketball featuring the Jumpman logo as the Jordan Brand continues to expand both on the court and on the field.
STATE OF PLAY
Losing gnaws at self-confidence … erodes hope … confronts … and eventually not even the strongest-willed can oblige. After five defeats in six games, Eagle Football discovered an oasis in a scorching Sahara, demonstrating you don't always get what you wish for, you get what you work for. And just perhaps, a once thought to be lost season is About To Get Crazy.
I think that I should warn you
There's something bout to change
We're standing at the border
Where history is made
We're cranking up the lights now
so everyone can see
it's all happening right now
We're gonna make you believe
It's about to get crazy
It's about to go down
It's about to get crazy
It's gonna be loud
UPCOMING
The Eagles continue the district race hosting Antonian College Prep October 19 in the first of two contests against San Antonio programs … followed by a visit to Central Catholic October 26.
MORE MCGUIRE
"This was a fun night but it's certainly not a time to get satisfied. We can't have two red zone turnovers and miss a short field goal. Those are points we'll have to cash as the district race becomes more difficult. Our expectations are much higher than what we showed tonight on offense. And we still put up 42 points."
This is our house
We do what we wanna
We'll blow the roof up
everybody's comin'
it's about to get crazy
It's about to go down
Let's make the whole world hear us
Throw your hands up high
We're bout to show you why they fear us
Here comes the battle cry
It's about to get crazy
It's about to go down
It's about to get crazy
It's gonna be loud
Eagle Fight Never Dies!