St. Thomas has entered into a licensing and apparel affiliation with industry giant NIKE which will begin in July 2018.
The fiercely innovative program-wide agreement, unparalleled in school history, will supply 12 varsity sports, with Eagle Basketball featuring the Jumpman logo as the Jordan Brand continues to expand both on the court and on the field.
Athletic Director Mike Netzel believes the highly impactful deal delivers "unsurpassed value and visibility for our school. And most importantly, NIKE recognizes St. Thomas as a premium institution that aligns with their own passions and purpose for excellence. They respect our academic reputation, our integrity and achievement at all levels, our thriving alumni base, the whole package. Their intent to unite was aggressive from the beginning, their vision and enthusiasm genuine and compelling. After careful consideration, the right partner for St. Thomas is NIKE."
Netzel said the school began dialogue with NIKE in the fall of 2017 and finalized its negotiation in the previous month. The commitment will begin when the St. Thomas contract with Adidas expires at the end of June 2018.
"NIKE's comprehensive nature provides benefits beyond athletics," Netzel said. "The support access, affordability and brand recognition certainly resonates with our student-athletes, parents, supporters and corporate leaders. At the core, this partnership speaks to much more than uniforms and apparel."
Eagle Athletics will continue its decade-long relationship with Beau Blackard, now regional sales manager for BSN Sports, the nation's largest direct marketer and distributor of sporting goods to school and league markets, and the largest distributor for NIKE in the United States.
Netzel will also collaborate closely with Houston-based NIKE Territory Manager Bradley Clapp, who brings a wealth of experience in marketing, product management, product development, event activation and sales.
"Our student-athletes deserve the best performance wear to compete at the highest levels and get the most from their St. Thomas experience," Netzel said. "NIKE offered a collegiate-type opportunity without a transitional conversion. We are going custom NIKE product from day one in all sports. There's such a breadth and depth of options that they offer which gives us tremendous flexibility as a department and for our families."
St. Thomas now shares corporate common ground with the vast NIKE family of iconic collegiate programs. Texas, Michigan and Ohio State were signed in 2016 – one after the other – for record financial amounts, and the expansive roster of partnerships also includes Oklahoma, Baylor, TCU, LSU and Houston among a litany of Power 5 competitors.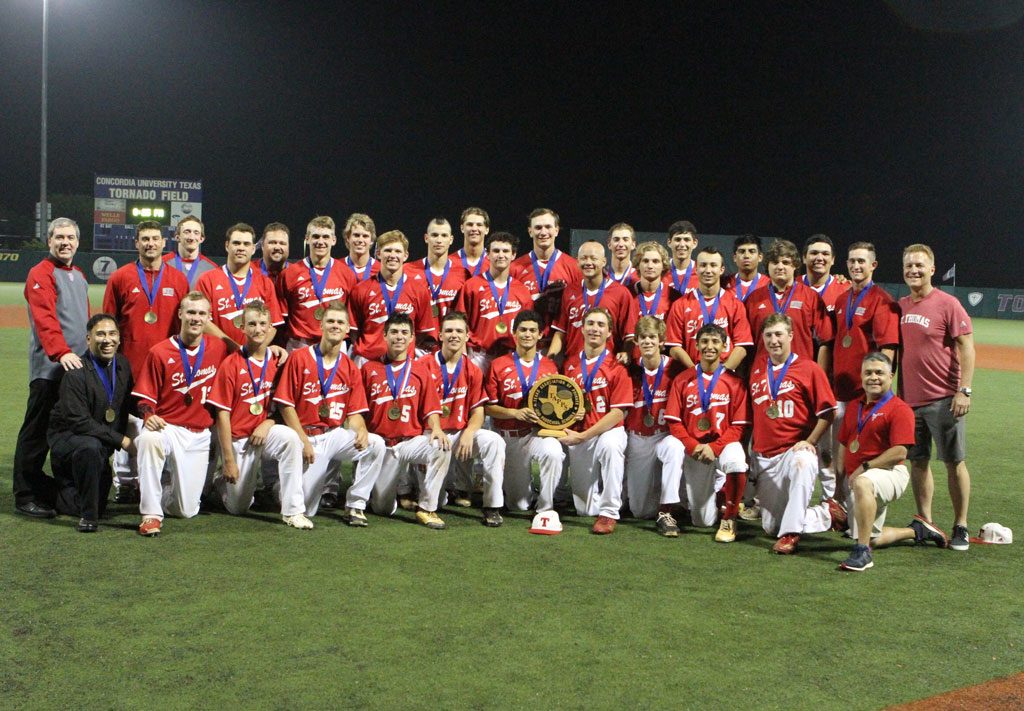 Eagle Athletics enjoys a long-standing history of acclaim and accomplishment. In the previous five academic years, St. Thomas has claimed three TAPPS state championships (2014 and '17 baseball, and 2016 track and field), four state runners-up (2014 and '16 golf, 2018 soccer and 2018 swimming) and four state semifinals (2014-15 football, 2016-17 basketball), plus Harrison Grant '14, the first Eagle to win a TAPPS individual cross country championship, 2016 TAPPS individual golf medalist Henry Fisher '16, and Peyton Matocha '19, a two-time high jump champion at the TAPPS state track and field championships.
The legacy includes seven consecutive TAPPS All-Sports awards from 2010-2016, earned through playoff participation and cumulative on-field performance, and 101 state titles celebrated since 1950.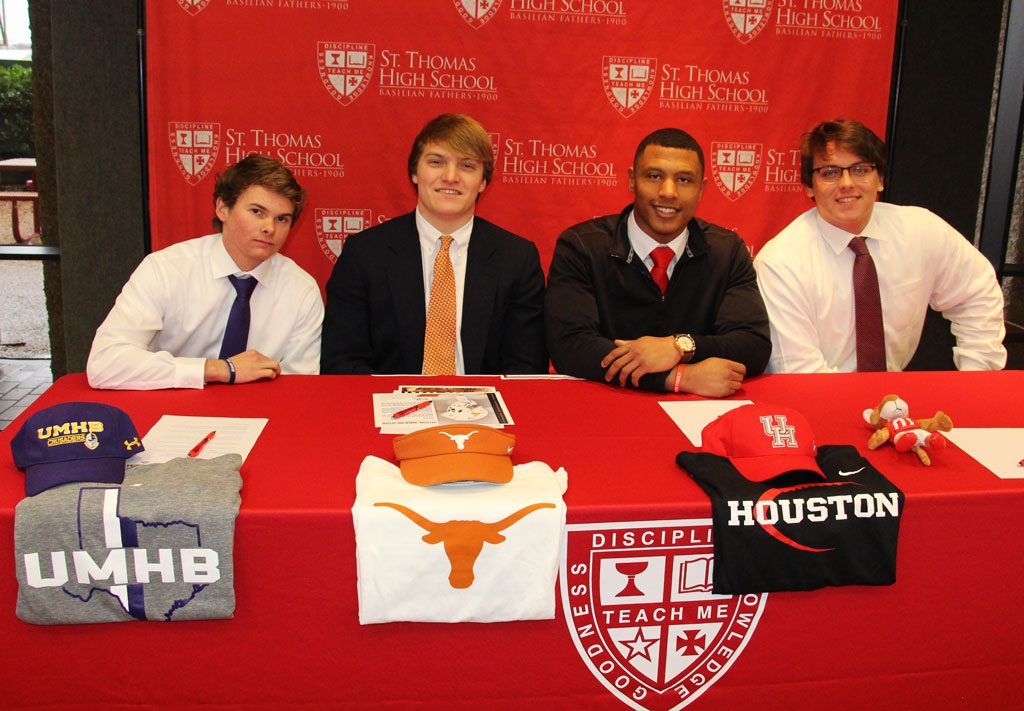 Among the current St. Thomas student-athletes positioned to continue their careers at the college and university level are tackle Max Banes '18 (Houston football), outfielder John Griffin '18 (Johns Hopkins baseball), linebacker Jackson Hanna '18 (Texas football preferred walk-on), linebacker Melvin Larkins '18 (Houston football prefered walk-on), all-state catcher Philip Matulia '18 (Louisiana Tech baseball), two-time all-state Owen Meaney '18 (University of Texas baseball), receiver Blaine McDaniel '18 (University of Mary Hardin Baylor) and Josh Wolf '19 (Texas A&M baseball commitment).
Since 2012, the rousing total of 115 Eagle student-athletes across nine sports have extended their careers at Texas A&M, Notre Dame, Stanford, Purdue, Missouri, Rice, Texas State, Air Force, Army, Cornell and Princeton, among many others, plus a wide range of distinguished Division III institutions.
Eagle Fight Never Dies!