GAME EIGHT – Hotze Field inside Granger Stadium
San Antonio Antonian College Prep 14
Eagle Football 28
WHAT YOU NEED TO KNOW
Ian Wheeler '19 followed his career-best game with two first-half touchdowns including a 62-yard jolt to the end zone to break a second-period tie and propel the Eagles to a weather-shorten win and their second district victory in as many weeks.
TURNING POINT
Eagle Football forced a fourth-down stop in a 14-14 deadlock with less than five minutes remaining in the first half.  On a night where Mother Nature was an obstinate contrarian, Wheeler provided his own lightening in a bottle, a jolt that shocked the Antonian defensive  system.  The team co-captain took a direct handoff from quarterback Peyton Matocha '19, exposed the Apaches at the point of attack, then bolted into the second level with speed, racing virtually untouched through the middle of the field to give the Eagles a lead they never surrendered.
THIS IS WHAT THEY PAY FOR. THIS IS WHAT THEY WANT
The Eagles victimized an Antonian defense softer than a pillow at the Four Seasons for touchdowns on their first two possessions.  Wheeler capped an opening series that covered 75 yards, bulldozing on three of the final four snaps from the brink of the end zone. His pile-driving will-not-be-denied fourth-down carry capped an 11-play drive that included his 26-yard catch-and-run reception and knotted the score at 7-7.
After a three-and-out defensive set, Matocha chewed-up 28 rushing yards on consecutive snaps and then delivered a strike to receiver Jordan Augustine '21 in stride separating from coverage for a 14-7 lead.
In the immediate series following Wheeler's mad-dash touchdown, Matocha required less than 90 seconds to take advantage of a short field. From the red zone, he broke left on a third-down scramble through a series of defenders and finished a determined run at the pylon to push the St. Thomas margin to 28-14 at halftime.
Lightning strikes registered following the second half kickoff and forced a delay at 8:40 p.m. Less than an hour later, the game was called due to threatening weather conditions.
RAPID REACTION
Head Coach Rich McGuire
"It's unfortunate we weren't able to play the full 48 minutes but obviously the safety of our student-athletes and the Antonian players is the absolute priority. I really liked the readiness of our team. Crisp and confident on offense. More than anything else, the last couple of weeks have been about commitment. We never waiver, we stayed positive. We coached really hard and the players responded to that coaching."
BIG BAM BOOM
The once-beleaguered Eagle defense rallied for a second consecutive solid performance. They absorbed a six-play touchdown punch out of the gate, yet regrouped to force three punts in the next five series along with the fourth-down stop inside their 40-yard line.
MORE MCGUIRE
"There's a grit to this team that's a lot of fun to be around. All this does is validate the fact that we have taken another step. We have many steps left to take."
THEY WERE ONCE KINGS
The 1968 state champion Eagles were honored during a rousing halftime ceremony on the 50th anniversary of their collective triumph.
The salute commemorated the 29-6 victory on the Eagle home field over defending state champion Dallas Jesuit for a fourth TCIL title in five years. The '68 Eagles coached by St. Thomas legends Joe McDonald and Burr Davis finished a commanding season 11-1 and featured two All-Americans, eight All-State performers and six future inductees to the St. Thomas Sports Hall of Fame.
STATE OF PLAY
Eagle Football has stayed the course, responding to a wobbly first month with poise, the art of remaining calm and balanced under pressure while fighting for improvement. The mantra to keep believing and competing has resulted in an undefeated start to the district race and now a chance to Go For The Gold.
Now I've been fighting
To make it down this road
Feels like my mind is ready to explode
Somehow I manage to carry this heavy load
Through the rain
Through the flames
And through the snow
Sky full of diamonds
Shining on the shore
A new horizon
Is what I'm waiting for
My soul is iron unbreakable
United we can be so much more
A new day is dawning
Can you feel the fire?
A Phoenix is rising
Higher and higher
Only way that I know
Gotta follow my soul
Go big, go bold
Go hard and go for the gold
MORE MCGUIRE
"We're learning how to finish each week. We've made some progress but we're far from a finished product. Our best football is ahead of us."
A new day is dawning
Can you feel the fire?
In new day is dawning
Can you feel the fire?
Feel the fire
Feel the fire
Feel the fire
A new day is dawning
Can you feel the fire?
Like Phoenix from the flames
Higher and higher
Every single day I get on my knees and pray
Go big, go bold
Go for the gold
Woah ohhh, woah ohhh, woah ohh
Go big, go bold
Go hard and go for the gold
So I can go for the gold
So I can go for the gold
CHECK DOWNS
Antonian featured Corion Holmes, the son of 2000 Super Bowl champion Priest Holmes, the one-time single-season NFL record-holder for touchdowns and former fantasy football god with the Kansas City Chiefs.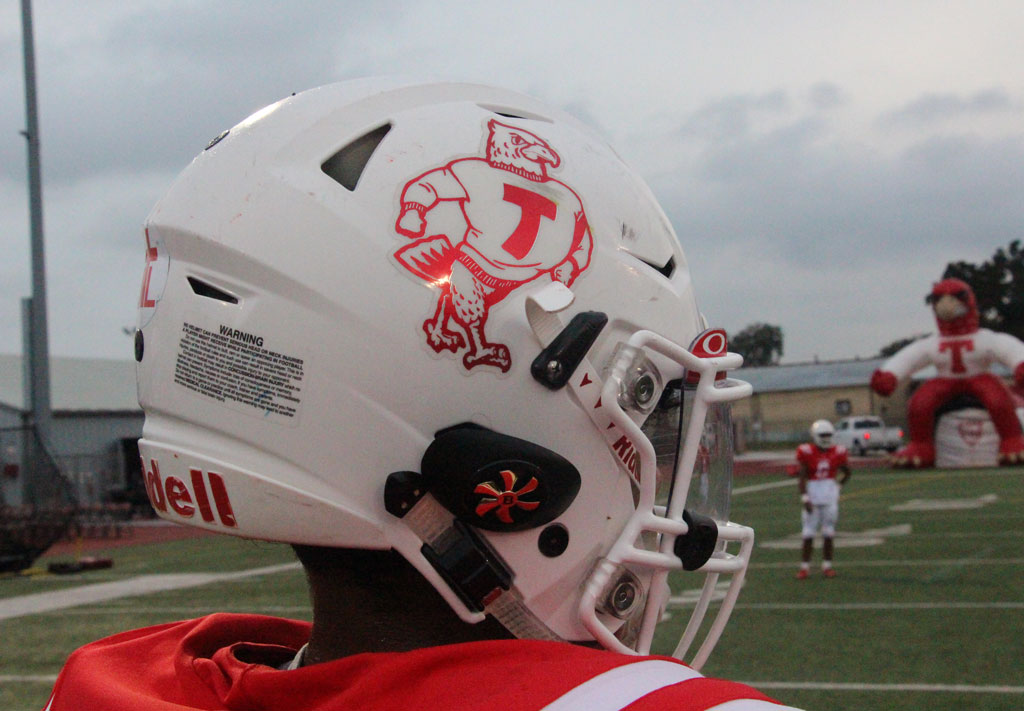 The Eagles are honoring Joe Little '18 throughout the 2018 season with a helmet decal after the Texas A&M freshmen tragically passed away in College Station days before the 2018-19 academic year was to begin. St. Thomas is also flashing a back-to-the-future helmet logo representing the timeless Tom Eagle design.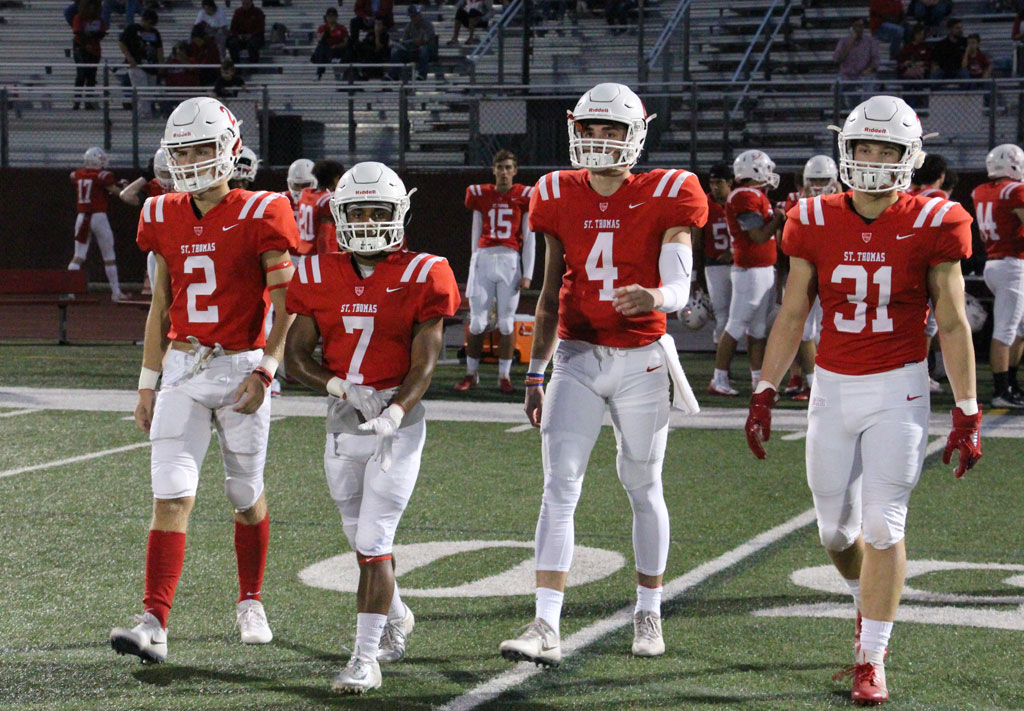 The Red & White are in the first season of a partnership with NIKE which was negotiated early in 2018. The fiercely innovative program-wide agreement, unparalleled in school history, is supplying 12 varsity sports, with Eagle Basketball featuring the Jumpman logo as the Jordan Brand continues to expand both on the court and on the field.
FREQUENT NON-FOOTBALL FOES
The TAPPS biennial realignment moved Antonian and its San Antonio partner Central Catholic into District 3-6A Division I to create a five-team round-robin scheduling format with the Eagles, St. Pius X and Tomball Concordia Lutheran.
The rare gridworld encounter for the Eagles with Antonian came after the two schools faced off in the previous two TAPPS Division I state baseball playoffs. In 2018 Brody Logsdon '19 (Sam Houston State verbal) singled with two outs in the bottom of the seventh inning for his fourth RBI of the game and a scintillating 6-5 walk-off win that advanced the defending state champions to the state Final Four for the fourth time in five seasons. In 2017 the Eagles dominated Antonian 17-2 and 9-5 in a best-of-three series sweep, part of a blitzkrieg bop championship playoff run that capped a sizzling two-year stretch of 64-7-1.
In 2016 Jeremy Peck '16 (North Carolina Asheville) scored 17 points while twins Colin and David Jones '16 (Cornell football) combined for 27 as Eagle Basketball seized control with a 17-1 run for a 52-43 win, advancing to the TAPPS state basketball tournament for the first time since 2012.
UPCOMING
The Eagles travel to San Antonio for the second consecutive season to face Central Catholic October 26. In 2017 Matocha connected with receiver Hunter Cheek '19 with an ad lib touchdown in the right corner of the end zone in the final five minutes to complete a frantic fourth-period rally and a 31-28 non-district victory at Bob Benson '66 Stadium.
Eagle Fight Never Dies!